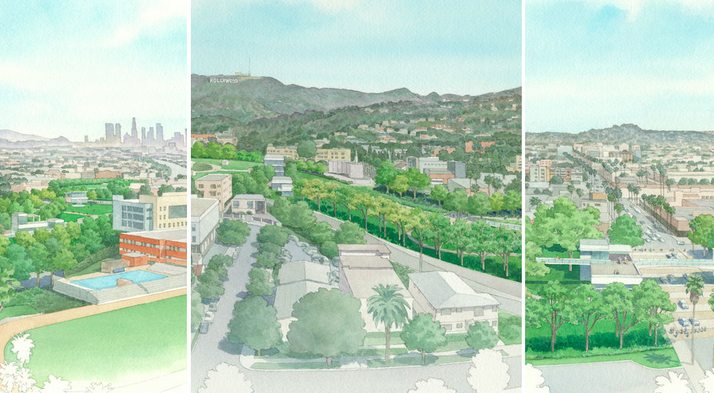 Remember we mentioned a few days ago about a potential park that will cap a stretch of the 101 freeway in Hollywood? Well here's a few more details.

The plan, which is being spearheaded on the government side by the L.A. Department of Parks and Recreation, is, well, ambitious to say the least.
From the developer's press release:
"Hollywood Central Park is proposed for the air space above the stretch of the Hollywood Freeway between Santa Monica Boulevard and Bronson Avenue.  The project area covers approximately 38 acres, located within Caltrans right-of-way, and varies in width between 200 and 400 feet."
The proposed park would basically take an entire mile of freeway, and the possibilities for usage of the space are endless, at least according to developers. The green cap may include open space, multipurpose fields, pedestrian meadows, small retail facilities (such as bike shops, seasonal markets, and art galleries), restaurants, an amphitheater, a community center, playgrounds, dog parks, and interactive community areas. 
Oh, and if you need a visual, catch out the quick video embedded below that projects a big picture conceptualization of what the park might look like.
Just keep in mind this is all in the preliminary phases. A scoping session has been set for September 6th to start the process of assessing potential environmental impact.
Translation: we're a long way off. But still pretty damn cool.
[h/t: Hollywood Central Park & Curbed L.A.]