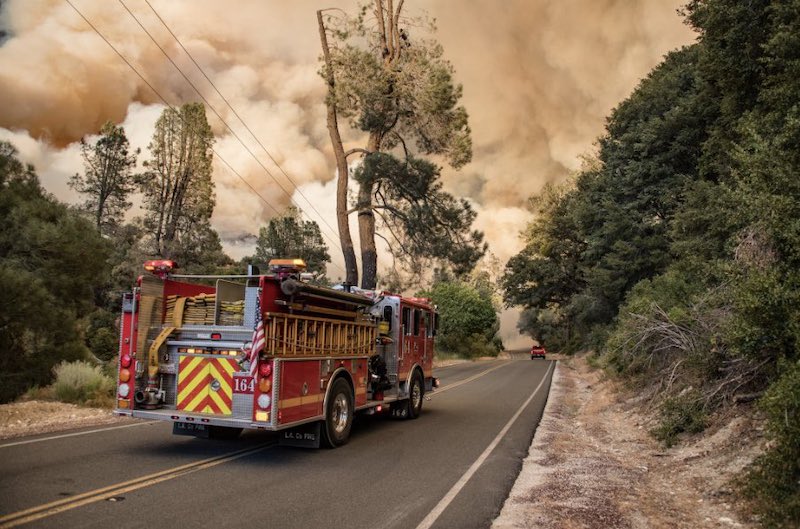 According to Cal Fire spokesperson Jeremy Rahn, nearly 12,000 firefighters are battling nearly two dozen major fires across the state. 771,000 acres have been burned thus far, and 96% of Cal Fire engines are currently committed statewide. If you'd like to help out the victims and those battling the blaze, here are a few options. 
For one, you can stay informed. You can follow CalFire on Twitter for updates. You can track the fires here. An interactive map provides data on each fire, how many acres it's consumed, and containment. You can check your area's air quality here. You can also check out this guide on how to prevent wildfires if you live in an area that's at risk or you know someone who does.
Donation-wise, experts say money is always better than things. Many donated items don't get used, but money lets organizations buy exactly what survivors need when they need it. You can share this page or use it yourself to donate to four different organizations. They include the American National Red Cross, the California Fire Foundation, the Center for Disaster Philosophy, and United Way of Northern California. These organizations will provide emergency cash grants and allocate funds to wildfire victims.
You can also check out the California Community Foundation's list of relevant nonprofits to support, which includes the CCF Wildfire Relief Fund. CCF also has a guide for how to best help in any crisis.
Global Giving also has a California Wildfire Relief Fund, as does GoFundMe.
If you do want to donate some items, the Santa Cruz Community Foundation has a list of things they need here, including water, snacks, shelter items, and PPE.
If you or someone you know needs to connect with services for immigrants or undocumented individuals, there's a guide here.
If you're interested in volunteering, the Red Cross is also looking for volunteers now.