To celebrate the 50th anniversary of Southern California's folk rock scene, KCRW will bring together musicians to throw TWO massive concerts on one night.
The Echo in The Canyon shows will feature Beck, Fiona Apple, Jakob Dylan, Cat Power, Regina Spektor and Jade (formerly of Edward Sharpe and the Magnetic Zeroes) performing the music of the Byrds, the Beach Boys, Buffalo Springfield, the Mamas & the Papas, Love & The Association and more, all playing at the Orpheum Theatre this coming Monday October 12.
Tickets are going fast, as the first show time (7:30pm) has already sold out BUT a second time slot has been added for 10:30pm.
Following this special night, a studio release album featuring all of the performing artists will debut early 2016. The first single, a duet by Cat Power and Jakob Dylan covering the Turtles' "You Showed Me"  is streaming now on soundcloud.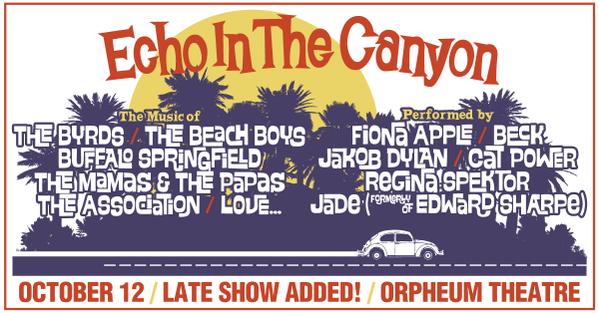 A magical night where memorable music of yesteryear collide with some of the most talented artists today, Echo In The Canyon looks to be one of the best shows of the year.
Show takes place on Monday October 12, 2015.
Tickets run $55-$99 and are on sale now.
Location: Orpheum Theatre 842 S. Broadway, Los Angeles, CA 90014