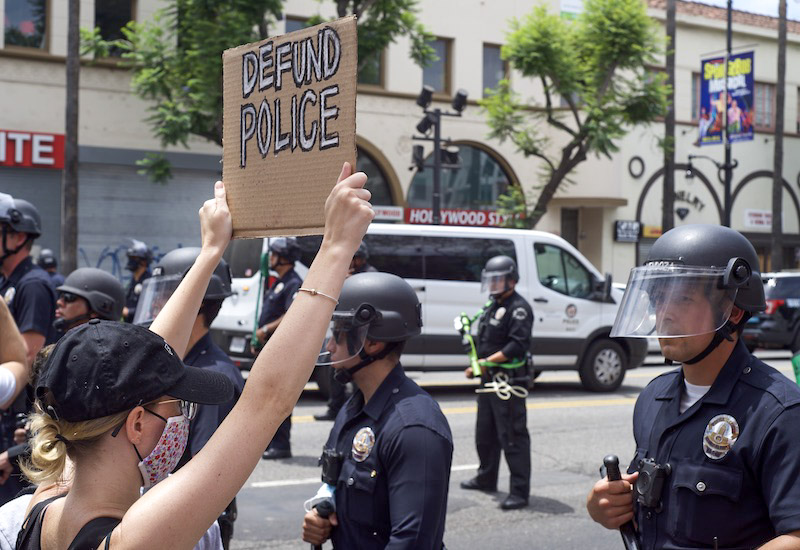 Amid nationwide protests against police brutality and racial injustice, L.A. Mayor Eric Garcetti said the city won't increase the LAPD's budget this fiscal year. Instead, $250 million will be allocated to "jobs, health, education, and…healing" focused on Los Angeles's "black community…as well as communities of color, women, and people who have been left behind for too long." Those cuts will come from every department, including between $100 million to $150 million from the police budget. Garcetti also announced a moratorium on CalGang, a database meant to list gang members that's received a lot of criticism.
Garcetti's proposed 2020-2021 budget would have increased the LAPD's budget by almost $120 million. Advocates instead asked for a People's Budget that considered things like housing, healthcare, public transit, and education. When L.A. City Council held an online meeting on May 20, nearly every single person who called in for public comment addressed the proposed budget. They expressed everything from concern to outrage about the percentage slated for the police. Some called it outright racist, while others pointed to myriad other things Los Angeles would need to spend money on while dealing with the COVID-19 pandemic. 
Of note, the LAPD's budget is already over $1.1 billion, so this announcement doesn't quite "defund police" as protestors have chanted in the streets. Additional details about where the $250 million will go should come later this week.
Tonight, a curfew is in place for 9 p.m. Garcetti said that "barring a bad night tonight," it will be lifted in Los Angeles tomorrow. 
When pressed about why L.A. still has a curfew tonight, Garcetti said, "There are still more acts of unsafely—not coming from protestors, to be very clear—because people exploit these moments."
L.A. County Supervisor Janice Hahn tweeted earlier today that she believes the curfews were no longer needed.