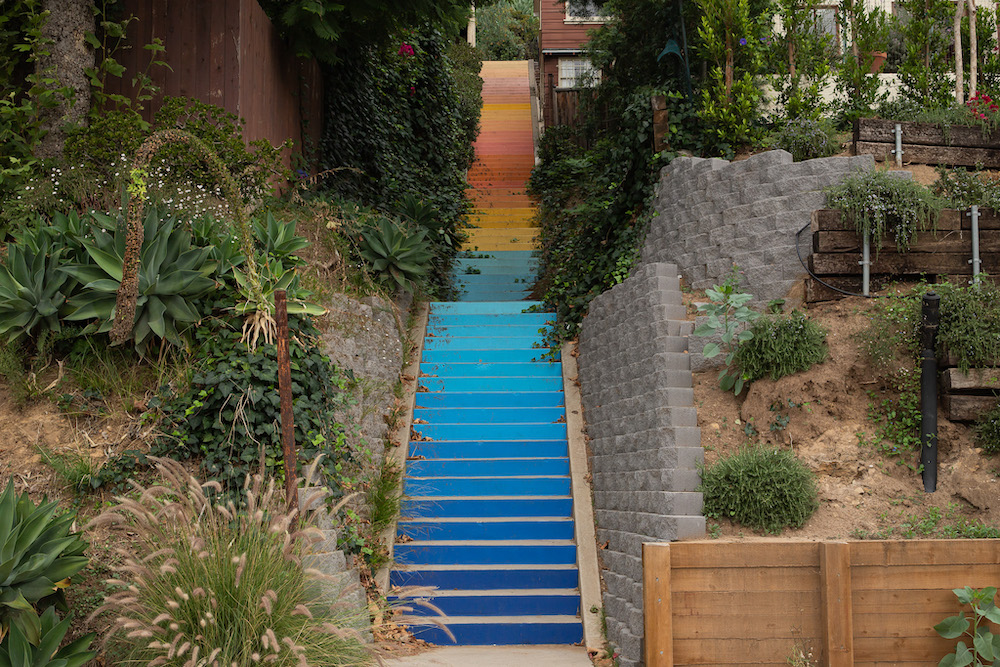 Secret stairways? Well, not exactly. Between Charles Fleming's excellent book, local walking groups like the SoCal Stair Climbers, various online listicles and guides (like this one), and the ubiquitous influence of social media, most Angelenos (and even many tourists) know that Los Angeles is chock full of urban stairwells to traverse.
As L.A. locales go, Silver Lake has perhaps the strongest claim to being the "secret" staircase capital of the city. There are dozens of stair sets spread throughout the neighborhood, some in plain view and others tucked away in obscure corners shaded by property fence lines and tree canopies. In their unique way, all offer a window back to a different time in Los Angeles. Consider an era a century ago when pedestrians ambled up and down the hillside to access the interurban trolleys (hello Red Car!) that owned the boulevard and got people to where they needed to be.
Of course, a lot has changed in the past 100 years. In so many ways, cars now dominate our culture. But the rolling landscape is still unmistakable, and the urban staircases that connect the narrow streets of the hillside are a fantastic portal into the history of Los Angeles. In truth, there so many pockets of our city where human-scale infrastructure is just waiting to be utilized in the full spirit of what it was built for: accessing places efficiently without a car. Plus, you can't beat the exercise. So why not have a look for yourself?
To that end, we sent We Like L.A. co-founder Brian Champlin into the field to grab some photos and map a route that'll take you through no less than seven of the stair sets in the area. And, predictably, it all begins with a bus ride.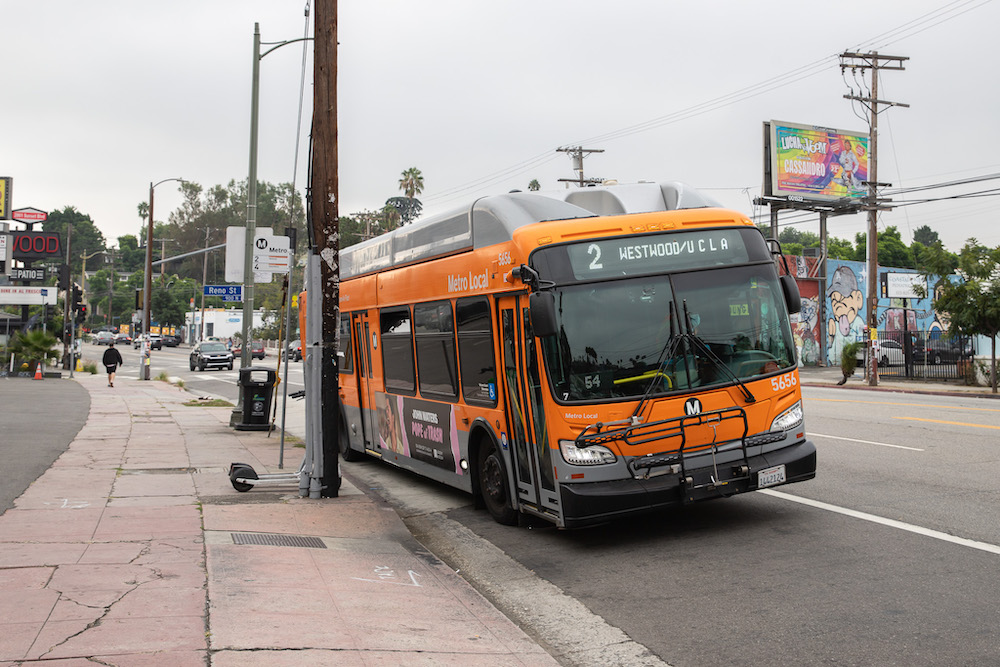 We jump out at the Sunset Blvd. / Silver Lake Blvd. stop serviced by Metro's 2 and 4 lines. Depending on which direction you're coming from, you'll either arrive at a strip mall featuring Silverlake Ramen or directly in front of Café Tropical. If you're on the ramen side, utilize the crosswalk to get the even numbered buildings on Sunset. Otherwise, the walk starts now.
Trek the boulevard northwest about 500 feet then swing a left at Vendome St. where the corner is swallowed up by the Los Globos nightclub. Just one block down you'll happen upon a small triangle-shaped park named after the British-American comedy duo of Stan Laurel and Oliver Hardy. Opposite the green space you'll see a stairway rising up from the sidewalk with a blue street sign that names the place: Music Box Steps.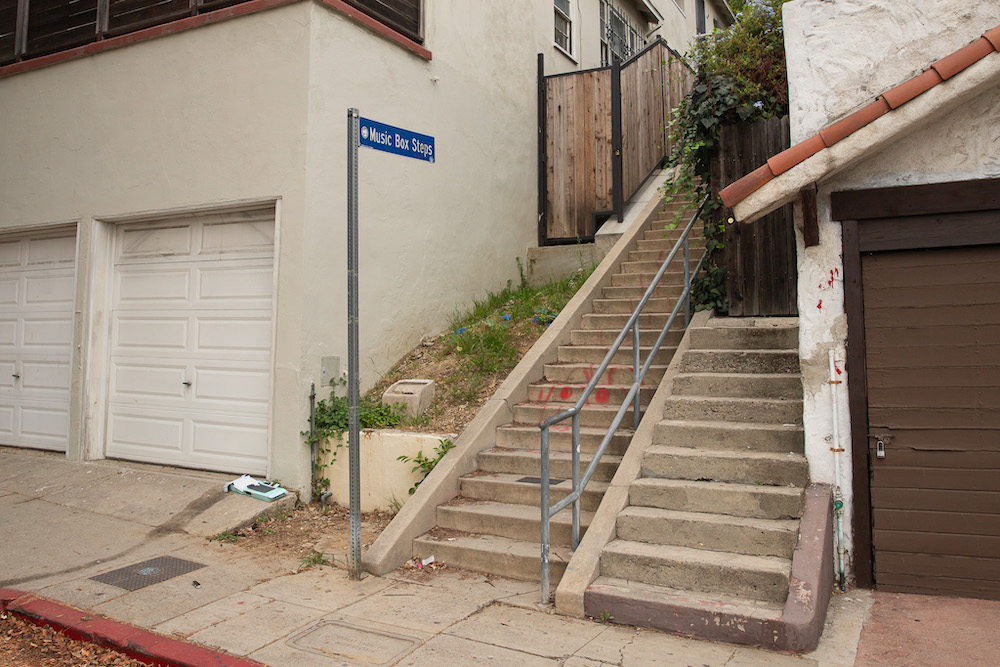 These stairs provided the filming site of Laurel and Hardy's 1932 Academy-Award winning short, The Music Box. In terms of historic relevance, The Music Box Steps may be the most famous of the stairs on our jaunt, if not the most scenic. They are, for sure, a good reminder that during the Mack Sennet days this area was the center of the film universe. A small plaque on the third step dedicates the spot and gives you a little info on the film and location. Have a read, then begin the climb up the 133 steps. We're just getting started.
At the top you'll arrive on Descanso Dr, which has its traffic split by a concrete divide that makes it impractical (if not a bit unsafe) to cross. Opt to turn right and glide down the hill to where the divider ends and traffic intersects with Larissa Dr. Here the painted stripes of a crosswalk point you straight to your next challenge: The Descanso Steps.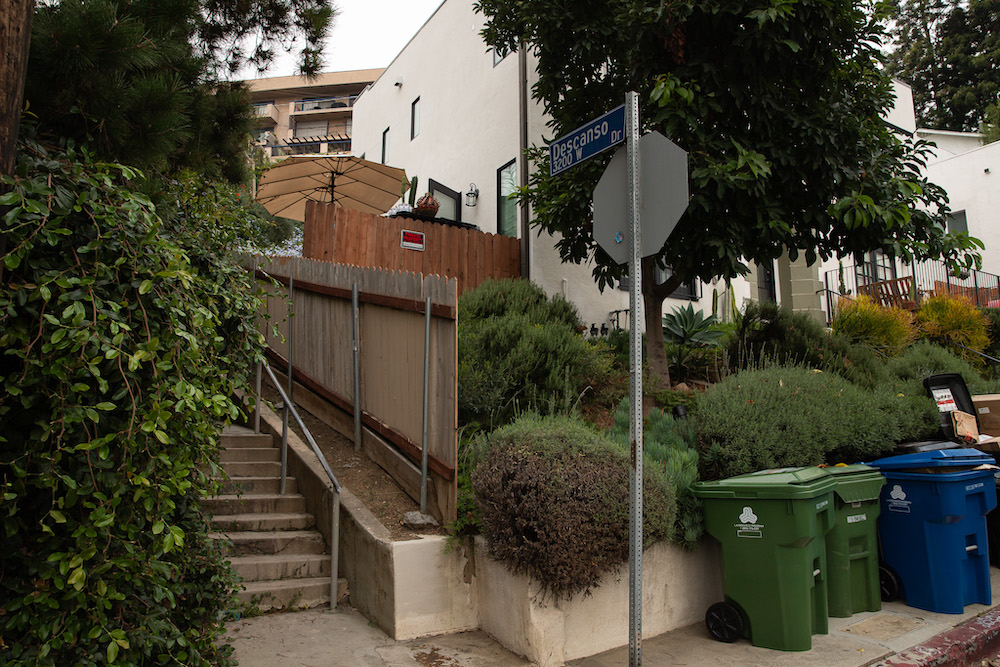 After you conquer the 100+ stairs your next move is another right. You'll swing up the hill, turn right on Micheltorena St., which you'll follow till the road bends around into Willow. But we're not bending around. Gapped between two brown wooden fences is an opening that begins our first descent: The Micheltorena Steps.
As you make your way down you'll see these are actually two sets of stairs, separated in the middle by a landing spot on Larissa. As photo ops go, it's the bottom portion that tends to grab attention.
The colorful stair hearts you'll see were installed by artist Corinne Carrey in 2013, and have been included on more than one "most Instagrammable places in L.A." list. No pressure to snap a pic though. Sometimes it's just nice to have a look for awhile.
Once you've gotten your fill of the hearts, take the crosswalk to the opposite side of Sunset, where we'll connect to the back half of the 7-stair course. Follow Micheltorena past the elementary school on the left and then hang a right on Berkley Ave. Continue the slight (but constant) climb as you swing left on Murray Dr., then make another left on Redcliff St.
Walk about another football field up the hill, and then take a quick breath to have a sip of water (you should have a bottle on hand). You've just completed your first mile, and you've also arrived at your next stair set: the Cicero Redcliff Stairs.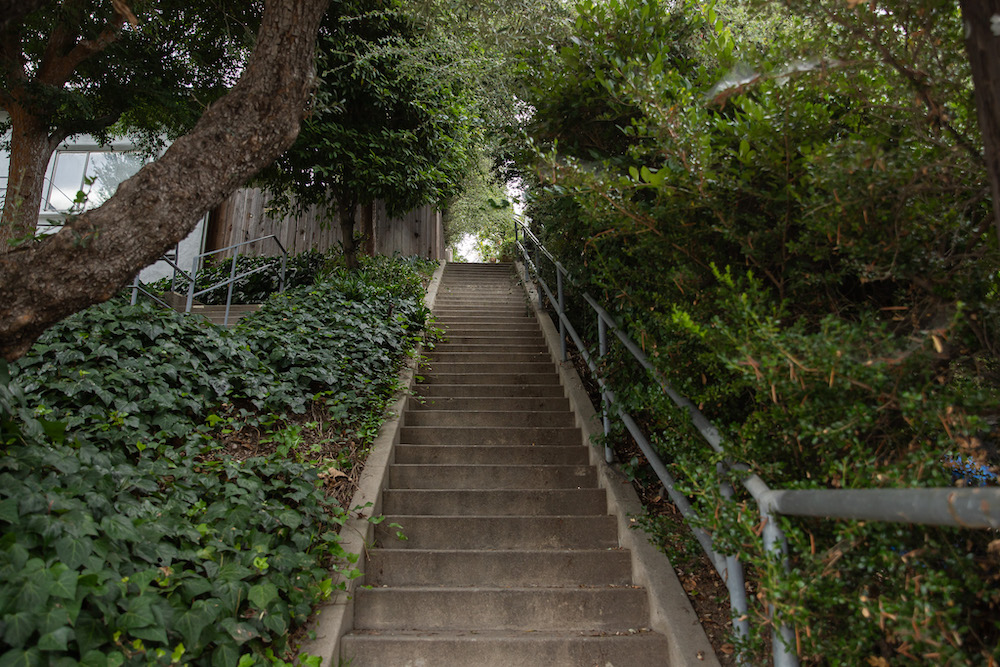 This stairwell is a quick, straight shot that lands you on a cul-de-sac where your only option is a left. Walk out from the cul-de-sac, bank a right on Effie St., then a quick left on Dillon St., then one more right on Webster Ave. Just before Webster hooks up with Swan Pl., you'll see an opening on your right that leads to the next interlude.
These are the Swan Steps.
One thing you'll note immediately is that these steps are steep. Or, at least, a few degrees steeper than any of the other stairs we've already encountered thus far. Plus, the top set has no handrail, so mind your balance. As you descend you'll quickly realize that, as with the earlier Micheltorena Stairs, what we're dealing with is a multi-set combo–this time a triple decker.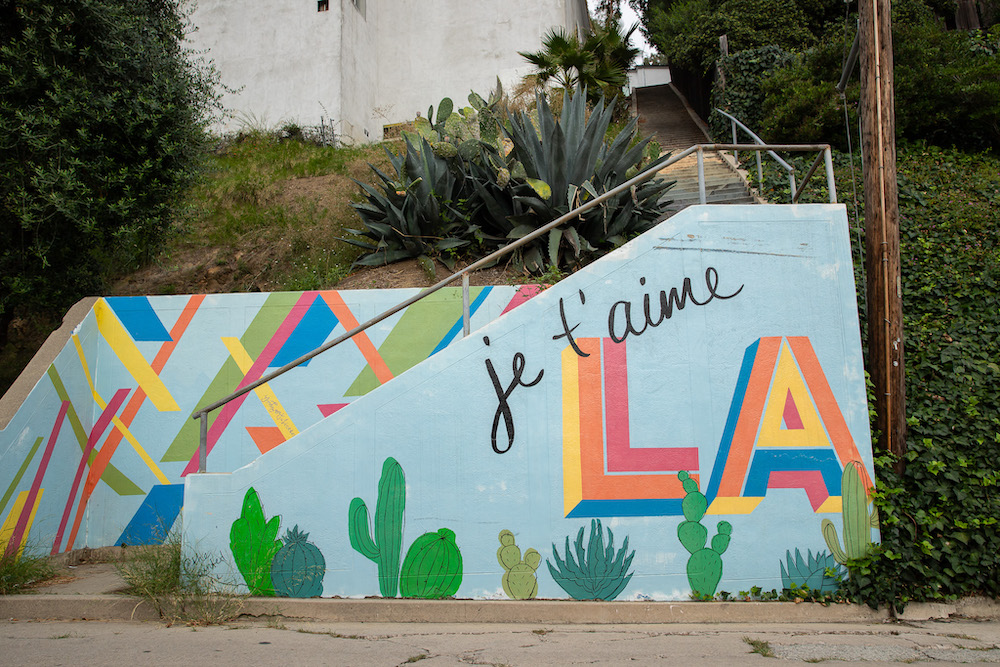 The Swan Steps drop you down one street level at a time, first from Webster to Rotary Dr., then from Rotary to Redesdale Ave., then Redesdale to Westerly Terrace. At the base of each stairwell make sure to turn back to admire the work of artist Evelyn Leigh, whose colorful additions have adorned the stair cases since 2015.
The bottom level of the stair set puts you at approximately 1763 Westerly Terrace, from which point you'll head southwest toward Effie St. Here we'd also remind to you that certain streets up in the hills aren't sidewalked in all sections, and the narrowness of the roadway demands extra caution as a pedestrian. In short, be careful. Mind your surroundings.
Once you safely get to the intersection of Effie and Westerly, turn right and follow it up the hill until the street intersects with Redesdale. Nestled between a pair of long driveways is your final stair ascent of the day.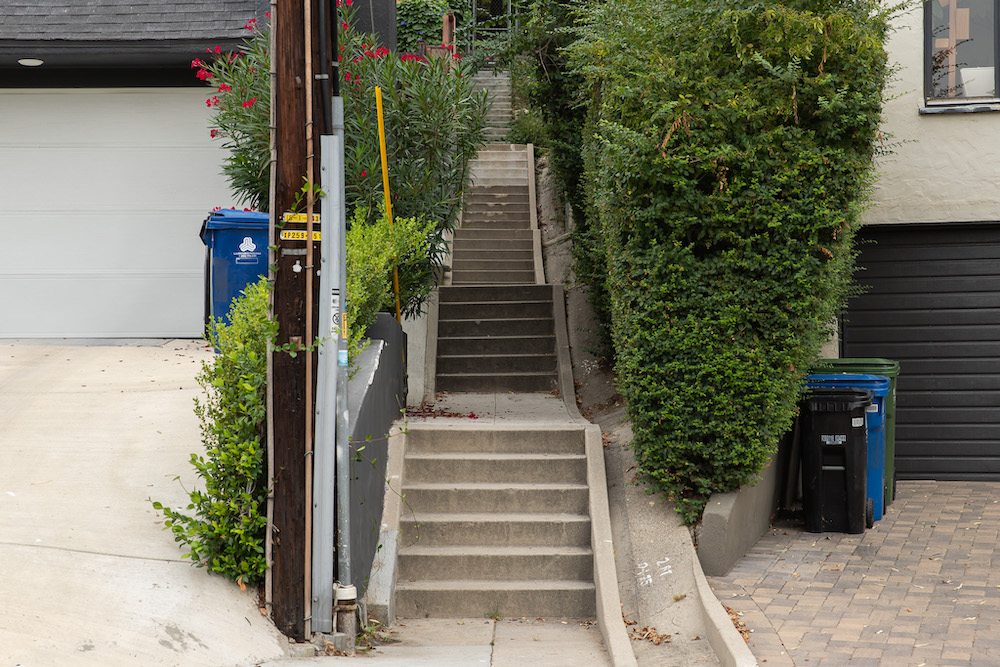 The Redesdale Rotary Stairs are one of the longer stairwells you'll encounter (and really our last big push of the day), just don't make the mistake of trying to move through the chainlink gate that appears straight in front of you about half way up (it should be locked anyway). Instead, curve right at the gate and continue past the wood fences and leafy branches until you land back on Rotary.
Here you'll turn left, at which point you'll be smack dab in the nexus of where Effie, Dillon, and Rotary all join together. The opening provides a nice little viewpoint of the DTLA skyline, which may look more or less impressive depending on the cloud cover and color of the horizon.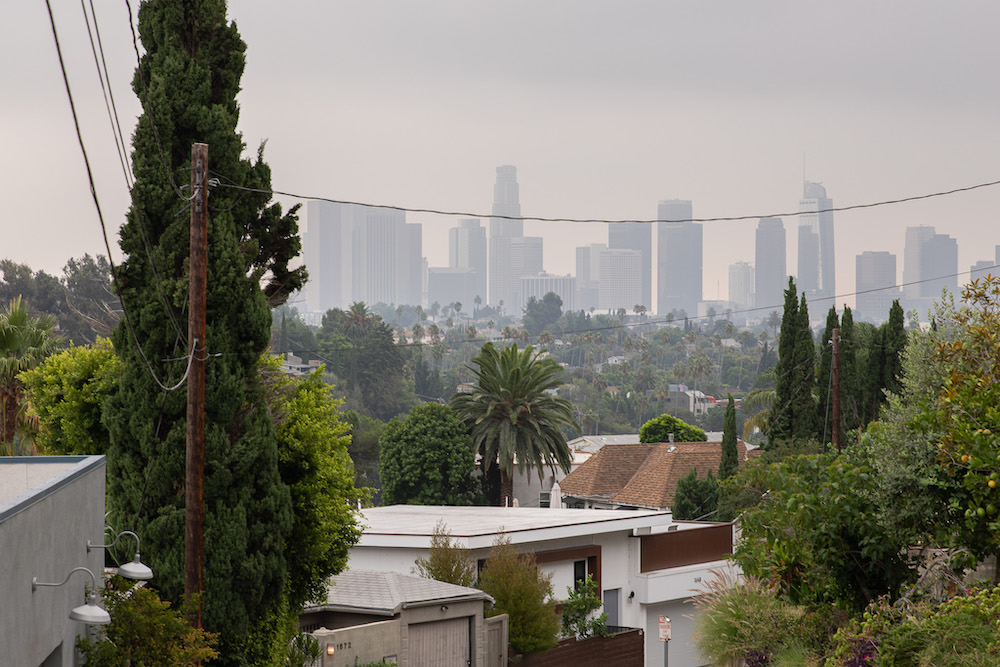 After soaking in the view, retrace your earlier path by going downhill on Effie, making left on Cicero, and then working back down the Cicero Redcliff Steps.
Move downhill on Redcliff, bank a right at Murray, and then keep right where the road splits off at Murray Circle. Murray Dr. gets extra narrow right here, so again, be careful and try to stick to the sidewalk on your left.
Notice the volume of the boulevard traffic rise as you trudge down Murray Dr. Eventually you'll hit a stop sign where the street connects to Hamilton Way. Here you'll swivel your head to the right to spot your final stairway descent: The Piano Steps.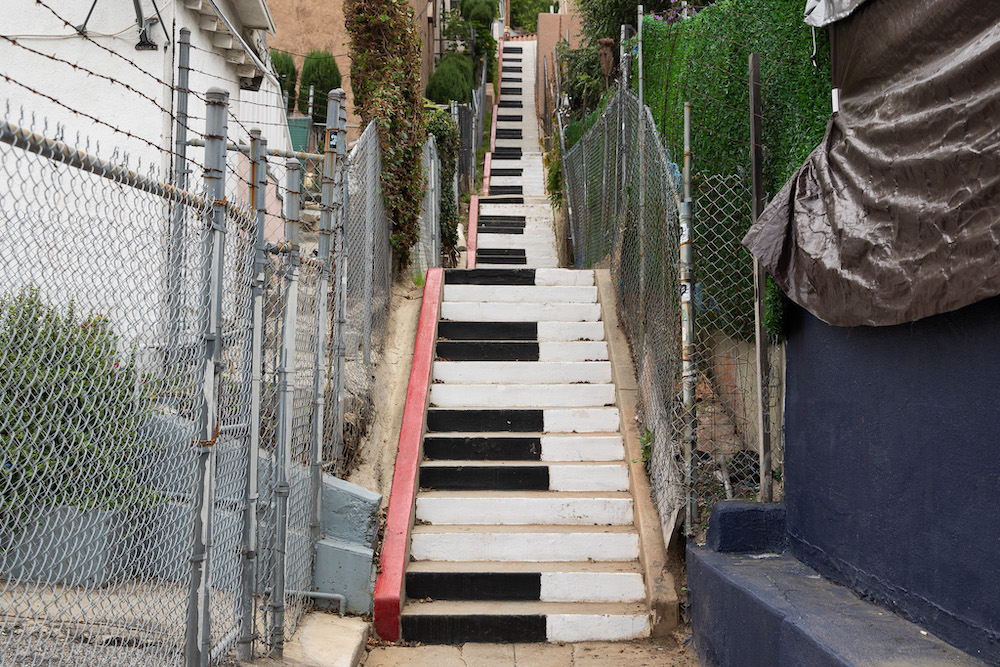 The painted set of ivory keys won't be evident at first, but when you land back on Sunset and look up from where you came, a few chords might jingle in your mind. From there it's just about a quarter mile south to arrive at the starting point. Here, at last, your walk has come to an end.
As you wait for the next Metro bus to arrive perhaps you'll find yourself staring across the street at the building covered in purple stucco. The one with a sign stuck to the top featuring a piping hot cup of something delicious and the all-caps word placed to its left: TROPICAL.
A café de leche does sound pretty good, doesn't it?
Map + Notes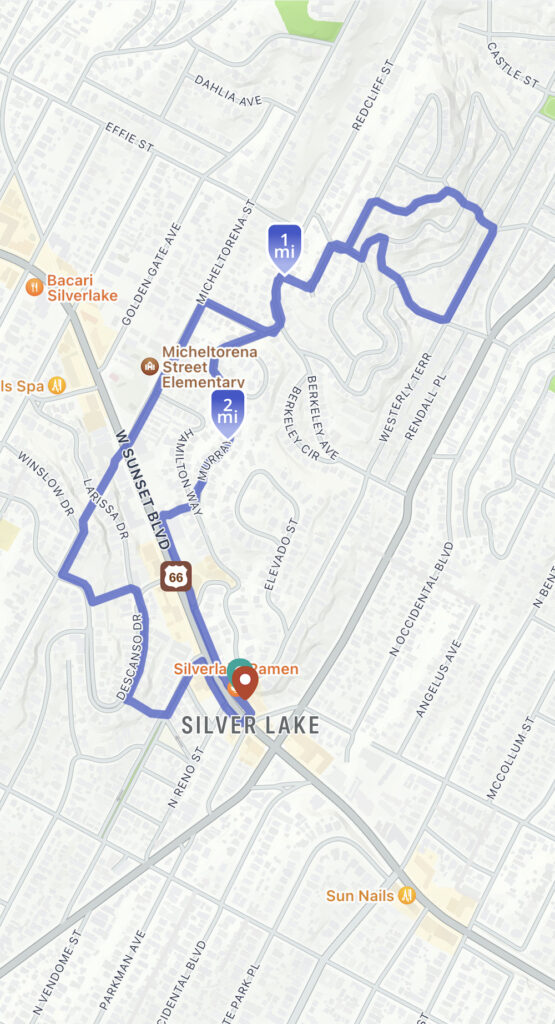 Starting / End Point: 2927 Sunset Blvd, Los Angeles, CA 90026
Total distance: 2.36 miles
Elevation gain/drop: 506 ft
Estimated time length: 60 to 90 minutes.
You can find an interactive Google Maps version of the route here.
---
Want to get the best things to do in L.A. sent straight to your inbox? Join over 60,000 Angelenos who subscribe to our twice weekly email newsletter!
By subscribing, you agree to our terms of use and privacy policy and consent to receive emails from We Like L.A. about news, events, offers, and partner promotions.