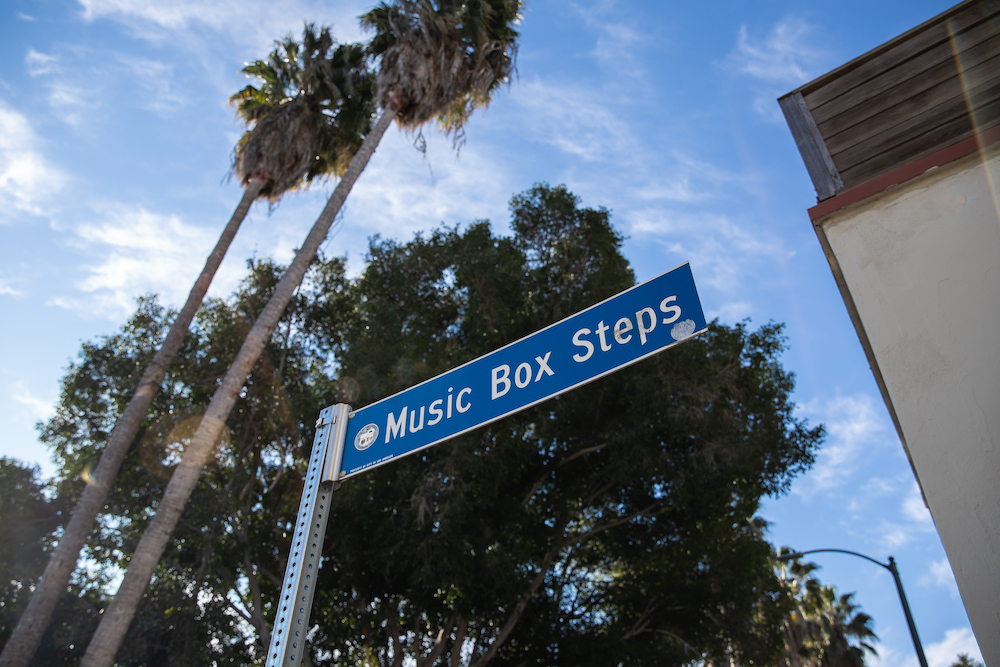 It's just before 8 a.m. on a Tuesday and I've nabbed a lucky street spot along Silver Lake Boulevard. where it splits into two at Sunset, just around the corner from the liquor store where the Silversun Pickups got their name. I depart my car, walk up to the corner and look across traffic to a purple building that represents my starting and end point. Milo is leashed up and raring to go. He's not panting yet, but he will be soon. We're about to climb some stairs. A lot of them.
In his book, Secret Stairs: A Walking Guide to the Historic Staircases of Los Angeles, Charles Fleming maps out over 40 routes for pedestrians to explore urban staircases in L.A. County. Many of the stairs sets are mementos of a different time in the city's history, a time when transport by two feet was a necessary part of getting, well, anywhere. Numerous stairways described by Fleming are located in the hills of Silver Lake, and among these perhaps the most well known is The Music Box Steps, a 133-step staircase just south of Sunset Boulevard made famous as the location of the 1932 Stan Laurel and Oliver Hardy film, The Music Box. These steps are part of a nearly two-mile loop Fleming outlines in his guide. That's the walk I'll tackle today.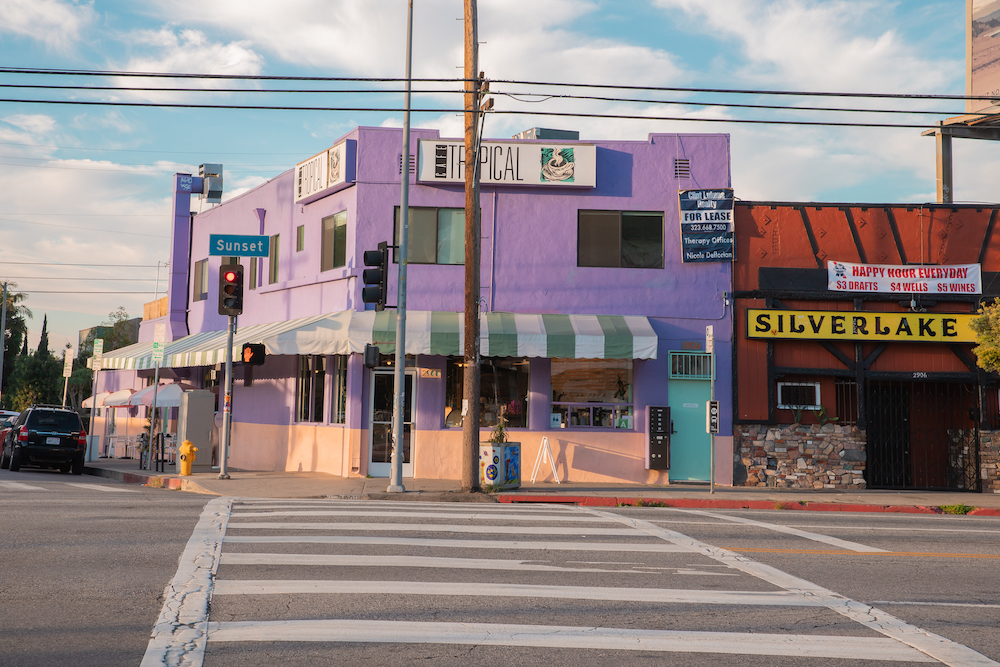 Starting from Cafe Tropical, I head south on Parkman Avenue, turn right at Silver Lake Boulevard, and continue for a few hundred feet until I arrive at Marathon. Then it's a right on Marathon, up a slight grade until Robinson, then one more right. A few houses down — right after 830 Robinson — I arrive at relatively nondescript opening that descends onto Dillon Street. It's obscured by trashcans and shaded tree growth, and you'd probably miss it if you were walking too fast.
I've done this loop about four times in the past year, always in the early to mid-morning, and not once have I seen even a single individual going up or down these steps. It's the quiet part of the walk, and I love that about it. I walk down, then at the base of the stairwell I keep I going left on Dillon, and follow it until it T's out at Vendome.
One more left, and a short walk down the block and I've arrived at the Music Box Steps. In the Academy Award-winning The Music Box (1932), Laurel and Hardy play piano movers tasked with delivering an instrument-filled crate up a hopelessly steep stairwell (the ones now in front me of). Predictably, things do not go so smoothly, and multiple fails and falls ensue. A small plaque commemorates the historical significance of the stairs, and it also mentions another film called Hats Off that predates The Music Box by five years.
In the earlier film, the same comedic duo are cast as salesmen who, in an effort to sell their product, carry a washing machine up the steps. No prints of the film are known to exist at this time, and it is now considered lost. I guess that's the way things go in L.A. Maybe if that reel had survived I'd be walking up the Washing Machine Stairs. Instead, we'll never know.
I work my way to top of the stairway, and when I reach the apex I notice the first deviation from the descriptions given by Fleming in his book. He writes of "eight rickety wooden steps" that will take you across Descanso Drive, but those steps were removed during a recent street improvement project, replaced now by a concrete divide that is just steep enough to make it awkward and unsafe to climb. So I turn right on Descanso and keep going north until I hit a three-way intersection at Larissa Drive. I carefully cross the street to arrive at my next ascent: the Descanso Stairs.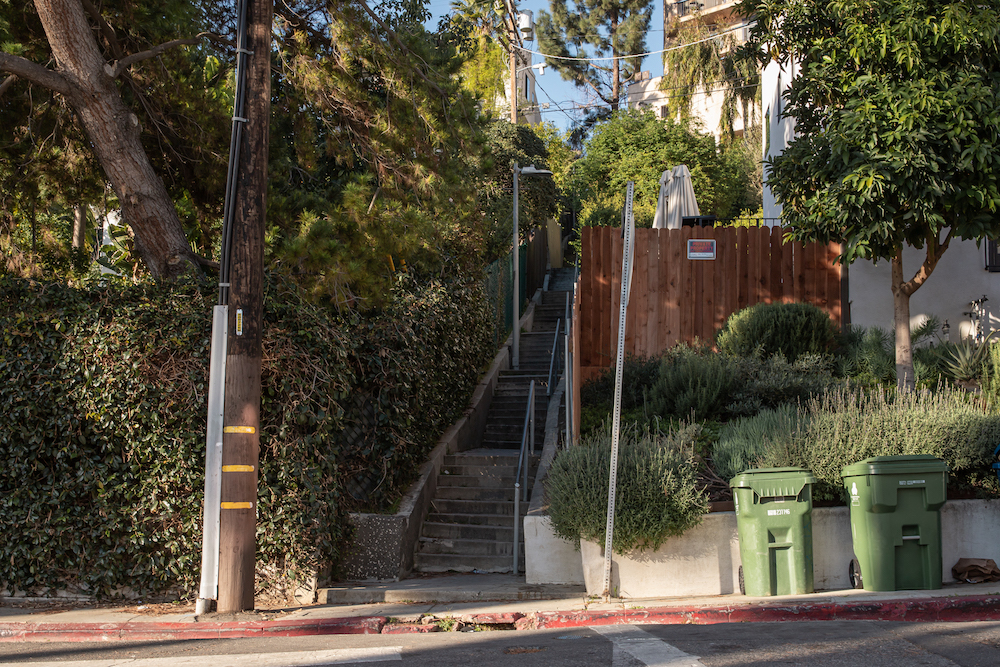 I scale the 139 steps (Fleming's step count, not mine) then turn right at the top and head down Descanso until it hits Micheltorena Street. I turn right up the hill then left on Winslow. On my Runkeeper app I notice I've just passed the one-mile mark of the walk, which means I'm more than halfway done.
I follow Winslow down to Maltman Avenue, head right, and then make another quick right down Golden Gate Avenue to get to Sunset. I love views like this coming down toward the boulevard, looking up at the hills on the other side. It gives you a feeling for the shape of the terrain that you often miss when you're driving in your car.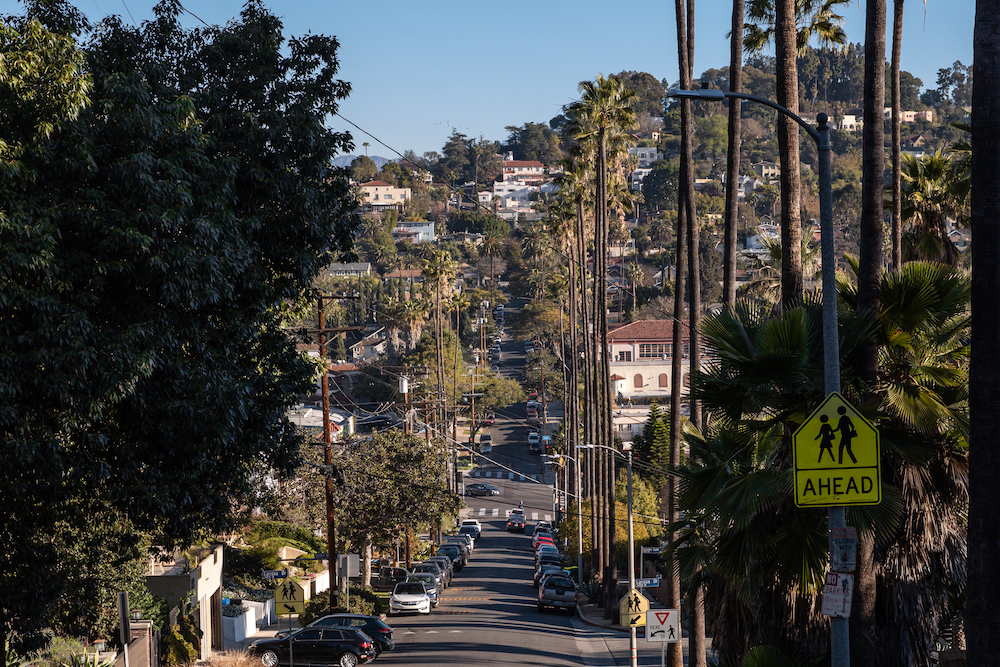 Once back on Sunset, I turn right, walk about 500 feet, and spot the Micheltorena Stairs to the north. The ones with the big hearts painted on them. Yeah, you can't miss them.
The colorful stair art was installed by artist Corinne Carrey in 2013, and in the years following became a huge hit on Instagram. I don't know though, it feels like I people aren't setting up shop to take selfies here like they used to. I guess that's on account of the crying eyes and the tagging and the occasional detritus and debris that always seems to get worse after a rain. But lots of people still like to work out here.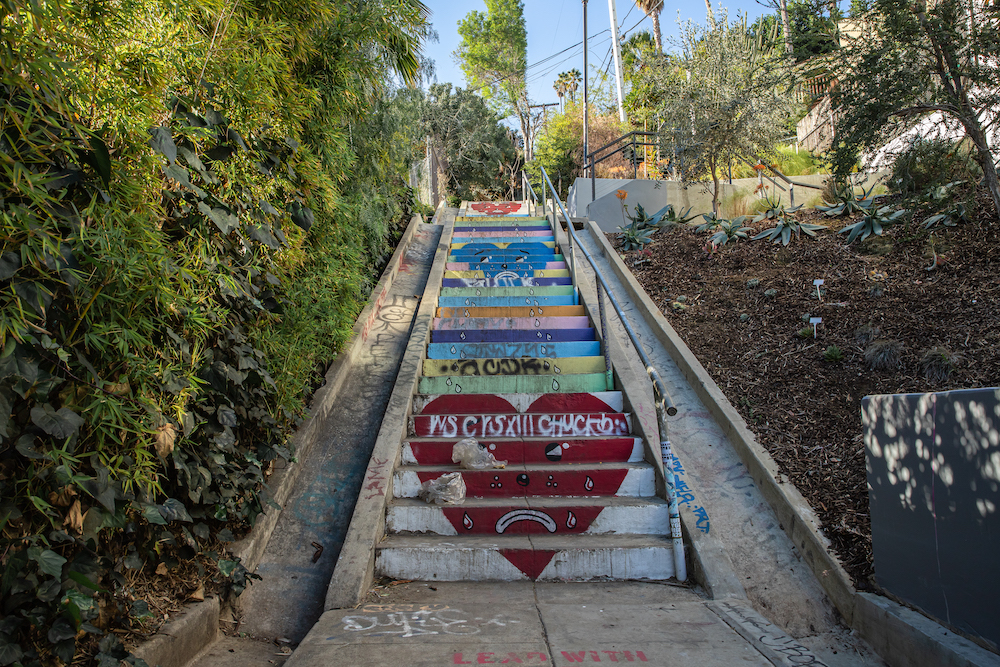 As I ascend the stairs I pause to look at the recently renovated Silver Lake Towers apartment complex to the west. Juxtaposed against the sheen of newish white paint is a chain link fence on the other side of the concrete that guards a makeshift dwelling for what I suppose is at least one unhoused individual. Hung against on side of that structure is a banner with portraits of Jesus and the Virgin Mary. Their features are soft and angelic, and set between the figures is a vase of flowers. The petals, as the garb of the subjects, is painted in hues of red and blue, almost matching the colors of the hearts on the stairs.
I look at the rehabbed apartments, then back to the religious icons, and this quote from HBO's The Wire slides into my head. What was it that Bubbles said to McNulty once? There's a thin line between heaven and hell. Sometimes, I guess, it's dotted by stairs and hearts. I walk on.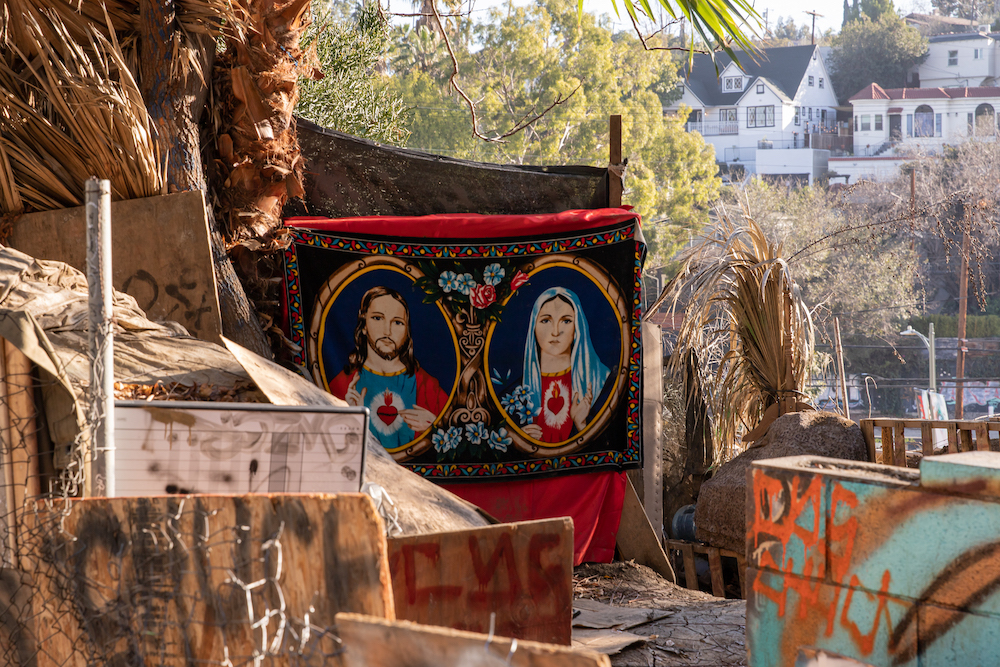 The stairwell is broken up by a landing on Larissa Street. I pause for a breath, mop condensation from my brow, and climb up my last upward stair set for the day. Once at the top, I head back to Descanso Drive, only this time I follow the road as it curves around, catching a view of DTLA before arriving at the top of the Music Box Steps.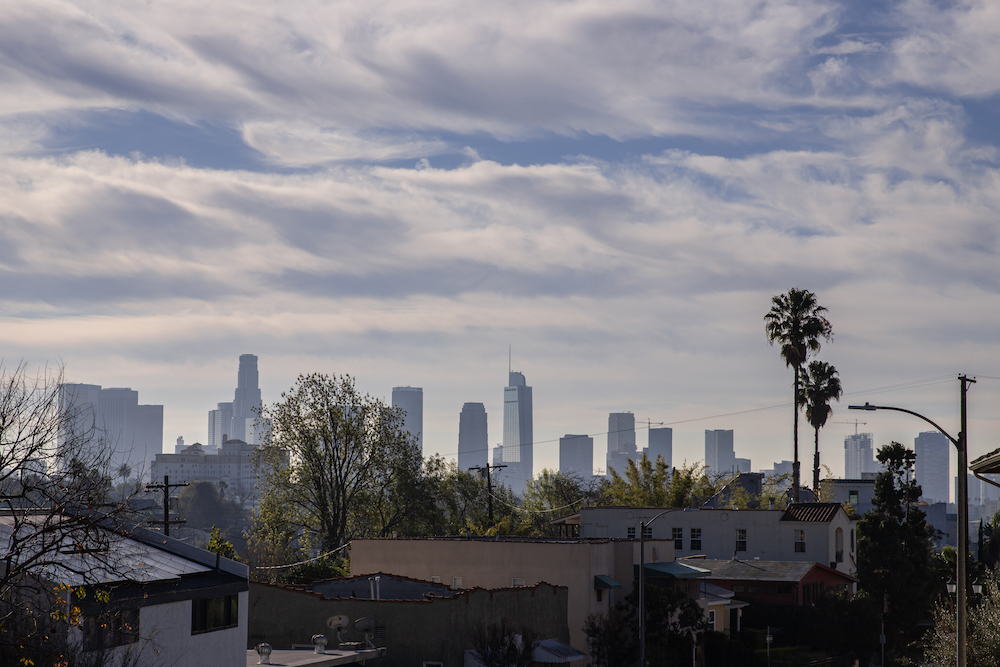 I descend, then once back on Vendome, I cross the street and turn left to arrive at the final landmark, the Garcia Walk. An iron door guards what looks like the entrance to a small private housing complex, except really it's a public walkway, bracketed by addressable homes, barely wide enough to fit a golf cart through. Imagine that, an L.A. street that you can't drive on even if you wanted to. I stop and take a portrait of Milo.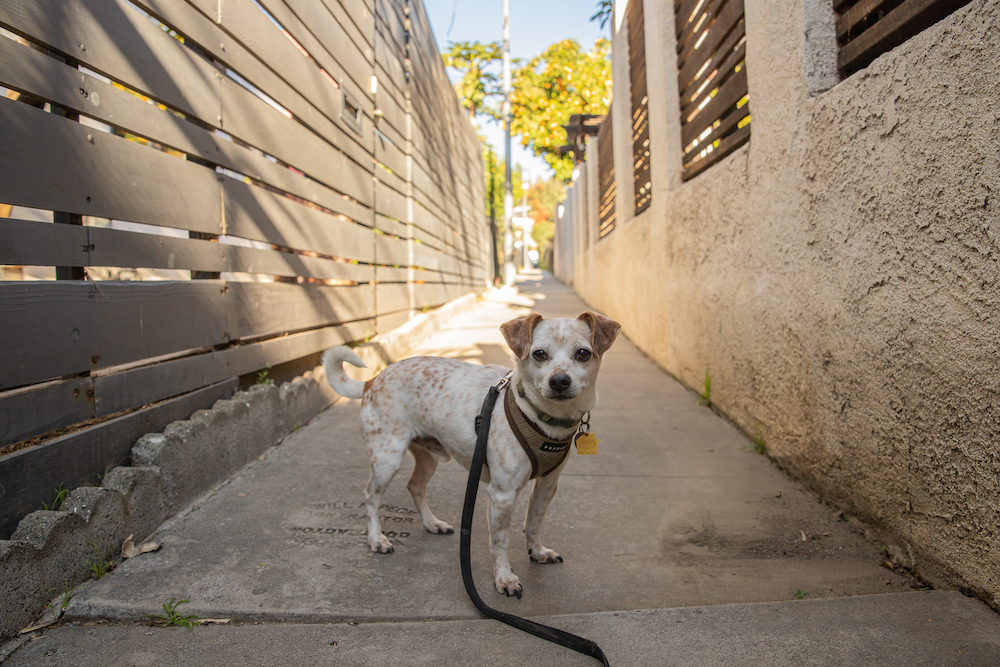 After our Kodak moment, I exit to the other side of the walk through a door that locks behind me. The alley I'm now in views up toward Sunset, so I head back to the main drag and then turn right to approach my original starting point.
Sunset is busier now that it was when I began. Louder. Commuters aggressively speed up and down the boulevard on their way to somewhere that must be pretty important. The strip of businesses here are the beating heart of the neighborhood in so many ways, and yet it is a decidedly unfriendly environment for pedestrians. I guess, as I reflect on all the steps I took today, that it wasn't always like that. Maybe it won't be again.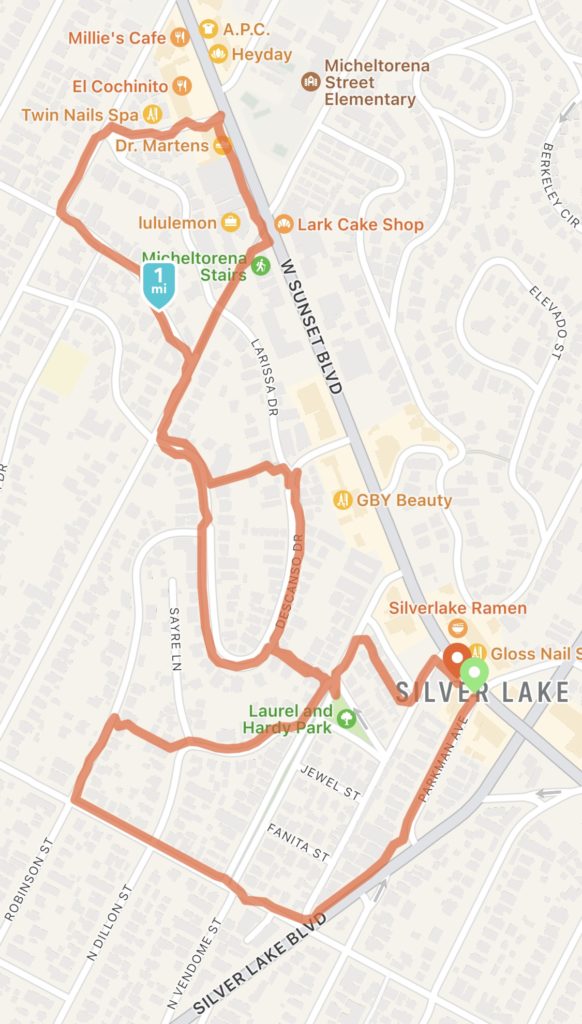 Starting Point: Café Tropical, 2900 Sunset Blvd, Los Angeles, CA 90026
End Point: Same
Distance 1.92 miles
Miles Until Goal: 991.08
---
Previous: Walking Fern Dell to Griffith Observatory // L.A. on Foot #3
Next: Walking The Santa Monica Stairs to the Annenberg Beach House | L.A. on Foot #5