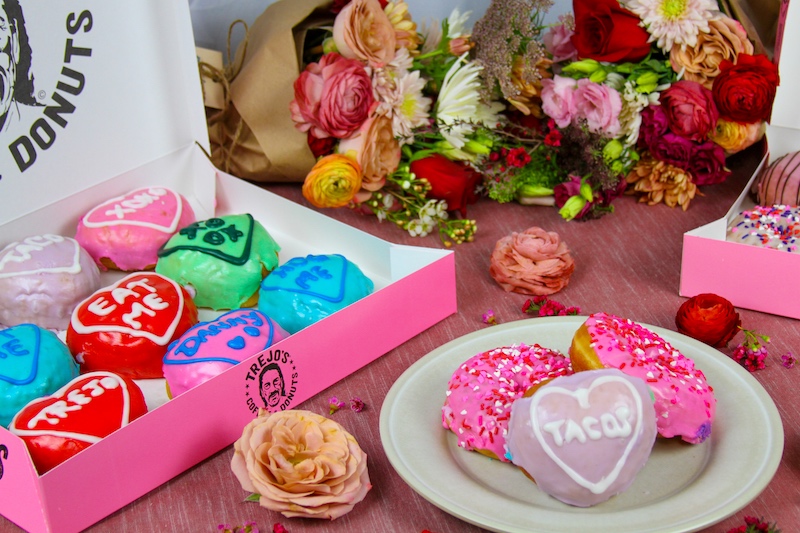 Let's face facts, it's probably been a couple years since you properly celebrated Valentine's Day (you know, pandemic and all). But if you're looking to get back into the romantic swing of things, then we've got some ideas for you. For this V-Day in Los Angeles you'll find pizza-making kits, romantic drive-ins, line dancing, lucha libre wrestling, taco boxes, take-out specials, tasting menus, a scavenger hunt, one-of-a-kind gift ideas and yeah… that's not even half the list.
If you're planning something special for the upcoming holiday, we hope this helps. Either way, Happy Valentine's Day, ya'll!
Events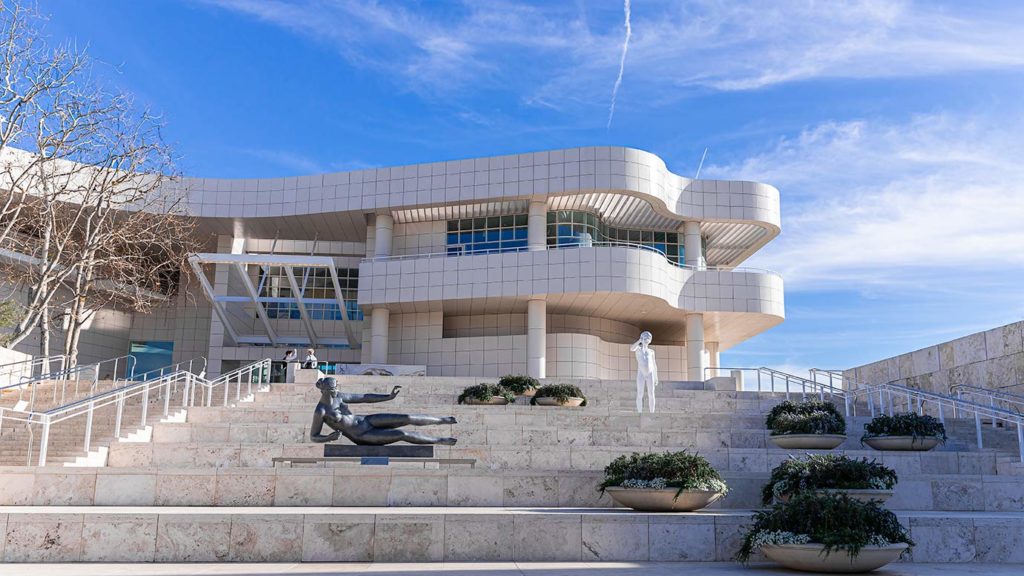 Romantic Drive-In Movies -> Electric Dusk Drive-In is upping the love vibe for February with a slate of classic romance films that includes Breakfast at Tiffany's, When Harry Met Sally, Sleepless in Seattle, The Notebook. If you want to make the drive-in extra special you can also order a special charcuterie board by Luxe Bites. Tickets per film screening are $15 per car plus $8 per passenger (including the driver). More info here.
Broken Hearts Mending Club -> This Valentine's Day, hand-made hemp clothier White Bark Workwear is hosting a special Broken Hearts Mending Club, inviting guests to bring in an old garment/apron in need of some TLC for mending, sewing, pressing, and other services. A $15 ticket to the event includes garment services (specified on the ticket link) plus a voucher for a bite from the on site pizza pop-up. Runs 1 to 5 p.m. on Feb. 14. More info here.
Love Blossoms at One Colorado -> This Valentine's Day, One Colorado in Old Pasadena is hosting a free event where you can make your special someone a heart filled boquet. Starts on Monday (Feb. 14) morning, and materials available until supplies run out. More info here.
Lucha VaVOOM Amor Impossible -> What better way to say "I love you" than taking your significant other to a lucha libre wrestling performance? To wit, Lucha VaVOOM is hosting a pair of Valentine's Day-themed shows this Friday and Saturday (Feb. 11, 12) called Amor Impossible. Tickets start at $45 for general admission. Get more info here.
Line Dancing at Desert 5 Spot -> Put a little western spin into your Valentine's Day with couple's line dancing class led by 'Line Dancing Mike' at Desert 5 Bar in Hollywood. Tickets are $75 per couple and include the line dancing class as well as 2 cocktails. Runs 6 to 10 p.m. on Feb. 14. More info here.
A 'Nudes' Scavenger Hunt -> Want to active your mind and body over Valentine's weekend? Pop over to the The Getty this Saturday (Feb. 12) afternoon to take part in a cheeky trivia game and scavenger hunt created by Watson Adventures that centers around nude art works on display at the museum. Sound like your bag? Tickets are $24 per adult (parking not included). The game runs for about two hours starting this Saturday at 2:30 p.m. More info here.
Broken Hearts Circus -> If Valentine's Day leaves you feeling a little blue, head to Angel City Brewery's Broken Hearts Circus on this post-Valentine's Day Saturday (Feb. 19) for a free event featuring aerialists, stilt-walkers, contortionists, jugglers, tarot card readers, specialty slushies, beer flights and candy pairings. More info here.
Sweets & Other Treats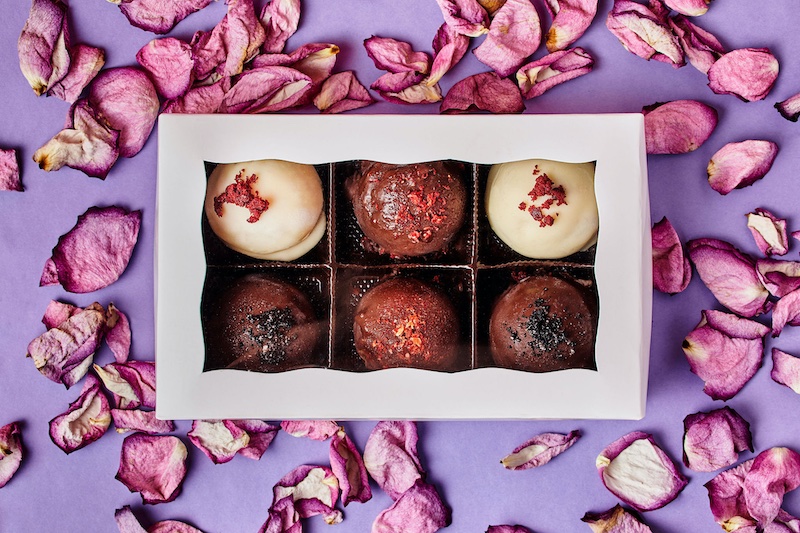 Trejo's Coffee & Donuts -> Trejo's Coffee & Donuts will launch limited edition V-Day donut flavors the weekend of Valentines Day. Danny Trejo will also make an appearance at the Hollywood shop on Saturday, Feb. 12 from 12:30 to 2:30 p.m., personally signing special box of donuts. Angelenos who need to pick up last minute gifts can also shop Latina-owned apparel brand Hija De Tu Madre during the event from 7 a.m. to 4 p.m. More info here.
Dear Bella Creamery -> For Valentine's Day Dear Bella Creamery in Hollywood is offering a handmade ice cream bon bon gift set ($11.95) filled with plant-based ice cream, covered in chocolate, and topped with a sprinkling of each flavor's core ingredient. The bon bons come in a set of six and are available Feb. 1-14, picked up in-store or ordered for local delivery. More info here.
Unfined Wines -> Unfined Wines is putting together a Date Night Box ($75) for Valentine's Day that will include two bottles of natural wine (red and rosé), two LetterPress chocolate bars and Love Lingual card game specifically designed for couples. The Valentine's Day gift box gets hand-delivered to your door. More info here.
Birdie G's -> Birdie G's kaleidoscopic pink and red Rose Petal Pies (starting at $69) in whole 6" and 9" pies are available for pickup by ordering online through Tock or calling (310) 310-3616 after 2 p.m. with 48 hours' notice. More info here.
Casa Vega Sherman Oaks -> The dimly lit vibe at Casa Vega is a seductive spot to sip on a cocktail with your date. Order the Valentine's Day special Hibiscus Margarita made with JAJA Tequila. It comes with an old school box of candy hearts. More info here.
Little Dom's Deli -> Pastry Chef Ann Kirk is baking up naughty and nice heart-shaped sugar cookies starting Feb. 7. Available at the deli for $5 each. More info here.
Huckleberry -> The Santa Monica bakery is selling a V-Day cookie kit ($20) featuring strawberry icing and plant-based decorations as well as a box of two Chocolate Strawberry Tarts ($15) now via Tock or by calling the cafe, with at least 24 hours' notice. Pickup is available Feb. 1-14. More info here.
Take Out Ideas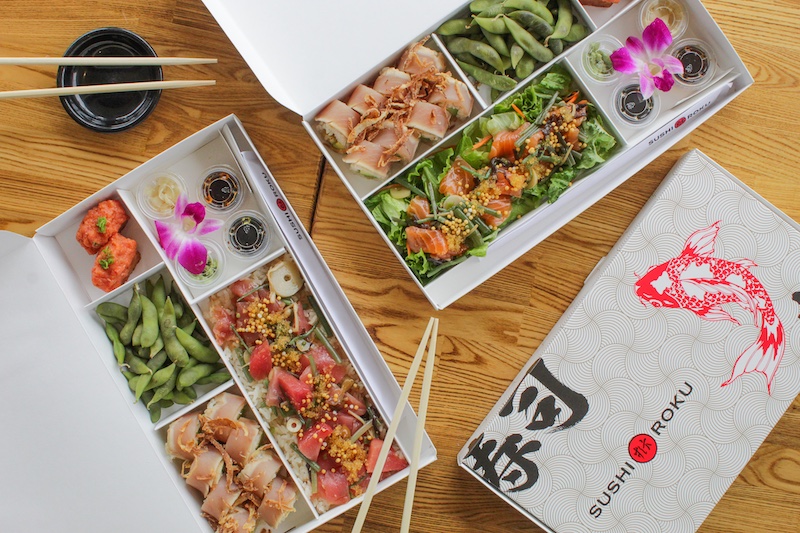 Gogo's Tacos -> Instead of a giving your sweetie a box of chocolates this Valentine's Day, surprise them with a heart shaped box filled with tacos. The Latina-owned and operated taco shop also donates a portion of their proceeds to the Juan Carlos Cantoni Foundation, a non-profit supporting transitional age youth with education, professional and mental health support. The special Valentine's Day Taco Box will be available starting Feb. 1. More info here.
Chicas Tacos -> Want more V-Day tacos? All Chicas Tacos locations will offer a Valentine's Date Fiesta Box ($59) that include your choice of four tacos, a bottle of wine or margaritas, two chocolate chip cookies, chips, salsa and guacamole. Cut off orders for the box is Monday, Feb. 14 at noon. More info here.
New Sushi To-Go Boxes at IDG concepts -> IDG's concepts Sushi Roku and Katana recently revealed a new $34 Signature Sushi Box. Exclusively available for pick up and delivery, the box features the restaurant's signature White Lotus Roll made with popcorn shrimp tempura, asparagus, and avocado topped with albacore, crispy onions and wasabi truffle soy. From there it's the diners choice between salmon or tuna poke over rice or mixed greens. Two pieces of crispy rice sushi plus a side of edamame also come with the meal. Orders can be made on sushiroku.com, katanarobata.com as well as delivery on select apps.
Banh Cuon Tay Ho -> Last month, Little Saigon's Banh Cuon Tay Ho expanded to the city of San Gabriel with a to-go concept offering their signature Banh Cuon sets and other Vietnamese dishes like egg rolls, Bun noodles and rice dishes all packaged up in ready to eat boxes. More info here.
Sunset Sushi -> Born during the pandemic Sunset Sushi has mastered the art of takeout sushi in both the high quality they provide and the presentation of the food. A number of boxes are offered in chirashi, sashimi, and sushi format, each are carefully crafted to create a fine dining experience right in the comfort of your home. More info here.
Imari -> The Brentwood newcomer serves a washoku-style Japanese menu skillfully crafted by master sushi chef Derek Wilcox. Their Imari Sashimi Bento Box is beautifully packed with seafood flown in from Japan and local seasonal produce. Imari offers three different types of bentos ranging from $28-$48 for pick up. More info here.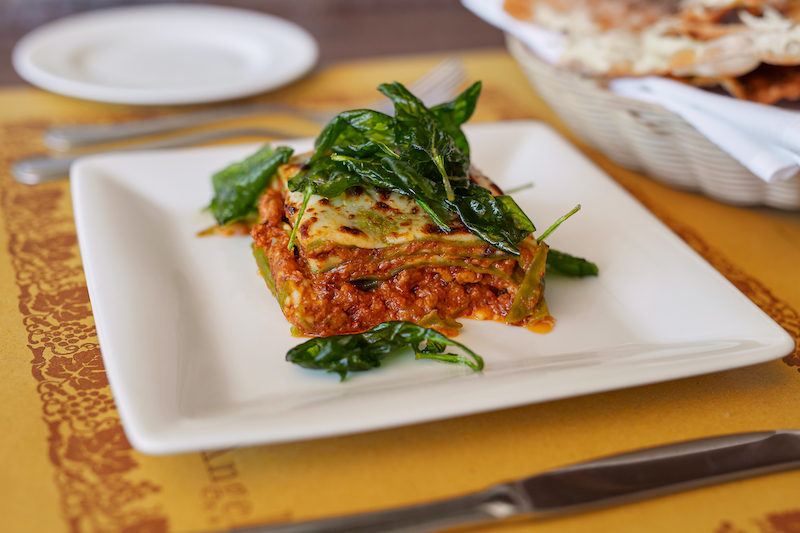 Angelini Osteria -> The four course prix-fixe take out package ($95/person) includes bite sizes appetizers, antipasto, penne in spicy vodka sauce and your choice of a main course where options include a number of proteins and Angelini's famous Lasagna Verde. More info here.
Little Dom's -> The Los Feliz Italian spot will have Pizza Making Kits for two ($20.70) that includes two Little Dom's pizza doughs, an 8 oz. jar of tomato sauce, and a ball of mozzarella. Additional toppings such as pepperoni, house-made fennel sausage, arugula and more are also available at an additional cost. They also have dessert covered with a Gelato Sundae Kit for two ($20.70) which includes one pint of house-made Vanilla Gelato, Nutella Hot Fudge, Fresh Whipped Cream and Chopped Almond Biscotti. More info here.
Dinning Out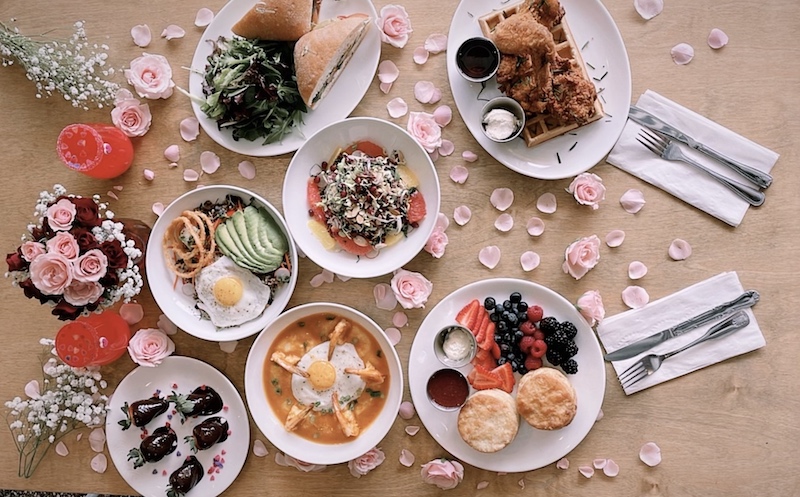 Valentine's Day Brunch at Poppy + Rose -> Chef Michael Reed's restaurant in the Flower District of DTLA will offer three special brunch packages from Feb. 11-14. Packages include a meal, bottomless mimosas and special gifts. Themes include "Galentine's Day" ($60.00 per person), "Taste of Roses" ($65.00 per person) and "Hearts + Roses" ($150.00 per couple.) More info here.
Good Clean Fun -> The restaurant in DTLA will feature a Lady & The Tramp inspired multi-course prix fixe menu (Feb. 10-14) for $69 per person with the option to add a $30 wine pairing to the meal. Heart Shaped Pizzas will also be available exclusively on Valentines Day. More info here.
The Tasting Kitchen -> Chef Travis Passerotti and his team are putting together two Valentine's Day Dinner Tasting Menus. Available Feb. 11-14 guest can choose from a three course meal ($85) or five course feast ($110) with the option to add a wine pairing. Reservations will only be accepted for the tasting menu. The bar will be serving an a la carte menu during that time. More info here.
Girl & the Goat -> On Monday, Feb. 14, Girl & the Goat hosts an eight-course tasting menu ($85/per person) featuring shareable plates like Hamachi 'Pico' with spicy yuzu tomato, Ora King Salmon with blood orange, specialty craft cocktails, and some surprise treats just for your evening out. Add ons like fresh oysters and Coffee Crunch Craisin gelato will also be available. More info here.
Water Grill -> Water Grill locations will offer a four course Valentine's Day pre-fixe menu ($135 per person.) Available Feb. 12-14 the menu includes an array of seafood dishes to choose from like crab cakes, steamed lobster, crab legs and a classic surf & turf. A wine pairing for $50 a person can also be added onto the meal. More info here.
Hermanito -> The restaurant will offer a four course prix fixe menu ($45) where highlights include oysters, salmon crudo, braised leg of lamb, and tres leches cake. Sip on the Valentines cocktail special "Finger Heart" ($17) made with lime, jasmine syrup, amaro, grapefruit, and tequila. More info here.
Rappahannock Oyster Bar -> A special Valentine's Day menu will be available with oysters, Champagne pairings and specials for couples including filet mignon and lobster, grilled whole branzino, squid ink pasta with whole grilled octopus and roasted duck breast with lentils. More info here.
Vintage Wine + Eats -> The Valley's only female-sommelier-owned wine bar will celebrate the love of wine with a multi course dinner and wine pairing of AJA Vineyards wines. The event takes place on Saturday Feb. 12. and cost $133 per person. More info here.
San Pedro Fish Market Long Beach -> On Monday, Feb. 14, the waterfront seafood restaurant will welcome guests to dine on decadent specials designed for two. Choose from a New York Strip with Lobster Tail and bearnaise sauce($79.99) or Lobsta' Pot Pie ($39.99) with poached lobster in lobster gravy and roasted vegetables covered with a flaky pie crust. A Chocolate Torte ($12.99) with a hazelnut crumble, roasted raspberry jam and vanilla ice cream will also be featured that day. The specials are available all day. More info here.
Angelini Osteria -> The beloved Italian restaurant will celebrate Valentine's day with a three-course dinner ($115/person) that includes a bevy of options including Swordfish Carpaccio, Angelini's famous Lasagna Verde and Grilled Colorado Lambchops. Diners can also add a wine pairing to their meal for an additional $55 per guest. More info here.
Gift Ideas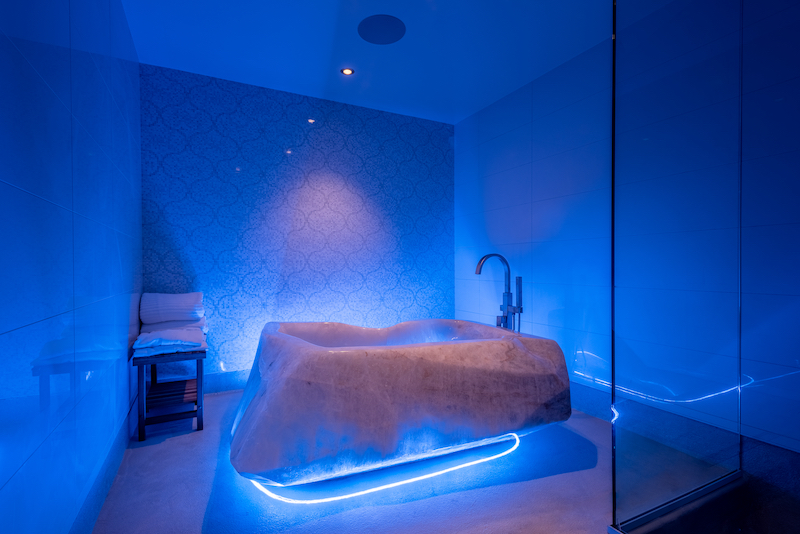 IntoMeSea -> Take a day at the spa to higher vibrations by treating your sweetie to a visit to IntoMeSea. The regenerative treatments include a relaxing soak in a Quartz Crystal Intention Tub, a float experience in a tank filled with Epsom salt rich water, take a calming sound bath to detoxing with a dry salt treatment. In a word… blissful. More info here.
Jean Pascal Florist -> The flower studio located at ROW DTLA is best known for their gift boxes stuffed with roses. They come in a variety of sizes and flowers, prices start at $68. More info here.
Honeydew -> If your partner seems to wake up on the "wrong side of the bed" in the mornings, give them the gift of a good nights rest with Honeydew pillow. The California based family owned brand offers pillows that are specially designed with side and back sleepers in mind. Made from non toxic and organic materials each pillow is focused on proper neck alignment and support while simultaneously offering a plush and firm feel. Pillows come in single and pairs. More info here.
Cloud 11 -> Elevate the ho hum heart-shaped box of chocolates this Valentine's Day and instead put in an order of cannabis-infused, luxury bonbons with Cloud 11. Founded by Chef, Sommelier, and Entrepreneur Nicholas Pritzker, and Eleven Madison Park alum, Chef Manuela Sanin the edibles are highly sophisticated and look like works of art. Flavors include: Salted Peanut an elevated take on the peanut butter cup; Strawberry Pink Peppercorn featuring strawberries from Harry's Berries; and Black Sesame Yuzu using Wadaman sesame paste sourced from Japan. Customizable two tiered bonbon sets in a chic marble printed tin start at $170. Individual tins of a single flavor is also available. All orders are hand delivered. More info here.
Bloom and Plume Coffee -> Start the morning right by treating your sweetie (and yourself) to coffee and flowers from Bloom and Plume. The Westlake cafe/floral shop is offering Valentines Day flowers on pre-order now. Flowers come with a box of chocolate covered dates from Date Better Snacks. More info here.
Leanna Lin's Wonderland -> The super cute and inclusive gift shop in Eagle Rock is stocked with awesome cards to give to friends, family and partners. More info here.
---