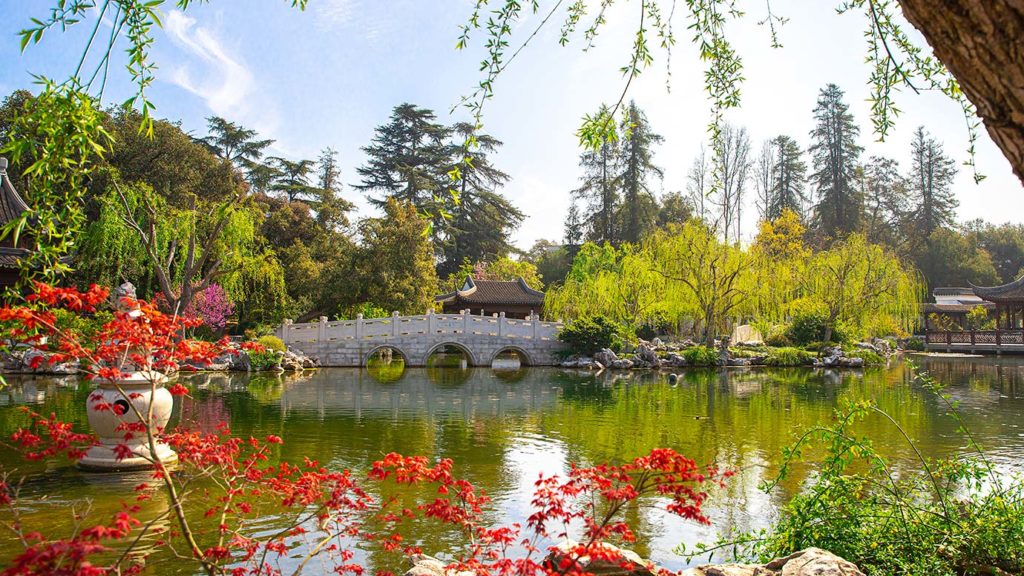 The Rams are one win away from an NFL title. Covid rates continue declining throughout the county. The weekend weather looks like three full days of 75 and sunny. So yeah, some good things (knock on wood) on the horizon. Maybe you're looking for a few things to do?
On deck you'll find Lunar New Year's at The Huntington, a Super Bowl fan experience in DTLA, a pop-up market at the 18th St. Arts Center, a seltzer fest in Long Beach, some outdoor walk ideas, and more. Get started with our list below, and remember that if you want to get great to-do ideas right to your inbox, be sure to sign up for the We Like L.A. newsletter.
Things to do for for this Weekend
Lunar New Year Festivities -> With the Lunar New Year officially turned this past Tuesday, celebrations continue this weekend at locations around Los Angeles. The Huntington is offering two days of new year's events this Saturday and Sunday, including lion dancers, a mask-changing artist, martial arts demonstrations, music, and other performances around the outdoor spaces (festival included with price of admission). Meanwhile, the USC Pacific Asia Museum is hosting a free, virtual celebration on Saturday featuring music, dance, martial arts, and storytelling.
Manos a la Obra Closing Celebration -> This Saturday the 18th St. Arts Center marks the final day of the Cog•nate Collective's Manos a la Obra with a pop-up Artisan Market. Browse handmade crafts and goods then take time to soak in the art exhibition inside the Propeller Gallery. Free to attend. Runs 11 a.m. to 3 p.m. More info here.
NFL Super Bowl Experience -> With the L.A.-hosted Super Bowl now less than two weeks away (go Rams!), the NFL is opening a fan experience this weekend at the Los Angeles Convention Center that offers guests a chance to grab autographs from football legends, play games, and shop official merch. Tickets are $20 for entrance this weekend (Feb. 5-6). More info here.
We Like L.A. Walks -> We Like L.A. co-founder Brian Champlin has an ambitious goal to trek (and document) over 1,000 miles of paths/walks/hikes in Los Angeles. In the past two weeks he's hit eight different routes covering over 20 miles, and he's published the first three already as detailed write-ups to our website. Those include the loop at Echo Park Lake, a walk along the L.A. River Path in Frogtown, and a hike from Fern Dell to Griffith Observatory. We'll be sharing fresh walk ideas every week, and you can follow along on Instagram @bchampla if you want to see some of the new ambles as they're happening.
Transit Equity Day -> Metrolink (not to be confused with Metro Los Angeles) is offering free rides to all passengers on Friday, Feb. 4 to highlight Transit Equity Day, which celebrates the birthday of civil rights icon Rosa Parks.
Seltzerland in Long Beach -> Sample over a hundred unique hard seltzers this Saturday at the Bixby Knolls Golf Course as touring festival Seltzerland hits Long Beach. Tickets are $35-55 depending on time slot and if you opt for the VIP version. Side note: If you're hard seltzer isn't your thing, maybe it will be after you watch this Please Don't Destroy sketch from SNL.
Matthew Thomas: Enlightenment at CAAM ->  Artist Matthew Thomas brings his unique blend of geometric abstraction and religious philosophy to the California African American Museum with a site-specific installation that opens this Saturday, and runs through Aug. 22. Admission to CAAM is always free. Get more info on the new exhibition here.
Interscope Reimagined at LACMA -> Artists Inspired by Music: Interscope Reimagined is now open this at the Los Angeles Museum of Contemporary Art. The exhibition celebrates Interscope Records' 30th anniversary with a presentation of 50 artworks that reinterpret iconic songs from the Interscope catalogue. 46 visual artists were commissioned to create the works, most of which will be on display to the public for the first time. More info here.
Cơmbap Mart Pop-Ups -> Asian American women-owned and Los Angeles based online mini mart operation Cơmbap Mart is popping up at Pop-Up at Blossom Market Hall in San Gabriel this Saturday (11 a.m. to 8 p.m.) and Sunday (10 a.m. to 1 p.m.) at Pop-Up at RUNWAY in Playa Vista. Both events will highlight and sell goods from Asian American makers, such as Red Boat, Omsom, and Copper Cow Coffee. Year of the Tiger tote bags exclusively designed for Cơmbap Mart by Brooklyn artist Lanny Hoang will also be available. 
Brother Brother and Friends -> Lifestyle retailer Brother Brother (West Adams) is hosting an afternoon event at their shop this Saturday featuring food by Decades Pizza and Rascal's Vegan, plus refreshments provided by Liquid Death and Recess. Runs from noon to 6 p.m. Peep this flyer for more info.
Tupac Shakur. Wake Me When I'm Free -> A new in-person experience based on the life and work of rapper Tupac Shakur is now open in DTLA. Organizers, who are working with the say-so of the Shakur estate, have stated that the experience "leverages technology, contemporary art, and never before seen artifacts from Tupac's personal archives." We haven't seen photos of the experience yet, so if that sounds a bit vague, then take heed. But if you're a huge Tupac fan, the it could be interesting. The pop-up experience at L.A. LIVE near the JW Marriott at the intersection of Georgia Street and Olympic Blvd. Tickets run upwards of $40 depending on if you go on "peak" or "off-peak" times. More info here.
New Works for a Post-Worker's World -> A new exhibition by Chilean artist Rodrigo Valenzuela explores the implications and philosophical consequences of what happens to laborers as technology and automation displace reorganize, and potentially destroy existing work environments. New Works for a Post-Worker's World is the artist's first solo exhibition, and it will be on display at Luis De Jesus Los Angeles (DTLA) now through Feb. 19. Gallery hours are Tuesday-Friday from 11 a.m. to 6 p.m., and Saturdays from 10 a.m. to 6 p.m. More info here.
Dining Ideas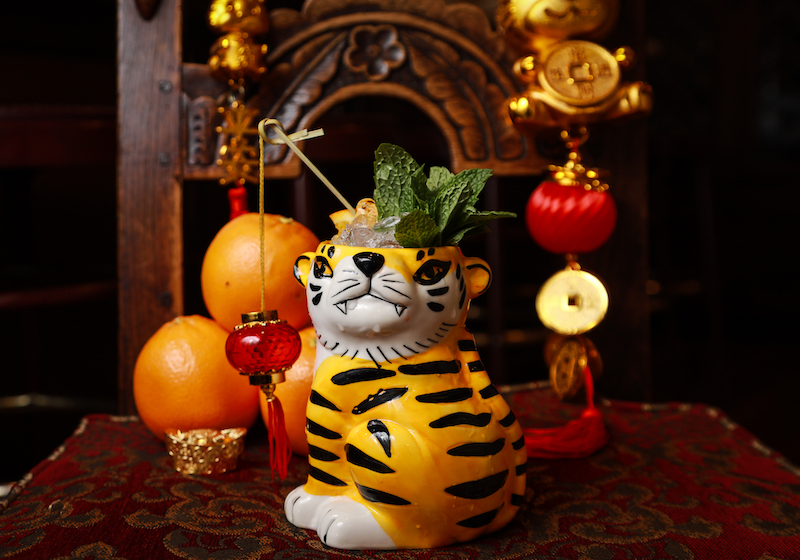 CNY Cocktail at Big Bar -> In honor of Chinese New Year, Big Bar in Los Feliz is featuring a "Year of the Tigress" cocktail made with Ming River Baiju, Ten to One Rum, Szechuan peppercorn, sunflower seed orgeat, Lucky Falernum and orange bitters. The drink is served in a cheeky ceramic tiger cup garnished with mint, citrus and a mini Chinese lantern. Available all month long.
Spiny Lobster Season at Water Grill -> Spiny Lobster season has arrived at Water Grill. Sourced directly from local fishermen, the lobsters are caught one at a time, by hand or in small traps, in the early hours of the morning off the California Coast. Water Grill is currently featuring live wild California Spiny Lobster charcoal grilled and served with a side homemade coleslaw for $62 per pound.
Ice Cream for Breakfast Day with Jeni's Splendid Ice Creams -> Saturday Feb. 5 is "Ice Cream for Breakfast Day" and Jeni's is attempting to set the world record for most people eating ice cream for breakfast. All locations of their scoop shop will be open starting at 9 a.m. for walk-in, pickup and local delivery orders. A limited-edition Maple Soaked Pancakes flavor has also been created just for this special day. The ice cream is made with pancake bites suspended in swirls of salted butter and Vermont maple syrup ice creams. Angelenos who want be counted for the world record attempt simply have to post a picture or video eating ice cream for breakfast to Instagram, Facebook, TikTok, or Twitter with the hashtag #IceCreamIsBreakfast between 9 a.m. and noon on Saturday. Five lucky participants will win a 12-month Pint Club membership. More info here.
The Original Farmers Market's CNY "Lucky 8" Specials -> From Feb. 1-8 over 20 merchants will offer "Lucky 8" pricing on a number of items. For example China Depot's Orange Chicken Bowl as well as a French Dip from Magee's Kitchen will be priced at $8.88, some produce at the market will be on special for 88 cents apiece and butcher shops will also have items on sale.  A full list of specials is available at farmersmarketla.com.
New Brunch & Lunch Menus at Formosa Cafe -> After a two year pause, Formosa has brought back weekend brunch and weekday lunch. Weekend brunch (11 a.m. to 4 p.m.) highlights include Loco Moco with brisket, wok fried rice and gravy, and a pork belly breakfast sando.
---
Any notes or corrections? Want to suggest an event we should add to an upcoming list? Hit us up at [email protected].