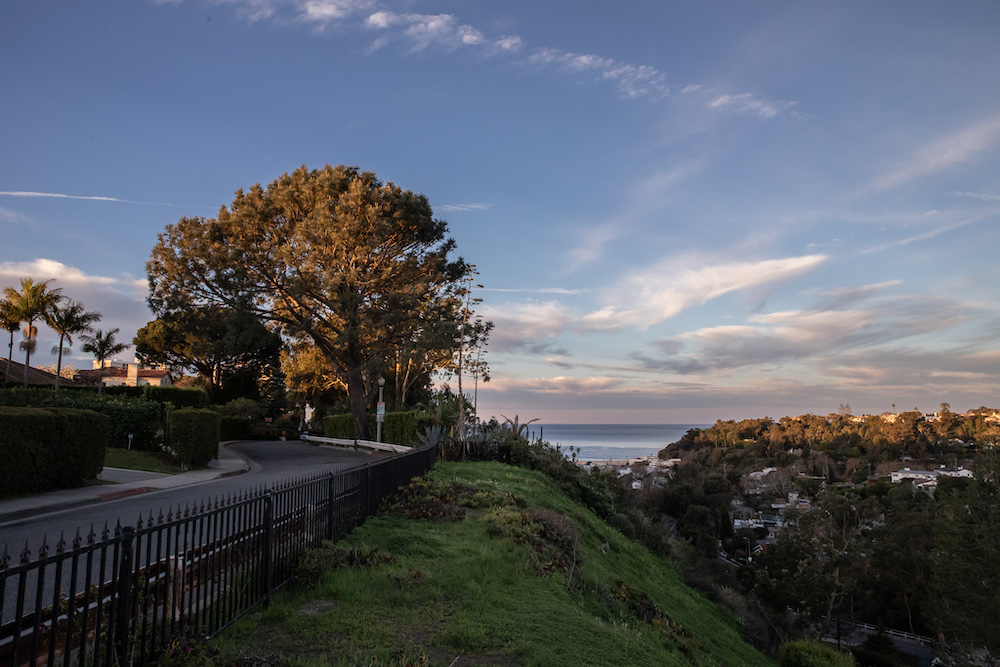 An important thing to know about me is that I'm not above shameless promotion of my wife's Etsy shop. Far from it. So when Christina mentioned she was checking out an estate sale near The Getty Villa on a Friday morning, I told her I'd like to go with. Not because I have the same passion for vintage and designer womenswear. No, I just thought it was be a good excuse to actually enjoy L.A.'s famed coastline. Also, I get to plug the store.
So here we are, just after 7 a.m., parked on Entrada Drive where the road splits as it's divided by the Santa Monica Canyon Creek. It was the only street spot I saw on the way up, and I imagine that parking here for morning or afternoon workouts can get a little hairy, especially on the weekends.
We exit the car, head north on Entrada, and arrive within minutes at the first leg of our journey, a set of steps which straddle the border between the City of Santa Monica and the Los Angeles neighborhood of the Pacific Palisades. These are the Santa Monica Stairs.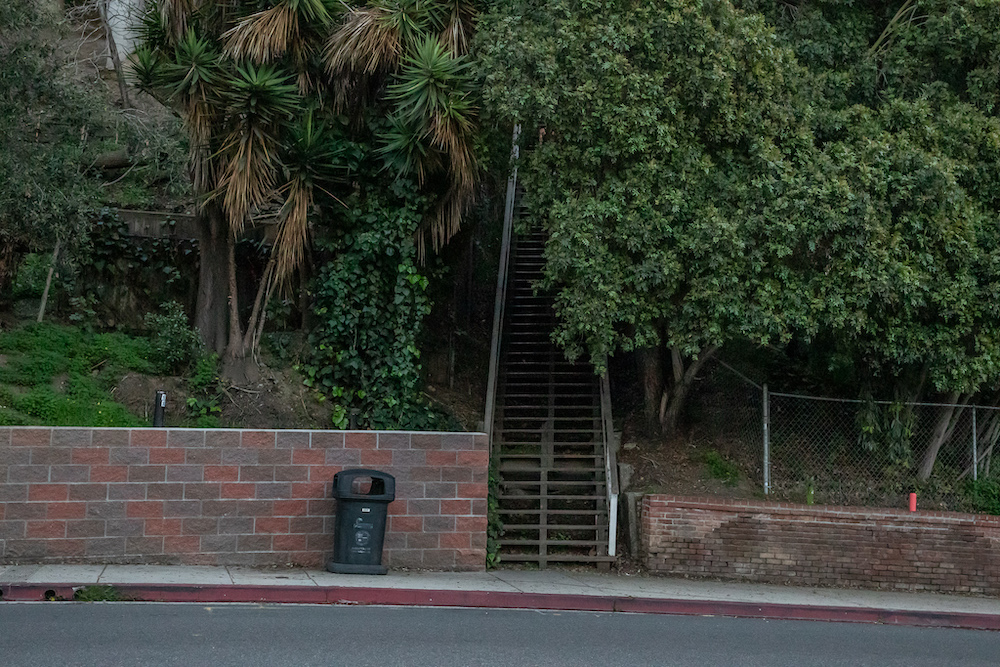 What we're really talking about here are two sets of steps broken up by a landing pad adjacent to Staci Lane. The incline makes for a decent workout, as you ascend about a hundred feet in less than football field of stair length. But one climb isn't good enough for most of the walkers.
Sure enough, a sort of assembly line has formed by the time we show up. Spandex clad exercisers wear muted expressions as they trudge up and down with an almost joyless deliberateness. Or maybe it just seems joyless because everyone is so quiet.
The stairs, much like those I've traversed in Silver Lake, come right up against residential properties. But even more than the Eastsiders, the folks here have formalized their desire for quietude. Multiple posted signs warn against excessive noise. Quiet zone. Be respectful. Babies sleeping. Okay, I made that last one up, but it's not that far off.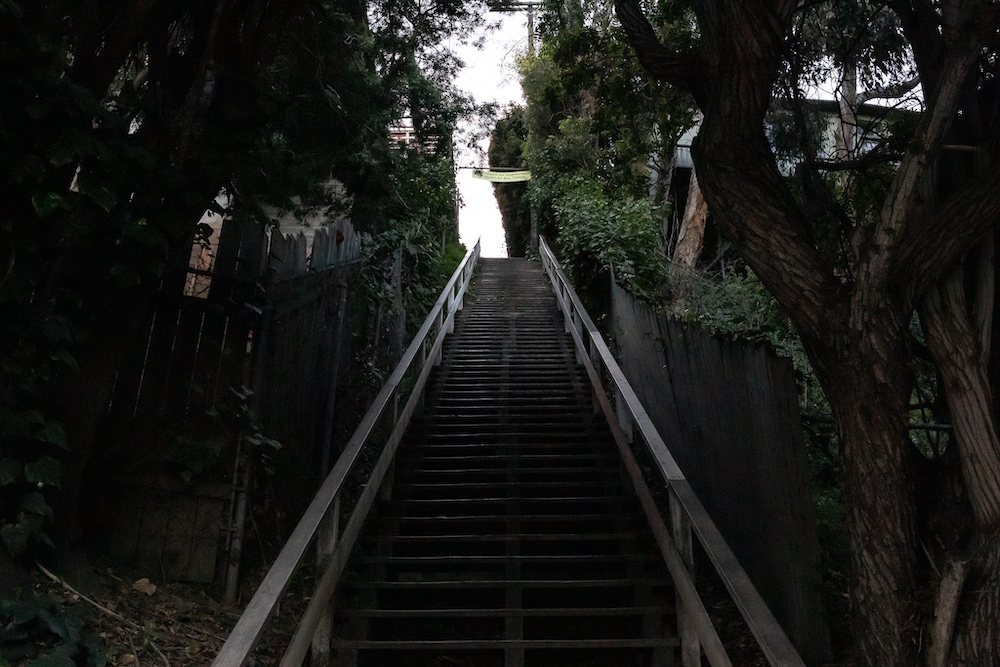 We quietly make our way to the top, where more posted verbiage spells out concerns about trespassing, loitering, and littering. One sign also suggests other public stairways at the Palisades Park, Rustic Canyon, and Will Rogers State Historic Park. It feels like a Jedi mind trick. Why crowd this particular sliver of the neighborhood? These aren't the stairs you're looking for. Go about your business. Move along… move along. So we do.
We head southwest on Adelaide Drive, spot a second set of stairs, and catch a fantastic view of the canyon as it pours to the ocean (see the photo at the top of this article). Further down, the road connects with the northerly portion of Palisades Park. We enter the park and I step over a guardrail to the edge of the bluff so I can shoot photos of the morning traffic. If you do this, please don't fall over the edge because that wold be super embarrassing and also you'd be dead.
Heading south through the park, palm trees line our way as we amble by restroom facilities and a small rose garden and public art displays. Eventually we make it as far as Montana Avenue, where a set of stairs dip down to provide a way across the highway. This is where we get off.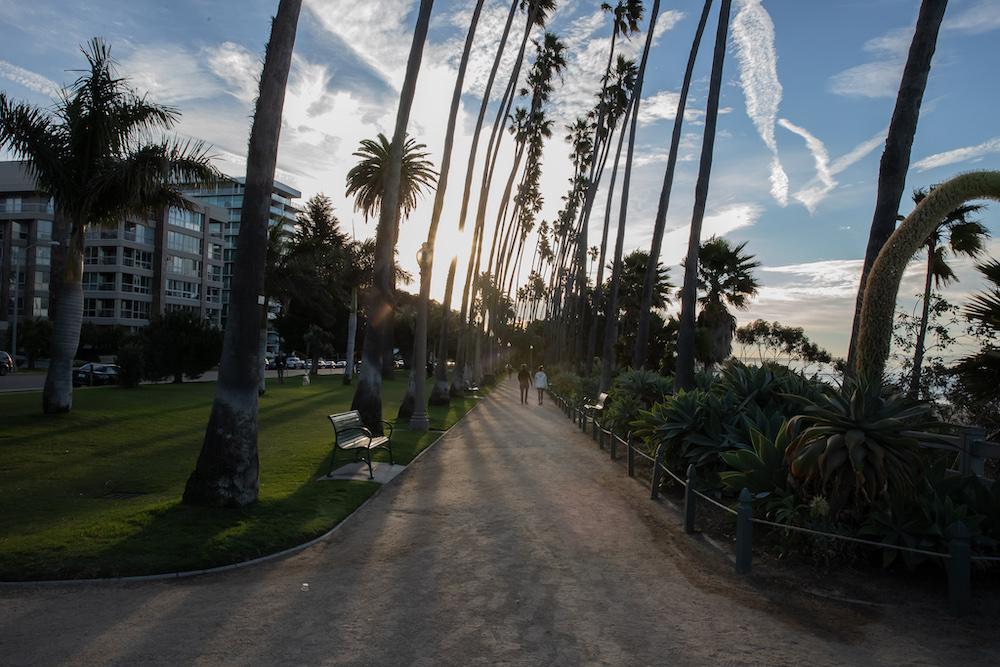 Our bodies swing right to a crooked stairway that descends the bluff on to a bridge that spans PCH. The sounds of traffic hums around us like a firehouse of bees.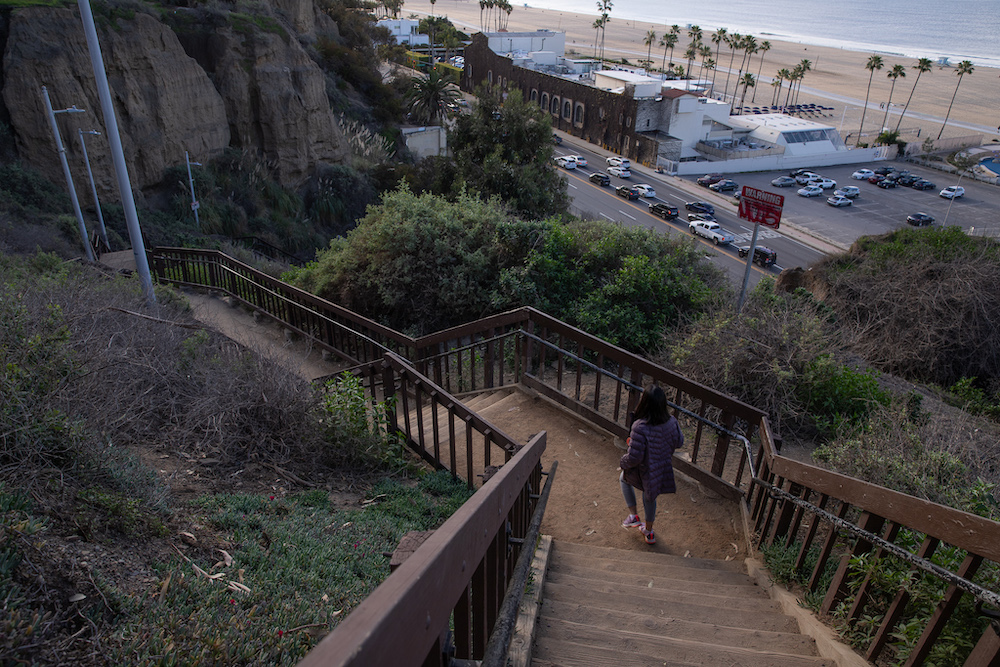 We cross the sand and walk through a parking lot to get to the Ocean Front Walk, a paved pathway that edges that up and down the coast. Go south and in about a mile and a half you'll reach the Santa Monica Pier. We head north instead.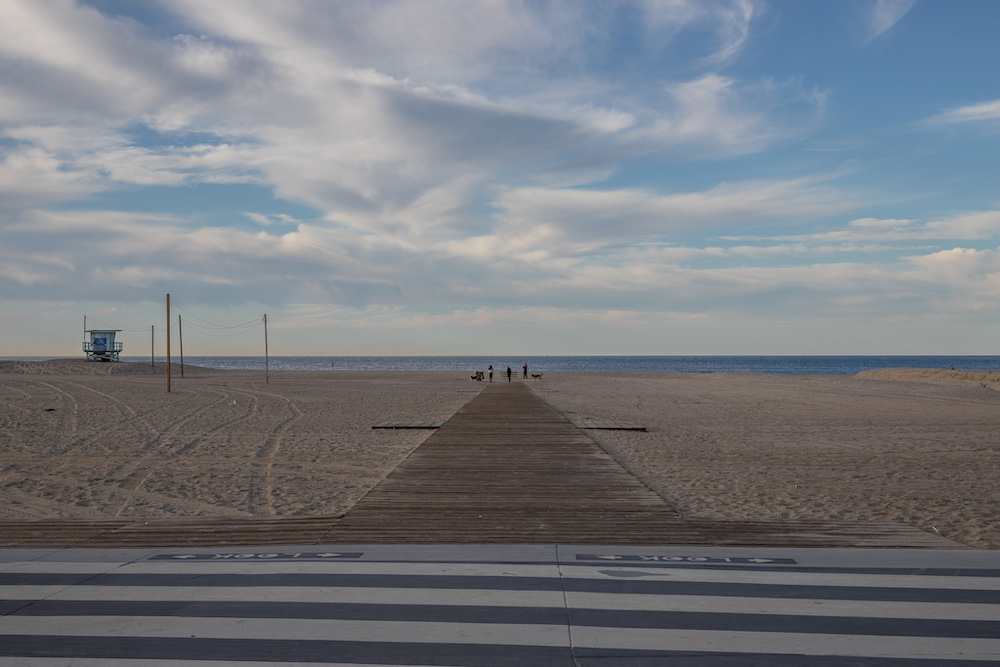 Some portions of the path are divided expressways of pedestrians and cyclists, but this section is shared by both. As we keep moving the morning sun rises higher, nudging temps upward and inviting me to remove my jacket. I can't believe this is January in Los Angeles.
Our journey moves us past the Annenberg Community Beach House, a 5-acre strip of sand where publishing magnate William Randolph Hearst once built a 110-room mansion as a gift for his mistress, actress Marion Davies.
In 1957–a decade after Davies sold the property to a hotel entrepreneur–everything was torn down except the guest house and the pool. The 1994 Northridge Earthquake left the property in severe disrepair, and it was in the ensuing years the City of Santa Monica got the idea to refurbish the premises, but things stalled due to a lack of funding. Ultimately, it took a $27.5 million donation by the Annenberg Foundation to make the remodel a reality, and in 2009 a restored guest house and new community structure were officially opened for visitors.
Today the Beach House operates as a public beach facility featuring a pool, splash pad, volleyball courts, and sand soccer fields. Some of the amenities are first-come, first-serve while others require reservations. Entry is free (not parking though), and there are docent-led tours of the Marion Davies guest house on Fridays between noon to 2 p.m. It does happen to be a Friday when we're walking by, but we'll be long gone before lunchtime.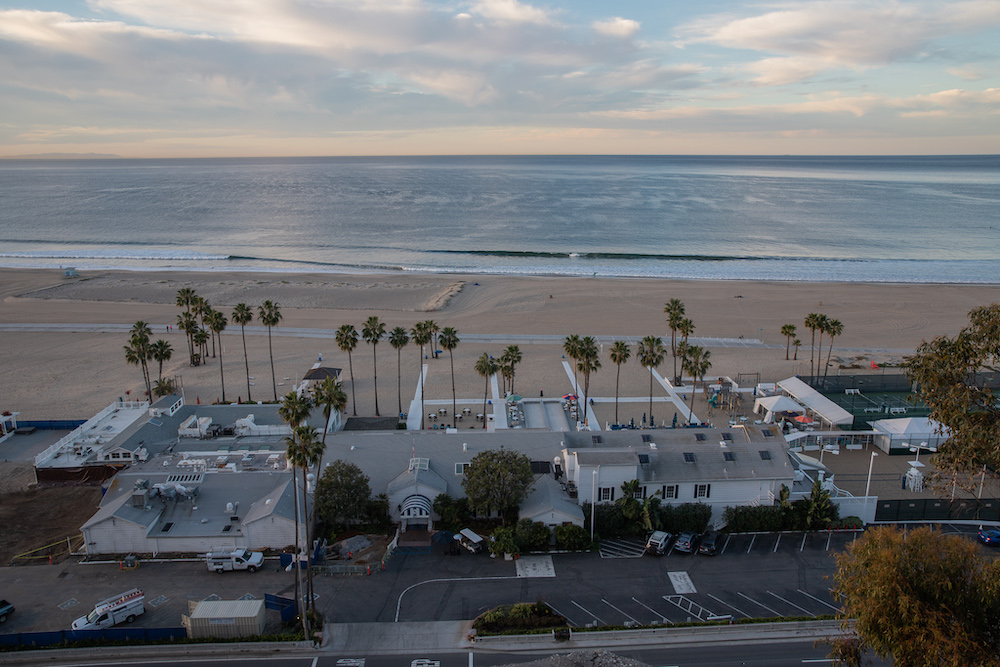 The boardwalk continues past three more beach clubs and Christina makes a joke about Beverly Hills 90210. Isn't this where Brandon Walsh worked during that one summer season, she asks. No, that was the Beverly Hills Beach Club, I answer without a hint of irony. Of course this is problematic in a couple of ways, firstly because there's no such thing as the Beverly Hills Beach Club (it was based on the Sand & Sea Club, where the Annenberg Beach House is now), and secondly even if there were such a club, where exactly in Beverly Hills do you access the beach? We laugh and move on.
Eventually we make it to where the creek trickles out into the ocean, and it's there we enter the Roosevelt Tunnel, an underpass that allows us to reach the other side of PCH and get back to our starting point. I'll admit, it's not exactly the most inviting space to walk through. Christina comments to me that she wouldn't feel comfortable walking through this alone, especially either really early in the morning, or at night. I make a note.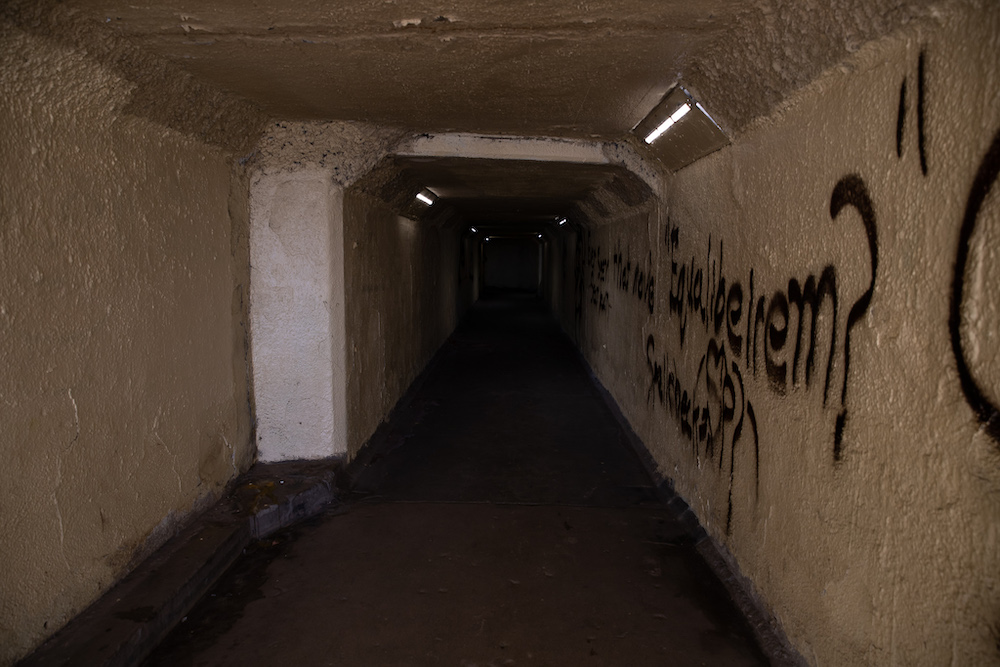 Before we finish I do a quick Google search for area coffee shops, as we're both feeling the caffeine jones. There's a place called The Sunrise Brew just north of the creek, and it appears to be the only walkable spot besides a nearby gas station where we could get a quick coffee. But then I check the time and realize our schedule will not permit the excursion. Our westside adventure does have a greater purpose, after all. So we skip it, and just head back to the car.
The drive north on PCH is a breeze going against the morning traffic, and by the time we turn up into the hills above Parker Canyon, the sun is casting rock hard yellow light that ramps up the temperature by another five degrees.
About a hundred people turn out for the sale, which is not without its own drama. Apparently two different lists have been created to queue the bargain hunters, and when we arrive an argument boils over about who gets to go in before whom.
There are raised voices and hurt feelings, but thankfully no fisticuffs. Christina is early enough to be among the top twenty, but the racks of clothing promised in the online preview are disappointingly bare of any of the quality vintage or designer merchandise she's hoping for.
This is all fine, though. Sure, she acquired no new inventory, but the shockingly clear air and the hazy golden light spilled out on to the Pacific made it a worthwhile visit on their own. No morning with views this good would ever be considered a waste, right?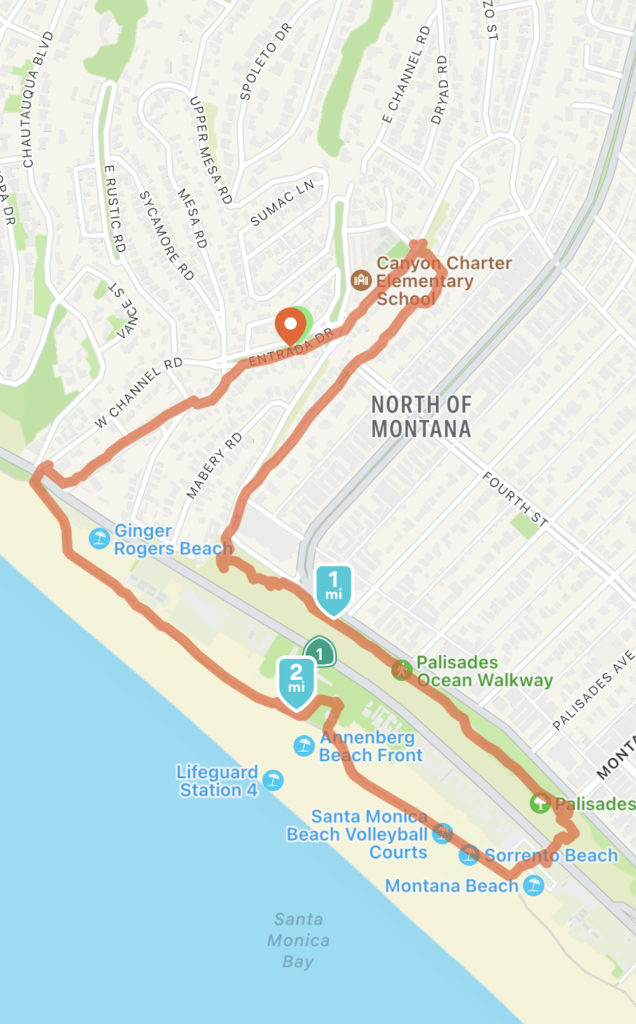 Starting Point: 350 Entrada Dr, Santa Monica, CA 90402
End Point: Same
Distance 2.88 miles
Miles Until Goal: 988.2
---
Next: Walking Ventura Blvd from The Brady Bunch House to Universal City | L.A. on Foot #6
Previous: Walking the Music Box Loop in Silver Lake // L.A. on Foot #4