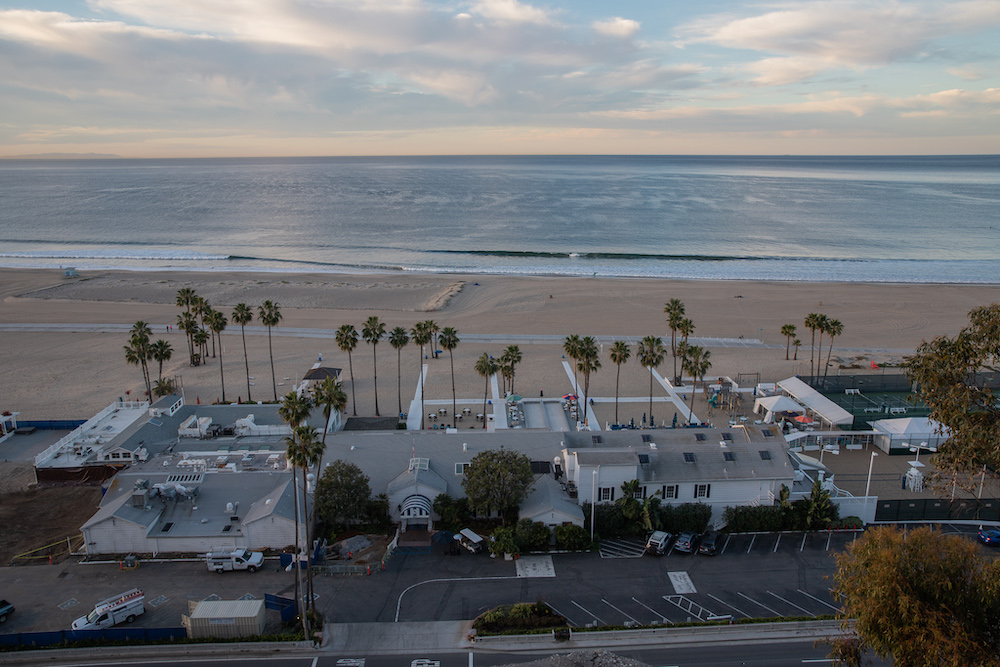 The world is a crazy place, isn't it? We know many of our readers may have other things on their minds right now given the shape of international affairs, yet here we are mashing out another list of things to do. Maybe you need a distraction, or maybe you need some time and space and process what's going on. Either way, we're here for that.
This weekend in Los Angeles you can check out the the Prosperity Market at CAAM, City of Cinema at LACMA, African American festivals at the Aquarium of the Pacific and MOLAA, a new We Like L.A. walks guide, the 626 Market Mini in Santa Monica, Mardis Gras at the Original Farmers Market, and more. Whatever you do, be good to each other out there. We need more of that. List starts below.
Things to Do
The First Amendment and Free Speech -> If you want to start your weekend with a serving of civil debate, then keep in mind tonight (Thursday, Feb. 24) Zócalo Public Square, in partnership with the ASU Cronkite School, will host an in-person discussion in DTLA focused on The First Amendment. The assembled panel will include legal scholars and attorneys who will try to flesh out the balance between protecting free expression and dissuading bad actors who would misuse freedoms for ill intents. A food truck will be onsite, and there will also be a post-event reception with complimentary drinks. Free to attend, but you must register in advance. More info here.
Prosperity Market at CAAM -> This Saturday, celebrate the close of Black History Month at the California African American Museum with a pop-up market featuring celebrate Black farmers, chefs, and entrepreneurs. The day of activities includes specially prepared foods, handcrafted artisan goods, onsite DJ's, cooking demos, a kids corner, raffles, and more. Free to attend, but remember that parking is $15 at Expo Park, and organizers advise arriving early in consideration of the LAFC soccer match scheduled for the afternoon. Alternatively, you could also ride Metro to the Expo Park / USC stop. More info on the event here.
City of Cinema at LACMA -> The Los Angeles County Museum of Art's latest exhibition investigates how the emergence of film as an art form in Paris during the latter half of the 19th century amidst a storm of social, cultural and historical trends. Viewers can inspect sculpture, posters, prints, photography, and films of the era, and through collection glean an understanding of cinemas evolution from experimental art form to the most dominant media of the 20th century. City of Cinema: Paris 1850–1907 is housed in in Resnick Pavilion, on display now through July 10. More info here.
African American Festival at the AoP -> The Aquarium of the Pacific's 20th annual African-American Festival features music, dance, storytelling, and historical displays. Runs this Saturday and Sunday from 9 a.m. to 5 p.m.. More info here.
Mardis Gras at the OFM -> Fat Tuesday is March 1, but you can celebrate Mardis Gras this weekend at the Original Farmers Market with a festive day-long activities including a Zydeco and Blues bands, kids crafts and a beignet pop-up tent. Starts at noon on both Saturday and Sunday. More info via event flyer here.
We Like L.A. Walks -> Mornings are forecasted to be a bit chilly over the next few days, but overall the weather looks sunny and clear. So why not go for a walk? Our latest walk guide takes you up the Santa Monica Stairs, to a bluff at Palisades Park, then across PCH to a stretch of beach that goes past the Annenberg Community Beach House. And remember if you want more walk ideas, check out the growing collection of walk guides here.
Afro-Latinx Festival at MOLAA -> This Sunday, the Museum of Latin American Art in Long Beach debuts a traveling, in-person exhibition called Forgotten Images as part of their ongoing Afro-Latinx Festival programming. Forgotten Images gathers thousands of lost and forgotten artifacts covering more than two hundred years of African American history in America. The exhibition runs from Feb. 27 through March 6. Entry to MOLAA is free on Sundays. Get more info here.
Cars & Coffee Meet-Up in Griffith Park-> The last Sunday of each month, automotive and photography enthusiasts with gather at the Merry Go Round in Griffith Park for a special meet-and-greet organized by Cars and Coffee LA. Free to attend. Runs 7 to 10 a.m. Family friendly. More info here.
Herbie Hancock at Disney Concert Hall -> Legendary jazz pianist and bandleader Herbie Hancock will perform at the Walt Disney Concert Hall this Sunday evening starting at 7:30 p.m. Get more info and purchase tickets here.
War on Drugs at Shrine-> Philly-bred rockers The War on Drugs will play Shrine Auditorium this Saturday as they continue a tour to promote their latest release, I Don't Live Here Anymore. Tickets can be had for at little as $24.50 for mezzanine seats. More info here.
Dining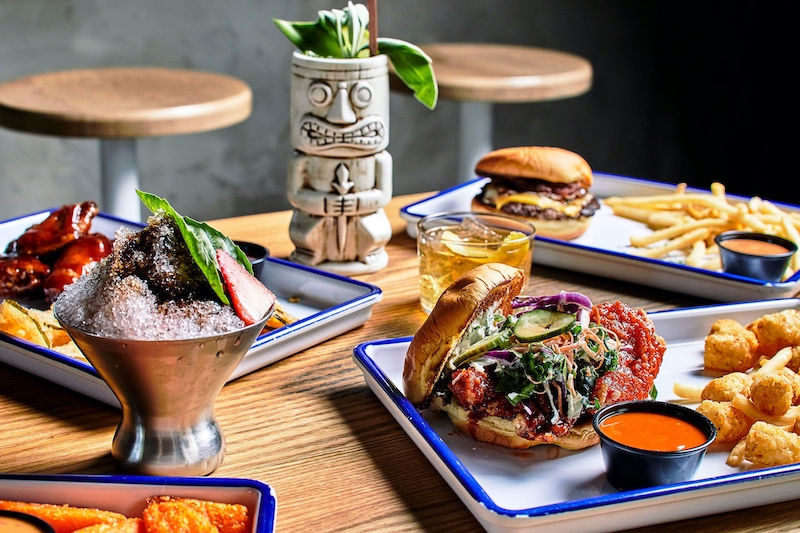 $5 Boozy Un-happy meal at UNCOOL -> This week, UNCOOL opened its doors in West Hollywood with a menu of smashburgers, fried chicken and a full bar program that includes boozy snow cones and tiki drinks. To celebrate, UNCOOL will offer a $5 UN-happy meal featuring a cocktail, UNCOOL burger, and fries on Saturday to all guests 21+ years of age who follow @we.are.uncool
The 626 Night Market Mini -> Popular Asian-fusion food market 626 Night Market hits the westside with a series of tasty concession events in Downtown Santa Monica. The open-air food event will include over two dozen vendors offering an array of dishes and an alcohol garden for attendees 21 years and older. The market takes place this Saturday and Sunday with free admission but advance tickets are required for entry. If you can't make this event don't worry, 626 Night Market Mini will pop up four more additional weekends in March and April.
$6 & $8 Mardi Gras Menu at Little Dom's -> Little Dom's Chef Brandon Boudet is whipping up a festive creole menu from Feb. 26 to March 1 to celebrate Mardis Gras. A number of savory dishes are priced at just $8 including Pork Cracklins with Steens Cane Syrup Hot Sauce, Shrimp, Chicken & Andouille Gumbo, Jambalaya Rice Balls with Creole Mustard and BBQ Oysters. A special Soft Shell Crab Po Boy will be set at market price, while Mardi Gras-inspired desserts by Pastry Chef Ann Kirk are $6. The sweets include Beignets with Raspberry Sauce, a slice of King Cake, and Apple Bread Pudding with Hard Sauce. The menu is available only for dine-in guests. In addition, Little Dom's popular Monday Night Supper series next week (Feb. 28) will come with a Southern twist offering a three course meal of Fried Green Tomato with Kale, Green Onion Buttermilk Dressing; Pan Fried Pork Chop, Dirty Rice and Banana Cream Pie for $25.
Shappy Pretzel Co. -> Actor Adam Shapiro turned his quarantine pretzel baking hobby into a full-fledged business he calls Shappy Pretzel Co. Born and raised in Philadelphia, Shapiro's bakes east coast-style soft pretzels that come in classic salt, everything, bite sized Lil' Albees (Cinnamon Sugar or Salt) as well as OreYo stuffed pretzels. Shappy's pops up Wednesday through Sunday at various locations across the Los Angeles, including Marina Del Rey, Silver Lake and Studio City.
Everytable -> There are plenty of meal delivery services out there but Everytable was born out of South Los Angeles with a mission to fight food injustice by stationing their grab and go stores and delivery radius in food desert locations across the county. Made-from-scratch meals are priced according to what a specific neighborhood can afford. Prices range from $6-$9 and include seasonal offerings for breakfast, lunch and dinner. Popular items include collaborations with Trap Kitchen on Curry Chicken (highly recommend), Homegirl on a Salmon Adobo, and a new Smoky Spanish Rice and Shrimp dish with turmeric sourced from women-founded Diaspora Co. Everytable also offers several salads (the Apple Cheddar Crunch is a personal favorite) and wraps as well as wholesome snacks, desserts, and an assortment of beverages including tea, smoothies, juices, kombucha, and more. Everytable also offers a Pay It Forward program where guests can join the fight for food justice in their neighborhoods by simply purchasing a meal at a local Everytable store then post an inspiring note on the Pay It Forward wall. Anyone who can't afford to pay for a meal can simply present one of these notes at checkout to enjoy a complimentary meal.
Happy Hour Returns to Playa Provisions -> Brooke Williamson's Playa Provisions is bringing back their happy hour menu. From Mondays through Fridays from 5 to 6 p.m. in Dockside (the restaurant's sit-down seafood-focused spot) and 6 to 7 p.m. in Grain (the hidden whiskey bar in the back of Playa Provisions). Happy Hour snacks include shareable plates of Garlic & Pepper Fried Calamari, Pretzel Bites with Jalapeno Beer Cheese, Smoked Trout Dip and Sweet Corn Hush Puppies. Cocktails on special during this hour include classics like a French 75, Old Fashioned and Dirty Martini to name a few. 
---
Any notes or corrections? Want to suggest an event we should add to an upcoming list? Hit us up at [email protected].