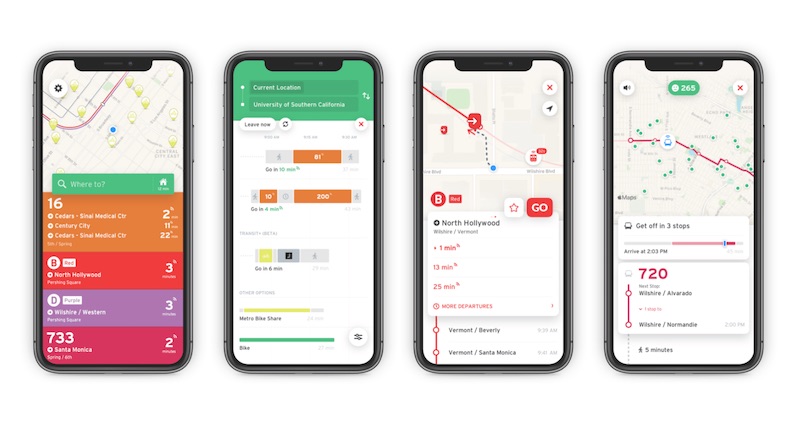 Metro is getting rid of its own app and partnering instead with Transit, an app designed to help riders connect to public transit services in their area.
According to Metro's The Source, many passengers were already using Transit not just in Los Angeles, but in over 200 cities worldwide. 
A move to Transit promises more accurate, real-time arrival information; detailed navigation, route maps, schedules, and trip planning; info for Metro Bikes and rideshare services; relevant service alerts based on the buses and trains you use, and tools for visually impaired riders. The move to make Transit its official partner is one Metro says should come with more reliability and consistent info for its passengers. It'll also save Metro about $240,000 a year because Metro won't need to maintain its own app. 
"The improved app is very timely given the ongoing pandemic as we can no longer rely on transit data from the past," Conan Cheung, Senior Executive Officer in Metro Operations, said via a statement. "There is a new normal in terms of transit demand and Transit gives us the ability to quickly get an impression of how the system is being used. That, in turn, allows us to quickly make service adjustments when and where needed."
I, personally, use Metro a lot and do not drive due to a visual impairment. I've always used NextBus, which seemed a little more reliable than both Google Maps and Metro's app. Granted, I'm not taking the bus or train much of anywhere these days, but I downloaded Transit this morning and it looks great. It provides color-coded, real-time information on every route near me, including the DASH and the Purple Line. It also tells me how long it expects it'd take for a Lyft driver to arrive. When I tap on a bus line, it shows me every stop along the way with an estimated arrival time and possible connections. It also shows me where my nearest Bike Share is and how many bikes are available. 
Transit is free and available for both iOS and Android.