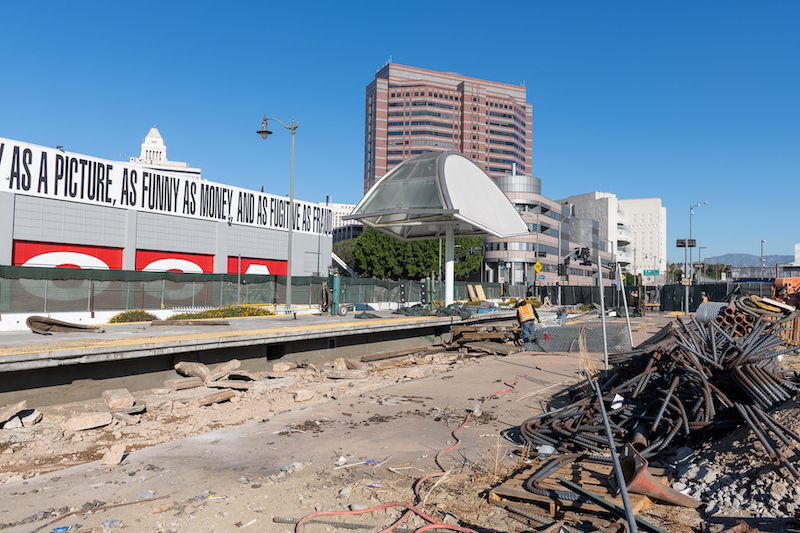 Goodbye, L.A. Metro's Little Tokyo/Arts District Station. The L (Gold) Line station has been closed for several weeks, but Metro tweeted farewell to the station today for good. When we see it again, it'll be underground and across the street. 
The station is moving as part of the Regional Connector Transit Project, which will connect the Gold Line to the 7th Street/Metro Center Station, where the Blue, Red, Purple, and Expo lines all converge. According to Metro, this 1.9-mile underground and light-rail system will serve neighborhoods throughout downtown and make it easier to get around by bypassing Union Station, allowing travelers to get from Azusa to Long Beach or from East L.A. to Santa Monica without transferring lines. 
It will also include three new stations: the new Little Tokyo/Arts District station at 1st St/Central Ave, the Historic Broadway Station at 2nd/Broadway, and the Grand Av Arts/Bunker Hill Station at 2nd Pl/Hope Street. Each new station will include public art, as many of the existing stations do.
The downside is that the project won't be finished until 2022. So, how should you navigate the area until then?
If you're headed from Union Station to Azusa or any of the stops in between, proceed as you normally would. Those stations are not affected by construction.
If you're headed to Little Tokyo or beyond, you can take a free shuttle bus that serves Union Station, Little Tokyo/Arts District, and the Pico/Aliso station in both directions. The Pico/Aliso station is open, and you can take it all the way to Atlantic Station. The buses run on the same schedule as the trains, so every 12 minutes during the day and every 20 minutes when it's early morning or late evening. More info here.
As a reminder, current health orders ask us to only use Metro for essential purposes. Social distancing and masks are required on trains, buses, stops, and platforms.