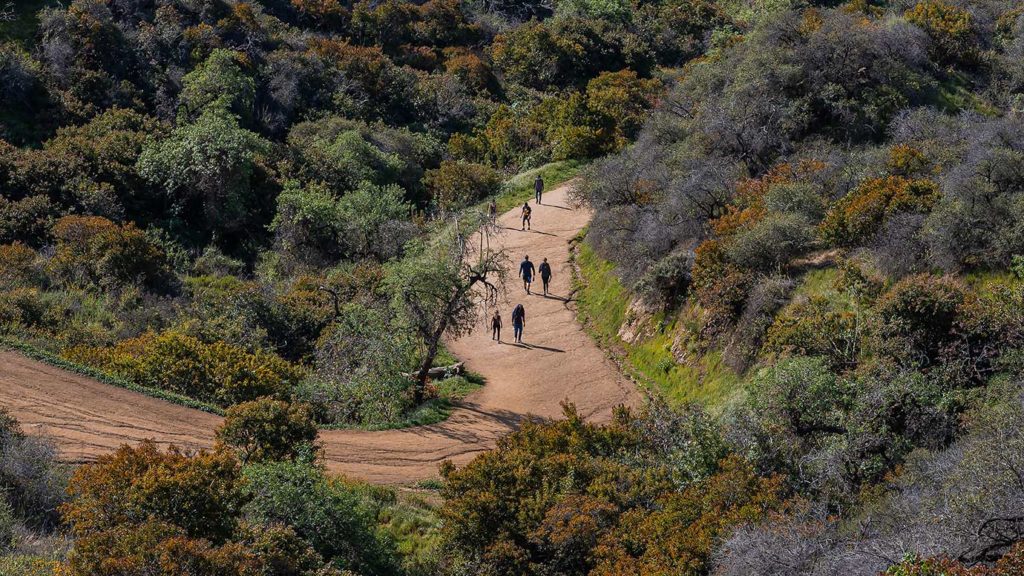 As cases of COVID-19 in Los Angeles are on the rise, the options for outdoor recreation are dwindling.
On Sunday, The Mountains Recreation and Conservation Authority (MRCA) announced that it will close all of its operated parks, trails, and building facilities, including public restrooms, until further notice. The closure represents more than 75,000 acres of parkland, including all parks owned by the Santa Monica Mountains Conservancy.
The move to close the parks follows a weekend that saw people flocking to beaches and hiking trails. This helicopter footage from NBC Los Angeles shows small groups of hikers packing trails in Griffith Park on Sunday, in many cases in many cases visibly ignoring the social distancing order mandated by the city in response to the coronavirus outbreak.
A partial listing of the closed parks and trails can be found here. Among the more than 70 closures are Ballona Creek Trail and Bike Path, Franklin Canyon Park, La Tuna Canyon Park, Lewis MacAdams Riverfront Park (formerly Marsh Park), Los Angeles River Center & Gardens, Mulholland Scenic Parkway and Corridor, Newhall Pass Trailhead, Vista Hermosa Natural Park, and others.
Crowding also prompted the closure of facilities and parking lots at other outdoor areas. Last night, Los Angeles Mayor Eric Garcetti took to Twitter to admonish Angelenos for not properly abiding the 'Safer at Home' emergency order issued this past Thursday.
As a result, several other closures throughout L.A. County have been announced. L.A. City golf courses are closed. Parking lots near Venice Beach and the Venice Boardwalk are closed, KTLA reports. The City of Santa Monica announced the immediate closure of beach parking lots on Sunday.
In Long Beach, all basketball, tennis, and volleyball courts, dog parks, playgrounds, skate parks, and picnic areas at city parks are closed.
Elsewhere in the city, Griffith Parkline, Griffith Observatory, Travel Town, and the Los Angeles Zoo are all closed, but for now, general access to Griffith Park is still available to the public.
However, if too many hikers continue to use the trails while not practicing proper social distancing, one wonders if the city's next move will be to close the Griffith trails as well.