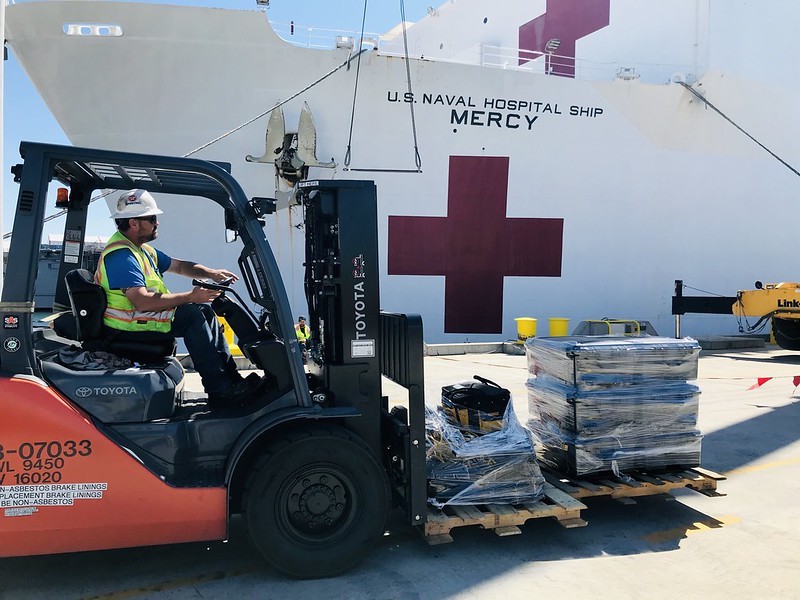 The USNS Mercy is on its way from San Diego to the Port of Los Angeles. Equipped with 1,000 beds, it's the biggest hospital ship in the world, the Navy Times reports. And according to L.A. Mayor Eric Garcetti, the USNS Mercy will also become the largest hospital in Los Angeles when it docks. 
Though the ship is in response to the coronavirus outbreak, it will not serve COVID-19 patients. Rather, the ship and its some 800 personnel will care for patients with other issues, meaning that hospital staff on land can redirect their efforts to COVID-19.
At one point, Seattle was the ship's expected destination. However, FEMA Administrator Peter Gaynor said that even though there are currently more confirmed cases in Washington state, "the projected need for beds in California is five times more [than] that of Washington." California Governor Gavin Newsom recently said he expects more than half of Californians to ultimately become infected with the virus. 
The USNS Mercy leaves San Diego today. Meanwhile, the USNS Comfort, currently undergoing maintenance in Virginia, will depart for New York in a few weeks.