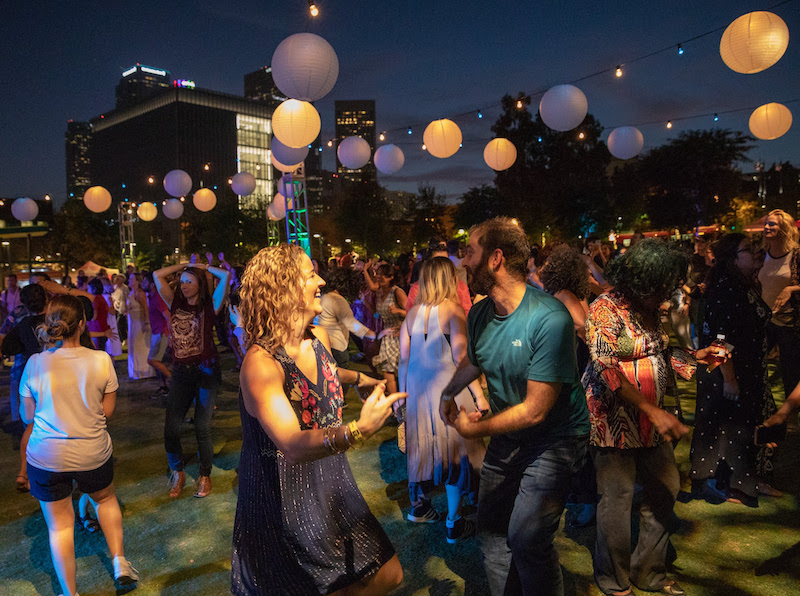 One of downtown's best free events series is returning on June 21 for its 15th season of boogying down under the stars.
For the uninitiated, The Music Center's Dance DTLA is a free night of dancing featuring live music and/or DJs paired with expert dance instructors providing beginner group dance lessons for attendees. Each night has a different dance theme, and all events are free and open to the public.
Dance DTLA events take place every Friday from June 21 through August 30, with hours from 7 to 11 p.m. for each night. The August 30 event will feature extended hours through midnight. Additionally, The Music Center will also provide voter registration booths at select events in partnership with the Los Angeles County Registrar's Office.
The 2019 season of Dance DTLA features three new dances styles added this season, plus the events will be spread throughout three venues over the course of the season: at Grand Park, at Walt Disney Concert Hall and at the soon-to-be-reopened Music Center Plaza. Food and beverage will be available for sale at each event, and no outside alcohol is permitted.
You can check out the complete schedule of events / themes for 2019 below:
6/21/19 – Bollywood at Grand Park/Performance Lawn
6/28/19 – Bachata (New for 2019) at Grand Park/Event Lawn
7/5/19 – Line Dance & Two Step at The Music Center's Walt Disney Concert Hall/BP Hall
7/12/19 – Hip-Hop (New for 2019) at Grand Park/Performance Lawn
7/19/19 – Argentine Tango at Grand Park/Olive Court
7/26/19 – Disco at Grand Park/Event Lawn
8/2/19 – K-pop at Grand Park/Performance Lawn
8/9/19 – Salsa at The Music Center Plaza
8/16/19 – Motown/Funk (New for 2019) at The Music Center Plaza
8/30/19 – Cumbia at The Music Center Plaza, part of the Plaza Grand Opening Weekend Celebration
For more information visit The Music Center's official website.