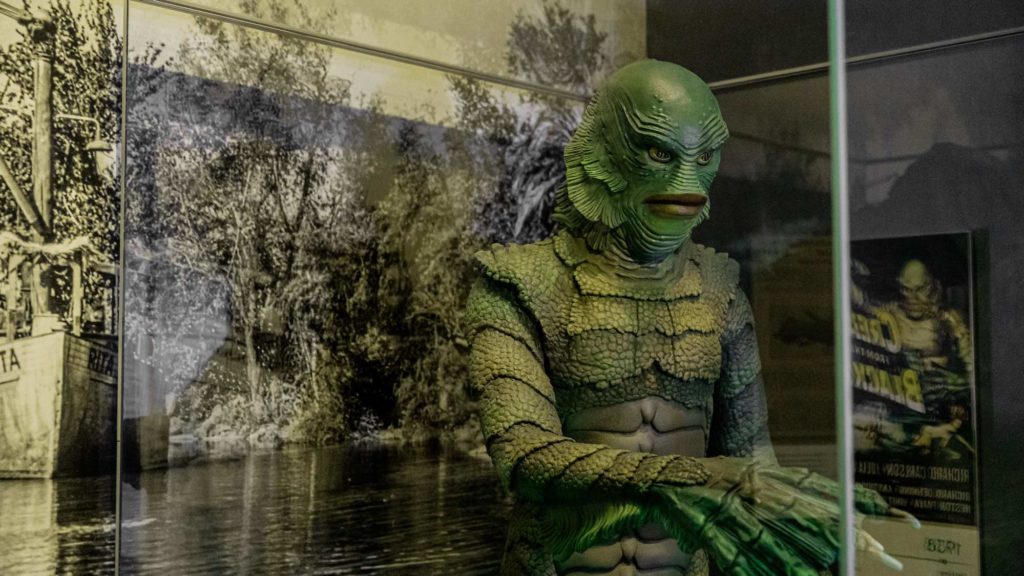 The latest exhibition at the Natural History Museum of Los Angeles weaves together tales of classic Hollywood monsters and the science that inspired their creation. It's called Natural History of Horror, and it just opened to the public yesterday.
Natural History of Horror creates a unique blend of the scientific and the cultural that few institutions can offer. As NHM Collections Manager Beth Werling told a gathering of press during a panel before the official exhibition opening, "The Natural History Museum is somewhat unusual in that we house both scientific collections, and historic and cultural collections here. We're always looking for programs and projects that will merge the two."
In this case, the merger of cinema and science works beautifully. The exhibition focuses on four films, all Universal properties: Creature from the Black Lagoon, Frankenstein, The Mummy, and Dracula. Each film dominates a corner of the gallery space, with displayed props, posters, interactive displays, and textual blurbs helping to fill in the scientific origin story of the titular antagonists. Among the displays, a reproduction of the silicone suit made for Creature is a real standout.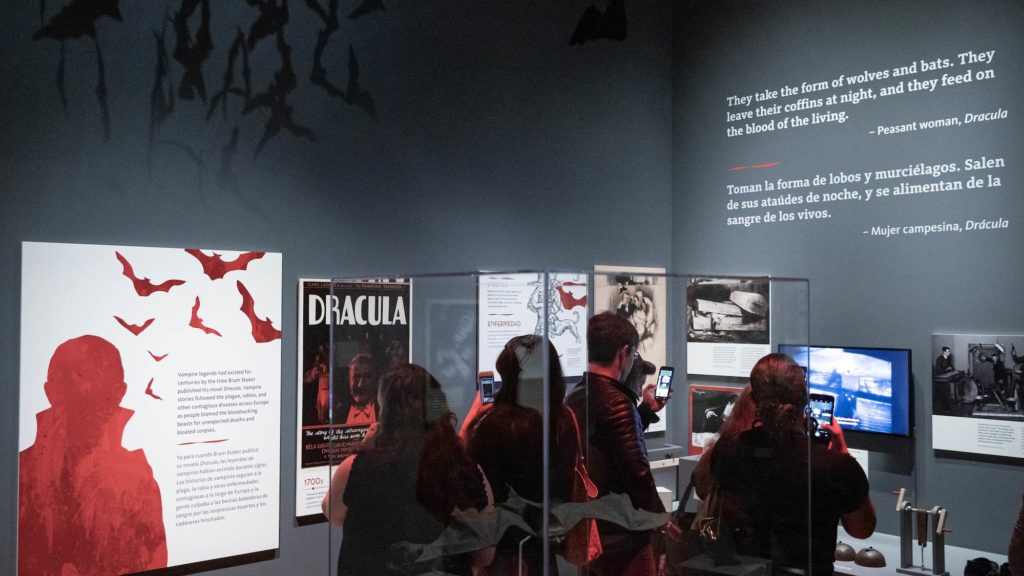 "It made sense that our classic monsters would be shown alongside the scientific artifacts from NHM's collections, as they give background on the science that inspired their creation," Universal Film Executive Holly Goline stated via a news release. "These iconic monsters have such an enduring legacy across generations of fans, so having them be part of this exhibition at a museum we all know and love gives guests the opportunity to see these stories come to life in a new way."
At the center of the dimly lit space a two-sided screen plays clips from the featured movies as guests wander among the exhibits learning some of the scientific backstory to the classic tales. Guests find out how real-life experiments in animal electricity influenced Mary Shelley's development of Frankenstein, how deadly 19th epidemics perpetuated the vampire mythos, and how designer Milicent Patrick created a cutting-edge suit for Creature based on a combination of still-living reptiles, amphibians and fish, as well as illustrations of water-loving, long-extinct finned organisms from the Devonian period (that's 400 million years ago… but who's counting?)
Of course, if you're like me, you'll head straight to the Frankenstein exhibit where a large metal switch begs to be pulled. Yank it back and a series of lights and sounds simulates a massive surge in electricity, not unlike the one that brought the monster to life in the movie. Yelling out "it's alive!" after you hit the switch is totally optional.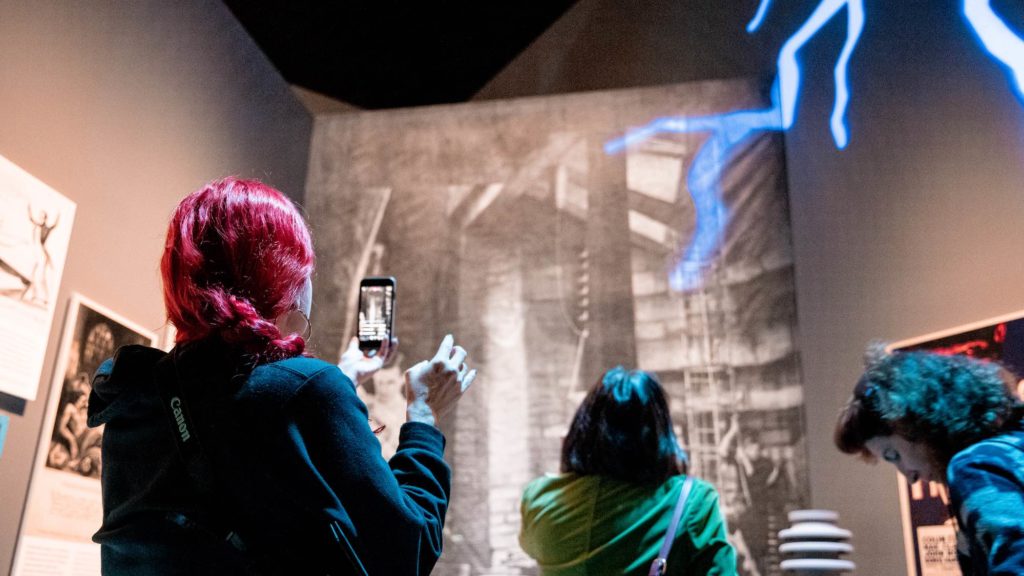 Natural History of Horror isn't expansive by any means. But it is detailed and informative, and I think it's a worthy visit for film nerds or horror buffs who appreciate cinema with a helping of scientific context and history.
If you need more entertainment to fill out your excursion to NHM's newest exhibition, keep in mind each of the four films will be screened at after-hours "Fright Night" events between now and April. These events will feature special demos, performances, and film intros. Here is the upcoming schedule.
Friday, Oct. 11, 2019: Bite Into This with Dracula
Friday, February 14, 2020: Unrequited Love with Creature from the Black Lagoon
Thursday, March 26, 2020: Monster Fears with Frankenstein
Friday, April 10, 2020: All Wrapped Up with The Mummy
Natural History of Horror runs now through April 19, 2020, and is included with regular museum admission. Tickets for the Fright Night events are $15 for non-museum members.
---
The Best Things to do in L.A., straight to your inbox! Sign Up For Our Email List And You Receive...
- Two emails a week, Monday AM and Thursday AM.
- Monday: The best of the week ahead. 30+ ideas.
- Thursday: What to do this weekend. 30+ ideas.
- Occasional emails with special offers and messages from promotional parters.
- Optional emails for daily to-dos, travel tips, food recommendations, and deals.
Basically, just think of us as your friend making some fun suggestions for what you might like to check out this day or week or month in L.A. Sign-up in the form below to join over 66,000 Angelenos who already subscribe!
NOTE:
If you already receive our weekly newsletter and want to update which additional emails you receive, simply click 'update subscription preferences' in any email we've sent you to change your subscription settings. Remember, per our 
privacy policy
, we respect the fact that you're trusting us with your personal info and will never share your email information.
---