After several years of pandemic postponement, two new exhibitions open today at the Skirball Cultural Center, both firmly rooted in the immigrant experience.
"I'll Have What She's Having": The Jewish Deli traces the Jewish immigrant experience in America and recounts how a culture was preserved and expressed through the food and setting of the delicatessen.
Here you will find exhibits detailing inflection points in the deli's history, from personal stories of holocaust survivors who founded delis in America to displays of the most iconic food items. Artifacts collected from around the country include matchbooks, menus, uniforms, advertisements and neon signage. You'll also see video clips showing famous scenes from films and TV shows including When Harry Met Sally, Seinfeld, and Curb Your Enthusiasm. Though you won't find actual food to sample, after reviewing the exhibition the chances are high you'll be Googling options on where to get yourself a pastrami-on-rye ASAP.
Just down the hall from "I'll Have What She's Having" is Talking Back to Power: Projects by Aram Han Sifuentes, which centers on stories of immigrant garment workers in the United States. Han Sifuentes' work is intensely personal, drawing from her experience as the daughter of South Korean immigrants, and using skills passed down from her seamstress mother. At the same time, the works on display underscore how the art of immigrants is often communal in nature.
In one project, A Mend , the narrated accounts of individual garment workers' lives are literary hand-embroidered onto remnant cuffs of jeans. In another corner of the exhibition, a Protest Lending Library highlights the power of protest as a vehicle for change, empowerment, and justice.
Skirball's two new exhibitions will be on view through Sep. 4, 2022. Check out more of both exhibitions below via a few photos we snapped at yesterday's media preview.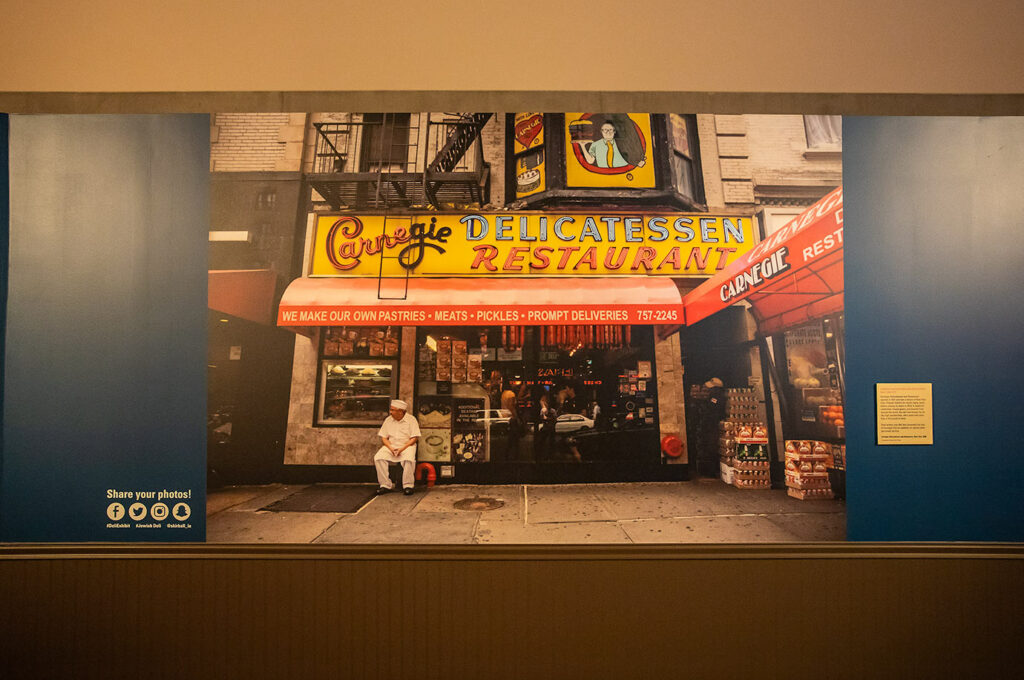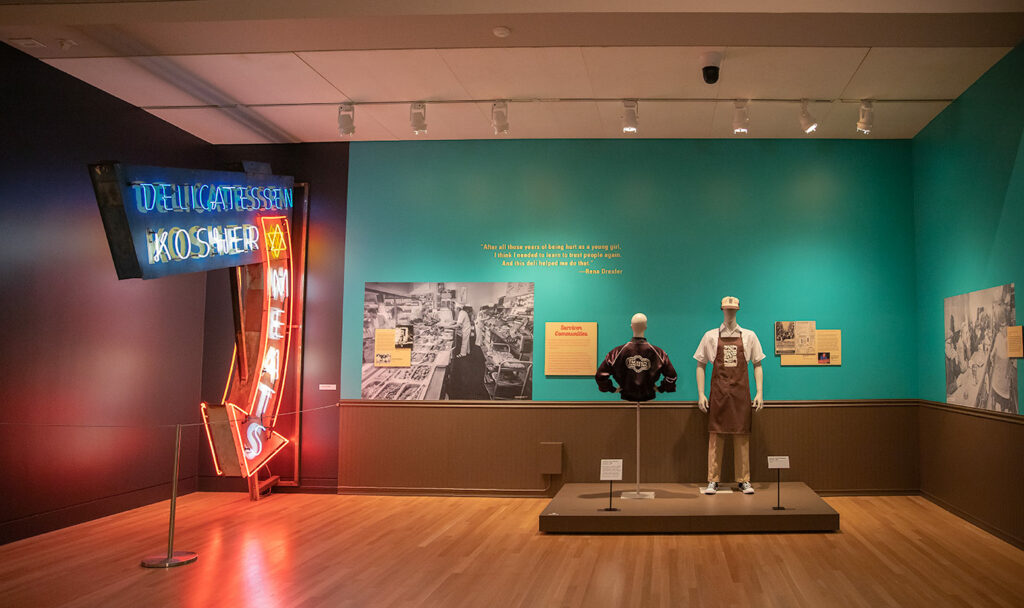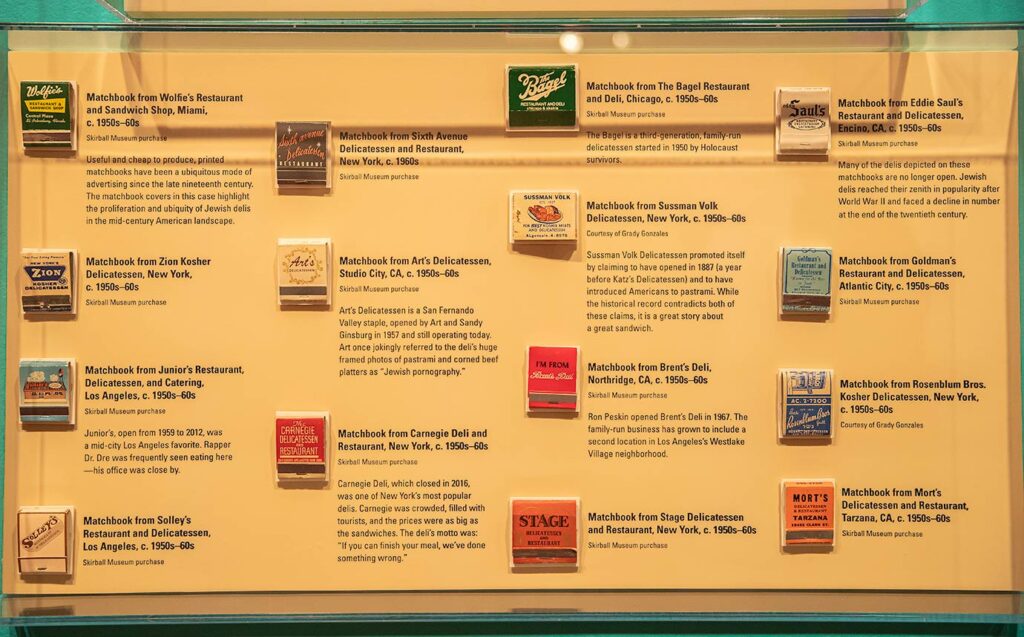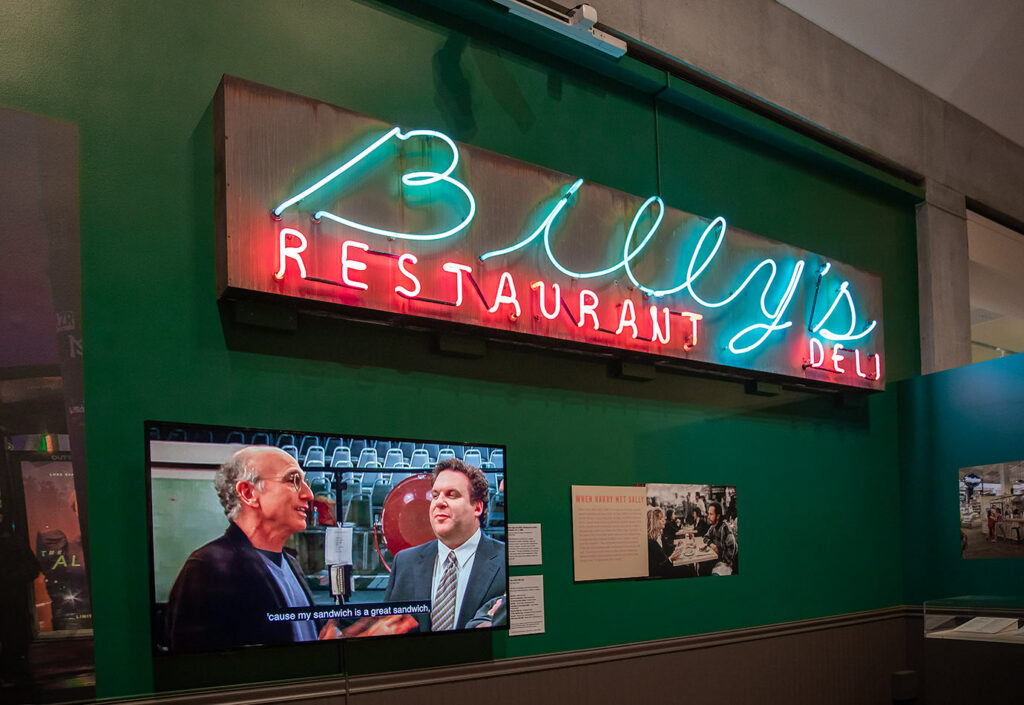 ---
The Skirball Cultural Center is located at 2701 N Sepulveda Blvd, Los Angeles, CA. General admission starts at $18 for adults. To get more information and reserve tickets, go here.