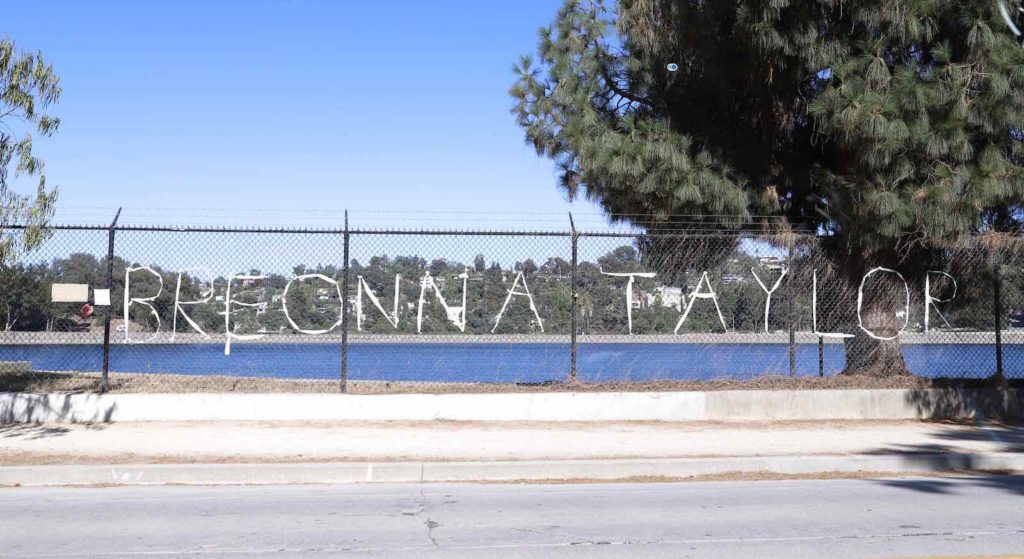 For the Tuesday rundown, we'll start with LADWP's demand to take down a community memorial for Black victims of police violence currently on display at the Silver Lake Reservoir. And speaking of law enforcement, video footage shows how L.A. County Sheriff's deputies drew guns on Black teens whom they were called to help in Santa Clarita. Finally, do people really walk in L.A.? Of course, they do! First, some news.
Morning News Rundown
If you've driven or walked near the Silver Laker Reservoir lately, you've probably noticed the community art project on the chain-link fence that encircles the water. Say Their Names: Silver Lake Memorial was created to memorialize the names of Black victims of police violence, including George Floyd, Breonna Taylor, and Eric Garner. The names of dozens of victims currently appear on the 2.2-mile loop. However, because the organizer did not get city approval, the LADWP now says that Say Their Names must be taken down. [LA Mag]
Stop me if you've heard this story before: Bystanders call the cops because a man with a knife is allegedly threatening a group of Black teens waiting at a bus stop in Santa Clarita. When sheriff's deputies arrive, instead of helping the alleged victims, they draw their guns on the kids. The deputies later said they were responding to a call about a man being hit with a skateboard (the boys had skateboards, so… yeah). Here's the thing: the mother of one of the boys posted an 11-minute video of the encounter to social media. Sheriff Alex Villanueva later stated he has "concerns regarding the tactics deployed." Judge for yourself. [Los Angeleno]
Doesn't it seem like a good idea that at least some of the people shaping public policy on homelessness should've experienced what it's like to be unhoused themselves? Councilmember Mike Bonin introduced a motion to form such a group, which would be called the Los Angeles Commission on Lived Experiences with Homelessness. [We Like L.A.]
Masks, masks, masks. In the latest County Public Health briefing, Dr. Barbara Ferrer re-emphasized the need for Angelenos to stay vigilant in their use of facial coverings. During the briefing, Ferrer also discussed guidelines for the upcoming school year, stating that in-person classes can't resume until Los Angeles County makes it below 200 cases per 100,000 residents. In summary: MASKS! [We Like L.A.]
Drivers who work for Uber and Lyft can no longer be classified as independent contractors, per an order from a California Superior Court Judge laid out on Monday. [LAist]
Under President Trump's executive order to sustain federal unemployment benefits, states are required to kick in $100 of the $400 per week provided. According to Gov. Gavin Newsom, the mandated benefits would cost California $700 million per week, which is money the state (like many other states) simply does not have. [LAist]
Los Angeles on Foot
A man walks in L.A. He walks for hours, journeying 17 miles along Wilshire Blvd., from the heart of downtown to the streets of Santa Monica. And because that sounds like an absurd idea, he documents it on video and posts a time lapse to YouTube just to prove it really happened. Below is that time lapse (credit to Justin Newry).
Watching this video, I couldn't help but think about the Great Los Angeles Walk, which is an annual event where folks get together, usually on the Saturday before Thanksgiving, to walk en-masse while getting to know different L.A. neighborhoods on foot. And we're talking mega-walks here. Like 20 miles. The 2019 version, for example, went from East Pasadena to Highland Park.
I suppose if it does happen this year, it will most likely be in some sort of socially distanced format. Maybe single-file. You know, like the Sand People in Star Wars.