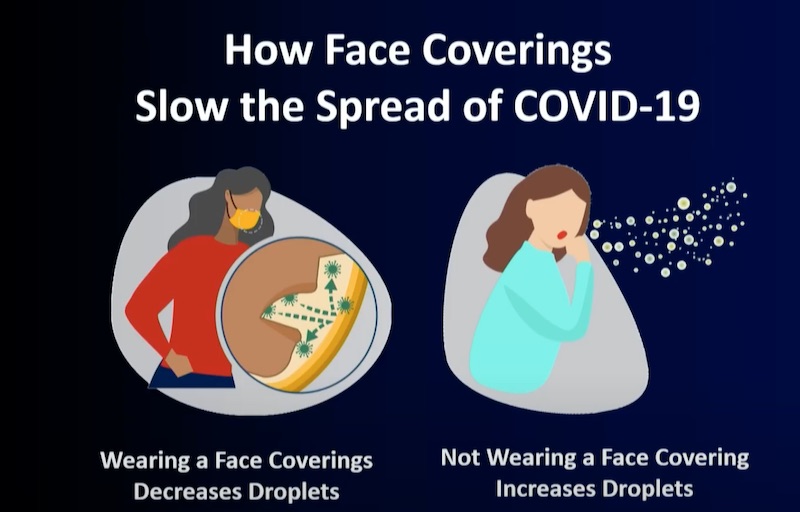 During today's briefing, Public Health once again emphasized the importance of cloth facial coverings to fight COVID-19. The briefing also discussed the upcoming school year and new guidelines for school sports. 
Masks continue to be one of the biggest tools health experts are aware of to curb the spread of COVID-19.
"We know [the virus] mainly spreads from person to person through respiratory droplets, which are produced when an infected person coughs, sneezes, coughs, sings, or raises their voice," L.A. County Department of Public Health Director Dr. Barbara Ferrer said. 
Those microscopic, invisible droplets can land in your eyes, nose, or mouth and you can possibly inhale them into your lungs. Because many people do not have any symptoms, there's no way to know if someone is infected unless they get a test. But even a negative test result only tells you didn't have COVID-19 prior to your test. 
Ferrer used an illustration to show how masks can reduce the spray of the respiratory droplets as long as the wearer's mask fits snugly over both their nose and mouth. This is known as "source control."
"Because we have no way of knowing if we or those around us are infected with COVID-19, the best strategy is always to wear this face covering when you're around anyone else that's not in your household and also to ask those that are around you to wear their face covering as well," Ferrer said.
Of note, masks with valves or vents don't work to protect others as they don't contain the wearer's droplets. It's best to stick with your cloth face covering.
Some areas, including Manhattan Beach, Calabasas, West Hollywood, and Glendale, will issue fines to those who do not wear masks in public.
When it comes to the upcoming school year, in-person education can't resume until Los Angeles County makes it below 200 cases per 100,000 residents. Currently, that number is 335 cases per 100,000 residents, though Ferrer noted that due to the state's data issues, that may not be accurate.
Though the school day will be virtual when class resumes this fall, the county does have protocols for early childhood education, day camps, and childcare programs for school-age children. 
School sports may resume only when it comes to training, conditioning, and skill-building with no contact. Per the guidelines, all players and coaches must stay at least six feet apart at all times and eight feet apart during heavy exertion. Everyone must wear a mask unless swimming, eating, drinking, or during times of heavy exertion.
Athletes should never share personal items, such as water bottles or uniforms, and should avoid sharing equipment when possible. If equipment must be shared, it should be sanitized frequently and teams should take breaks so that players can wash or sanitize their hands.
All events, including competitions, between teams are still prohibited.
The county's 7-day average positivity rate went slightly up at the end of July and is now at 7.3%. That number will be adjusted after Public Health gets all of its backlogged cases. However, Ferrer said, "I think the pattern is cases are slightly down, the positivity rate looks like it's slightly down, and hospitalizations are also down as well. All good news for L.A. County."