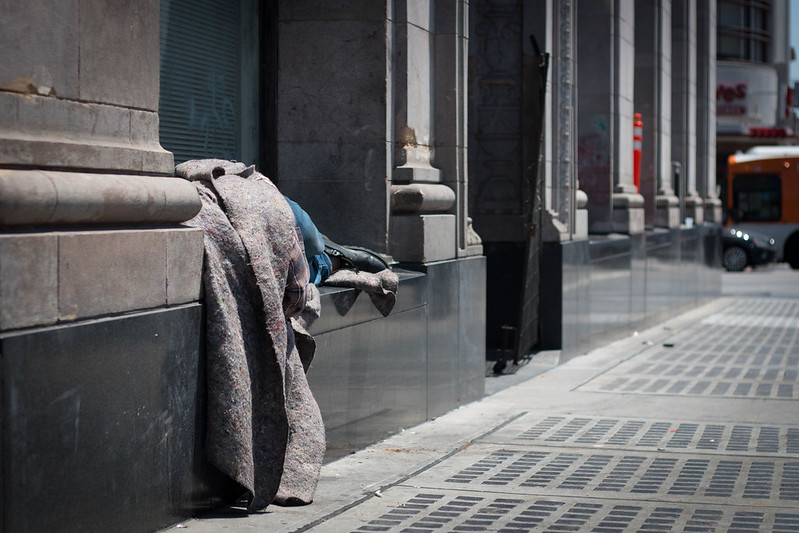 Elected officials talk a lot about ending homelessness, but how much does someone really know about homelessness unless it's happened to them? Los Angeles's Commission on Lived Experiences with Homelessness would consist of people who either are or were recently unhoused and who would advise the city on relevant policies.
Councilmember Mike Bonin introduced a motion last year to form such a group. Last Wednesday, the City Council unanimously voted to figure out what that commission might look like. The Chief Legislative Analyst will provide recommendations on the best way to establish the commission and is also asked to consult with people who have served on similar commissions in cities including Austin, Texas and Vancouver, Canada.
The Homelessness Advisory Committee of Austin (HACA) was formed in 2017 by the city's Office of Innovation. It consists of 13 members, all of whom either are or have been homeless. In an article for Bloomberg Cities, Kerry O'Connor, Austin's chief innovation officer, said it was difficult in the beginning.
"We're trying to talk with them about generating ideas for the future when everybody has an immediate crisis," she said. "It's a focus group of people who society has marginalized and judged. At first, I didn't know if it was going to work."
But over time, the group has become a valuable asset to several city departments. It's offered feedback on panhandling laws and developed a plan for handing out travel-sized hygiene items to unhoused individuals, which are easy to carry around and less prone to leaking in a bag.
In Vancouver, the Mayor's Task Force on Mental Health and Addictions includes people with lived experience who it says "are experts on evaluating the existing system of care." Who better to identify gaps and barriers than those who have had to face them?
During public comment on Wednesday, Bonin noted how in the past, feedback from unhoused individuals has led to better outcomes. For example, Bonin said it took the city and county years to figure out why the emergency winter shelter program and similar models weren't working.
The answer? Too many barriers. People didn't want to shelter in a facility where they couldn't bring their belongings or stay with their spouse or pet. L.A. officials only came to understand this and develop better shelter programs by talking to the people who needed them.  
Currently, the city's homeless sweeps are under scrutiny, as many activists say they harm more than they help because they throw away unhoused people's important belongings. This could mean crucial items—like blankets, IDs, and medications—but it could also mean sentimental items that bring people joy or hope. A commission of people who know what it's like to worry that the city will bag up and trash their things could help inform better policy.
Bonin noted that a successful commission would need to reflect L.A.'s homeless population, which is disproportionately Black and includes youth, people with disabilities, and survivors of domestic violence. It would also require training and a stipend, which the nonprofit Liberty Hill Foundation has offered to provide.

During public comment last week, the motion received support from Silver Lake Neighborhood Councilmember Maebe A. Girl and Zachary Warma, public affairs specialist with the Downtown Women's Center. 

Girl, who is also the neighborhood council's homelessness liaison, told We Like L.A. she thinks the commission is a "great idea, as long as it's not conducted in vain," also stressing the importance of a diverse panel that reflects L.A.'s unhoused communities and includes Black, Brown, Native, and transgender representatives.
"The City Council is in a position where they are caught between the 41,290 unhoused residents on any given night and the tens of thousands, if not hundreds of thousands, of Angelenos at risk of eviction 'due to COVID,'" Girl said. "This Commission needs to be influential and have a real say in City legislation. I expect to see the Commission speaking before City Council whenever there are motions related to housing, renters rights, homelessness, and poverty. If the City can't commit to this, then it's a hoax." 
The 2020 Greater Los Angeles Homelessness Count showed that homelessness increased by 12.7% in L.A. County and 14.2% in the City of Los Angeles since last year. According to the report, the three key reasons for the increase are inadequate housing supply, systemic racism, and stagnant wages that have failed to increase alongside housing costs. The average Angeleno would need to earn 2.8 times the minimum wage to afford the average L.A. rent.
What's more daunting is that this count was conducted in January, prior to the Stay at Home orders and record job loss caused by the COVID-19 pandemic. The state's Employment Development Department (EDD) reports that California's unemployment rate was 14.9% in June, which is lower than April's 16.4%, but considerably higher than in June of 2019, which saw an unemployment rate of 4%. Notably, EDD reports an unemployment rate of 12.3% during the height of the Great Recession in 2010.
A report from the UCLA Luskin Institute on Inequality and Democracy published in May found that of the 559,000 people in L.A. County who have lost their jobs and have no form of income replacement or unemployment insurance, 449,000 of them live in about 365,000 units of rental housing "and have long been bearing the second heaviest rent burdens of all the urban areas in the United States." Most of these households simply don't have the savings or resources to pay missed rent, the report says, and will face evictions when protections are lifted. These households include about 558,000 children.