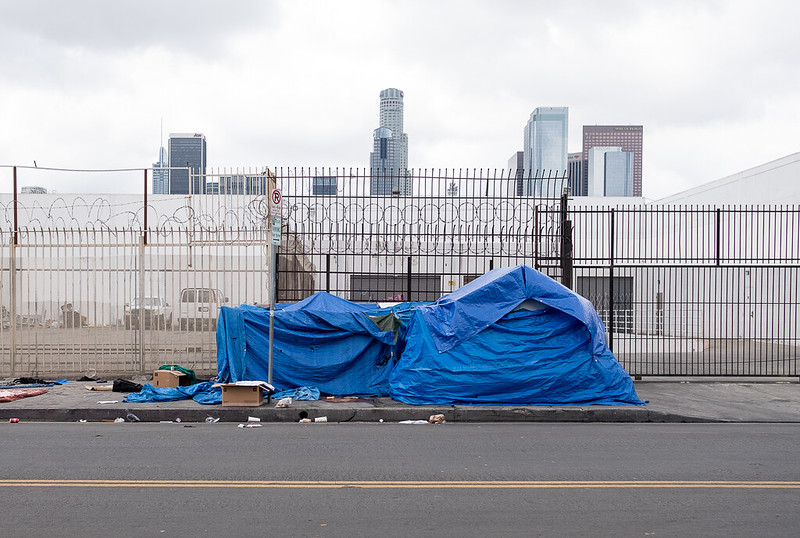 The results of the 2020 Greater Los Angeles Homeless Count are now available. The report from the Los Angeles Homeless Services Authority (LAHSA) shows there are were 66,433 people experiencing homelessness in Los Angeles County as of January 2020, which is 12.7% higher than last year's total of 58,936. Homelessness in the city of Los Angeles rose 14.2%. 
Several other counties in Southern California also experienced an increase in homelessness. Riverside County is up 2.6%, while San Bernardino County is up by 19.9%. In San Diego County, however, the homeless count decreased by 6%. 
According to the report, there three main reasons for the increase:
1. Inadequate housing supply. L.A. would need an additional 509,000 new affordable housing units to meet current demand.
2. Systemic racism. Homelessness in L.A. is disproportionately high among Black people, who make up 34% of those experiencing homelessness, but only 8% of the overall population.
3. Wages have not gone up alongside rent. In fact, the average Angeleno would need to earn 2.8 times the minimum wage to afford the average L.A. rent. 
This report comes at a time when protests against racial injustice continue throughout the city following the deaths of George Floyd and Breonna Taylor at the hands of police. One of the things protestors and activists have been asking for is a People's Budget that would move money from the LAPD to other areas, such as education, public transit, and—as is key in the report—housing. 
The count was conducted in January, prior to Stay at Home orders due to COVID-19, so the count does not reflect the effects of the pandemic. But, we do know that COVID-19 has resulted in unemployment across the nation, including 1.5 million people who applied for unemployment benefits just last week. According to the L.A. Times, as of late April, less than half of L.A. County residents had retained their jobs.
COVID-19 also disproportionately affects people of color, which L.A. County Public Health Director Barbara Ferrer attributed to systemic racism in a recent statement. 
The pandemic has prompted the city to shelter more people through Project Roomkey, which places homeless individuals into hotel rooms. According to the report, about 6,000 people have been sheltered as of May 2020, but the goal is 15,000 people. 
L.A. County Supervisor Janice Hahn issued a statement about the 2020 homelessness count this morning:

This is nothing short of tragic. We may be moving more people off the street, but we are nowhere close to meeting the massive scale of this problem. I am frustrated and I am worried about how many more people could fall into homelessness in the wake of this pandemic. I think it is time we rethink our strategies because the direction we are going is unacceptable."
Read the complete report here.