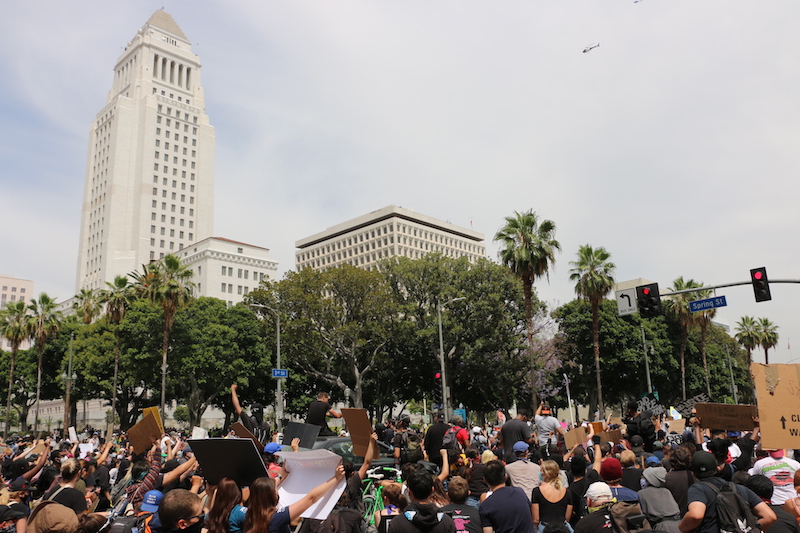 Los Angeles County Public Health has some specific advice for anyone who has been in a crowded setting of late: Get tested and stay quarantined if you can.
Public Health defines a "crowded setting" as one where people congregate without face coverings or distancing, or remain in close contact (closer than 6 feet) for more than 15 minutes with non-household members who aren't wearing face coverings. If you've been to a large rally or protest in the past few weeks, that might mean you.
While the majority of observed protestors have worn face coverings, some have not. And in some instances, the protests have been so large that people are backed up only a foot or two apart for blocks at a time. The protest in Hollywood this past Saturday is a prime example of that, with over 20,000 people estimated in attendance (some outlets report even more attendees).
If you've been in such a setting, then Public Health would have you consider the following:
Remain in your residence, away from others, in quarantine for 14 days if possible.
If you live with seniors or people who have high-risk conditions, you should also maintain a six-foot distance and wear a face covering when you are with them at home. Also, avoid preparing food for others or sharing utensils, bedding, or towels. Frequently clean and disinfect common surfaces.
Consider getting tested for COVID-19 if you have been exposed to someone who is positive or likely positive.
But remember, testing negative for COVID-19 right after being exposed doesn't mean you can't become infected later during the incubation period. If anyone was possibly exposed to someone with COVID-19 and the test result is negative, they should still remain at home for 14 days to prevent spreading illness to others.
While the above precautions represent a prudent approach, many feel conflicted when they weigh concerns of coronavirus spread against protesting the deaths of George Floyd and Breonna Taylor. For some, history simply can't be ignored.
"I cannot in good conscience let this moment pass me by," high school history teacher Hasani Sinclair told the L.A. Times.  Judging by the crowd sizes, that's an instinct many Angelenos share.
Many experts also see systemic racism as a competing public health crisis. A recent petition advocating for the demonstrators has been signed by 1,288 public health professionals, infectious diseases professionals, and community stakeholders. The open letter supports anti-racist public health responses to demonstrations against systemic injustice, and calls white supremacy a "lethal public health issue."
L.A. County Public Health Director Barbara Ferrer is not among the signatories of the petition, but she has called out to racism as a public health issue while referencing the disproportionately higher number of COVID-19 deaths among Black and Brown people.
Ferrer also issued a statement connecting health inequities to racism:
We know that Black Americans fare worse than other groups on virtually every measure of health status. And it has become all too common to blame this on individual behaviors when in fact the science is clear: the root cause of health inequities is racism and discrimination and how it limits access to the very opportunities and resources each of us need for optimal health and well-being. Science also tells us that that lifetime stress associated with experiences of daily acts of discrimination and oppression play a major role. It starts at birth, with higher rates of Black infant mortality and shockingly higher rates of maternal mortality among Black women, and extends through adulthood, when we see Black residents of LA County experiencing earlier onset of heart disease, hypertension, and diabetes and early deaths. When I report each week that we have seen elevated numbers of black deaths in this county due to COVID-19, I am reporting on the consequences of these long-standing inequities.
As of Wednesday, Public Health had confirmed 67,064 positive total cases of COVID-19 across all areas of L.A. County and a total of 2,768 related deaths. Among the 2,463 deaths where information about race and ethnicity is available, 12% were confirmed African American. African Americans make up 8.7% of the county's population.