[UPDATE 10/29/2015: We have a brand new version of this list available, now updated for fall 2015]
Who wants to do the same old stuff over and over again? Not us here at We Like L.A.
So with that in mind, I decided to put together a list of 13 (which, odd as number as it is, seems appropriate) awesome, cool, funky, and kind of really weird things you might want to consider doing if you're living in, or visiting Los Angeles.
Just another way to peel away the layers and get to know the strange, wonderful underbelly of this amazing city of angels.
Enjoy the list.
[RELATED: The Best Way to Find Discount Events in Los Angeles]
1. Visit L.A.'s Oldest Cemetery
Here you'll find the final resting place for mayors, war-vets, actors, musicians, religious leaders, and everything in between all dating back to the mid 19th century. You'll see names that include Lankershimm, Bixby, Van Nuys and others that you'll surely recognize as some of the most influential early residents of Los Angeles (or at least names of streets you've driven on).
Hell, there's even a jogging path that cuts right through it if you're looking for an excuse to exercise somewhere incredibly creepy.
Evergreen Cemetary on Yelp
204 N Evergreen Ave
Los Angeles, CA 90033
(323) 268-6714
2. Walk Along the Coast of the Lost Sunken City in San Pedro
Here you can walk the remains of a neighborhood that, literally, sunk into the ocean. There are ruins of old foundations, boulders where outlines of old roads used to exist, and contemporary graffiti etched into stony walls. Oh, plus amazing views of the ocean.
Be aware that I believe this is still technically private property (note the no trespassing signs), so tread lightly. You have been warned!
[UPDATE: In May, 2015 a proposal was floated to potentially re-open the Sunken City for public use, but the are is still closed to the public (though that hasn't stopped folks from bypassing the fences)]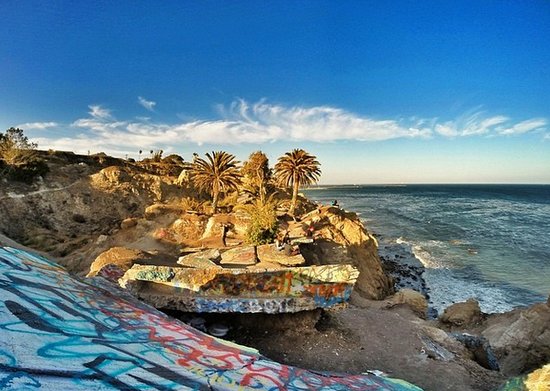 Sunken City
500 W Paseo Del Mar
San Pedro, CA 90731
3. Check Out the Watts Tower
"With steel girders, with wire mesh, with concrete, with a bucket, a shovel a hammer, a chisel, and with his own two hands, Simon Rodia [sic] built, inch by inch, the huge and complex structures that look down from their heights upon the plains."
If that quote piques your interest, the Watts Towers are for you. For more info, check out the embedded documentary below. There are 17 sculptures in all, and they are definitely worth the trip.
Watts Towers on Yelp
1727 E 107th St
Los Angeles, CA 90002
(213) 847-4646
4. Take a Trip to the Time Travel Mart
You might have asked yourself at some point, where in Los Angeles can I buy dinosaur eggs, a conquistador helmet, and an evil robot memory eraser. Well rest easy because there is an answer, and it's the Time Travel Mart.
All proceeds go to 826LA, which is a non-profit organization dedicated to supporting students ages 6 to 18 with their creative and expository writing skills, and to helping teachers inspire their students to write. And hey, if you don't like it, you can make a call on the time travel phone and warn yourself not to go.
Two Locations for your time traveling needs, Echo Park and Mar Vista. For more information check out the official store website.
1714 W Sunset Blvd Los Angeles, CA 90026 (213) 413-3388
12515 Venice Blvd Los Angeles, CA 90066 (310) 915-0200
5. Peruse the Museum of Jurassic Technology
It's hard to explain this satyrical collection of random fake (and a few real?) historical objects and curiosities. No where else in the city will you find paintings of Russian space dogs paired with collections of holographs, radiographs, and pretty much any other type of weird graph you can think of. If you're in the mood for the bizarre, this will quell your appetite.
Museum of Jurassic Technology
9341 Venice Blvd
Culver City, CA 90232
(310) 836-6131
6. See a Show at the California Institute of Abnormalarts
A divey, grimy, dimly lit venue slightly bigger than a broom closet that hosts music shows, puppetry, underground movies, and more. Very punk rock and very against the grain. If you're into that sort of thing (apparently people seem to love it) then I'd recommend checking it out.
Abnormalarts on Yelp
11334 Burbank Blvd
North Hollywood, CA 91601
(818) 221-8065
7. Tour L.A.'s Storybook Houses
As I explained in this piece of the "Hobbit House" there are a variety of "Story Book Homes" that were built near the turn of the 20th century, which have now become historical oddities. This piece by  Jolene over at 365-LA does a great job taking you through some of the more prominent story book homes still standing.
8. Tip-toe Through the Abandoned Zoo at Griffith Park
Tom Carroll (of Tom Explores Los Angeles fame) does a great job uncovering the history of what was L.A.'s orignal zoo location in the heart of Griffith Park. The ruins today are nice little treat if you're looking for a bit of history, adventure, and a lovely walk in the park.
9. Peer at the Puppets of the Bob Baker Marionette Show
On the one hand, adults playing with puppets kind of gives you the WTF kind of feeling (have you seen Being John Malkovich?)  but hey the kids really seem to dig it. Mr. Baker says that the shows his troupe of puppeteers put on "invades the imagination of children… and makes them want to believe." We wholeheartedly agree. Check the below videos to get a better picture of what we're talking about.
[EDITOR'S NOTE: Sadly, since the first writing of this article Mr. Baker passed away (Nov. 2014) and the current future of the theater remains uncertain]
Bob Baker Marionette Theater on Yelp
1345 W 1st St
Los Angeles, CA 90026
(213) 250-9995
10. Satisfy Your Sweet Tooth at Sweet!
No ordinary candy shop, Sweet features a Willy Wonka lair, a chocolate lab where you can concoct your own sweet creations, and even urinals (yes urinals) where candy is dispensed. Thankfully, candy dispensation is the only function they serve. Here's a quick video tour…
Sweet on Yelp
6801 Hollywood Blvd Ste 201
Los Angeles, CA 90028
11. The Electic Dusk Drive-In
Explore the lost art of seeing a movie in a car at one of L.A.'s premier (and few) drive-in theaters. 'Nuff said.
@ivamarie @CNTraveler Email [email protected] if you need more. Thank you!! pic.twitter.com/4xBRONBg8m

— Electric Dusk (@ElectricDuskLA) February 7, 2015
Electric Dusk Official Site
1000 San Julian St
Los Angeles, CA 90015
(818) 653-8591
12. The Museum Of Death
If you're looking for a museum that has a 'serial killer' room as well as an 'autopsy room' with real life crime scene photos, then this will be your cup of tea.
Definitely gory, definitely not for everyone.
Museum of Death on Yelp
6031 Hollywood Blvd
Los Angeles, CA 90028
(323) 466-8011
13. Jumbo's Clown Room
Technically not a strip club, but then again, there isn't much technical about Jumbo's. Part burlesque, part bar, part pole dancing extravaganza. The experience at this joint is difficult to explain, impossible to replicate, and definitely worth having.
Jumbo's on  Yelp
5153 Hollywood Blvd
Los Angeles, CA 90027
(323) 666-1187
Have any weird, funky, or otherwise obscure things to do you'd like to suggest? Let us know in the comments below!