Sometimes, as a dude, you need to make your lady feel special (or, hey, maybe it's a dude who you need to impress. I don't discriminate here). And yes, I'm going to get to that, as the title of this article implies. But first, let me make a quick digression.
This past November I got an invite to a charity function at The Fairmont Bungalow in Santa Monica called 'Stache Night' with benefits going to the John Wayne Cancer Foundation at Providence Saint John's Health Center. The event was your classic guys night: cocktails, cigar chomping, and toast-making, with some excellent food catered by FIG Santa Monica.
All-in-all, they raised $5,000 for a good cause. Kudos to Avedis "Avo" Guerboian of Readers Fine Jewelers for putting it all together.
Of course the downside is I didn't get to bring my girlfriend, and We Like L.A. partner in crime, Christina Minh. But in the back of my mind I had the experience cataloged for future reference, and it's exactly that point which is the jump-off for this current article.
How do you plan an awesome L.A. date experience?
Well, let me take you through my thought process.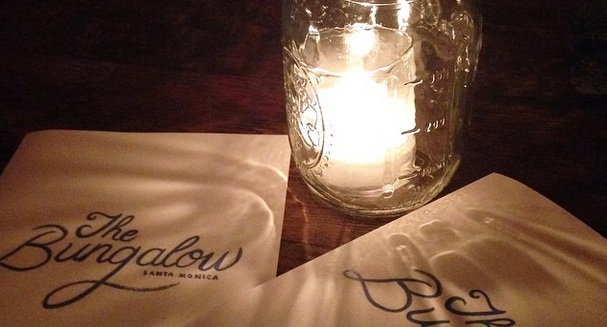 1. Pick a Place She'll Love
Flash forward from Stache Night to two weeks before Christmas and I'm looking for somewhere awesome to take Christina for her birthday (which happens to fall a few days before the 25th). I want it to be special enough to distinguish it from the Yuletide Holiday because, after all, who ever wants to have their birthday celebration conflated with Christmas?
I recalled my experience at The Bungalow, remembered that FIG was right next door, and then put it all together in my mind.
Overall, my primary consideration was picking a place that I felt, based on her tastes, she'd really enjoy. I assumed (correctly) the service would be awesome, the ambience romantic (it was) and we'd be able to transition right over from a cocktail setting to a great meal without even missing a beat (totally).
My point is, if you're planning on making a splash with a big date, just keep his or her tastes in mind, and you'll be on the right track.
2. Maintain The Mystery
Even though Christina knew something was happening on the Friday we were set for dinner, I deliberately kept the location of our date a secret.
Sometimes when you know something special is coming, but you don't know exactly what it is, that can be half the fun. Of course, the sense of anticipation needs to be followed through with a great experience, but I was confident about that part going in. 🙂
3. Dress The Part
Put yourself in the shoes of your special someone. How would their perfect date dress?
Your attire underlines the importance and specialness of the occasion. It shows you care. It demonstrates that you know that looking your best is part of what's going to make this date awesome. And, hopefully, it makes her feel extra proud that you're the man in her life.
As an example, here's what yours truly did to look super goofy dapper on the night in question.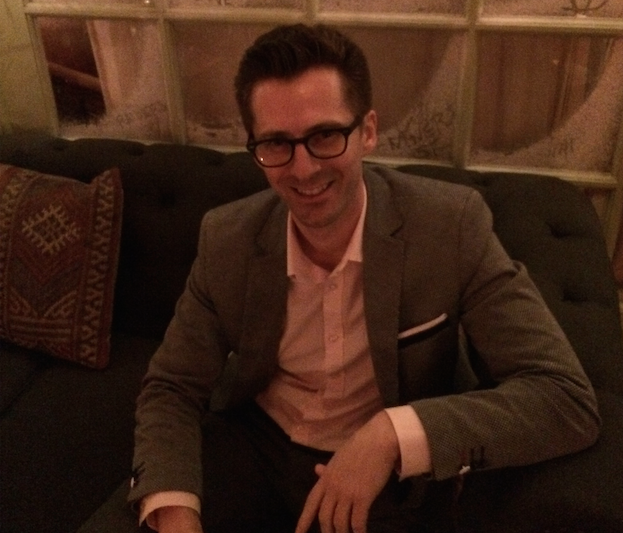 4. Layer The Date By Switching Locations
In order to make a date feel more like an occasion than just an evening out, I think it's always best to find a way to visit multiple locations or venues… maybe even separate activities if the date calls for it.
As I mentioned previously, in the case of The Fairmont Hotel, The Bungalow and FIG are literally just a stone's throw away from each other.
We started the evening with some delicious cocktails and a chill vibe at The Bungalow where I had reserved a table for drinks, then seamlessly transitioned over to a worthy meal at FIG.
(And you want to close it out in style, the ocean is literally across the street for a quick after dinner stroll on the beach!)
In any case, I think the layers add something to the experience, making both more romantic and more memorable. If you're short on cash, it could just be the quintessential dinner and movie, but just try to make your multiple venues in close proximity to one another, so you don't have to deal with the vaunted L.A. traffic when moving on from one location to the next.
(On a side note, if you're doing drinks at The Bungalow, best to reserve or get there early because by the time we came out from dinner on a Friday night around 10pm, the line was crazy long)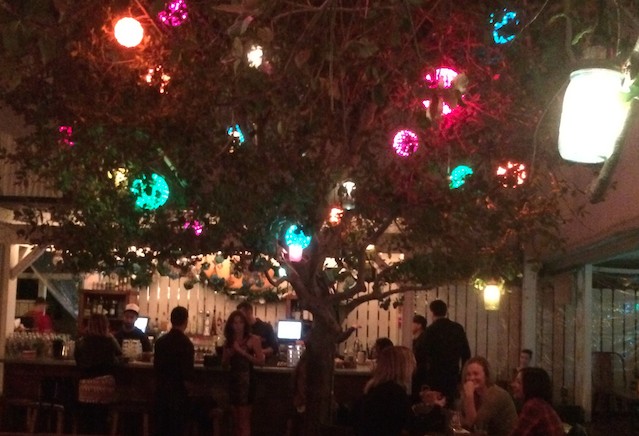 5. Dinner Is In The Details
Because I had planned ahead the manager of FIG, Chris, stopped by to welcome us and we got talking about about the preparation of some of the cocktails.
Christina is a huge fan of a well made gin and tonic, and as it turns out FIG actually takes the time to hand craft their own tonic water through a multi-step distillation process.
Chris had one of the bartenders come out and talk us through the process, which I think Christina appreciated. It was a nice touch.
Among the fare we dined on was the tomato soup, the charcuterie sampling plate, and the hangar steak (all recommended).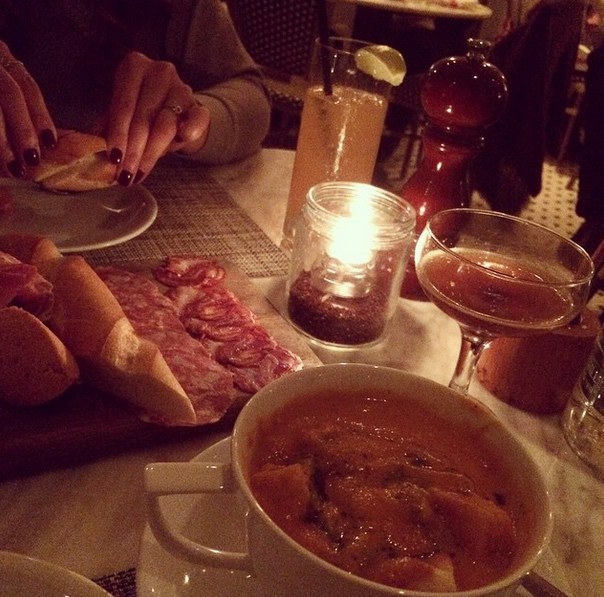 Oh, and no special occasion is complete without something sweet at the end (read: always get dessert!).
We decided to order the Baked Alaska, since, when then the heck are ever going to get Baked Alaska?
It was a nice way to end the meal.
6. Above All, Put Thought and Effort Into It
The truth is, if you're with someone who cares about you (and who you love too!), the thing that will matter most to them is that you put real thought and effort into what you planned, even if it turns out to be less than spectacular in the end.
So, when you're deciding how to craft your next night out with that special someone in your life, make this your top priority and ultimately, you won't go wrong. And if you decide to go check out FIG or The Bungalow Santa Monica, I heartily endorse that too!
Either way, as long as you earn a face like this at the end of the night, you probably did ok.
🙂
What are you best tips for planning a date night in Los Angeles? Let us know in the comments below!