So I fired up the internet this morning, and wouldn't you know it, it seems like southern California doesn't seem to be handling this chilly winter storm thing very well. Guess those winter weather warnings that were issued yesterday were pretty necessary.
For starters, heavy snow in the San Bernardino Mountains stranded 136 people overnight on Tuesday, with fire crews spearheading a rescue operation that was completed early Wednesday morning, according to the L.A. Times.
The southbound 15 Freeway in Hesperia was closed around 9pm and large portions State Route 38, from Forest Falls to Big Bear Dam Road, were also closed. Additionally, the California Highway Patrol reported calls of stranded motorists in the area for much of Tuesday night (per the same Times report).
Calif. snow knocks out power and leaves nearly 200 motorists stranded http://t.co/0aR0eqS2Z0 (R. Sforza, The Sun/AP) pic.twitter.com/UNseSh4MvQ

— USA TODAY (@USATODAY) December 31, 2014
Furthermore, a report by KNBC Los Angeles indicates State Route 74 is closed from Grand Avenue to the Orange County line due to snow and stuck vehicles, with a timeline for reopening still unknown. That same report states the northbound 15 at Clinton Keith has all lanes closed due to snow, also for an unknown duration.
Although snow levels were predicted to drop to a 2000′ elevation, a friend of mine took these shots around 7:00am this morning in Murrieta at an elevation of 1200′. 4-6 inches deep of fresh powder, approximately. Welcome to the North Pole in your backyard!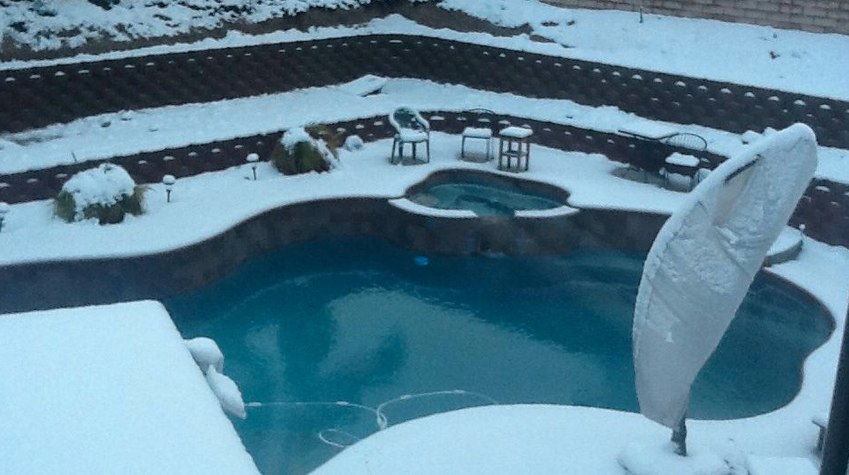 [Photo credit: Glen Jackson]
Complicating the snow and rain, wind advisories were implemented across the Southland on Wednesday. There have been predictions of gusts up to 70 mph in mountain passes ranging from Ventura to Orange and Riverside counties, and reports of trees being blown over have already come in from areas such as La Crescenta, Anaheim, and Huntington Beach.
Oh, and did we mention the power outages?
As of 4:30 a.m., 5,980 customers are without power in L.A. County and there was at least one account of a bright flash near Glendale/Burbank, which may account for a portion of the outages, though there is no official word on this yet.
ALERT: Hige power surge has just hit Burbank – no reports of damage yet but signals and street lights have gone out everywhere

— myBurbank News (@myBurbankNEWS) December 31, 2014
So yeah, basically when the rainy, stormy weather hits SoCal, shit kind of hits the fan.
But at least there's not earthquakes like yesterday, right?
Stay safe out there people!