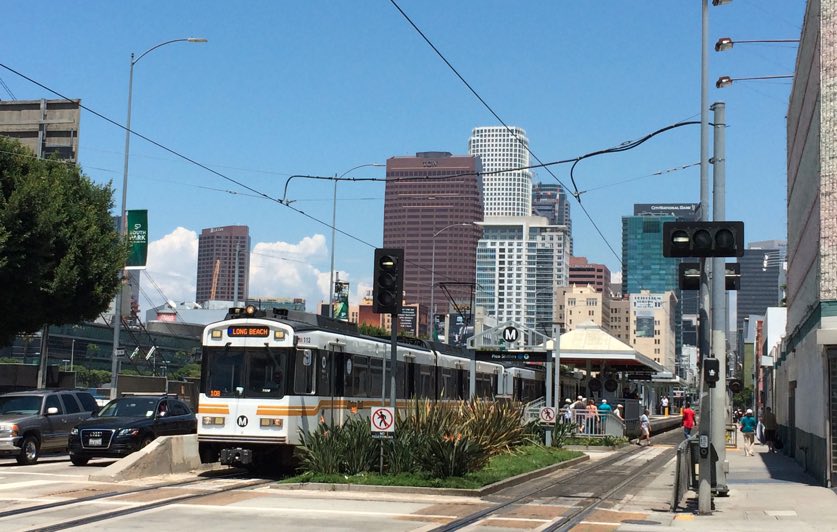 There's no more dangerous cocktail than wet roads and tipsy drivers. Thankfully, Metro has your back.
L.A. County's public transit agency continues their annual tradition of free end-of-year rides starting at 9 p.m. on New Year's Eve (that's tonight!), when they'll unlatch the gates at all Metro rail stations and TAP readers will charge zero dollars as you breeze through the turnstiles or board a bus. The freebie applies to all Metro-operated bus and rail lines, and will be good through 2 a.m. on Saturday.
The free rides are the good news, but the bad is that tonight's forecast looks like steady rain until around midnight. In light of the weather, the smart move is to plan accordingly.
Grand Park's big countdown and celebration is set to go off rain or shine, but upon review of the guidelines for the event, I noticed that organizers specifically state umbrellas are prohibited in the park. That means if you're carrying a brolly you might just get turned away, which obviously would be a huge bummer and a terrible way to end the year. Maybe see if you can dig out a poncho from your closet, or look elsewhere if you don't have the right rainproof gear.
If Grand Park sounds too intense (or potentially too wet) for your taste, there are a ton of options for New Year's Eve in Los Angeles. Whatever you decide on, whether staying in for the evening or heading out, we hope you have a safe and pleasant New Year!