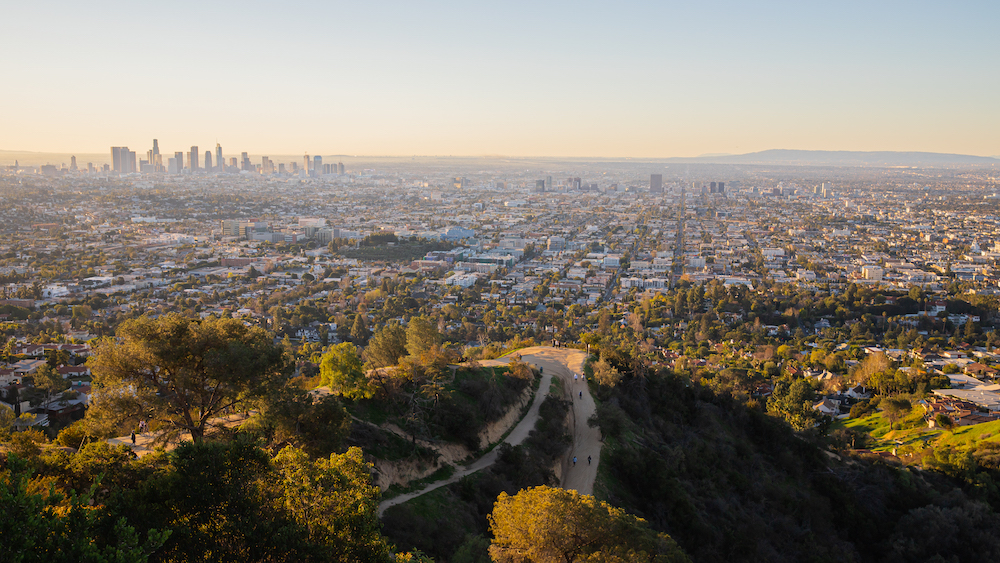 Need a head start to planning your January in Los Angeles?
Check out our rundown below for a bevy of inspired ideas, including Lunar New Year's fests, new art exhibitions, the Pacific Opera Project, a guided L.A. River walk, MLK Day celebrations, Dance Camera West, Da Poetry Lounge, NatGeo Live, and more. And remember, if you want free museum ideas for the month ahead, check out our cheatsheet here. Hope you have a great start to 2023!
Things To Do in January
Oshogatsu Festival in Little Tokyo (January 1) -> Celebrate the start of the new year with a Oshogatsu Festival in Little Tokyo, put together by the Japanese Chamber of Commerce of Southern California. The family-friendly affair features traditional Japanese food, entertainment and special activities including a kimono fashion show and a shamisen (traditional three-stringed Japanese instrument) performance. The free event takes place at Weller Court and Japanese Village Plaza from 10 a.m. to 4 p.m. Get more info here.
Disney 100 Movie Marathon (January 1) -> Disney celebrates a century of animation feature films to start 2023 with a four-movie slate on New Year's Day at El Capitan Theater. Watch Beauty and the Beast, Aladdin, The Lion King and Frozen all back-to-back, starting at noon. Tickets start at $40, and include a 20oz bottled beverage, Disney 100 popcorn container with popcorn, a collectible print, and reserved seating. More info here.
Polar Bear Plunge (January 1) -> Greet New Year's Day by bravely taking a plunge into the ocean at the annual Polar Bear Plunge. After a two year hiatus the annual Polar Bear swim, which dates back seven decades, and typically brings out about 800 people each year, will take place at Cabrillo Beach. More info here.
The Rose Parade (January 2) -> The 134th Rose Parade (never on a Sunday) returns for 2023 with its iconic assemblage of decorative displays, floral arrangements, eye-catching floats, marching bands and horse-drawn carriages, all traversing a 5 and a half mile route along (mostly) Colorado Blvd. The weather looks like it might be clearing up for the event, but keep on an eye on the forecast as rain is still a strong possibility. More info here.
Floatfest: A Rose Parade Showcase (January 2-3) -> Following the 134th Rose Parade, visitors will have a chance to view the detail and design of float entrants up close at Floatfest, a ticketed ($20) showcase taking place at select times on the afternoon of January 2 and Tuesday, January 3. Get more info here.
L.A. Zoo Lights Pride Night (January 4) -> The Los Angeles Zoo, in partnership with LA Pride, will host a family-friendly LGBTQIA+ edition of L.A. Zoo Lights from 6 to 10 p.m. Tickets cost $34 per adult and $27 per child. More info here.
First Wednesday Lecture at The AoP (January 4) -> Every first Wednesday evening of the month, the Aquarium of the Pacific hosts a guest lecture and cocktail reception at the Pacific Visions Theater. For January 4, Apex Protection Project directors Paula Ficara and Steve Wastell stop by to discuss the social link between humans and wolves, and how their group advocates for wolves in the wild through educational programming. Tickets are $5 in advance, or $10 the day of. Get more info and RSVP here.
Ice Yoga (January 5, 10) -> First-ever Ice Yoga Classes continue at the Ice at Santa Monica skating rink on two dates this January. Instructor Austin Hollingshead leads participants in a one-of-a-kind healing experience, which will focus on the core and progress to full-body movements. Tickets are $5. Yoga mats will be provided. More info here.
Top Golf Live at Dodger Stadium (January 5-8, January 12-15) -> Dodger Stadium transforms into a giant Top Golf space where guests will be able to hit golf balls off of the concourse level and onto the field aiming at various targets. Tickets for the experience range $110 to $140 depending on the day and spectator tickets just to watch cost $10. More info here.
POP Presents Vivaldi Opera (January 6-21) -> This January, Pacific Opera Project presents the U.S. premiere production of the rare Vivaldi opera, Ercole su'l Termodonte. The production transforms The Highland Park Ebell Club into an 18th-century style Baroque opera house, complete with box seating. There will be 8 performances in all. Tickets start as low as $20 for some seats. More info here.
Exhibitions Openings at Thinkspace (January 7) -> Thinkspace Projects kicks off 2023 with a slate of four new exhibitions, all debuting with an opening reception on January 7. The event is free to attend and includes DJ-spun tunes, refreshments, and live painting. Runs 6 to 10 p.m. Get more info here.
Yoga Expo (January 7) -> The nation's largest traveling yoga convention comes to the Pasadena Convention Center this January with a one-day event featuring classes, panel discussions and a yoga marketplace. A single all-day pass starts at $55 per person, and there is a three-ticket family pass at $99 for three tickets. Get more info here.
Oshogatsu Family Festival (January 8) -> Ring in the Year of the Rabbit with the Japanese American National Museum's annual Oshogatsu Family Festival. Admission to the festival is free, and visitors will enjoy cultural performances, crafts, live art, candy sculptures, kids activities, and mochitsuki a traditional rice pounding demonstration. More info here.
New Works Play Festival (starting January 10) -> Starting January 10, Theatre West presents weekly rehearsed readings of new full-length plays developed in its Writers Workshop. Reservations are not necessary to attend. Admission is free. Donations are gratefully accepted. More info here.
National Geographic Live: From Shallows to Seafloor (January 12) -> The latest edition of NatGeo Live at The Broad Stage centers on the work of Marine Biologist Diva Amon, whose deep-sea exploration has led to fascinating insights on the otherworldly environment that exists in some of the most remote depths on the planet. Tickets start at $55. More info here.
Wuthering Heights -(January 11-22) -> Director Emma Rice brings her vibrant adaptation of Bronte's Wuthering Heights to The Wallis for a 12-day production. Seats start as low as $39 for some dates. Get more info here.
Mindful Awareness Meditation at The Hammer (January 12) -> In person Mindful Awareness Meditation is returning to The Hammer Museum's Billy Wilder Theater starting January 12. The art museum is always free to visit, the series runs every Thursday at 12:30 p.m. and every session will be broadcasted live on the Hammer's website for those who wish to meditate online instead. More info here.
River Sessions -> (January 14) -> Starting in January, the LA River Public Art Project is launching a series of walks along the L.A. River to highlight the art, culture, history, and ecology the famed waterway. This month, the series kicks off with a jaunt near Mile 51 (the technical starting point of the river) in Canoga Park, to be preceded by performance from traditional Tongva singer Joe Calderon. Tickets start at $29 per person. Get more info here.
Guess Who's Coming to Dinner (January 14, 15, 19, 21, 22) -> Theatre Forty's critically acclaimed hit stage production of Guess Who's Coming to Dinner? comes to the fabulous Greystone Mansion in Beverly Hills on select dates in January. . Tickets cost $35 per person. More info here.
Asian American Expo (January 14) -> The Asian American Expo returns to the Fairplex in Pomona for two days of celebrating Asian culture through five uniquely themed pavilions: Asian American Food Expo, China Food Showcase, ANIME Impulse, K-PLAY! FEST and Sneaker Expo. Tickets cost $20 per day. More info here.
Westside Coalition's MLK Events (January 14 & 16) -> On Friday, January 14 the Rev. Dr. Martin Luther King Westside Coalition hosts the Santa Monica Symphony's Annual MLK Concert at John Adams Middle School. Two days later, a national holiday celebration at the same venue that includes special speakers, music, and dance. Both events are free, but the concert is ticketed, as space is limited. More info here.
Simone Forti at MOCA (starting January 15) -> This month, the Museum of Contemporary Art on Grand Ave welcomes the first west coast exhibition documenting the career of artist, dancer, and choreographer Simone Forti. As part of the exhibition, visitors can experience "Dance Constructions" on select times on Thursdays, Saturdays and Sundays following the opening. More info here.
Future Without Fear (January 16) -> Praz-Delavallade gallery presents FUTURE WITHOUT FEAR, a multimedia exhibit that explores the hopes and dreams of young people from underrepresented communities and asks the question "If you had no fear or barriers, who would you be?" The exhibit is free and open to the public. More info here.
King Day 2023 at CAAM (January 16) -> Celebrate the return of CAAM's in-person King Day festivities! This year's theme is "MLK: A Legacy of Service" and the program includes a performance by the Inner City Youth Orchestra of Los Angeles, the King Study Group, family activities provided by the Los Angeles Public Library, and more. Free to attend. More info here.
Da Poetry Lounge Comes to Zócalo Public Square (January 17) -> Spoken word poets take the Zócalo stage at the ASU California Center for a night that prompts the question, Does Democracy Need Poets? The lineup features with Beau Sia performing "We Voting," and Sekou Andrews and Steve Connell performing "Water Stained Black," followed by a conversation with the poets about the ways artists engage with politics, and fuel democracy. Free to attend. More info here.
Dance Camera West Festival (January 19-21) -> Celebrate the art form of dance at this annual film festival at Barnsdall Gallery Theatre featuring a packed schedule of free and ticketed screenings and programs. More info here.
L.A. Body Art Expo (January 20-22) -> The L.A. Body Art Expo brings 250 of America's best tattoo artists to the L.A. Convention Center for a three-day affair featuring music, beer, plus 22 tattoo contests, and more. Tickets start at $25 for single-day admission. Get more info here.
Lunar New Year Festival in Monterey Park (January 21-22) -> The city of Monterey Park welcomes the year of the rabbit with a two day event featuring lion and dragon dancers (Saturday) as well as a carnival and various types of entertainment on both days. Food vendors, cultural experiences and unique gift booths will also be part of the festival. Free to attend. More info here.
Nexus IV: Riaz (January 21) -> Glendale's Brand Library hosts an opening reception for Nexus IV: Riaz, a new group art show curated by Tlaloc Studios and Thinkspace Projects featuring some 60 artists. Nexus features solo exhibitions from Anthony Clarkson, Ken Flewellyn, Matthew Grabelsky, Anthony Hurd and Cody Jimenez; plus site-specific murals from Brek, Love Yo Dreams and Mr. B Baby. The opening reception takes from 4 to 10 p.m., and will include food provided by Zavalas Pies, Sweet Life LA and Bad Jimmy's, plus a cash bar and DJs. The exhibition runs through March 17. Get more info here.
Drive-By Theatre Festival (January 21-23) -> To kickoff the 2023 season at Zombie Joe's Underground, the indie North Hollywood theater hosts their 20th annual Drive-By Theatre Festival, a brand new, fast-paced collection of mini-plays all written, produced, and performed in two days (or less). Shows take place nightly at 8:30 during the three-day run. Tickets are $20 in advance, or $25 at the door. Get more info here.
Pasadena Cheeseburger Week (January 22-27) -> Did you know the cheeseburger was invented in Pasadena? Head to the city during Pasadena Cheeseburger Week where 40 restaurants, lounges and casual spots will offer signature burgers, special creations made just for the occasion and deals. More info here.
Exposure: Native Art and Political Ecology (starting January 27) -> The latest exhibition at Armory Center For the Arts in Pasadena grapples with issue of toxic waste on indigenous lands through a mix of mediums that includes sculptures, video installation, photography, collage, glasswork, metalwork, fiber, paintings, and virtual-reality experiences. Some three dozen (mostly indigenous) artists contributed to the Exposure, which debuted at Museum of Contemporary Native Arts in Santa Fe in 2021. Admission to Armory Center For the Arts is always free. More info here.
Exhibition Openings at TAM (January 28) -> The Torrance Art Museum (always free to visit) hosts an opening reception for their two new spring exhibitions, which includes Rochelle Botello's Free Fall along with Bridging The Pacific, a collection of works created by Japanese-American artists living in the SoCal area. More info here.
Uncorked: Los Angeles Wine Festival (January 28) -> Uncorked Wine Festival returns to the iconic Union Station in Downtown Los Angeles with over 150 wines and bubbles from around the world, plus local food trucks, live music and a photo booth. Early admission ($80) is at 5 pm and includes an extra hour of tasting with a smaller crowd for the first hour, and bonus pours from select wineries during that hour. General admission ($65) is at 6 pm and the event ends at 9 pm. Both ticket types include all wine tasting with food sold separately. More info here.
Alhambra Lunar New Year Festival (January 29) -> The Alhambra Lunar New Year Festival takes over Main street with a day of fun that includes lion dances, kung fu performers, live candy sculpting, live Chinese character demonstrations, and other cultural performances. The festival will run in conjunction with the Alhambra Farmers Market, a great place to pick up independently farmed asian fruits and vegetables. More info here.
Mulyana: Modular Utopia (opening January 31) -> This January, the USC Fisher Museum presents the first solo museum exhibition featuring work by Indonesian artist Mulyana. In Modular Utopia, Mulyana builds massive kinetic environments composed of knit sculptures depicting marine life in an intricate underwater world. It's set to run through April 8, 2023. USC Fisher Museum is always free and open to the public during visiting hours. More info here.
---
Want to get the best things to do in L.A. sent straight to your inbox? Join over 60,000 Angelenos who subscriber to our twice weekly email newsletter!
By subscribing, you agree to our terms of use and privacy policy and consent to receive emails from We Like L.A. about news, events, offers, and partner promotions.