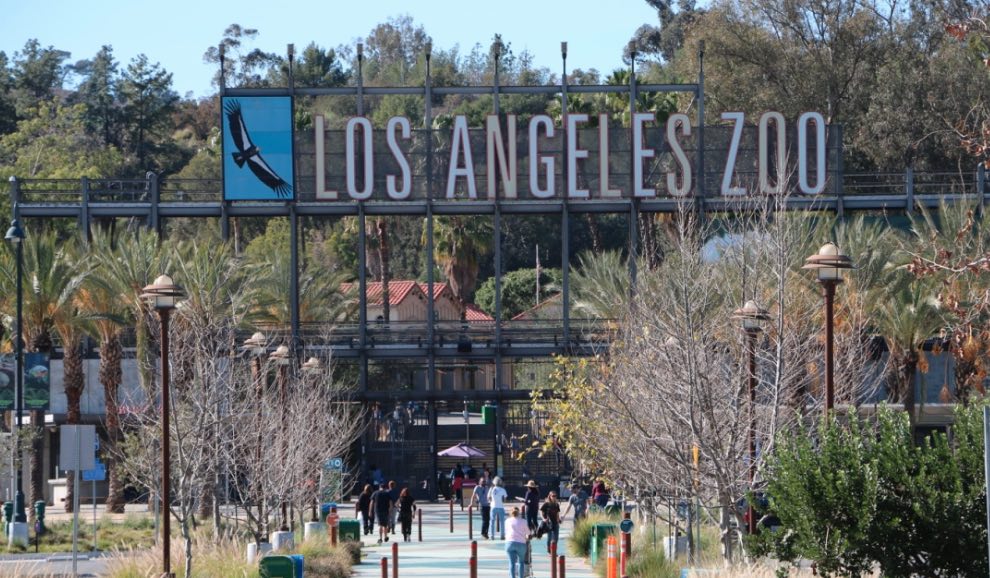 New week, new year. Still lots of rain on the forecast, including a "life threatening atmosphere river" that's about to descend on Northern California. Whatever you do, stay safe out there!
For this week in Los Angels (January 3-6), we've got Ice Yoga in Santa Monica, a lecture on wolves at AoP, Top Golf at Dodger Stadium, the Pacific Opera Project in Highland Park, The Last Improv at Dynasty Typewriter, and a Cambodian chicken wing spot you need to check out. All that and more in our rundown that starts below.
Things To Do This Week
Floatfest: A Rose Parade Showcase -> Following the 134th Rose Parade, visitors will have a chance to view the detail and design of float entrants up close at Floatfest, a ticketed ($20) showcase taking place at select times on the afternoon of January 2 and Tuesday, January 3. Get more info here.
L.A. Zoo Lights Pride Night -> The Los Angeles Zoo, in partnership with LA Pride, will host a family-friendly LGBTQIA+ edition of L.A. Zoo Lights this Wednesday from 6 to 10 p.m. Tickets cost $34 per adult and $27 per child. More info here.
Ice Yoga -> First-ever Ice Yoga Classes pop at the Ice at Santa Monica skating rink on two dates this month, starting with this Wednesday. Instructor Austin Hollingshead leads participants in a one-of-a-kind healing experience, which will focus on the core and progress to full-body movements. Tickets are $5. Yoga mats will be provided. More info here.
First Wednesday Lecture at The AoP -> Every first Wednesday evening of the month, the Aquarium of the Pacific hosts a guest lecture and cocktail reception at the Pacific Visions Theater. For January 4, Apex Protection Project directors Paula Ficara and Steve Wastell stop by to discuss the social link between humans and wolves, and how their group advocates for wolves in the wild through educational programming. Tickets are $5 in advance, or $10 the day of. Get more info and RSVP here.
Bear City Comedy -> Every Wednesday, you can catch free comedy at Que Sera in Long Beach presented by Bear City, featuring a rotating lineup of up-and-comers from Netflix, Comedy Central, HBO, and beyond. Doors open at 7 p.m., show starts at 7:30. Cash bar, but no drink minimum.a More info here.
Our Art LA Exhibition Opening -> Celebrate the opening of Our Art LA this Thursday at Angel City Brewery with an evening of drinks, conversation, music and poetry performances. This new exhibition features the works of over a dozen participating artists, all addressing the theme the of systemic racism and spotlighting/critiquing responses from within the arts community. Reception runs from 6 to 9 p.m. Free to attend. More info here.
Top Golf Live at Dodger Stadium -> Starting this Thursday, Dodger Stadium transforms into a giant Top Golf space where guests will be able to hit golf balls off of the concourse level and onto the field aiming at various targets. Tickets for the experience range $110 to $140 depending on the day and spectator tickets just to watch cost $10. Run this weekend and next weekend only. More info here.
The Last Improv -> This Friday at Dynasty Typewriter, an A-list lineup of comedians perform skits based on the stories of a guest monologist who offers impromptu diatribes inspired by audience suggestion. Dan Black hosts, with special guests including Bobby Moynihan, Nicole Byer, Paul Scheer, Paul Welsh, Jon Gabrus, Mary Holland, and Rain Wilson. Tickets are $20 in advance, or $25 the day-of. More info here.
POP Presents Vivaldi Opera -> To kick off 2023, Pacific Opera Project presents the U.S. premiere production of the rare Vivaldi opera, Ercole su'l Termodonte. The show takes place over three weekends in January, transforming The Highland Park Ebell Club into an 18th-century style Baroque opera house, complete with box seating. There will be 8 performances in all, beginning this Friday and Saturday. Tickets start as low as $20 for some seats. More info here.
Dining & Drinking
(pick by Christina Champlin)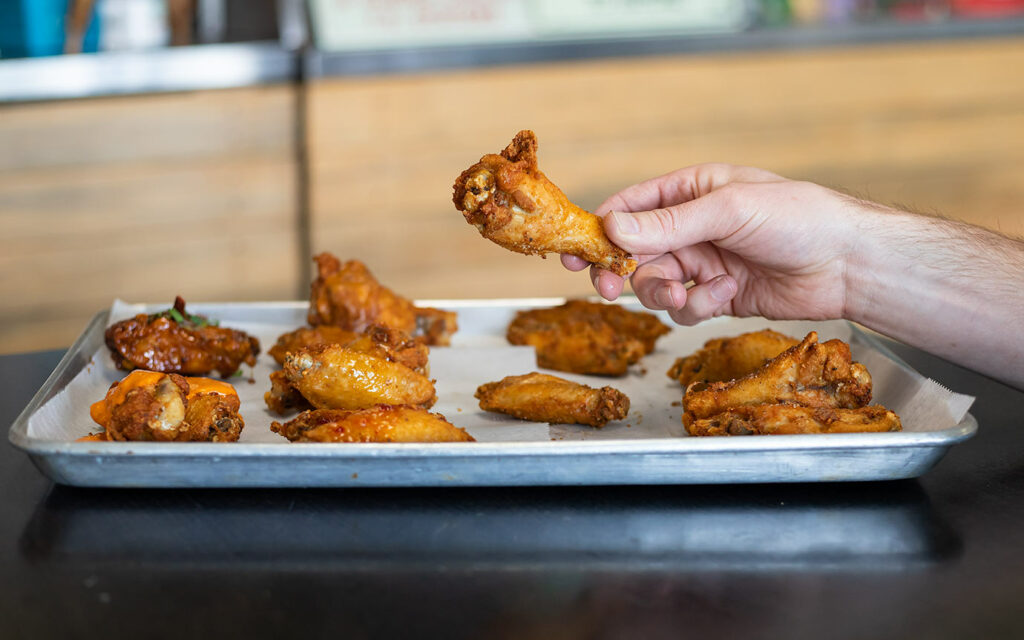 Construction workers file out of Shlap Muan as I approach the humble North Long Beach storefront on the Thursday before Christmas. The satisfied grins on their faces hint at something delicious in my future. My pace quickens as I step through the doorway. Man it smells good.
Husband-and-wife team Hawk and Sophia Tea opened this spot in 2020, three years after successfully launching Shlap Muan in San Francisco. The SF restaurant eventually closed, but down in the LBC the line forming behind me indicates business is strong. This is no accident.
Shlap Muan literally translates to "chicken wings" in Khmer, so you can go in knowing exactly what to expect. This is not the kind of place where you'll find buffalo or barbecue wings and definitely not something as blasphemous (for me anyway) as boneless wings. The operation features nine dry rubbed and sauced up wing flavors each tied into Hawk's Cambodian heritage. In my opinion, there isn't a bad option in the bunch.
You can mix and match for each order with the exception of the Dirty Elvis, which comes exclusively in sets of 20 ($25) or 30 ($36). Inspired by the traditional Khmer braised sauce, Elvis wings arrive wok fried until the chicken is encased in a thick caramelized coating topped with dried chillies and green onions. Equal parts sweet and savory, these little guys burst with intense flavors that I can only describe as a candied version of a chicken wing.
Shalp Muan's most popular flavor is the Cambodian Dirt, a riff on lemon pepper seasoning that Hawk came up using Kroeung, a traditional spice/herb paste that is a staple of Cambodian cooking. Dry or sauced, all the wings have a crispy satisfying crunch, and not one is over dressed. In particular, I'm a fan of the Sweet & Spicy Garlic wings, fried then drizzled in a sauce of diced garlic and red chilies. By the end of the meal, the Umami punch had me dipping other flavors in the remnants of the garlic infused goodness.
Hawk suggests ordering a side of white rice as a palate cleanser between each wing flavor, and I also found rice to be the perfect vessel for leftover sauces on my tray. For me, a 16 piece order ($19) was more than ample to feed my partner and I for lunch.
Just make sure you get there before the rush!
Shlap Muan is located at 2150 E. South Street in Long Beach, California 90805. They are open Wednesdays through Sundays from 10:30 a.m. to 6 p.m.
---
Want to get the best things to do in L.A. sent straight to your inbox? Join over 60,000 Angelenos who subscribe to our twice weekly email newsletter!
By subscribing, you agree to our terms of use and privacy policy and consent to receive emails from We Like L.A. about news, events, offers, and partner promotions.