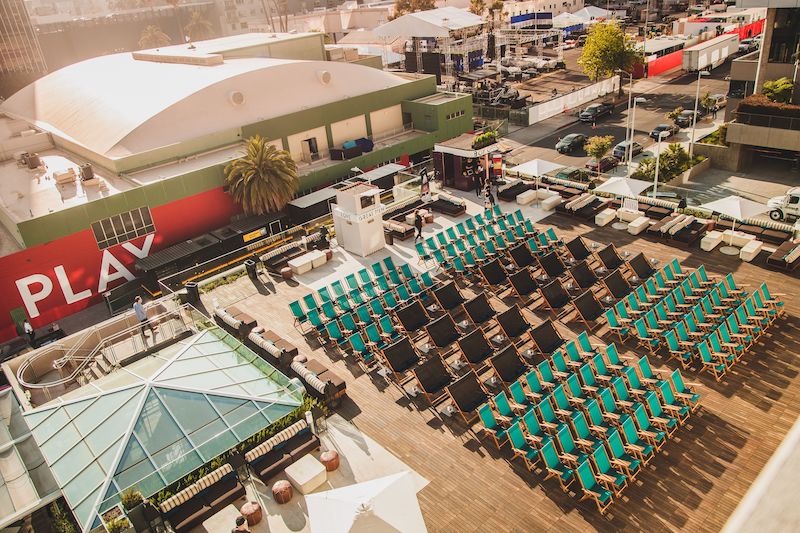 Rooftop Cinema Club, now in its fifth season in Los Angeles, has become a staple of the local outdoor movie screening scene, and this year they're back with a robust lineup of films and food options.
RCC first started in London's Shoreditch back in 2011. Founder Gerry Cottle Jr. brought the series (then called Rooftop Film Club) to L.A. in 2015, and it has evolved into one of the signature outdoor events series in the city, expanding to multiple venues and increasing the number of total screenings.
Rather than use an outdoor speaker system, guests relax in lawn chairs, watching films via a state-of-the-art projector while enjoying the movie's audio via provided headphones. The rooftop setting and lounge appeal is accompanied by (either) food trucks or venue-specific menu options.
The series has two L.A. locations for 2019: NeueHouse in Hollywood and LEVEL in Downtown Los Angeles. This year's season kicks off on March 20 with a showing of La La Land at NeueHouse, and the schedule from there features a mixture of classics and newly released films.
If you're looking for something interactive for this spring, both rooftop locations will host sing-a-longs screenings of Bohemian Rhapsody and Grease. Also of note, some of the screenings will feature special events, including a themed-night for Bridesmaids and a special post-screening Q&A for the 65th anniversary screening of Creature From The Black Lagoon.
Tickets for RCC start at $17 (plus booking fee) for general lounge seating. It's $20 for the seat plus unlimited popcorn, and special 'Rooftop Love Seats' are $24 per person. All attendees must be 18+.
Check out the complete listings of upcoming films below (through April). If you wish to purchase tickets to any of the screenings, visit rooftopcinemaclub.com.
** Note that we'll update this post as the screenings for the rest of 2019 are announced **
LEVEL DTLA Schedule
March 21- The Greatest Showman
March 22– Bohemian Rhapsody: Sing-along
March 23- A Star Is Born
March 26- La La Land
March 27- Purple Rain
March 28- Love, Simon
March 29- Grease: Sing-along
March 30- Dirty Dancing
April 2- Crazy Rich Asians
April 3- E.T. The Extra Terrestrial
April 4- Interview with the Vampire
April 5- Pretty Woman
April 6-10 Things I Hate About You
April 9- She's All That
April 10- Fight Club
April 11- Get Out
April 12- Top Gun
April 13- Bohemian Rhapsody: Sing-along
April 16- Pretty in Pink
April 17- Bridesmaids (Themed night)
April 18- Magic Mike
April 19- The Greatest Showman
April 20- The Big Lebowski
April 23- The Bodyguard
April 24- Mean Girls
April 25- Leon The Professional
April 26- A Star is Born
April 27- Love & Basketball
April 30- Dirty Dancing
NeueHouse Schedule
March 20- La La Land
March 21- Bohemian Rhapsody: Sing-along
March 22- A Star Is Born
March 23- Creature From The Black Lagoon (Special event)
March 24- Moulin Rouge
March 25- Grease: Sing-along
March 26- Enchanted
March 27- Dirty Dancing
March 28- The Hate U Give (Special event)
March 29- Singin' In The Rain
March 30- The Greatest Showman
March 31-The Umbrellas of Cherbourg
April 1- Get Out
April 2- Rebel Without a Cause
April 3- The Notebook
April 4- 10 Things I Hate About You
April 5- A Star Is Born
April 6- Bohemian Rhapsody: Sing-along
April 7- Pretty Woman
April 8- Pulp Fiction
April 9- Clueless
April 10- The Crow
April 11- In The Mood For Love
April 12- Bill & Ted's Excellent Adventure