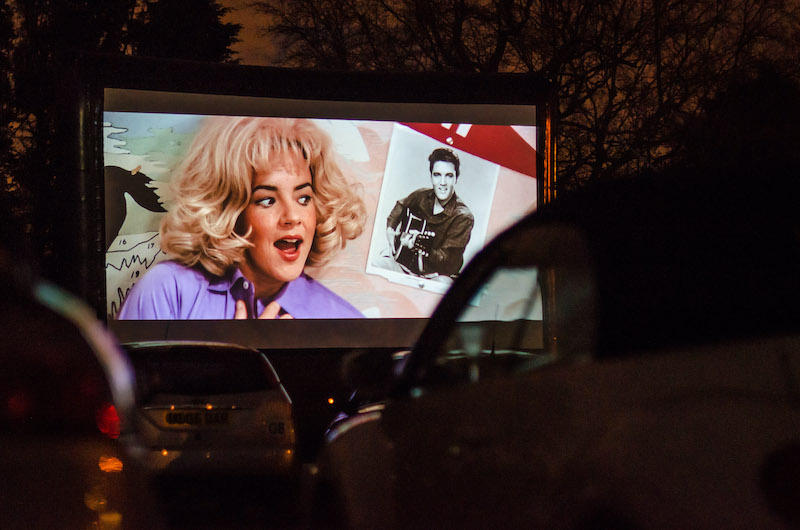 Rooftop Cinema Club is back, this time with The Drive-In at Santa Monica Airport. It kicks off on Nov. 27 with a "We Love LA" series featuring films set in and around Los Angeles, followed by a slew of holiday programming. 
Technically, the Santa Monica Airport does not offer a rooftop, but it's still Rooftop Cinema Club helming the program. Movie-goers will drive into parking spaces 10 feet away from neighboring vehicles. The films are projected onto a 52-foot screen, while audio is piped through each car's FM stereo. Guests may also bring a portable radio. There's space for 150 cars each night. 
The We Love LA series includes the '90s comedy Clueless, Pulp Fiction, musicals La La Land and Grease, and more. In December, expect holiday classics like Elf, Home Alone, and The Nightmare Before Christmas alongside festive decor. Guests are also encouraged to "deck" their cars out in lights, tinsel, or other ornaments. Prizes will be awarded for the best car decorations on select nights. 
The experience is contact-free for COVID-19 safety. You must stay in your car to watch the movie and wear a face covering if you're visiting the restroom or picking up concessions. Ordering and pickup of food and beverages are also contact-free, or you're welcome to bring your own.  
Tickets start at $30 per car, depending on occupancy and screening time. But on Wednesdays at 5:15 p.m., Community Screenings are just $5 per car with two guests or $10 per car with three or more guests. All proceeds from these screenings will be donated to Los Angles Regional Food Bank and there will also be food drive boxes for donations at all screenings through Dec. 30. 
See the full lineup and get tickets here.