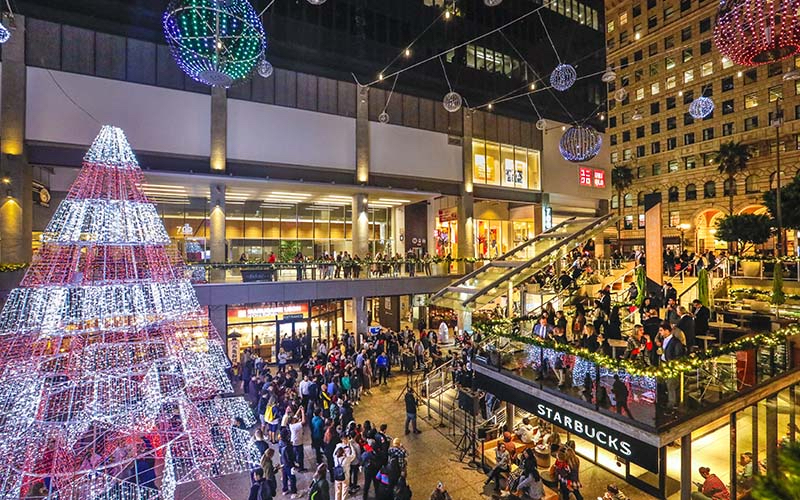 We used to tell you about all the things you could go out and do in Los Angeles on a daily, weekly, and monthly basis. Then, the coronavirus pandemic changed life for all of us, in a thousand small and massive ways. For a while, we posted strictly virtual events to keep you entertained and connected from your home. As the state, county, and city slowly reopen, we'll also include a mix of things you can do outside the house while still abiding by local health orders. We'll still offer plenty of online options for those of you who are self-isolating or who've decided to stay at home for the time being. We'll post a new list of options every Thursday morning. We hope they keep you busy, make you laugh, teach you something, or help you feel less alone.
This week, we've got holiday events, food pop-ups, DesignerCon, bake sales, Adult Swim Festival, and more. Have something you want to submit for next week? Hit us up: [email protected].
---
Out-of-the-House Events
In Elf on the Shelf's Magical Holiday Journey, guests will travel by car through several beautiful dreamworlds to help Santa Claus find the magic he needs to fix his sleigh. The multi-sensory experience takes place at the Pomona Fairplex Nov. 12 – Jan. 3.
Enchanted Forest of Light is canceled this year but in its place is Reflections at Descanso (Nov. 14- Jan. 10), a daytime event that includes art pieces, special plantings, self-guided activities, and a Wishing Tree created by artist Kaz Yokou Kitajima. Included with general admission. Tickets must be purchased in advance.
Show Me the Signs is an exhibition that features protest signs from over 100 artists, including Cardi B, Usher, Billie Eilish, Bruno Mars, and Jim Carrey. While on view at Blum & Poe through Nov. 14, they'll all be auctioned off to raise funds for American Policy Forum (AAPF) #SayHerName Mothers Network, a campaign that serves the families of Black women, girls, and femmes who have been killed by police. To learn more, visit Artfizz here.
The Pacific Opera Project, known for its pop-culture takes on classic works, is launching a drive-in season this fall featuring three live shows at Camarillo Methodist Church in Ventura County Nov. 14 through Dec. 13. Guests will remain in their cars throughout each two-hour performance. Live video with supertitles will be projected above, while sound will come through FM radio. Each performance accommodates about 90 vehicles. 
Sparkle DTLA at The Bloc takes guests through a free magical holiday show of 18 million lights, illuminating the night and synchronized to festive tunes. The Bloc is also offering gifts with in-store purchases throughout November and December, including gift cards, holiday cookie baking sets, and holiday candle sets.
Drive-In Theatre at The Hollywood Roosevelt screens classic films every Sunday in November in the hotel's valet lot. This week, catch Beverly Hills Cops. Tickets start at $55 and include popcorn.
Swingers Diner is open again, now under the care of former general manager Stephanie Wilson. They're open daily from 7:30 a.m. to 10 p.m. for to-go and patio dining. 
Subliminal Projects presents Jillian Evelyn's "Still Life," a series of drawings and paintings created during the pandemic, Nov. 14 through Dec. 20. The gallery is open on Saturdays and Sundays by appointment only.
It's #SelfCareSunday at Verdugo Plaza on Nov. 15 from 11 a.m. to 3 p.m. The open-air market features local businesses offering wares including jewelry, house plants, T-shirts, organic dog treats, and more. Admission is free.
Christmas Nights is at 123 Farm in Cherry Valley Nov. 6-Jan. 10. Enjoy festive food and drinks and a holiday marketplace while strolling through the farm's Christmas village. Admission is free, but parking is $10.
On Nov. 12 & 19, NeueHouse will host "Long Time No See," a rooftop evening comedy series. The lineup for the 12th includes Trevor Wallace, Nicole Byer, Jeremy Piven, Melissa Villasenor, BT Kingsley, and Moses Storm. Tickets are $65 and include a welcome cocktail and tapas plate.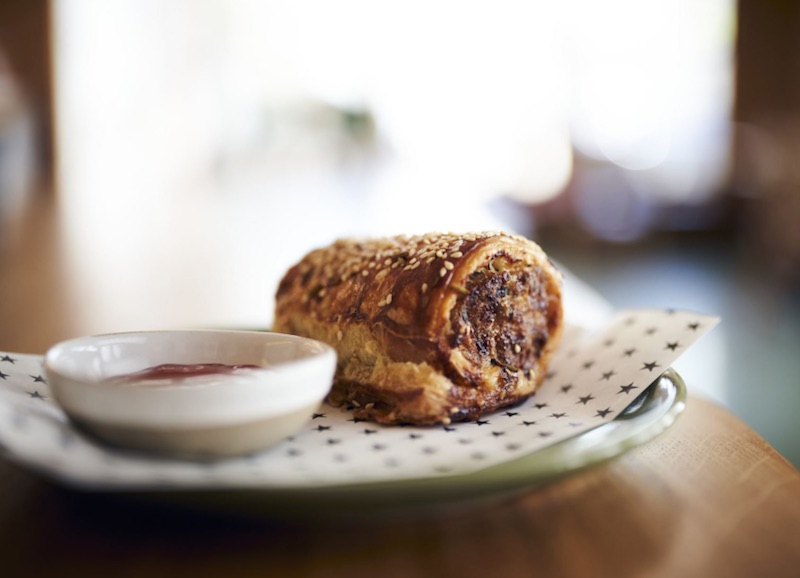 The final leg of Strings of Life's 'Sausage Roll World Tour' runs every Thursday through Dec. 10. Each week, enjoy a different sausage roll from a different chef for $10. This Thursday, it's Morgan McGlone's (Belle's Hot Chicken, AUS) Nashville Hot Sausage Roll. Available first-come, first-served for pickup and takeout.
On Nov. 13 from 3-6 p.m., check out the South Baked bake sale at The Aloha Bungalow in Redondo Beach. They'll have Stay Salty Chocolate Chip Cookies, Girls Just Wanna Have FUN-fetti Cookies, Synonym Toast Crunch Cookies, and their newly released Spiced Cookie Butter Cookies, plus cakes, brownies, and more. South Baked also has free delivery for orders in the South Bay. Outside the South Bay, get free delivery with a $25 order.
FIGat7th's new Dine With Purpose program gives customers a $20 Visa gift card when they spend $50 or more at participating restaurants. Those who share their meals on social media will prompt FIGat7 to donate an additional $20 to the Social Justice Learning Institute. Find out more here.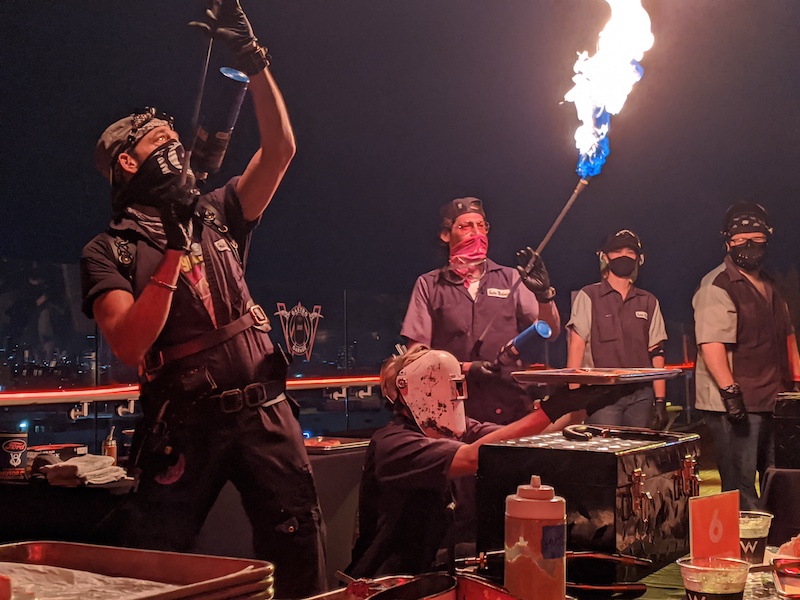 The "Gastro Mechanics" present "TORCHED," an eight-course, blowtorch-powered dining experience on the rooftop of the W Hotel in Hollywood. Remaining dates include 13 & 14, with two seatings per night at 7 p.m. and 8:30 p.m. Tickets are $100 per person and available at Eventbrite. Reservations required. 
California Botanic Garden's latest exhibit "Clayfornia: Ceramic Sculpture in the California Sunshine" opens Nov. 8 through April 18. The show features 14 artists from the AMOCA Ceramics Studio (American Museum of Ceramic Art) in Pomona. Free with daily admission ($10 for adults).
The Spare Room at the Hollywood Roosevelt reopened outdoors as The Spare Room…Somewhere Else. Find it behind the pool for bocce, cocktails from Bar Director Yael Vengroff, and small plates. Open Wednesday through Thursday from 5-11 p.m., and Friday through Sunday from 3-11 p.m. Reservations recommended, available on Resy.
With large gatherings on hold due to the pandemic, Bill Esparza's epic taco festival Taqueando is pivoting to a five-week pop-up called Taqueando Takeover in DTLA. Featuring SoCal's most talented taco purveyors. On Nov. 12-14, catch Chef Eduardo Ruiz (Corazon y Miel, Chica's Tacos) whipping up modern Mexican-American tacos. 
Head to The Old Zoo at Griffith Park to watch a troupe of theater clowns run an open rehearsal. Bring a blanket and enjoy a socially distant performance on Nov. 18 for free.
The Raymond 1866 will offer a six-course tasting menu from Chef Paul Shoemaker Nov. 10-14. For $85/person, enjoy citrus cured salmon, tuna sashimi, scallops, pork belly pumpkin risotto, beef tenderloin, and dessert with optional cocktail and wine pairings on the outdoor patio. The same meal is available for takeout/delivery for $65/person.
Cinemauto's Nov. 13 installment features Anna Biller's The Love Witch. The drive-in event also includes a curated short film program and digital exhibitions. Nov. 14 will screen Harmony Korine's Beach Bum. Tickets come in pairs and include two takeout meal boxes from restaurant partner Katsu Sando and sparkling water.
Citadel Outlets transforms into a holiday wonderland on Nov. 14 with the lighting of a 100-foot-tall, live-cut Christmas Tree. A new nightly show experience, "Snowy Nights and Holiday Lights," features magical snow flurries and dancing laser lights running at 5 p.m., 6 p.m., 7 p.m., and 8 p.m. through the end of the year.
Wednesday through Friday from 4-8 p.m., Euro-Vietnamese fusion restaurant Tiato Kitchen and Garden hosts "Garden Nights" on its spacious Santa Monica patio. Enjoy specialty cocktails, wine, small plates, entrees, and more. A few examples include short rib dumplings, garlic noodles, mini reuben Banh Mi, and more. They also have brunch on the weekends.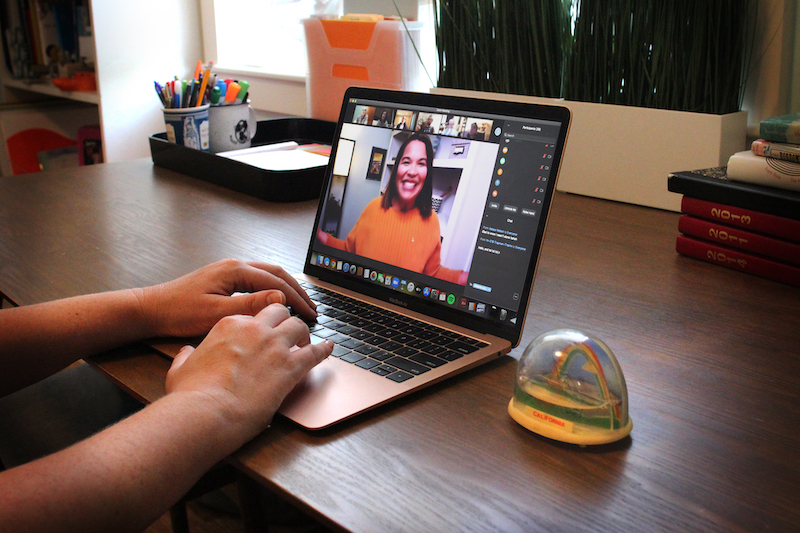 At-Home & Online Events
Adult Swim Festival takes its annual show to YouTube Nov. 13-14 with a line-up of never before seen musical performances, exclusive livestreams, comedy, and more.
The Groundlings annual Diversity Festival will be virtual this year on Nov. 13-14 with improv courses and workshops. $10 per class.
Wallis Annenberg PetSpace presents a free At-Home Exercises for Pet Wellness Workshop on Nov. 14 with Dr. Jessica Waldman from CARE.
DesignerCon heads online this year Nov. 13-15 with livestreams, vendor products, and a virtual exhibition of fan art celebrating the 35th anniversary of Back to the Future. Tickets start at $10.
Objectivity is a live, interactive show from The Warehouse Theater and Mister and Mischief. The synopsis: You're attending an online seminar with tidying expert Mary Del Campo. Mary "believes our possessions have a story to tell and with her guidance, we explore minimalism, nostalgia, and the meaning of the objects that surround us. When our world feels unstable, what do we choose to hold onto?" Show dates are currently available Nov. 6-28. Tickets are $25.
The Fowler is offering free digital programs celebrating world arts and cultures. This week features two programs that celebrate the Hindu New Year, Diwali, including an educational program on Nov. 12 and a cooking class on Nov. 13.
The Autry presents the 30th Annual American Indian Arts Marketplace Nov. 14-15. Guests can purchase art, jewelry, and more in the online Marketplace expo. Aside from shopping, prerecorded artist and keynote talks, film programming from Indigenous directors, and a new episode of Tending Nature from KCET will all be part of the virtual event.  
Landmark Theatre presents a virtual filmmaker discussion with The Climb filmmakers Michael Angelo Covino and Kyle Marvin, in conversation with Judd Apatow, on Nov. 14 at 1 p.m. The Climb is about two best friends whose close bond is broken when one sleeps with the other's fiancée. Register for free on EventBrite.
On Nov. 14 at 5 p.m., join Launch for an artist talk with Elizabeth Folk and James Panozzo on Zoom. You can also check current work from Folk and Colin Robert at the gallery by appointment.
The 4th annual Flowvember Variety Show is on Sunday, Nov. 15 at noon. Flowvember is an annual effort to build hygiene kits, including menstrual supplies, for people experiencing homelessness. The show will feature performances from members of Them Fatale Drag Kings, Brad Milison (winner of Learn the Words, Bitch!), and MOTH Storyteller Molly Prather, while Provvidenza Catalano hosts. The show is pay-what-you-can. Tickets here.
On Nov. 14 from 9-11 a.m., Jay Leno hosts the Hot Wheels Legends Tour finale, which is a global search for a fan-made custom car to turn into a die-cast toy. Special guests will stop by to judge and explore submissions. Watch on the Jay Leno's Garage YouTube channel.
LMU's Gottlieb Native Garden Green Earth Festival launches on Nov. 16 with 12 environmental films you can screen at home. Sign up for free here.
Holocaust Museum LA presents Inside the "Acid-Free Box: A Behind-the-Scenes Look at the Edith Flagg Collection" on Nov. 17 at 4 p.m. Jordanna Gessler, the museum's vice president of education and exhibits, and Christie Jovanovic, collection manager, will host the inside look at Flagg's collection. Per a release: "Born in Romania on Nov. 1, 1919, Edith was the first person to import polyester into the U.S. as a fashion designer. Edith attended school in Vienna and later moved to Holland where she lived with her first husband, Hans. Facing increasing restrictions and discrimination with the Nazi invasion of the Netherlands in 1940, the couple went into hiding and soon became members of the Dutch Underground, securing false papers and helping other Jews evade Nazi capture and deportation. Edith would go on to assume a number of false identities, using these to make connections in local communities and acquire food and supplies. She emigrated to the United States in 1948 and launched her clothing line in 1956, which she built into a multimillion-dollar enterprise. Edith also became a noted philanthropist and supported organizations such as the United Jewish Welfare Fund and City of Hope." The event will also feature a conversation with "Million Dollar Listing Los Angeles" star Josh Flagg, Edith's grandson and Holocaust Museum LA board member. Minimum donation $12.
On Nov. 17 at 1 p.m., join Zócalo Public Square for "Why Is It So Easy to Get Away With Murder?," an online conversation with Jessica Garrison of Buzzfeed News and author of The Devil's Harvest. She'll discuss "the American way of murder through the case of Jose Martinez—who killed three dozen people in three decades." Register here.
L.A. Theatre Works's 2020-21 digital season consists of nine audio plays, the first of which is released on Nov. 18. Per a release: The Thanksgiving Play "puts the American origin story in the comedy-crosshairs: Three "woke," white thespians are tasked with devising an elementary school pageant about the first Thanksgiving, while avoiding any culturally appropriative missteps."
On Nov. 15 at 4 p.m., join The Art Deco Society for a conversation with filmmakers Marc Chevalier and Seth M. Schulman about their documentary, The Oviatt Building. A ticket provides access to both the film, which you can screen at your convenience, and the virtual Q&A. The film begins with haberdasher James Oviatt and continues through the history of the gorgeous downtown building that bears his name. Tickets are $12 for the general public, $10 for members.
The Whisky & Poetry Salon is celebrating their inclusion in Danny Jensen's Secret Los Angeles book with, perhaps obviously, a poetry contest and whiskey tasting on Nov. 15 at 3 p.m. Guests are invited to share a poem and enjoy a tasting from  Kim Ohanneson, Certified Whiskey Ambassador and co-founder/host of The Whisky & Poetry Salon. She'll be sampling Jameson, Glenfiddich 12 year old Single Malt Scotch, and Knob Creek Kentucky Straight Bourbon, which you can probably find in airplane-size bottles as your local liquor market, or you can sub your own Irish whiskey, scotch, and bourbon (or abstain entirely!). Tickets are $10 and benefit Get Lit.
Spy Brunch LLC presents Sherwood and Nottingham, an interactive, online immersive experience inspired by Robin Hood, updated for modern times. Per a release: "Sherwood & Nottingham invites players to become citizens of either the glass-walled metropolis of Nottingham or the hardscrabble village of Sherwood. As we begin our story, King Richard has invited his brother Jonathan to return to the Kingdom of Anglia after a ten-year exile for war crimes — a development that is sure to have a ripple effect throughout the kingdom, especially in the neighboring cities of Sherwood and Nottingham." You'll explore a website full of virtual locations, watch performances, interact with characters, solve puzzles, and more throughout this multi-week, episodic game. It kicks off on Nov. 16 and lasts through Dec. 12. Tickets start at $50.
UCLA's Center for the Art of Performance (CAP UCLA) presents a free prerecorded online performance of Ronald K. Brown/EVIDENCE's Grace @ 20 Nov. 12-14.
The Echo Theater Company's National Young Playwrights in Residence program culminates in a two-week "virtual festival" of free online readings Nov. 13-21. The playwrights, ages 18-26, each worked with an established mentor through video chat and voice calls to write a new play. A new one airs every day through the 21st at 5 p.m. Tickets are pay-what-you-can here. 
LA Plaza de Cultura y Artes presents an online baking demonstration on Nov. 14 at 2 p.m. with  Eliceo Lara. Tune in to learn how to make apple empanadas.
Join a community meeting to discuss how the County will disperse $33 million on Nov. 14 at 1 p.m. Per a release: "The Los Angeles County Development Authority (LACDA) invites residents of the unincorporated Los Angeles County communities and participating agency recipients to join a virtual Community Meeting to seek input for the County's 2021-2022 Action Plan. The Action Plan will disperse approximately $33 million in Federal housing and community development funds for projects that improve community facilities, streets, and sidewalks, provide childcare programs, services for senior citizens and individuals experiencing homelessness, homebuyer assistance and home repair programs, low-interest business loans, and graffiti removal."
From [email protected] this week: On Nov. 12 at 5 p.m., New York-based artist Puppies Puppies (Jade Kuriki Olivo) will offer a streaming performance in conjunction with the opening of LACMA's exhibition Not I: Throwing Voices (1500 BCE-2020 CE). The performance is titled "Performance: Trans, Transfeminine, Femme, Trans Womxn, Trans Women, Gender Non-Conforming, Non-Binary, Genderqueer, and Two-Spirit people (Dedicated to Camila María Concepción – Rest In Peace), 2020–21." The event is free with RSVP and will contain some nudity.
Corey Helford Gallery's seventh annual Art Collector Starter Kit group show highlights affordable 12" x 12" works from new contemporary artists, giving new art collectors and enthusiasts a chance to buy an original piece from artists. The show will be on view Nov. 14, 2020 through Jan. 9, 2021.
Nov. 6-15 is Pasadena Heritage's "Preservation Pasadena: Craftsman to Modern." Guests can explore five decades of architecture over 10 days of virtual programming including tours, lectures, panels, artist conversations, and more. All events are $15 for the general public or $12 for members.
On Nov. 14, Culinary Historians of Southern California present a free Zoom class on the history and culture of kimchi with master food preserver Hae Jung Cho, who will discuss and demonstrate how to make kimchi, the national food of Korea.
SOUND/STAGE, a new video series from the LA Phil, features musical performances filmed at The Hollywood Bowl paired with films, interviews, essays, and artwork. Performers include Kamasi Washington, Chicano Batman, and orchestral concerts conducted by Gustavo Dudamel. The program streams weekly through Nov. 20. Free to watch (donations encouraged).
Two Bit Circus's Remote is a live, play-from-home interactive game show where guests "compete in a line-up of ridiculous and challenging games in an hour full of classic, comical, adult-friendly entertainment." It's every Thursday at 7 p.m.
The Music Center's digital series, For the Love of L.A., "celebrates the creativity of Los Angeles and supports L.A.-based artists representing the disciplines of music, dance, visual culture, and more." See it every Tuesday through Feb. 9 on Instagram.