SelgasCano designed and built their Serpentine Pavilion for the annual architectural commission by the Serpentine Gallery in London. The structure was installed at the Gallery's site in London's Hyde Park back in 2015.
Now, thanks to a partnership between creative workspace Second Home and the Natural History Museum of Los Angeles, it's been rebuilt in the heart of Los Angeles, on the lawn space directly between the La Brea Tar Pits and the Los Angeles County Museum of Art. They're calling it The Second Home Serpentine Pavilion, and it's 100% free for the public to visit starting on June 28 and running through November 24.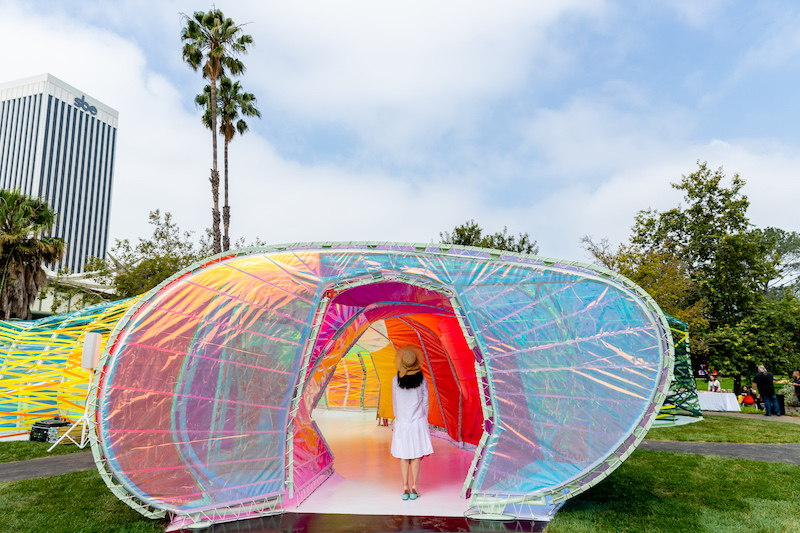 With an 866-square-foot area, The Pavilion is not particularly massive or imposing, but the array of colors and the interior's playful use of natural light are, in a word, dazzling.
As you enter through any of several colorful corridors you will immediately be struck by the mood and complexion of the space. Light pours through sheets of stretched ELFE (a fluorine-based plastic) at various angles that make it seem like you're walking on a living color palette as you wind through the iridescent tunnels. It is sure to be an Instagram darling.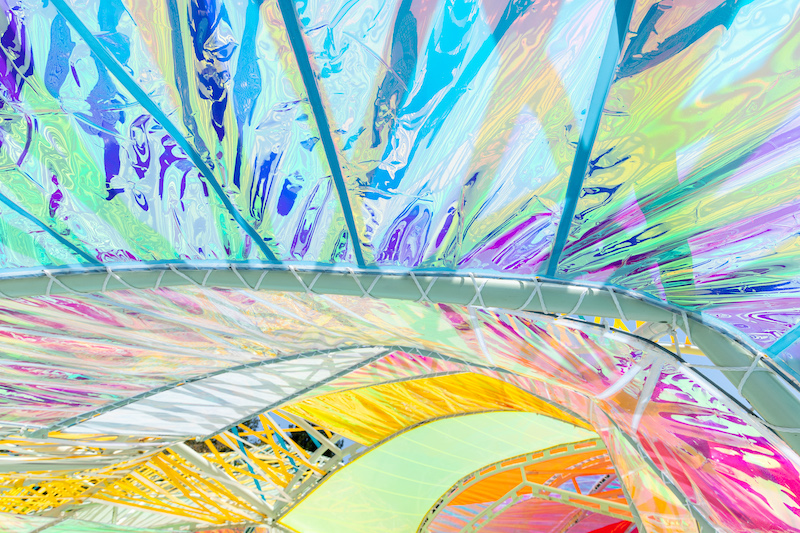 José Selgas and Lucía Cano comprise the architectural partnership behind SelgasCano. While speaking at a panel event to christen to the Pavilion's L.A. home, Selgas described the challenges and urgency of the Serpentine Gallery project. When they first won the commission they had only five months to go from design to finished space. It was stressful, but it also forced the designers to come up with lots of ideas in a short time frame.
"When you think about this opportunity to create the pavilion what we don't want is waste time to create something, like finished, nice, perfect, for nothing. We always saw that as an opportunity to experiment," Selgas said.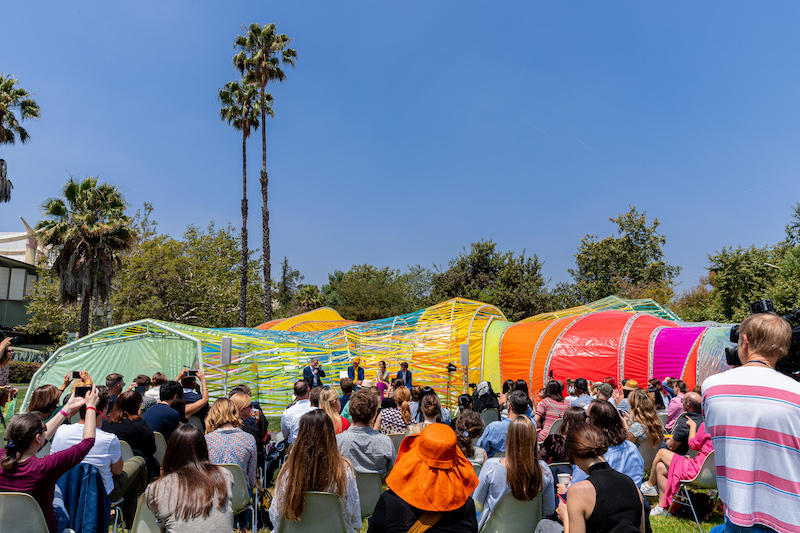 Now the experiment continues as the Pavilion finds a new residence in Los Angeles. In many ways, it's a perfect match. Second Home co-founder Sam Aldenton called Los Angeles "a place that's really in a moment" from a design perspective. As Aldenton explained to the crowd at media day:
"It's in a moment of hyper-creativity where there's a horizontality and an openness that allows something like this to happen."
In addition to its function as a unique public space and de facto Instagram magnet, Second Home Pavilion will also play host to numerous free events and public gatherings throughout the summer and fall.
Although an exact schedule is not yet available, the lineup of upcoming programming is teased on the Second Home website. It includes a presentation on meditation with​ filmmaker David Lynch, a talk with Mayor Eric Garcetti on the future of cities, and a performance by British rapper Octavian. ​According to a news release, there is also a planned weekend dedicated to supporting non-profits and social impact organizations. A full schedule of programming is to be announced in the coming months.
The Second Home Pavilion is open daily from 11 a.m. to 7 p.m., and until 9 p.m. on Fridays now through November 24. Walk-up visitors are welcome but you can also reserve a timed express entry at pavilion.secondhome.io. Parking is $15 at the Tar Pits Museum lot, and use of public transit is always encouraged. The La Brea Tar Pits and Museum is located at 5801 Wilshire Blvd, Los Angeles, CA.
---
The Best Things to do in L.A., straight to your inbox! Sign Up For Our Email List And You Receive...
- Two emails a week, Monday AM and Thursday AM.
- Monday: The best of the week ahead. 30+ ideas.
- Thursday: What to do this weekend. 30+ ideas.
- Occasional emails with special offers and messages from promotional parters.
- Optional emails for daily to-dos, travel tips, food recommendations, and deals.
Basically, just think of us as your friend making some fun suggestions for what you might like to check out this day or week or month in L.A. Sign-up in the form below to join over 66,000 Angelenos who already subscribe!
NOTE:
If you already receive our weekly newsletter and want to update which additional emails you receive, simply click 'update subscription preferences' in any email we've sent you to change your subscription settings. Remember, per our 
privacy policy
, we respect the fact that you're trusting us with your personal info and will never share your email information.
---