This post is a sponsored collaboration between Old Pasadena and We Like L.A. * * * * *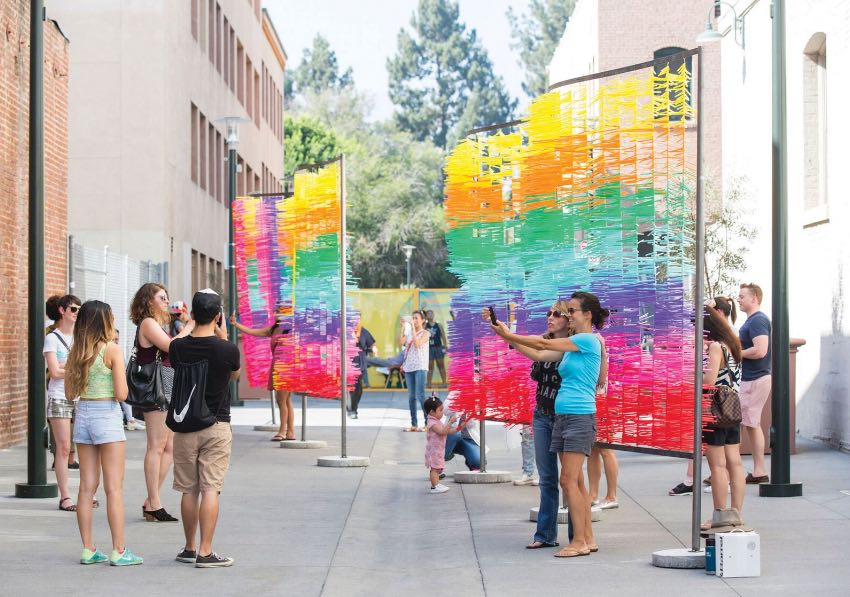 For the second year in a row Boldpas: An Art Takeover of Old Pasadena offers a unique experience of one of Los Angeles County's most walkable neighborhoods. It's big. It's bold. It's happening on May 12. And most importantly? It's free and open to the public.
Think of Old Pasadena as a canvas, and Boldpas as an infusion of color to highlight and showcase the surrounding area. Visitors can hang with friends, wander the alleys, talk with artists, and capture plenty of Instagram-worthy content. More than anything, it's a chance to explore and connect with Pasadena's creative community.
Temporary art installations will line the historic alleyways of the historic 22-block district. Selected works from L.A. artists will feature a "bold" theme, displaying bright colors, surprising scale, and playfulness. There will also be 30+ Art Stops, live painters, an activity hub, and maps available for self-guided tours. In short, there's a lot to do.
A full list of activities for the day includes:
13 Temporary Art Installations by selected artists: Kelley Anderson, Todd Bank, Ash Cano, Leah Clancy, Maxwell Coppola, Hannah Hiler, Phillip Meacham, Rebekah Neel & Meagan VanDeventer, Nathaniel Osollo, Keith Patterson & Viviana Palacio, Robyn Sanford, Amy Van Gilder, Rachel Visalda
Live Painters Allison Bamcat, Luke Chueh, and Valerie Pobjoy working all afternoon on new large canvas pieces
"Beautiful Pasadena": A Special Installation Presented by Flower Pepper Gallery featuring 5 artists each taking over a display window: Valerie Pobjoy, Ivana Quezada, Shangee Shin, Amy Van Gilder, Po Yan Leung
Pasadena Walking Tours hosts two tours at 12:30pm and 3:00pm, highlighting both the temporary installations and Old Pasadena's permanent public art, as well as offering a chance to meet the onsite artists. Tours require advance registration.
30+ Art Stops at participating stores and restaurants create the perfect backdrop for selfies and one-of-a-kind photo ops.
Friendship Church Activity Hub offering poetry writers in the "Haiku Garden", KCRW DJ Glenn Red, food trucks, Friendship Gospel Choir performance, and tours of the historic church
Warrior Painters capturing the event scene en plein air at several locations
Self-guided tours via event maps available at three Info Booths and all Art Stops.
Boldpas takes place on Saturday, May 12, 2018 from noon to 8 p.m. Metro ridership is strongly encouraged, with nearby Gold Line stops at Memorial Park or Del Mar Station.
If you're mapping directions to the event please use 36 W. Colorado Blvd., 91105 or 109 E. Union Street, 91103. Alleys hosting installations include Mercantile Place, Mills Place, and Big Bang Theory Way. Friendship Church Pasadena will host one installation and many
additional activities, including a DJ, food trucks, and gospel choir performances.
For a complete overview of this year's installations, as well as other relevant information to plan your day, please visit https://www.oldpasadena.org/visit/events/signature-events/boldpas/.