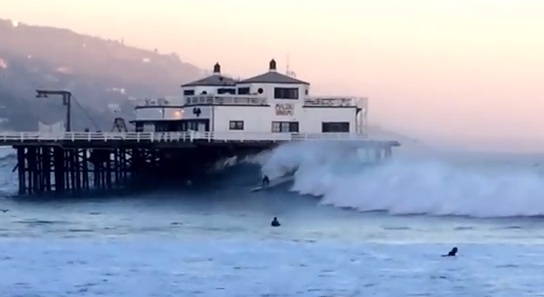 The surf out in Malibu yesterday was epic (not to mention dangerous), with reports of waves up to 15 ft. high. One dude may have ridden the sickest wave of them all.
On the video below you'll see this guy use what appears to be a stand-up paddle to absolutely handle a massive wave on a ride that lasted not only hundreds of yards, but literally took him right under and through the Malibu Beach pier!!!
According to the video publisher the surfer in the video is identified as professional big-wave surfer Laird Hamilton (or as you may know him, the douchey Troy Cook in that George Clooney movie The Descendants).
Whoever it was, it was was one hell of a ride. Watch it below. And don't try this at home.
BONUS: If you're a hot-blooded american male you can also stick around for the end of the video where the cameraman decides to scope out one of the local babes.