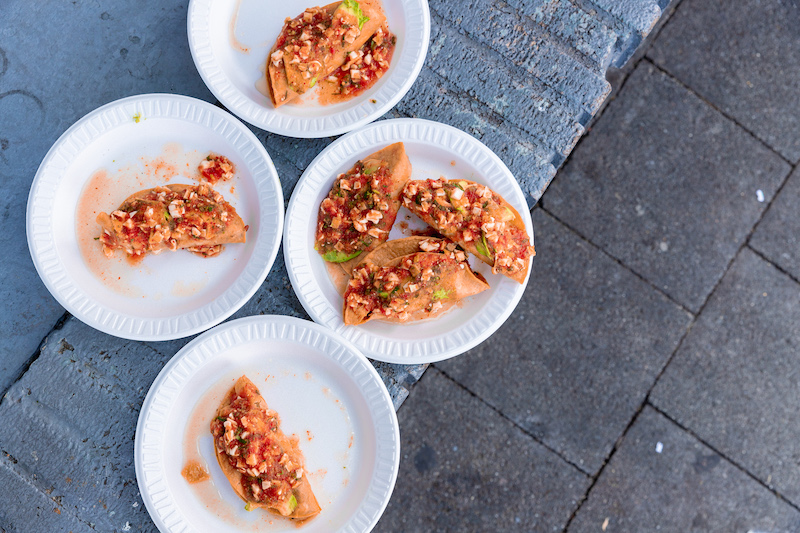 Bill Esparza's celebrated Taqueando festival brought together taqueros and taqueras from Southern California and Mexico for a gut-busting day of taco sampling. Due to the pandemic, the team pivoted to a five-week pop-up in mid-October featuring mind-blowing tacos from luminaries like Ray Garcia of B.S. Taqueria, Poncho Martinez from Poncho's Tlayudas, and Priscilla Curiel of San Diego's Tuetano Taqueria.
The series comes to a finale on Dec. 29 with an hour-long livestream dubbed Taqueando at Home. And because it's absolute torture to attend a party that celebrates the taco lifestyle without having any tacos on hand, Esparza has also created a party box filled with tacos and more. The Taqueando at Home Party Box includes tacos from Tuetano Taqueria and Chicas Tacos, a ceviche kit from La Guerrerense in Ensenada, sweet and savory tamales by Tamales Elena Y Antojitos, a Chicharron burrito from Mujer Divina in San Ysidro, ingredients to make homemade salsa from La Casita Mexicana, and several soft drinks for $50. Add alcohol when you upgrade to a VIP Home Party Box for $100. You'll receive a tequila cocktail from Madre, mezcal from El Silencio, beers from Tecate, a Michelada kit from Salsa Sinaloa, and a few other surprises. A portion of the proceeds will benefit CIELO, a local nonprofit that works with indigenous communities in Los Angeles.
Bill Esparza will host the livestream, accompanied by appearances from legendary chefs such as Enrique Olvera, Wes Avila, and Raul Ortega of Mariscos Jalisco. La Guerrerense and La Casita Mexicana will host cooking demos for items in the party boxes, and Madre and El Silencio will help guests prepare their drinks from the comfort of their homes.
Pre-order party boxes online for pickup on Dec. 28 at 1850 Industrial St. in the Arts District, formerly the Church & State space. Join the livestream on Dec. 29 from noon to 1 p.m. at www.TaqueandoFest.com.