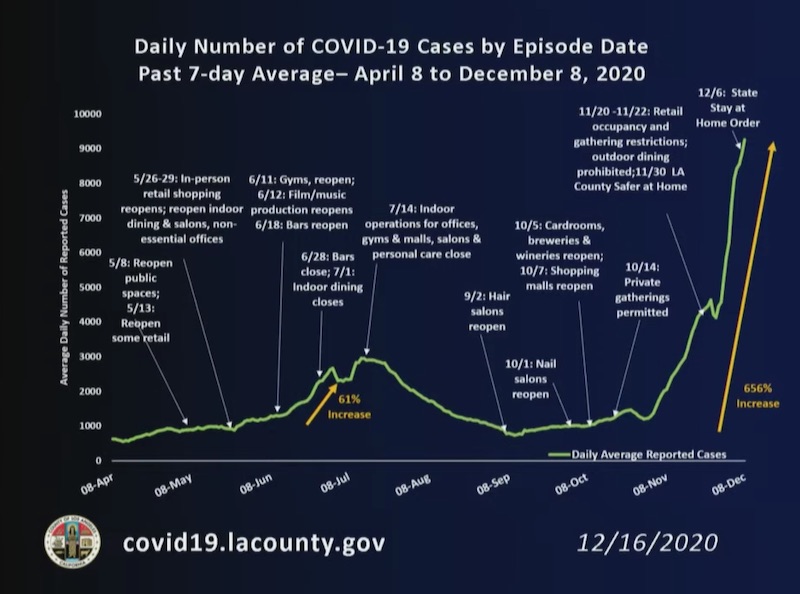 [Update, 5 p.m.] L.A. County has released today's numbers including Pasadena and Long Beach. It's now 138 new deaths and 22,422 new cases.

Though some of our healthcare workers are already receiving the COVID-19 vaccine, today is now the worst day of the pandemic in L.A. County so far.
Today marks the highest number of deaths at 131, bringing the total to 8,127. There are also 21,411 new cases today, which includes a backlog of about 7,000 cases, bringing the total number of cases in the county to 539,097. This does not reflect new cases in Long Beach or Pasadena, which have their own health departments.
Today, there are 4,656 patients hospitalized with COVID-19, 21% of whom are in the ICU. Ferrer called what's happening in the county "an explosive and very deadly surge" that is overwhelming our hospital capacity and our healthcare workers. This impacts not only those who have COVID-19 but anyone who requires medical care.
The above graph of the 7-day average of cases shows that from Nov. 1 through Dec. 8, average daily cases increased by 656%. In the past week and a half, Ferrer said we've gone from an average of 5,900 daily cases to an average of 9,264 daily cases. The three-day average positivity rate has quadrupled from early November, when it was about 3.5%, to nearly 15% now. There's also been a 384% increase in the 3-day average of hospitalized patients. Ferrer said that number is expected to exceed 5,000 in the coming days.
Dr. Christina Ghaly, director of the Los Angeles County Department of Health Services, said we have, plainly, "a problem." Our hospitals are running out of beds and staff to care for patients.

"At this point, all our hospital systems can do is brace for these days and weeks to come. Our ERs cannot keep up when they are functioning as ICUs," Ghaly said.
Dr. Denise Whitfield, MD, an Associate Medical Director with the Los Angeles County Emergency Medical Services (EMS) Agency and an ER physician at Harbor-UCLA Medical, also appeared today "to let everyone know the gravity of the situation."
Her last shift was this past weekend and the worst throughout the pandemic thus far.
"What was very notable to me this past weekend was that our bed space is limited and the fact that we are having to board patients in the emergency department…means that when a patient needs to be admitted to the hospital requiring an ICU or in-patient bed, we just don't have the staffing or bed space to care for them," she said. "That backs up the amount of time we have to keep them in the emergency department, therefore limiting the capacity we have to take care of patients with other emergencies, including strokes, heart attacks, and traumas.
Unloading patients from ambulances also takes longer now, affecting EMS response time.

The number of deaths, which is a lagging indicator, has also increased sharply. Since early November, deaths have increased 267%, from an average of 12 per day at the beginning of November, to 44 per day as of Dec. 8. That number obviously does not reflect the increase over the past several days.
"Every hour, on average, two of our neighbors, family members, and friends are dying of COVID-19, and the virus is rampant in all neighborhoods," Ferrer said.
Once again, health officials and healthcare workers are imploring us to stay home whenever possible, wear our masks, avoid gatherings, and wash our hands.