Angelenos love food… and so do we!
To help keep you on the pulse of the culinary scene we provide weekly rundown of the best food related news bites (get it?) through one easy-to-digest page of blurbs and links.
This week includes a Free Beer Tasting, CrabFest, a Free Coffee Pop Up and LOTS more.
Your food news CliffsNotes start after the jump.
Bon Appétit!
1. Miss the Singaporean Chili Crab at the old Starry Kitchen? Now you can get it AYCE style at the JACCCs annual CrabFest this Saturday. Menu also includes Beignets made with Three Weavers Brew, garlic noodles, corn on the cob and snow crab legs.
2. Nothing beats the combo of beer and wings. Celebrate the harmonious union at the Hot Wings and Craft Beer Festival at Santa Anita Park in Arcadia this Saturday. Check for discount tickets while supplies last 😉
3. Chefs will throw down at the only Vegan Taco Competition in L.A. on Oct. 22. Taking place at Cafe Gratitude in Larchmont guest will taste nine vegan tacos from notable chefs in the city.
4. Salazar will begin serving brunch this Friday. Their menu will include breakfast sandwiches, shrimp tostadas, crispy pork belly eggs benedicts, and more. Juice Served Here and Stumptown Coffee will also be available.
5. Seattle's Elysian Brewing Great Pumpkin Roadshow heads to Villians Tavern on Thursday, Oct. 20 bringing eight different pumpkin beers and a rockin party! Guest can enjoy live music, fortune telling and what seems like pumpkin bowling.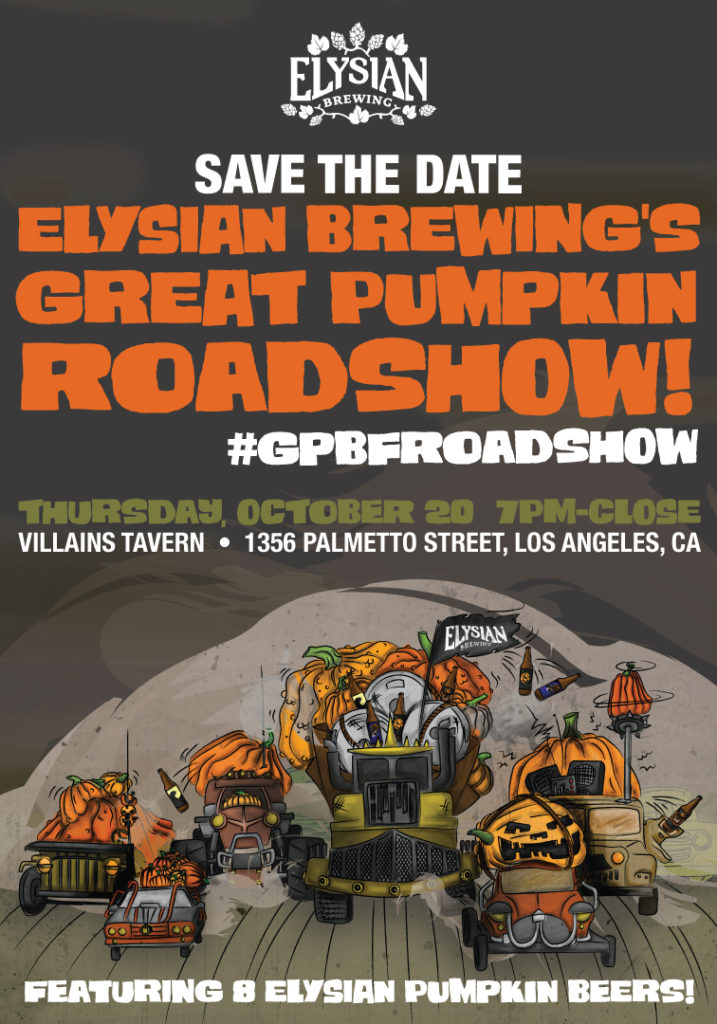 6. The Tuck Room Tavern will start serving brunch on Saturday, Oct. 22 and every weekend after. Menu features a Brunch Box and brunch items like Monkey Bread Babka, Crispy Chicken Waffle Sandwich and $10 bottomless House Punch, Homemade Sangria, Mimosa, Bellini, Moscow Mule and Bloody Mary.
FYI …
Swiss Water Decaffeinated Coffee Company has landed on the west coast hosting a pop up giving away free premium coffee without caffeine now through Oct. 23 daily from 10 a.m. to 10 p.m. at 1421 Abbot Kinney in Venice Beach. The coffee may be free but it's carefully hand-crafted with brewing methods that include pour over, Chemex, espresso, siphon, coldbrew and Aeropress. Get your fix while you can!
Must hit up place of the week goes to…
The Liquid Intelligence series for the free booze! Happening this Thursday, Oct. 20 at The Mixing Room at JW Marriott Los Angeles L.A. Live. Folks will enjoy a complementary beer tasting which includes the public debut of Angel City Jameson Irish Imperial Red Ale. Brewed in partnership with local brewery Angels City, the limited edition beer was aged in a true Jameson barrel as part of a special collaboration. Simply stop by between 6 to 7 p.m. to redeem your free beer tasting.
Finally, just a quick snapshot of the best thing we've eaten in the past week…
The Pepperbelly Burger from Umami Burger is made with a beer cheddar stuffed patty, Umami chili, Frito crumble, pickled serranos and roasted garlic aioli. ONLY available at the Umami Burger in Pasadena.