Angelenos love food… and so do we!
To help keep you on the pulse of the culinary scene we provide weekly rundown of the best food related news bites (get it?) through one easy-to-digest page of blurbs and links.
This week includes National Taco Day, Blue Crab Cubanos, a Pop-Up Bug Dinner (yes that's a real thing) and LOTS more.
Your food news CliffsNotes start after the jump.
Bon Appétit!
YOU GUYS! It's National Taco Day today. To celebrate check out our list of Best Spots For Taco Tuesday Deals in Los Angeles.
Chicas Tacos is hosting a big backlot taco party in honor of National Taco Day complete with music, beer samples from several of Tijuana's biggest breweries including Cerveza Fauna and Border Psycho Brewery, and tacos by Chef Eduardo Ruiz of Chicas Tacos. The event is open to the public from 4 to 8 p.m.
In more National Taco Day news, Frogtown's Salazar will offer the Taco Gaucho. Filled with hanger steak, Menonita cheese, Mexican chimichurri, and wild mushroom duxelle, this taco will only be available for one night only.
Highly anticipated Manuela opens for business Oct. 5 inside the Hauser Wirth & Schimmel arts complex in Downtown Los Angeles. At the helm of the kitchen is Chef Wes Whitsell, ready to serve Angelenos high quality proteins and locally sourced produce. Think fried quail, deer burgers and baby back ribs. I suggest ordering some eggs since the space was designed with a chicken house where 12 rare-breed chickens can be found providing the kitchen with fresh eggs. For now Manuela will be open for lunch Wednesday through Sunday from 11 a.m. to 5 p.m.
I don't usually call out to a pest control company in news bites, but there's a first time for everything! Western Exterminator Company will host a Pop-Up Pestaurant LA at Mondo Taco on Saturday Oct. 8. The menu will feature insects as entrees including the "Jamaican Me Hoppy Jerked Seasoned Grasshoppers with Pineapple Salsa", "Deep South BBQ Beetle Tacos", "Thai Mai Mealworm Salad" and "Rice Cricket Treats" and for dessert, a "Chocolate Goes with Everything". The pop-up is designed to raise awareness that insects are a sustainable and nutritious protein alternative. For each bug dish sampled Western Exterminator will donate $1 to the Westside Food Bank. The "Pestaurant" runs from 11:30 a.m. to 3:30 p.m.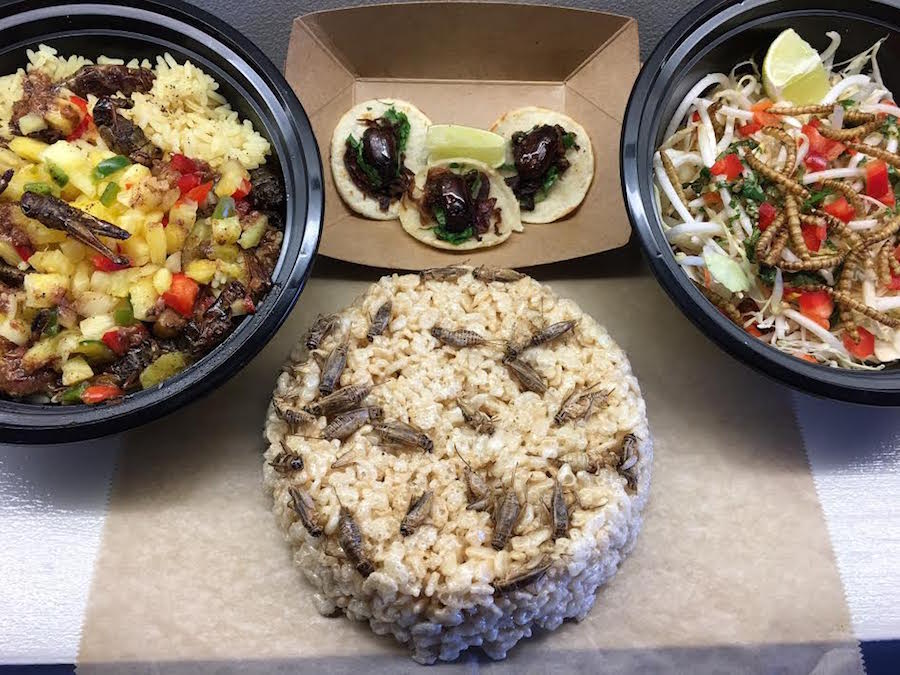 Sherman Oaks' Casa Vega will offer their best-selling House Combo #1 at a shockingly low $2.15 (normally $18.95) for lunch on Thursday Oct. 6 in honor of their 60th anniversary. House Combo #1 features Spanish rice, refried beans and a choice of two items (Chile Relleno, chicken taco, beef taco, beef enchilada, or tamale.) The deal is only available for lunch service from 11 a.m. to 2 p.m.
Starting Wednesday, Oct. 14, Nest at WP24 inside The Ritz-Carlton, Los Angeles will offer an "Overtime Power Hour" with food and drink specials after every Kings, Clippers, and Lakers home game. Guests can order small bites starting at $6 such as Maine lobster spring rolls, pork belly bao buns, sushi, and special off-menu items. Far East-inspired cocktails start at $9.
FYI …
The Bellwether recently made a few changes to their Fall menu. The updates include new dinner and drink items, plus an expanded $5 happy hour menu that features a hot chicken sando, avocado hummus, tempura cauliflower and fries.
Must hit up place of the week goes to…
In honor of National Seafood Month the folks over at Knuckle & Claw will be rolling out monthly specialty rolls. For the month of October they'll feature a Blue Crab Cubano, packed with cheese, blue crab, pickles, and dijon mustard.
Finally, just a quick snapshot of the best thing we've eaten in the past week…
Marvin is an intimate French leaning spot on Beverly Blvd. serving oysters, pastas, charcuterie, steak frites and more. Every Tuesday they host a Ham & Sherry night featuring around five ham selections and half a dozen sherry options. I'd go there just for the canned seafood, but the fresh-shaved ham was too good not to finish the whole plate.