Need a few fun food adventures to explore for the holidays? Los Angeles has plenty to offer.
Among the food pop-ups that need to be on your radar: A Brooklyn Pizza shop starts a 2-month run in L.A., a Will Ferrell-themed bar hits Hollywood and a Tour De France wine tasting event comes to Downtown L.A.'s Pitchoun! Bakery.
Oh, and don't forget about our latest list covering the finest lobster roll spots in the city
Your weekly L.A. food news rundown starts NOW.
Bon Appétit!
Where are the best lobsters rolls in Los Angeles?
Angelenos love their lobster rolls, so we went hunting for the Best Lobster Rolls in L.A. Check out our top picks!
A Will Ferrell-themed pop-up bar just opened!!!
For a limited time only the TCL Chinese 6 Theaters will house Stay Classy Bar, a tribute bar dedicated to Will Ferrell and his many memorable movie characters. Expect themed out drinks with names like A Whale's Vagina, Big Foot's Dick, and the Smelly Pirate Hooker (enticing, right?). The bar will be decked out with movie posters, props, paraphernalia, and actual wardrobe from Ferrell films. Happening Dec. 5 through Dec. 15.
Free drinks, cheers to that!
Just a friendly reminder that Liquid Intelligence Series returns for the month of December at The Mixing Room. Every Wednesday guests can participate in complementary cocktail tastings/classes and more. See the full schedule here.
Break out that ugly sweater it's about to pay off…
There's an Ugly Sweater Party at Del Frisco's Grille in Santa Monica on Thursday Dec. 15. Come dressed in your ugliest sweater with one unwrapped toy for Toys for Tots. You'll be rewarded handsomely with complimentary appetizers and holiday cocktail and beer specials all night.
Little Tokyo's first ever Matcha Cafe
Little Tokyo will soon have their first Matcha focused cafe. Thanks to Midori Matcha who is looking to expand beyond their bottled Matcha products into pastries, soft serve, lattes and more. Read all about it in a recent Eater LA post.
Happy 3rd Anniversary The Church Key
The Church Key celebrates its 3rd anniversary on Tuesday, Dec. 6. The West Hollywood hotspot invites the public to help toast to this exciting milestone with an evening of Chef Ryan Ososky's bites alongside champagne and specialty cocktails by master mixologist Rob Floyd. The party will include live music, entertainment, and lots of surprises.
A loaded veggie ramen bowl and a milk + cookies deal
Stop into K Ramen. Burger. Beer. at The Americana in Glendale for a Milk & Cookies special of two ooey gooey chocolate chip cookies and a large glass of milk for $5. If you're looking for more of a meal the new ramen spot just introduced their Vegetable Ramen ($11) loaded with onion, carrots, shallots, leeks, potato, corn, celery and ginger in an all vegetarian broth.
Snow Day at Playa Provisions
Playa Provisions, will host their annual family-friendly Snow Day on Sunday, Dec. 11 in the restaurant's parking lot. Activities include a sledding hill, bounce house, face painting, and snow for building snowmen! Prices run $5 to $10 for activities and the restaurant will have small bites, cocktails and a DIY s'more station.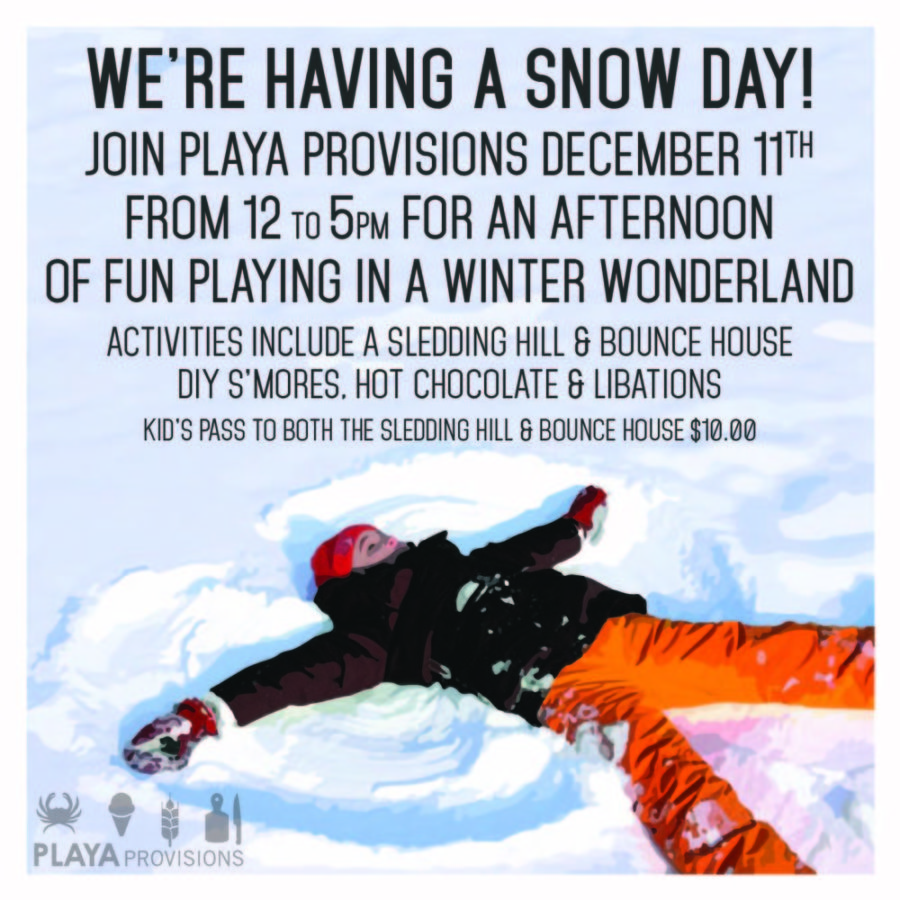 A Tour De France wine tasting
This Thursday, Dec. 8 toast to the holidays at Downtown LA's Pitchoun! Bakery as they host a "Tour De France Wine Tasting." Choose from five acclaimed French wines from the Beaujolais, Bordeaux, Burgundy and Cotes du Rhone regions. The happy hour menu and the regular menu will be available to pair your wines. And don't skip out on dessert as Pitchoun! has some of the cutest holiday treats in the city.
New menu at Ivory on Sunset
Ivory on Sunset just revamped their menu with a variety of fish and market fresh vegetable dishes for the season. Highlights include shareable dishes and entrées such as grilled branzino, diver scallops, albacore crudo and a smoked beet salad.
Brooklyn's famous Roberta's is serving pizza in L.A.
For the next two months the insanely popular pizza shop will be serving up their pies at Platform in Culver City. Open four days a week (Thursday though Sunday from 11 a.m. to 9 p.m.) Read all about it in a recent LAist post.
Gavin Humes opens Tuccio's
Woodland Hills just landed a regional Italian restaurant called Tuccio's with Chef Gavin Humes at the helm. The menu will feature house-made pastas, fresh baked bread, pizzas and vegetable dishes inspired by SoCal. Another notable mention is the carefully curated wine list, primarily featuring under the radar wines from California and Italy. Read all about Tuccio's in a recent LA Weekly post.
Must hit up place of the week goes to…
Silver Lake's Thai wine bar, Same Same, will host "Pretty Thai for a White Guy" on Dec. 14 with Adam Weisblatt, of Last Word Hospitality. The night will feature a one night limited run of the Thai-ger Burger accompanied by Taro fires for $14, alongside $20 bottomless red and white wines paired by Weisblatt. Incase you were wondering, the Thai-Ger Burger is made up of a ground sirloin and short rib patty, topped with spicy jaew aioli, lettuce, holy basil, cherry tomatoes, sandwiched between a brioche bun.
Finally, just a quick snapshot of the best thing we've eaten in the past week…
The 12 oz. filet in bone topped off "Oscar Style" meaning, loaded with crab meat and asparagus, from Ocean Prime in Beverly Hills.