Angelenos love food… and so do we!
So to help keep you on the pulse of the culinary scene every week here's a weekly roundup of the best food related news bites (get it?) into one easy-to-digest rundown.
This week includes uni ice cream, a Latte Art Throwdown, Vegan Street Fair and LOTS more.
Your food news CliffsNotes start after the jump.
Bon Appétit!
The Vegan Street Fair is happening this Labor Day weekend. Held as a night festival at the Federal Bar in North Hollywood the event will feature some of the best vegan spots in LA. curated by popular vegan Instagramer @VeganFatKid with drinks curated by Eat Drink Vegan. Tickets cost $20 for GA and $40 for VIP access which includes a fast pass to food and drinks.
LAMILL Coffee is hosting their first ever Latte Art Throwdown today at their Silver Lake shop location. The competition is free to attend for all on lookers with a $5 buy in for competitors.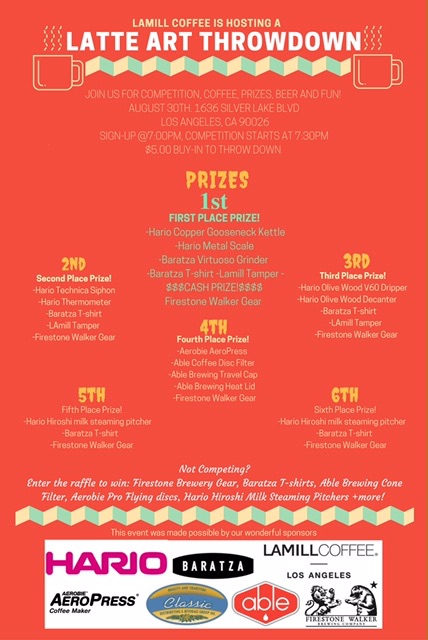 The 5th Annual Sunset & Dine event (Sep. 1) showcases resturants in the surrounding Hollywood and Vine area in a festival like setting with live music and entertainment curated by Ameba Records. Resturants include Paley, Beso, Urban Masala, The Pie Hole, Wood & Vine, Cleo and Sweetgreen to name a few. Tickets cost $35.
Los Angeles is the greatest food city according to LA Weekly's article as they tap world famous chefs like Tyler Florance and Jet Tila for their opinion post LA Food & Wine that happened over the weekend. A few L.A. chefs also vouch for our city like Marcel Vigneron of Wolf and Dakota Weiss of Estrella.
Tonight is the final round of Street Food Fights at The Border Grill in DTLA. Mexico, Cuba, Italy and USA will compete for best tacos on the patio from 5:30 to 9 p.m. AYCE tickets cost $20 online and $25 at the door with the option to go a la carte for $6.
Go Ham at Marvin starting Sep. 13 the restaurant will host a ham and sherry night every Tuesday. Guests can choose from a variety of cured hams accompanied with 'pan con tomate', and a wide variety of sherry.
Plan Check Kitchen + Bar is kicking off their "Comfort Masters" guest chef series next month at all three locations of their resturants. Michelin-starred chef, Chris Anderson, will launch the series on Sep. 6 & 7. Tickets cost $60. Check the website for the full schedule and ticket details.
Taste on Melrose just launched a new Sunday Soirée taking place 4-7 p.m. every week. Partnered up with Cointreau guests can enjoy DJ curated music and special cocktails featuring Cointreau. Make sure to head to the garnish cart to top off your drinks just the way you like it.
Rustic Canyon turns 10 this year on December 8 and to celebrate the milestone they'll be collaborating with a series of guest chefs for multi course dinners October 3, November 7, and December 8. Dinners cost $125.
FYI …
Bludso's BBQ in Compton is temporarily closing for a much needed update. This news comes from a Eater LA article on Monday. The man himself Kevin Bludso confirms the update is for the equipment and other small issues with no plans of expanding the walk up spot to a sit down spot like fans have wished for. The reopen of Bludsos will be around October 10 so if you're hurting for some key BBQ in Los Angeles you might want to visit their Fairfax location or one on our top BBQ picks for the time being.
Must hit up place of the week goes to…
Cause summer isn't over yet… who's up for some Sangria, Piña Colada and Margarita ice cream? Sounds like a winning combo to me! Newcomer Icy Rush in Echo Park makes all ice creams in house with organic ingredients and offers dairy free options.
Finally, just a quick snapshot of the best thing we've eaten in the past week…
We spent three days at the Los Angeles Food & Wine Festival and below is just a snippet of what we ate. From pork belly by Belcampo to uni ice cream in a shell cone from Chaya no dish went unturned 😉