Angelenos love food… and so do we!
To help keep you on the pulse of the culinary scene we provide weekly rundown of the best food related news bites (get it?) through one easy-to-digest page of blurbs and links.
This week includes free coffee, $3 poke bowls, a end of summer whole pig roast and LOTS more.
Your food news CliffsNotes start after the jump.
Bon Appétit!
Philz Coffee is soft-opening this Wednesday Sept. 18 in Glendale. Grab a cup of coffee and some pastries on the house from 11 a.m. to 3 p.m. RSVP here.
Music Tastes Good hits Downtown Long Beach Sept. 23-25 for a massive three-day music and food experience presented by KCRW. Headliners includes the Specials, Iron and Wine, War Paint, and De La Soul. Special food experience themed events will take place each day, ranging from a farm-to-table dinner to a Bloody Mary brunch.
Celebrate Italian culture by eating every dish imaginable at the 15th Annual Galbani Cheese Italian Feast of San Gennaro taking over the streets of Hollywood Sept. 23-25. General admission cost $5 and kids under 12 are free.
The Poke Shack is serving $3 poke bowls all day Sunday Sept. 18 to celebrate the grand opening of their latest Venice location.
Summer is coming to a close and Alcove is hosting its last Dinner & a Move Under the Stars next Monday Sept. 19 with a screening of Bring it On. Expect themed out cocktails from Big Bar 😉 The event is free and seating is on a first come basis.
True Food Kitchen officially opens today in Pasadena Sept. 13 the restaurant offers a anti-inflammatory menu with something for vegans, vegetarians and meat eaters.
Fig & Olive will host a exclusive wine pairing event on Sept. 20 featuring a five course prix-fix dinner curated by Executive Chef Wilfrid Hocquet $150.
Brack Shop Tavern opens in DTLA today Sept. 13 serving seasonal bar bites, elevated cocktails, house-made sodas and beer on tap.
Gran Cosecha is hosting a tequila tasting at Gracias Madre this Thursday Sept. 15 from 5-11 p.m. Guests can order a food + flight pairing for $65 featuring specially created dishes by Chef Chandra Gilbert. At 7 p.m. owner of Gran Cosecha Eli Cardon, and Gracias Madre's beverage director Jason Eisner, will teach guests about tequila from how they are made to tasting notes, and how they pair with various dishes. Only interested in the tequila? You can order just the flight for $25.
FYI …
Baltaire has updated their lunch menu to a more casual affair featuring sandwiches, seasonal soups and fresh seafood along side mocktails made from freshly squeezed juices and muddled fruits. See the new menu below.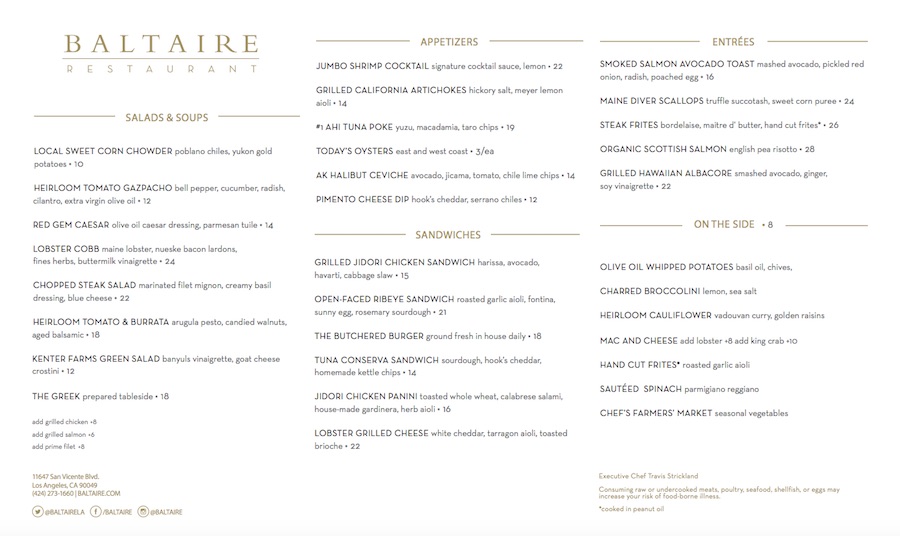 Must hit up place of the week goes to…
Tender Greens is celebrating the end of the season with a Summer Beer Garden & Whole Pig Roast this Sunday Sept. 18 on the outdoor patio of their Hollywood location. For $45 guest can enjoy succulent pig alongside German inspired seasonal dishes, served family-style.
The menu includes: hand-rolled pretzels with sorrel butter, crispy sweet breads with apples, currants & brown-butter cider vinaigrette, ash roasted beet salad with pumpernickel gremolata, duck fat fried marble mashed potatoes, baked sweet potato & red kuri squash auflauf, and much more.
Get your tickets here.
Finally, just a quick snapshot of the best thing we've eaten in the past week…
True Food Kitchen serves a little of everything! Now open in Pasadena we loved the grass fed burger, edamame ravioli, ancient grain bowl and mushroom lettuce cups!