Angelenos love food… and so do we!
To help keep you on the pulse of the culinary scene we provide weekly rundown of the best food related news bites (get it?) through one easy-to-digest page of blurbs and links.
This week includes bottomless mimosas, a Bourbon party, $1 dogs at The Stand, a dumpling fest and LOTS more.
Your food news CliffsNotes start after the jump.
Bon Appétit!
The Eastside Food Festival is back this Sunday, Oct. 2 at Mack Sennet Studios featuring some of the finest food and drink east of Western Avenue including vendors such as Little Beast, Button Mash, Angel City Brewery, Pok Pok, Sticky Rice, Trois Familia, and many more. Tickets are still available find out more info here.
The Stand in Encino is offering $1 hot dogs every Monday night. The special includes all beef and turkey hot dogs 😉
If spicy food is your thing check out the free San Fernando Chile Festival bringing the heat Oct. 1-2 with a variety of food vendors, a beer garden, live music, and art vendors. Taking place in Downtown San Fernando.
Eagle Rock Brewery will celebrate the changing of the season by hosting an Oktoberfest shindig that includes awesome beers and tasty sausages by resident chef PandaJer Su of Eagle Rock Brewery Public House this Sunday, Oct. 2.
If you are looking to take a break from Oktoberfest head over to the San Gabriel Dumpling & Beer Fest this Thursday Sept. 29. Now in its second year the event promises plenty of food vendors, beer tasting and live entertainment. The inaugural event was a huge success for the city, expect big things this year. Admission is free.
The inaugural EAT Show takes place this Sunday, Oct. 2 in DTLA will feature 50+ restaurants from LA and the OC. Separated into two sessions of lunch and dinner, guests will enjoy an eclectic mix of food vendors and an open bar.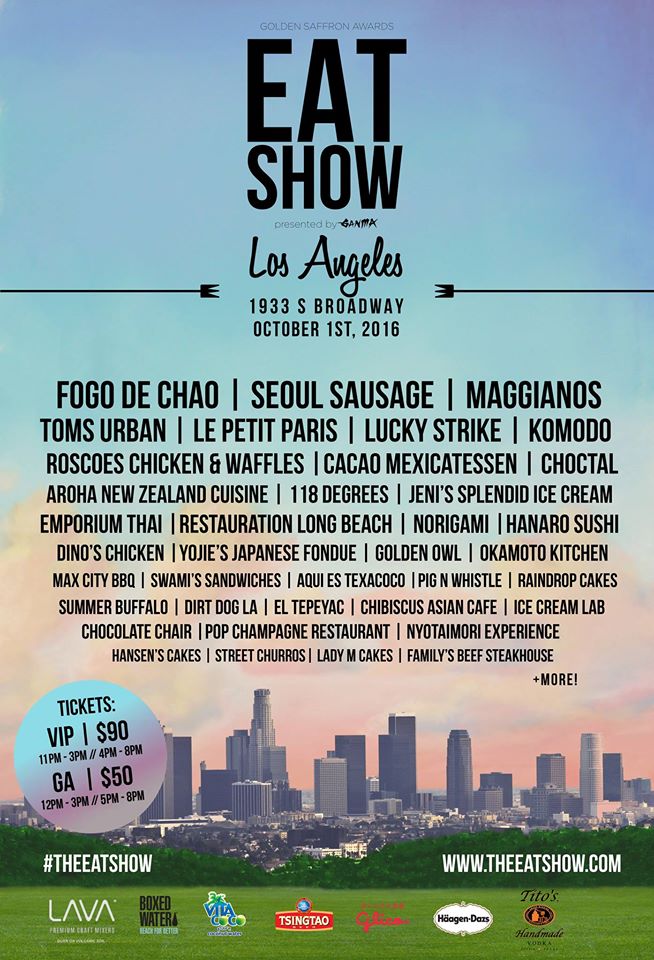 Curious about the food over at L.A. Live? Now is your chance to go and try them all! During DTLA Neighborhood Nights on Sept. 29 guests will have access to delicious $5 food and drink deals starting at 6 p.m.
BOURBON STEAK is giving Bourbon Heritage Month a proper send off on Thursday, Sept. 29 by hosting a cocktail party with Breaker, Knob Creek and Bookers. Guests can get up close and personal with bourbon samples and speak with master distillers. The event cost $69 per person and includes passed appetizers including duck spring rolls and blue cheese sliders with truffle aioli; whole roasted pigs and Peking duck; and seasonal sides. Reservations available at 818-839-4134.
Hollywood Burger will offer free City Bean coffee with the purchase of one of their brand new breakfast sandwiches on Sept. 29 to celebrate National Coffee Day. Guest can choose from cold brew, nitro or drip and sandwiches are just under $4, thats a pretty good deal!
FYI …
Vinoteca is officially open for business inside the Four Seasons Hotel in Beverly Hills. Offerings include a menu of Napolini "street food" like sweet and savory Montanaras a.k.a. fried pizza. Every morning the restaurant turns into a espresso bar serving handcrafted coffee and cold brew as well as authentic Italian pastries like Sfogliattele and Connoncini. Ohh and they have wifi making this spot pretty ideal for lunch meetings, team meet up etc.
Must hit up place of the week goes to…
Hyperion Public for their Daily Bottomless Mimosas! Seven days a week, guests can mix and match five varieties of the mimosa, from Classic Mimosa, Bellini to Lilosa (grapefruit) and unique to Hyperion Public is The Rock, made with fresh orange juice, watermelon liqueur, and champagne, and Hyperion Sunrise, featuring pomegranate liqueur, mango nectar and champagne. Bottomless Mimosas run from noon to 3 p.m. Monday through Friday and 10 a.m. to 3 p.m. on Saturday and Sunday at both the Silver Lake and Studio City locations.
Finally, just a quick snapshot of the best thing we've eaten in the past week…
Azla is new spot serving up Ethiopian cuisine inside the Mercado la Paloma. The a la carte menu features vegan takes on traditional Ethiopian with a rotating offering of modern salads mixed in. We thoroughly enjoyed it!