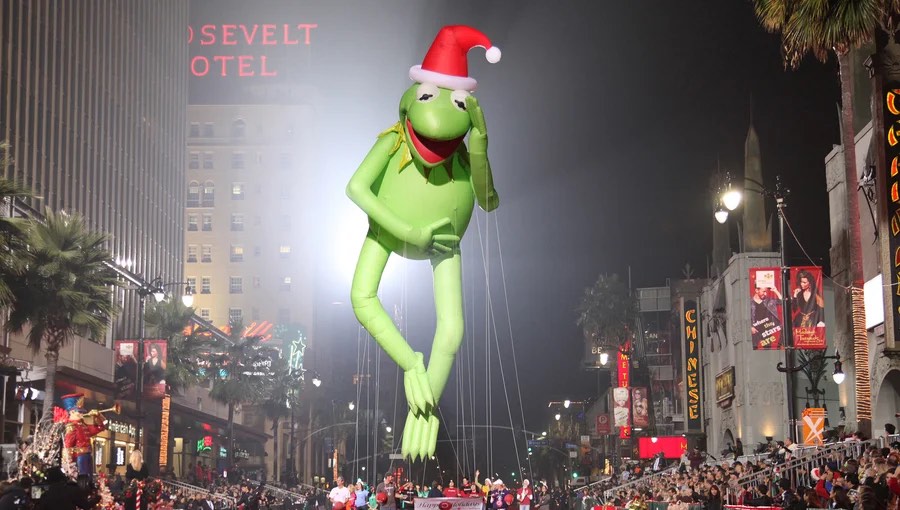 Hopefully by the time you're reading this you've clocked out of work and are well on your way to a much deserved holiday respite. If not, hopefully you still get to make time for friends and loved ones over the next few days. Maybe you'll even check out a few fun events…
For Thanksgiving Day weekend in Los Angeles, enjoy World Cup watch parties, Lights on Display in Sherman Oaks, the Smorgasburg Holiday Market, the Hollywood Christmas Parade, a Tea Party at MOLAA, Enchanted Forest of Light, and more. Here's wishing all a most excellent holiday, and a happy Thanksgiving.
Things To Do This Thanksgiving Weekend
Los Angeles Turkey Trot -> This Thursday, the annual Turkey Trot 5k/10k fundraiser carves a path through Downtown Los Angeles, with a route that breezes past Grand Park, Walt Disney Concert Hall, The Broad, MOCA, historic Spring Street. Registration costs $49-$64, and proceeds from the event benefit the Midnight Mission, which provides vital services to those experiencing homelessness in and around DTLA. Register and get more info here.
World Cup Watch Parties: USA vs. England -> The USA's match versus England this Friday has to be one of the most anticipated matchups of the World Cup group stage, and as such bars throughout the southland will be open early to broadcast the game, which starts at 11 a.m.. L.A. Taco recently published a fantastic round-up of its top spots for World Cup viewing, and we also spotted special watch parties happening happening at Trademark Brewing and The Waterfront Venice.
Lights on Display in Sherman Oaks -> One of the most elaborate home lighting displays of the holiday season is back starting this Friday. Sherman Oaks resident Mike Ziemkowski has a brand new edition of Lights on Display for 2022, but per usual you'll find an elaborate mix of computer controlled lighting, DMX controlled intelligent light, and a bevy of animatronic characters synched to a pre-programmed playlist of holiday tunes. The experience is free to check out, and will run Thursday to Sunday through New Year's Day following this week's opening. Get more info here.
Winter Fest O.C. -> Starting this Friday, Winter Fest returns to the OC Fair & Event Center for 26 days and nights of family-friendly entertainment, including outdoor ice skating, a nine-lane 150-foot-long ice tubing slide, ice bumper cars, and LED mini golf, plus nightly Holiday celebration featuring snow flurries and Santa appearances. Pre-sale tickets (available through November 24) start as low as $14.95 for kids, and $19.95 for adults. Get more info here.
Fourth Fridays on 4th Street -> Retro Row in Long Beach comes alive on the fourth Friday of the month with special pop-ups, live performances, and extended store hours from shops on 4th St between Temple and Cherry. The event runs 6 to 9 p.m. Get more info here.
Cookin' With Gas -> This Friday and Saturday, the Groundlings Main Company, Alumni and Sunday Company members team up together for a special holiday edition of Cookin' With Gas, the long standing weekly show where performers improvise based on audience suggestion. Tickets for the shows are $22, and both nights begin at 8 p.m. Get more info here.
Holiday Road -> This Friday-Sunday, Holiday Road returns to King Gillette Ranch in Calabasas for its third year, bringing a 1-mile walking trail of immersive scenes and holiday-themed activities for all to enjoy. The experience continues on select dates through December 30. Tickets range from $29.99-$44.99. Get more info here.
L.A. Zoo Lights -> The Los Angeles Zoo's brightest annual tradition transforms the zoo grounds into a world of light and holiday magic. The after-hours event offers brightly lit displays and festive family-friendly experience every night throughout the entire holiday season. This week, the event runs Wednesday, is off for Thanksgiving, then pops up again for the weekend Friday to Sunday. Adult tickets range from $34-$39, depending on the desired date to attend. More info here.
Pershing Square Holiday Ice -> The 7,200 square foot skating rink in the heart of DTLA is back for the holiday season. GA tickets, including skate rental, cost $20 for adults. The rink runs daily through New Year's Day. Get more info here.
Ice Santa Monica -> Downtown Santa Monic'a Ice brings 8,000-square-foot pop-up rink to the corner of Fifth Street and Arizona Avenue, running daily through January 16, 2022. Skate rental and all-day admission runs $20 per person. Get more info here.
Enchanted: Forest of Light -> Descanso Gardens' annual light show is back, showcasing a range of wondrous, illuminated installations, including a magical "stained glass" creations built in the Rose Garden by contemporary sculptor Tom Fruin. The one-mile walk also features geometric installations from HYBYCOZO on the Main Lawn; Flower Power lights, and sparkling adornments added to Descanso's Ancient Forest. Tickets cost $34-$40 for non-member adults. Runs daily through January 8, except for off-days on Thanksgiving, Christmas Eve, and Christmas Day. More info here.
L.A. Auto Show -> The nation's top auto show wraps up this weekend at Los Angeles Convention Center. The ten-day affair features a who's who of automotive exhibitors, plus vehicle test drives, activations, and family-friendly entertainment. Single day tickets start at $22 for adults. Runs through November 27. Get more info here.
Modern Makers Market -> Stop by Manhattan Beach Village this Saturday to shop locally made goods in a festive outdoor market place. Food, treats and live music will also be part of the fun. Free to attend. More info here.
Shipwrecked Tiki Bazar -> If Tiki is your jam, head to The Warehouse Restaurant in Marina del Rey this Saturday for Shipwrecked, a marketplace experience featuring Polynesian Pop and Exotica art, live music, and dozens of vendors in the upstairs bazaar. Admission is $5. Event runs 11 a.m. to 3 p.m. More info here.
Yoga on the Mountain -> On the last Saturday of the month, the Santa Monica Mountains Fund hosts a morning of outdoor yoga and live acoustic music at the King Gillette Ranch in the heart of the Santa Monica Mountains. All skill levels are welcome. Free to RSVP, and reservations are required to attend. More info here.
The Hollywood Christmas Parade ->The Hollywood Christmas Parade brings its annual float-tastic spectacle to the heart of Hollywood on the last Sunday of November. The route takes over portions of Hollywood Blvd, Vine St., and Sunset Blvd. Starts at 6 p.m. Free to attend, but expect a crowd. More info here.
Tea Party at MOLAA -> This Sunday, the Museum of Latin American Art in Long Beach hosts a tea party with author/illustrator Mirelle Ortega, as well as a pop-up shop featuring Straw Factory, a Long Beach City College student jewelry collective. The tea party, shop, and admission to the museum are all free. Programming runs from noon to 4 p.m. Get more info here.
Topanga Vintage Market -> Every fourth Sunday of every month at Pierce College in Woodland Hills, the Topanga Vintage Market pops up with close to 200 sellers offering everything from antiques to vintage clothing and local artisan goods. Runs 7 a.m. to 2 p.m. Entry is $5. Get more info here.
Smorgasburg Holiday Market -> Smorgasburg's holiday transformation includes the brand new SmorgasMART, where shoppers can browse unique food related gifts and packaged food items perfect for the foodie in your life, including specialty popcorn tins from Buttery Popcorn, holiday-themed trays of chili covered candies from Lula's Goodies, or Japanese knives from Kirei Knives. The holiday market and SmorgasMART continue every Sunday through December 18. Hours are 10 a.m. to 4 p.m., and entry is free. Get more info here.
Dining & Drinking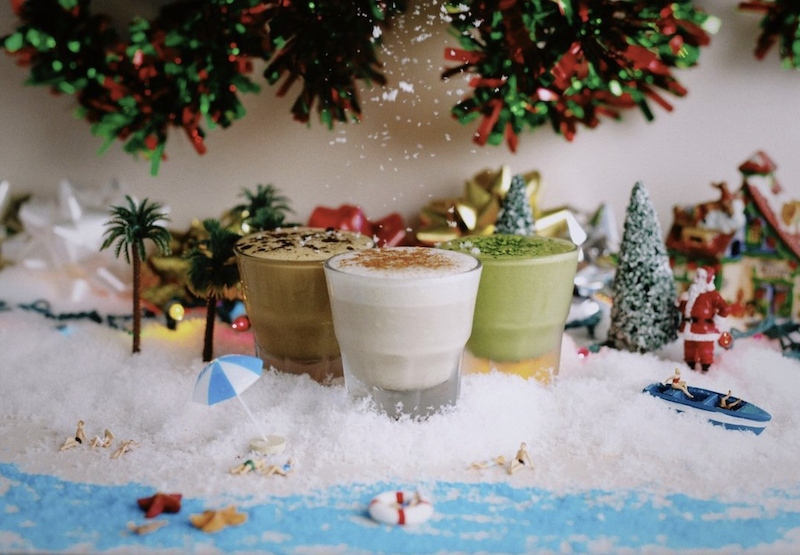 GGET 10th Annual Thanksgiving Service -> On Thanksgiving Thursday, Go Get Em Tiger's Los Feliz location hosts a fun Thanksgiving day service, offering holiday-themed coffee drinks and food. For one day only guests can sip on seven different drinks including toffee nut lattes, an Eggnog Trio and gingerbread lattes. GGET's homemade yeast-raised waffles will also make an appearance. The event is free to attend and kid friendly with crafts and face painting to keep the little ones entertained while adults get caffeinated before Thanksgiving madness. Happening from 8 a.m. to 2 p.m.
Block Friday at Maple Block -> Maple Block in Culver City puts their remaining Thanksgiving specials to good use with a Block Friday menu featuring an epic Leftover Sandwich made with sliced turkey and all the fixings for $14. There's also a Breakfast Burrito for $10, treat yourself and add Brisket for just $7. Stainless tumblers can be yours for $8 and come filled up with your choice of craft beer.
Rakkan Ramen Turns Two -> The Long Beach location of Rakkan Ramen turns two this Saturday, and will mark the occasion with an all-day celebration. The first 50 guests receive free ramen starting at 11 a.m., and $10 sake tastings plus raffle box prizes from local businesses will be offered from noon to 5 p.m.
Looking Ahead
Kinn X Pearl River Diner Collab Dinner -> Chefs Ki Kim of Kinn and Johnny Lee of PRD are coming together for an eight course collaboration dinner taking place over two nights from November 29-30. Featured dishes include the Drunken Shrimp, Dry Aged Beef Carpaccio, Abalone and Octopus Claypot Rice, and Tofu Pudding with Black Sesame. Tickets can be reserved on Resy for $180 a person.
---
Want to get the best things to do in L.A. sent straight to your inbox? Join over 60,000 Angelenos who subscriber to our twice weekly email newsletter!
By subscribing, you agree to our terms of use and privacy policy and consent to receive emails from We Like L.A. about news, events, offers, and partner promotions.