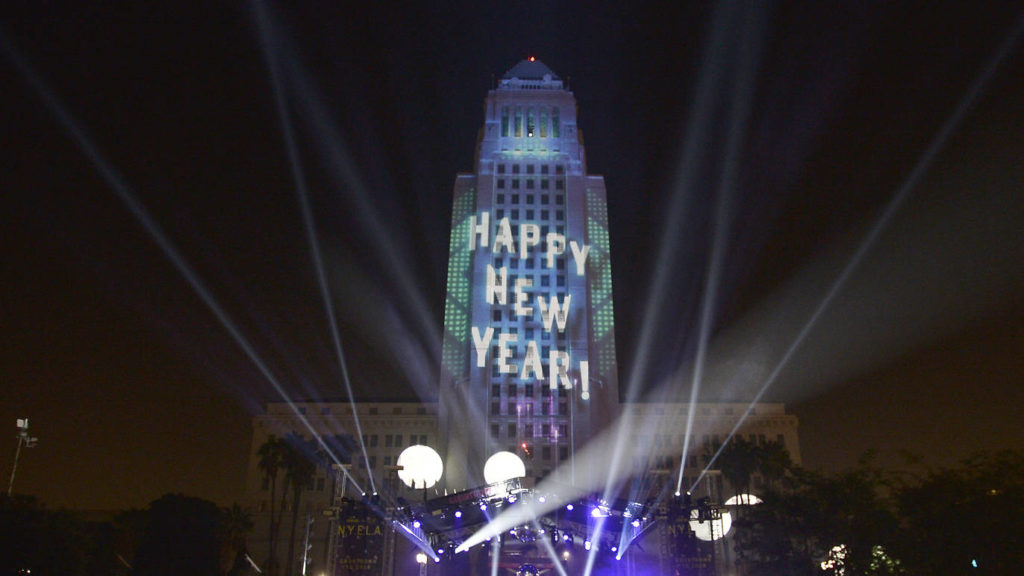 By the time you're reading this on Wednesday it should be pouring. And while the rain is scheduled to clear up by this Friday (Dec. 31), the potential damper on New Year's Eve plans goes far beyond the weather. Omicron has been a game changer, and large-scaled New Year's events throughout SoCal are cancelling or scaling back in the face of rising COVID-19 case rates. You might already have locked in plans, but maybe in the back of your mind you're thinking… "Should I?"
Earlier today, the L.A. Times published a round-up of advice from experts and health officials with recommendations on how to safely ring in the new year. The big headline is the same as it's been throughout the pandemic: Avoid big crowds, avoid indoor spaces, and definitely avoid both at the same time.
The truth is that many people will ignore that warning and gather in large numbers, whether it's at a bar, a club, or that one friend's fancy house in the hills. We get it. You're vaccinated. You did a rapid test beforehand. You're willing to take the risk. That's your business.
But in this guide, we'll offer some other ideas. Stream the new year online. Order takeout and host a small gathering at home. Play virtual games. Consider a daytime, outdoor activity with a holiday tinge. Basically, have fun, but also be safe. If that sounds appealing, read on.
If You're Staying at Home
The biggest New Year's celebration in Los Angeles would have been at Grand Park right in front of L.A. City Hall. Then Omicron hit like a Mike Tyson left hook. While GP organizers have nixed in-person attendance, they'll still be streaming their countdown and entertainment online at this link on YouTube. Consider that as your background video while you host a gathering at home.
For those actively avoiding an in-person gathering (but who still want to hang out) we invite you to go back to the heady days when Zoom was novel, and online drinking gamers were not yet a parody. You might remember that early on in the pandemic we wrote a big old guide on how to host a pandemic game night, with options ranging from online versions of table-top RPGs and virtual escape rooms to trivia and classic card games. This seems like a good time to refresh yourself on some of those ideas.
Of course, games will only get you so far. You're also going to need food.
Takeout and Cocktails To-Go
Even if outdoor dining spots are open this Friday, it's going to be pretty cold. In that case, takeout is the preferred option, as well as a strong way to support local businesses as we head in to the new year. Maybe you need to feed everyone at a small party, or maybe you're just looking add a bit of pizzaz (or even pizza) to your New Year's Eve shindig. Here are some ideas.
Sonoratown -> Make New Years Eve one epic taco night with the help of Sonoratown in Downtown Los Angeles. The Northern Mexican restaurants taco kits come with meat by the pound (one pound $34, two pounds $60) where you get to choose up to three proteins (carne asada, chicken or chorizo.) Salsa, avocado sauce, grilled green onions, chopped cabbage, limes, radish and some of the best handmade flour tortillas in the city also come with the kits. Sonoratown is open from 11 a.m. to 9 p.m. on New Year's Eve. Pick up or local delivery is available by calling 213.628.3710. More info here.
Employees Only -> Employees Only's NYE prix fixe menu is available for takeout this year. Guests will enjoy a Scallop Ceviche, handmade Tagliolini in a Chanterelle Ragu sauce, Red Wine Glazed Shortrib and much more.
Maple Block -> Maple Block is offering several NYE packages for curb-side pick up this year. From a Meat Sampler, to Smoked Chicken and a Giant Beef Shortrib, each package feeds four to six people and include your choice of two large sides, fresh Buttermilk Biscuits or Cornbread with whipped honey-butter, House Pickles and a large Market Chopped Salad. Additional sides, peach wood smoked brisket and sweets can also be added onto the packages. Orders must be placed by Thursday Dec. 30 for Dec. 31 pick up.
Ronan -> In addition to Ronan's standard Italian menu, a special NYE Caviar Menu will also be in place for both dine-in and take-out.
Silverlake Wine -> For all your organic, biodynamic, natural wine needs stop by Silverlake Wine. Not just a place for wine, they also offer a curated selection of spirits, beer, ciders and sake. If you need some booze for a small gathering, this is a great spot to shop.
Ocean Prime -> The Beverly Hills restaurant will offer two NYE specials for takeout and delivery. To start, guests can recreate Ocean Prime's Berries & Bubbles cocktail at home with a take-home drink kit that includes Belvedere Citrus Vodka, marinated blackberries, fresh lemon and Domaine Chandon Brut. The restaurant is also highlighting their seasonal Holiday Sea Bass and Lobster Risotto ($69) dish for the night. Both items are available for delivery and take out.
Lunetta -> Lunetta is hosting a New Year's Eve dinner and party but if you rather stay in for the night the Santa Monica restaurant is also offering the special menu to-go. Guests start with an amuse-bouche of crispy potato pancakes with house-cured gravlax and Kaluga caviar and move on with a three course dinner with multiple options. Highlights include a Snake River Filet of Beef Carpaccio, fresh black winter truffles, Maine Lobster Thermidor and Sticky Toffee Pudding. The meal cost $175 a person. Orders can be made by phoning the restaurant directly at (310) 581-4201 and can be picked up between 4 to 5:30 p.m. on Friday Dec. 31.
Homestate -> TexMex eatery HomeState has catering packages that feed 10-12 people. Orders must be made three day in advance and a $100 minimum is required. On the menu is a 24 taco pack with red and green salsa, a quarter gallon of queso and guac with a two pound bag of tortilla chips, a tray of Ranch Salad and a tray of Salted Chocolate Chip Cookies.
Haute Mess -> Let a European inspired marketplace take care of all your charcuterie needs this New Years Eve. Haute Mess is home to affordable cheese and meat boards, as well as freshly baked breads, pastries and fantastic Italian style sandwiches.
Lock & Key -> Ring in the new year with Chicago deep dish pizzas from Lock & Key. The speakeasy in Koreatown is offering up their entire menu including beer, wine and cocktails for takeout. Delivery is available through UberEats.
Vinovore -> Wine shop Vinivore highlights wines from women winemakers and items to make a charcuterie board like cheeses, crackers, bread, cured meats and tinned fish.
Sugar Palm -> Sugar Palm at Viceroy Santa Monica is offering their NYE three-course prix fixe menu ($99 per person) for take out. Guests will choose one option per course, highlights include a Braise Short Rib and a seafood filled Cioppino in a lobster bouillabaisse. Call the restaurant to inquire.
Della Terra -> Throw a pasta party for NYE. The Northern Italian Trattoria is offering their menu for takeout but it doesn't stop at just pasta, Della Terra also serves pizzas, grilled meats, salads and more.
Brooklyn Ave. Pizza Co. -> The Boyle Heights pizzeria's to-go cocktail menu includes Boozy Aguas Frescas; cocktails that serve two and a number of wines and beer. The restaurant will be open on NYE until 5 p.m.
Outdoor Experiences Open on NYE
If you really need to get out of the house on New Year's Eve, but don't care so much about the midnight countdown, you could consider a series of outdoor/holiday activities that have been on our radar for the past few months. For avid readers of our previous guides, there are a lot of repeats below, but they might be worth considering if you have yet to attend and just really need to get out of the house.
Dodgers Holiday Festival -> Think blue this Christmas season by checking out a new holiday-themed fan fest taking over Dodger Stadium. Guests can explore the newly-renovated Centerfield Plaza and enjoy nightly entertainment options including ice skating rink, light displays, Santa photo-ops, plus holiday-themed treats and drinks. Tickets start at $16. Runs nightly through Dec. 31. More info here.
GLOW -> This after-hours illuminated experience is in its second year the South Coast Botanic Garden. For 2021 the series features a freshly designed array of radiant installations and musical tracks to set the mood as you enjoy an evening stroll at the garden. Runs nightly through Jan. 17. Non-member tickets will run you $34.95. More info here.
Enchanted Forest of Light -> Descanso Gardens' annual illuminated, night-time experience is now open for the holiday season, offering an array of vibrant light displays and installations over the course of a one-mile walk at the garden grounds. Special for 2021, an entire town of stained glass creations has been erected in the Rose Garden by contemporary sculptor Tom Fruin. Standard tickets run $32-$35, depending on weekday or weekend reservations. Get more info here.
LA Zoo Lights -> The L.A. Zoo's signature holiday experience is now open, featuring a plus special attractions including a pop-up storybook, the magical disco ball forest, giant glittering snowflakes, and a twinkling tunnel filled with dynamic swirls of color. Run nightly through Jan. 9, except for closures on Thanksgiving, Christmas Eve, and Christmas Day. Adult tickets start at $22. More info here.
Santa's Speedway -> Now through Jan. 2, the Irwindale Speedway is hosting a nighttime drive-thu experience offering visitors a host of holiday treats for the eyes, including stables filled with illuminated race cars, Christmas Trees and Snowmen made from tires, a 200-foot long illuminated red Christmas bow, plus a massive tree over 100-feet tall, adorned with 100,000 programmable LED lights. Tickets start at $59 per car. More info here.
L.A. Kings Holiday Ice -> The city's largest outdoor ice rink has returned to L.A. LIVE for the holiday season, with daily hours now through Jan. 22. General admission, which includes skate rental, starts at $25 per adult. More info here.
Lightscape at the LA Arboretum -> For the winter season the LA Arboretum has created an illuminated nighttime attraction called Lightscape. The mile-long, self-guided walk features thousands of twinkling lights in various themed attractions including a Winter Cathedral, Star Tunnel and Fire Garden. Adults tickets start at $32. Runs on select nights through Jan 16, 2022. More info here.
New Years Day Specials
If you booze it up during the last moments of 2021, then it stands to reason you could wake up in vital need of a hangover cure. Here are a couple of New Year's Day food specials that will be just what the doctor ordered (probably).
Tacos AF -> If you've had a wild night Tacos AF in Downtown Los Angeles wants to be there in the morning with their "Hungover AF" New Year's Day Breakfast Burrito Box. The hangover box cost $25 and includes two Deluxe Breakfast Burritos stuffed with chorizo, sausage, bacon, hashbrown, cheese and egg with salsa and guacamole on the side, plus two bottles of Jarritos. Customers can order the hangover boxes the morning of Saturday, Jan. 1 by calling Tacos AF for pickup at 213.221.7231 or by ordering delivery through Uber Eats.
Fat Sal's Deli & Sandwich Shop -> When the clock strikes midnight on January 1, 2022 Fat Sal's Deli & Sandwich Shop will release an ultra-secret sandwich menu. Available between midnight and 3 a.m. the never released menu includes eight over the top sandwiches like The Fat Lombardi made of ham, pepperoni, ground beef, chicken fingers, mozzarella sticks and fries. Fat Sal's ​​secret sandwich menu will only be available at all Fat Sal's locations for dine in and in person takeout.
All Day Brunch at Little Dom's -> Little Dom's in Los Feliz will offer their annual New Year's all-day brunch menu for dine-in and take-out in lieu of serving their lunch and dinner menus on Jan. 1 from 10 a.m. to 10 p.m. Highlights include Crab Cakes, Eggs with Caviar and Black-Eyed Peas, Blueberry Ricotta Pancakes, Breakfast Pizza and the Little Dom's Burger.
---
Any notes or corrections? Want to suggest an event we should add to an upcoming list? Hit us up at [email protected].