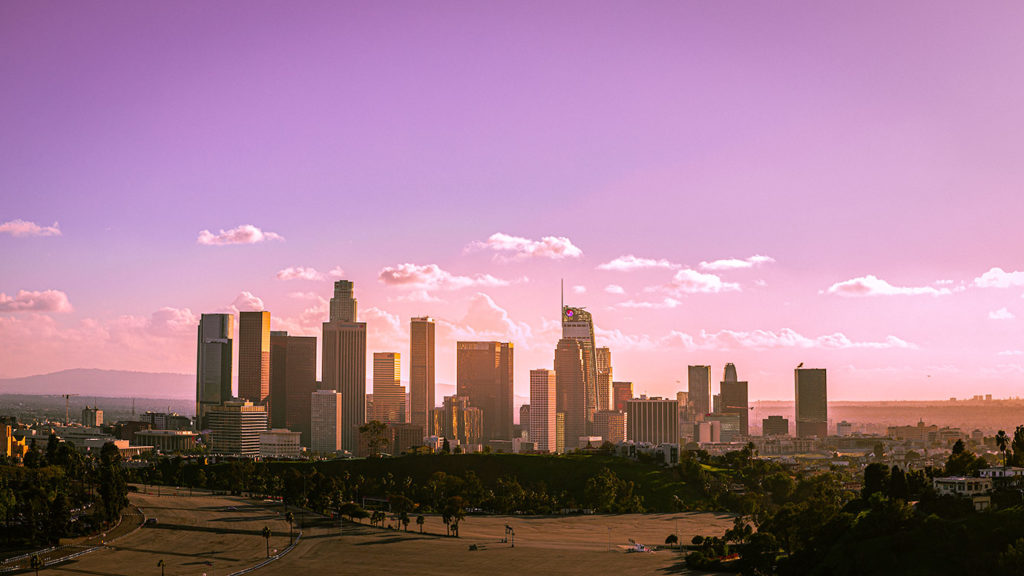 As COVID cases and hospitalizations creep back up, the BA.5 subvariant has L.A. County rethinking mask mandates. It doesn't mean events will be cancelled anytime soon, but it is news worth considering as you plan out the rest of your month. For now, the summer beat goes on…
This week, from July 11-15, there's Westside Story at The Bowl, a Sunset Series at South Coast Botanic Garden, KCRW Summer Nights at The Hammer, Roller Jam at FIGat7th, the 88th anniversary of the Original Farmers Market, the return of Outfest, and more. Hope you a good week… and a safe one.
Things To Do
Westside Story in Concert at The Hollywood Bowl -> On Tuesday and Thursday of this week, Steven Spielberg's adaptation of West Side Story will be screened at The Hollywood Bowls as Gustavo Dudamel and The LA Phil bring Leonard Bernstein's score to life live-to-screen. More info here.
Free Museum Tuesdays -> The Los Angeles County Museum of Art is free every second Tuesday of the month, and The Autry Museum in Griffith Park is offering free admission every Tuesday in July. If you want more museum options for July, remember to check our cheatsheet here.
2nd & PCH Events -> Long Beach retail center 2nd & PCH launches a pair of summer event programs this week, with The Sounds of Summer music series on Tuesday and the PCH Movies and Moonlight series on Friday. Both are free to attend. Get more info on all the upcoming events here.
What is Our Responsibility for Our Government's Wars? -> When a government commits atrocities, do the citizens who it represents bear responsibility? If so, then to what degree? This Tuesday, Zocalo Public Square brings together a panel of thought leaders to discuss the issue, including Lieutenant General (ret.) Robert E. Schmidle, Jr., Air Force veteran and social worker Noël Lipana, and Farnaz Fassihi, journalist and United Nations Bureau Chief at the New York Times. Free to attend. Starts at 7 p.m at the ASU California Center in DTLA. Get more info here.
Hershey Felder at The Wallis -> Piano virtuoso Hershey Felder returns to The Wallis for Chopin in Paris, a deep dive on the Polish composer guided by Felder's inimitable skill and theatricality. Performances on select dates from July 5-24, including shows this Tuesday through Sunday. Tickets start as low as $39 for some performances. More info here.
Moonlight Movies in Long Beach -> Moonlight Movies on the Beach continues this week with a screening of Goonies at Granada Beach on Tuesday followed by Harry Potter and the Prisoner of Azkaban at Long Beach City College, Liberal Arts Campus on Thursday. Free to attend. More info here.
Shakespeare in the Park -> This Wednesday to Sunday, ISC's Shakespeare in the Park continues with performances of Francis Beaumont's Knight of the Burning Pestle. Shows begin at 7 p.m. Free to attend, but advanced reservations are required. More info here.
Outfest -> The LGBTQ+ film festival returns July 14-24 with movie screenings (outdoors, indoors and online) as well as a number of special events. This year's highlights include a screening of Billy Porter's directorial debut, Anything's Possible; Outfest Under The Stars at The Ford; the 20th Anniversary screening of Todd Haynes' Far From Heaven, with Haynes, producer Christine Vachon, and star Julianne Moore all appearing in-person for a Q&A; and the 6th Annual Trans, Nonbinary & Intersex Summit. More info here.
Sunset Series at South Coast Botanic Gardens -> This Thursday, The South Coast Botanic Garden launches a new weekly after-hours series featuring cocktails, yard games, live music and kid friendly activities including parachutes, obstacle courses, lawn bowling, bubbles. Tickets cost $9 per person. Children 2 and under are free. More info here.
KCRW Summer Nights at the Hammer Museum -> KCRW Summer Nights pop up at The Hammer every Thursday in July., and this week you can catch Pachyman along with sets by KCRW DJs Jeremy Sole & Tyler Boudreaux. More info and see the full schedule here.
Summer in San Gabriel -> The City of San Gabriel's summer event series continue this Thursday with an evening of children's entertainment, including Wacko the Magician and Kids Imagine Nation, all followed by an outdoor screening of Sing 2. Free to attend. More info here.
88th Anniversary at The Original Farmers Market -> The Original Farmers Market celebrates 88 years at its 3rd and Fairfax location with three days of fun activities this Thursday through Saturday. Expect live music, DJ sets, arts and crafts, pop-up food vendors, and giveaways. See the complete schedule here.
Roller Jam at FIGat7th -> This Friday to Sunday, a three-day dance party and pop-up rollerskating rink hits DTLA's FIGat7th shopping plaza. Free admission tickets gets you access to the themed dance nights with music by Beat Junkie Institute of Sound and a beer garden curated by Crowns & Hops. If you want to skate, rentals are $12 per person. More info here.
The Music Center's Dance DTLA -> This Friday's Dance DTLA event at the Music Center will be an evening of Bollywood led by instructor Achinta McDaniel. Starts at 7 p.m. More info here.
Jazz at LACMA -> This Friday at 6 p.m., the Los Angeles County Museum of Art hosts trumpeter Gilbert Castellanos at Smidt Welcome Plaza as part of the ongoing Jazz at LACMA series, which continues on Friday evenings through November. Admission is free, however seating is limited and first come, first served. More info here.
One Colorado Movies Under the Stars -> Movies Under the Stars features classic films screened every Friday for the entire month of July at One Colorado in Old Pasadena. The series continues this Friday with Some Like It Hot at 8:30 p.m. Public seating is first-come, first-served. More info here.
Levitt Pavilion Los Angeles -> This weekend the Levitt Pavilion summer concert series continues with Les Filles De Illighadad and Adee Roberson on Friday, Peanut Butter Wolf, Dj Nu-Mark, Inka One, Ben Diggin, and Dj Analog on Saturday, and Guateama Ft. Ishto Jueves and El Gordo on Sunday. Free to attend, no reservation necessary. Check the complete lineup here.
Movies on The Roof -> My Valley Pass's Movies on the Roof series continues this Friday and Saturday Westfield Fashion Square with screenings of Swinger and Iron Man. Tickets are just $5, and proceeds for the event benefit Hope Of The Valley rescue mission. More info here.
Zoo Friday Nights -> This Friday, the L.A. Zoo continues their after-hours July series as guests can enjoy the zoo grounds at the sunset hour while experiencing carousel rides, food delicious bites for purchase, beverages, DJ'd music, and a family dance party. Tickets start at $25 per adult. More info here.
MLB All-Star Week -> Major League Baseball's summer classic lands in Los Angeles this July with a five-day slate of events leading up to the big game. Friday starts with a a free activation at the Santa Monica Pier, followed by fan experience over the weekend at the L.A. Convention Center, and a special concert at Dodger Stadium headlined by Becky G. It all leads up to the 92nd MLB All-Star Game held on July 19. Get more info on tickets and availability here.
South Bay Greek Festival -> The South Bay Greek Festival is a three-day (Friday to Sunday) affair at St. Katherine's Greek Orthodox Church in Redondo Beach offering ample servings of Greek food (spanakopita, lamb chops, baklava), dancing, and fun. More info here.
Dining
Breakfast Launch at The Win~Dow -> The Win~Dow Silver Lake will be launching weekend breakfast this Saturday and to celebrate they will be giving away cards redeemable for a free breakfast sandwich to the first 250 burger orders from 11 a.m. to 3 p.m. from Monday, July 11 through Friday July 15. The cards will be valid for redemption during breakfast hours the following weekends of July 23-24 and July 30-31. As for the breakfast menu, expect three new items including a Breakfast Sandwich with egg, cheese, grilled bologna and spicy sauce; Steak & Egg Burrito stuffed with brisket and fries; and a Cheeseburger topped with a fried egg. The morning menu will be available from 8 to 11 a.m. every Saturday and Sunday morning.
Everytable Giving Away 400 Meals This Week -> From July 12-14, Everytable in Baldwin Park and Los Feliz will give away 200 free meals per location to celebrate their recent openings. The L.A.-founded business has expanded quickly this year as it continues its mission to fight food injustice through affordable, fresh, and nutritious food offerings. Made-from-scratch meals are priced according to what a specific neighborhood can afford, usually ranging from $6 to $9. Popular items include collaborations with Trap Kitchen on a Curry Chicken, Homegirl on a Salmon Adobo, and a Smoky Spanish Rice and Shrimp dish with turmeric sourced from women-founded Diaspora Co. Everytable also offers several salads and wraps as well as wholesome snacks, desserts, and an assortment of beverages including tea, smoothies, juices, kombucha, and more.
*** UPDATE: The Speakeasy has been rescheduled this month to July 28 with the opening to book reservations on July 21. *** Tam O'Shanter's One Night Speakeasy -> Tam O'Shanter reopened their once a month speakeasy in June and this month's chance to attend falls on Friday July 15. A lucky few will make it on the list to travel back in time to the 1920s through a secret entrance inside of Tam's. Once inside, guests are treated to expertly crafted cocktails, small bites and live music. The one-night speakeasy takes place on the third Friday of each month. To secure a spot on the list, reach out to [email protected]. Subject line should say: "Bon Vivant." Final confirmation of the reservation as well as instructions and a secret password will be sent out Friday at noon. Good luck! 
---
Want to get the best things to do in L.A. sent straight to your inbox? Join over 60,000 Angelenos who subscriber to our twice weekly email newsletter!
By subscribing, you agree to our terms of use and privacy policy and consent to receive emails from We Like L.A. about news, events, offers, and partner promotions.