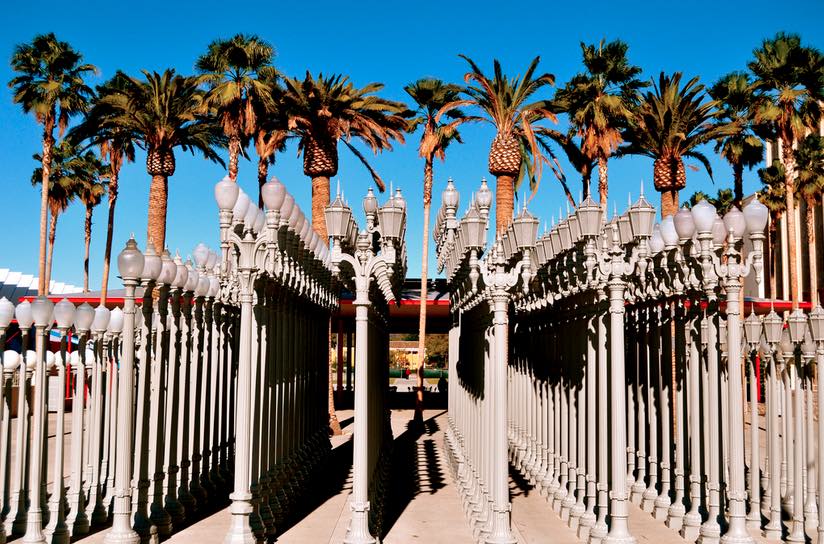 We used to tell you about all the things you could go out and do in Los Angeles on a daily, weekly, and monthly basis. Then, the coronavirus changed life for all of us, in a thousand small and massive ways. Until the pandemic is behind us, we'll post events that adhere to Public Health's current protocols—including plenty of at-home and online events—every Monday and Thursday. We hope they keep you busy, make you laugh, teach you something, or help you feel less alone.
This week, we've astronomy talks, taco demos, children's storytime, DIY baking kits, gardening webinars, new pizza and Korean restaurants, and more. Have something you want to submit for next week? Hit us up: [email protected].
At-Home & Online Events
Caltech's Astronomy and Astrophysics Department's popular Astronomy on Tap is now a livestream on YouTube. Before the pandemic, scientists and astronomy fans would take over local bars to hold 15-minute informal talks over beers and play astronomy-themed pub trivia. The next online iteration takes place on Monday, Jan. 11 at 7:30 p.m. Feel free to pour yourself a beer at home.
On Jan. 12 at 7 p.m., The Groundlings Theatre hosts Sister Groundling: The Ladies of the Attic Online Edition. The improv show features Samantha DeSurra, Allison Dunbar, Patty Guggenheim, Lyric Lewis, Edi Patterson, Emily Pendergast, Ariane Price, Lisa Schurga, and Annie Sertich, directed by Deanna Oliver. Tickets are $12.
Join LA Plaza de Cultura y Artes and Jonathan Perez of Macheen on Jan. 11 at 3 p.m. for an online demo on how to make tacos de suadero and salsa de aguacate taquera. Macheen was the winner of L.A. Taco's 2020 Taco Madness tournament.
The Getty Get-Together invites the public to dive into the Getty Museum's collection. A gallery educator will host a casual, hour-long session on Jan. 15 at 4 p.m. Advance registration is required to access the Zoom link.
Gather your little ones and join the Natural History Museum of Los Angeles County on Jan. 15 at 11 a.m. for Story Time Live, a 30-minute live read of children's books. The series continues every Friday.
If you've exhausted your current list of recipes, Baketivity offers baking kits for a variety of fun desserts and baked goods, including cake pops, cookies, and cinnamon buns. Kits are available as one-offs or subscriptions.
On Jan. 14 at 6 p.m., Zócalo Public Square will hold an online in-depth conversation on how to transform American higher education into a force for equity and innovation. The panel is moderated by Jennifer Ruark, Deputy Managing Editor, Chronicle of Higher Education, and features Arizona State University President Michael Crow, Pomona College President G. Gabrielle Starr, and California State University Chancellor Joseph Castro.
On Jan. 14 at 5 p.m., 18th Street Art Center presents "Come A Little Closer," a free virtual performance from USC's Roski School of Art and Design. Artists will use a variety of mediums to explore the concept of "online witnessing, what it means to be present with the realities of others through the screen." Performances include an augmented reality exploration of trees, a virtual walk along the Vietnam Veterans Memorial wall in D.C., and an ASMR experience memorializing the passing of Puerto Rican astrologer, actor, and dancer Walter Mercado, among others.
Join in on an educational livestream from NASA's Jet Propulsion Laboratory on Jan 13 at 3 p.m. The one-hour conversation is part of an ongoing series called "Teaching Space With NASA." This week's topic is "Monitoring Earth from Space." All audiences are welcome to watch this live broadcast, which will also include a Q&A for registered participants.
On Jan. 12 at 11 a.m., The Fowler presents Séisme (Earthquake). Per a release: "On the 11-year anniversary of a devastating earthquake in Haiti, the Fowler's Curatorial and Research Associate of Haitian Arts, Katherine Smith, and Assistant Professor of Art History and Africana Studies at Boston College, Kyrah Malika Daniels, discuss Séisme (Earthquake), a beaded flag created in 2010 by Haitian artist Evelyne Alcide. In Séisme, Alcide details the nightmarish post-earthquake landscape of Port-au-Prince. The artwork conflates city and cemetery, revealing the overwhelming presence of the dead, while Vodou spirits and angels hover above the carnage." RSVP for the free online event here.
LACMA will host a conversation centered around artist Yoshitomo Nara on Jan. 12 at 6 p.m. via Zoom. The talk is presented by Yeewan Koon, Chair of the Department of Art History at the University of Hong Kong and author of Yoshitomo Nara, a monograph that looks at Nara's work from the last three decades.
The Valley Economic Alliance is hosting its annual gala, "Valley of the Stars…Rising," on Jan. 15 at 5:15 p.m. Actor Jerry O'Connell will host an evening of awards and honorees. Tickets start at $50 and proceeds will benefit local small businesses, job search assistance for local residents, and advocacy for improving the quality of life in the San Fernando Valley.
On Jan. 13 & 14, LACMA will host a screening of the documentary Crip Camp, followed by a conversation with co-directors Nicole Newnham and Jim LeBrecht moderated by NPR's Eric Deggans. Per a release: "In the early 1970s, teenagers with disabilities faced a future shaped by isolation, discrimination, and institutionalization. Camp Jened, a ramshackle camp "for the handicapped" in the Catskills, exploded those confines. Jened was their freewheeling Utopia, a place with summertime sports, smoking, and makeout sessions awaited everyone, and campers felt fulfilled as human beings. Their bonds endured as they migrated West to Berkeley, California—a promised land for a growing and diverse disability community—where friends from Camp Jened realized that disruption and unity might secure life-changing accessibility for millions." RSVP here.
On Jan. 13 at 5 p.m., CalTech's next Watson Lecture is "Artificial Intelligence: How it Works and What it Means for the Future" with Yisong Yue, professor of computing and mathematical sciences in the Division of Engineering and Applied Science at Caltech. Per a release: "Over the past decade, artificial intelligence (AI) and the massive amounts of data powering such systems have dramatically changed our world. And as both the technology and the way in which scientists and engineers handle it becomes more refined, the impact of AI in society will become more profound. In this lecture, Yue will explore the key principles powering the current revolution in AI, consider how cutting-edge AI techniques are transforming how research is done across science and engineering at Caltech, and examine what all of this means for the future of material design, robotics, and big data seismology, among other areas of investigation." Register here.
On Jan. 13 at 2 p.m., L.A. Louver hosts a virtual conversation with "45 at 45" artists with Kohshin Finley, Gajin Fujita, Patrick Martinez, and Gabriella Sanchez, moderated by Kris Kuramitsu, Deputy Director and Senior Curator at The Mistake Room. The L.A. natives will discuss how the city has influenced their work and their visions for the short- and long-term future. A Q&A will follow the discussion. RSVP here.
Join Scott Logan of the Southern California Horticultural Society on Jan 14 at 7:30 p.m. for a webinar, plant forum, lecture, and Q&A on how to cultivate native plants inside and outside of your home.
On Jan. 13 at 2 p.m., Holocaust Museum LA presents "Welcome to Paradise: Refugees at Home in LA." The series features the inspiring stories of refugees in Los Angeles. For this event, Jordanna Gessler, Vice President of Education and Exhibits at Holocaust Museum LA, and Joe Goldman, Community Engagement Director at Western Region – HIAS, will speak to Henry Slucki. Per a release, Slucki is "a Holocaust survivor who recently retired as Professor of Behavioral Sciences at USC. After enduring an arduous escape from Nazi-occupied France, Henry's parents sent him to the United States alone as part of First Lady Eleanor Roosevelt's initiative to save refugee children." RSVP here.
Society of Children's Book Writers & Illustrators celebrates queer voices with a discussion with LGBTQIA+ creators touching on the joys and challenges of queer representation in their work and the importance of telling these stories.
Board and Brush in Santa Monica helps you complete fun and useful crafts at home. You can browse the online shop to choose from one of dozens of DIY home decor kits, or sign up for an online workshop, ideal for virtual get-togethers with friends.
InFocus: Israeli Cinema is on Jan. 11 & 14 and features free screenings and discussions. The events are hosted by NewFilmmakers Los Angeles (NFMLA) and the Academy of Motion Picture Arts and Sciences (AMPAS) with presenting partners the Consulate General of Israel in Los Angeles and the Office of Cultural Affairs, Consulate General of Israel in New York.
You can now watch the Los Angeles Fashion Festival's 2020 film selections and submissions online here.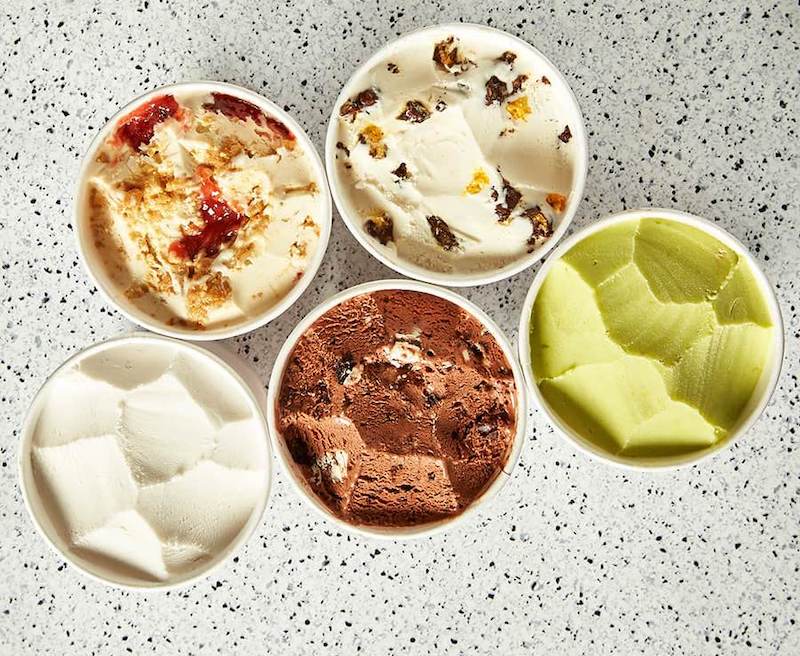 Pickup & Delivery
Oste opens on West 3rd in Beverly Grove on Jan. 13, offering Roman-style pizza and Italian wines for delivery and takeout. The new venture will feature pinsa, a unique style of pizza that uses a blend of rice, soy, and wheat flours in its dough, resulting in a lower calorie, light, airy dough with a crunchy crust. Open Weds., Thurs., and Sun. From noon to 9 p.m., and Fri. & Sat. From noon to 9:30 p.m.
Salt & Straw's new Vegandulgence menu is back, featuring five incredibly rich and creamy dairy-free flavors. They include Peanut Butter Strawberry Crumble, Bourbon & Caramelized Honeycomb, Chocolate Hazelnut Cookies & Cream, Coconut Rice Pudding, and Banana Avocado Sorbet. For something refreshing, choose the Banana Avocado. Otherwise, you really can't go wrong with the chocolate hazelnut, which contains house-made cookies for a satisfying crunch. Available for pickup, local delivery, and nationwide shipping through Feb. 4.
Shiku opens at Grand Central Market on Jan. 15 for curbside pickup and takeout of homestyle Korean food and Baroo pantry items. 50% of the grand opening day gross sales will be donated to NAACP Legal Defense.
Thunderbolt is offering five tasty buttermilk biscuit sandwiches, including fried chicken, pork belly, and pickled fried green tomato, alongside a rotating selection of canned cocktails, beer, and wine. Available for takeout and delivery. Call them at (213) 372-5099 or find them on Postmates or GrubHub.
Hinoki & the Bird's Brandon Kida is delivering expertly crafted gyozas straight to your home at an affordable price. Go Go Gyoza is made with local and high-quality ingredients. Three signature fillings of vegetables, Kurobuta Pork, or Jidori Chicken are always on the menu (12 for $8 – $12). Kida has also invited a number of chefs and culinary experts to create specialty gyozas (12 for $15) for charitable causes. Available for pickup and delivery.
Santa Monica's Birdie G's just released Goldbars, gluten-free potato latkes with decadent fillings including buffalo chicken and liberty duck ham cordon bleu. Available for pickup and delivery on most food apps.
Creme Caramel LA is open for pickup and delivery in Sherman Oaks. Offerings include 6-ounce Crème Caramels, Upside Down Pies, Bread Pudding, and Vegan Custards, all $5 each until the pandemic ends.
Piccalilli in Culver City just launched The Banh Mi Shop, a pop-up serving an assortment of banh mi sandwiches including Crispy Pork Belly ($15), Lemongrass BBQ Chicken ($14), Crispy Tofu ($13), and Fried Egg ($12). All sandwiches include house-made chips. Additional sides and soft drinks are available. Open Tues.-Sat. from noon to 8 p.m. for takeout or delivery.