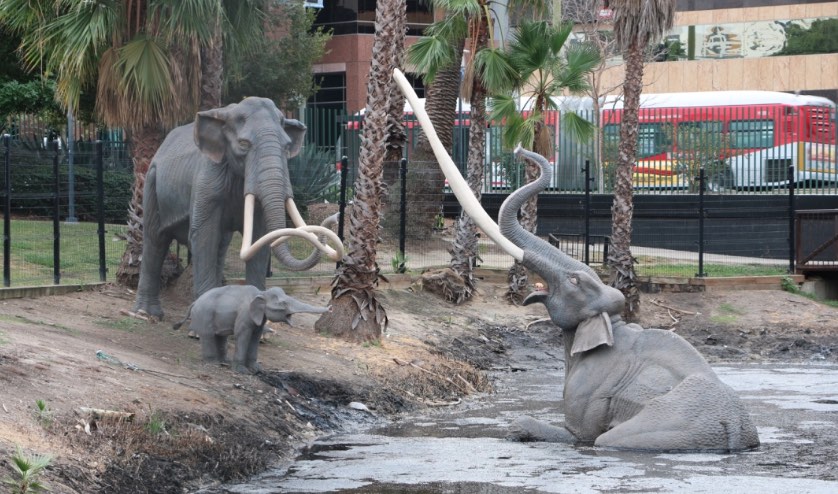 There's always lots to do in Los Angeles, and per usual we're here with a bi-weekly (Monday and Thursday) rundown of the best of what's happening in the city and county.
This week, from Oct. 11-15, features Carved at Descanso Gardens, Screamfest, a witchy architecture tour, a free panel discussion at the La Brea Tar Pits the Cat Art Show, the San Gabriel Dumpling & Beer Fest, OC Japan Fair, Beware The Dark Realm, and more!
[Remember, if you want to stay connected with our weekly updates, be sure to sign up for the We Like L.A. Newsletter]
Monday / Throughout the Week
1. 'Auteur/Voyeur: Through The Rear Window' Series -> From Oct. 11 to Nov. 3, American Cinematheque is showcasing at series of films at the Los Feliz 3, thematically connected by the subject of voyeurism. Tickets are $13 per film. The series opens this week with Peeping Tom on Monday, Auto-Focus on Thursday, and then free screening of Amazon Studios' The Voyeurs on Friday, presented along with a Q&A with filmmaker Michael Mohan. Get more info and the full series schedule here.
2. Carved at Descanso Gardens -> Carved is a family-friendly event with hundreds of carved pumpkins, a pumpkin house, hay maze and themed food and beverages that create a fun harvest festival atmosphere. Runs Oct. 11-31, with general admission tickets costing $32-35. More info here.
3. Bond in Motion -> The Petersen Automotive Museum's newest exhibit showcases the largest official James Bond vehicle collection in the United States, including the 2002 Ashton Martin V12 Vanquish (replete with machine guns and heat seeking missiles) and the 1977 Lotus Esprit S1 "Wet Nellie," which conveniently converts into a submarine (as seen in The Spy Who Loved Me). Exhibit access is included with general admission, which is $17 for adult, non-members.
4. Men in Black in VR -> Dreamscape Immersive at the Westfield Century City has a brand new virtual reality experience based on the world of Men in Black. Men in Black: First Assignment casts you as a rookie agent tasked with thwarting an Octopoid plot that could destroy the entire universe – unless you stop it. Tickets are $23.50 per person, and the experience runs about 35 minutes end to end. Get more info here.
5. Icons of Darkness -> Opening at Hollywood and Highland on Sep. 27, the new Icons of Darkness exhibit promises hundreds of rare props, costumes, effects and other film-used items, all pulled from privately-owned collections of authentic sci-fi, fantasy, and horror film memorabilia. Think T-Rex heads from Jurassic Park, original helmets from Star Wars, a screen-used Xenomorph creature costume from Aliens, or wands used in the Harry Potter series… you get the idea. Adult tickets are $30. Get more info here.
6. Mr. Bones Pumpkin Patch -> Culver City's favorite pumpkin village offers plenty of family fun, including photo ops in front of giant pumpkin installations, a straw maze, a super slide, giant rocking horses, and pumpkin decorating sessions. Dogs are even welcome too, on select days of the week. Runs Oct. 7-31. Tickets range from $5-20, depending on date of attendance. More info here.
7. House of Horrors: A Prime Video Pop Up Shop -> For Halloween 2021 Amazon Prime Video is stepping up their IRL game with a pop-up experience featuring show-inspired costume displays from multiple Amazon Originals, including The Voyeurs, Black As Night, Madres, and I Know What You Did Last Summer, which all will premiere on the streaming network in October. Visitors can shop select costumes, stop for photo ops with special displays, or swing by a candy kiosk. Free to attend. Runs Oct. 1-31 at Amazon Pop Up, 8551 Melrose Ave. Hours are 10 a.m. to 6 p.m. on Monday to Saturday, and 11 a.m. to 7 p.m. on Sundays.
8. Boo at the Zoo -> The Los Angeles Zoo goes wild this October with the return of Boo at the L.A. Zoo, featuring Halloween decor, a spooky stroll with photo ops, an extinct-animal graveyard, and other weird and wacky animal facts and educational opportunities. Weekends include special animal feedings, merry-not-scary entertainment, take-home crafts, and, during the last two weekends in October, trick-or-treat candy stations scattered throughout the Zoo grounds. Runs Oct. 1-31. All activities are included with Zoo admission, which is $22 for adults, and $17 for children 2-12. Tickets are More info here.
Tuesday
9. Screamfest -> Screamfest kicks off 10 days of independent horror features and shorts this Tuesday with an opening night red carpet event paired with the a showing of rockstar horror thriller The Retaliators. The series runs through Oct. 21 at the TCL Chinese Theater. Tickets per screening (or block of shorts) are $11. See the full schedule and get more info here.
10. Free Screening of Hedwig -> Zebulon Cafe is hosting a free screening of Hedwig and the Angry Inch on Tuesday night as part of a special 20-year anniversary celebration of the film. Costumes and sing-alongs encouraged. Starts at 8 p.m. More info here.
11. Star Trek at Skirball -> This Thursday, Oct. 7, Star Trek: Exploring New Worlds opens at the Skirball Cultural Center. The exhibition highlights Star Trek's indelible imprint on modern culture and technology while giving fans a rare glimpse at over a hundred artifacts and props from the Star Trek films and television series, including tricorders, communicators, phasers, uniforms, space craft models, and even the command chair and the navigation console used in the original series. Tickets to Skirball start at $15 per adult. Get more info on the exhibition and planning your visit here.
12. Ssssensational Ssssnakes -> Kidspace Museum in Pasadena has a new interactive exhibit that gives children a chance to get up close and personal with a few reptile ambassadors while getting unique insights into what about makes snakes so special. Access to Ssssensational Ssssnakes is provided with regular admission, which is $14.95 per person. Museum hours are Tuesday-Sunday, from 10 a.m. to 5 p.m. The exhibit runs through Oct. 31. More info here.
Wednesday
14. Witchy Architecture Tours -> For the second year in a row, actress Amber Benson (Tara Maclay on Buffy the Vampire Slayer) is teaming up with with Friends of Residential Treasures: LA (FORT:LA) to create a tour guide showcasing five fairy tale-inspired residences around the Los Angeles area. FORT:LA will also offer Grimm's tales passages read by actors to accompany guests as they drive through the Witches Houses 2 Trail. You can download the tour map on FORT:LA's website for free starting on Oct. 13. Read about last year's tours here.
15. We're Wolves at Hive Gallery -> We're Wolves, opening at The Hive Gallery in DTLA on Oct. 2, promises an "immersive journey into a werewolf family's cabin," with what looks like a vast collection of drawings, paintings, and mixed media works, all dedicated to the transformative demihuman. The exhibition features contributions from over three dozen listed artists. Along with an opening event (RSVP required), special events slated in conjunction with the exhibition include a film fest on Oct. 9 and a moonlight performance night on Oct. 16. Check out the exhibition website for more info. Gallery hours Wednesday to Saturday from 1 to 6 p.m., or by appointment.
16. Andy Warhol at The Luckman -> The Luckman Fine Arts Complex at Cal State LA is hosting a new exhibition of over 70 works by Andy Warhol, including 10 recently-acquired silk screens, plus a trove of polaroids from the artist's personal collection. Admission is free, but reservations (available Wednesdays through Sundays) are highly recommended. More info here.
17. Haunt 'O Ween LA -> Building on last year's drive-through experience, this year's Haunt 'O' Ween LA at the Westfield Topanga expands into a spooky fun playground of family friendly in-person attractions, including a pumpkin patch, spooky graveyard, trick-or-treating area, food trucks, wine tasting, and more. Runs Oct. 1-31. Tickets are $30 per person on weekdays and $35 on weekends. More info here.
18. Nights of the Jack -> Set at the King Gillette Ranch in Calabasas, Nights of the Jack creates an interactive walking trail more than a half mile in length, lined with thousands of hand-carved, illuminated pumpkins and pumpkin inspired installations. Runs daily from Oct. 1–31. Weekday general admission is $34.99 per person, and weekends run $39.99. More info here
Thursday
19. Fossilized and Realized -> This Thursday, the La Brea Tar Pits & Museum will host a special discussion on the significance of the tar pits in art and popular culture. Natural History Museum of Los Angeles archivist  Yolanda Bustos moderates a panel featuring artists Mark Dion and Carl Cheng, along with historian Alison Laurence. The event is free to attend with RSVP. More info here.
20. Cat Art Show 4: A New Beginning -> A new edition of the Cat Art Show comes to the second floor of old Hop Louie restaurant space in Chinatown for a 10-day exhibition starting this Thursday, Oct. 14. Artists from 16 counties have produced over 80 cat-themed works, including sculpture, collage, painting, and illustration. Tickets for the opening night celebration are invite only, but free reservations are available to view the works on select dates from Oct. 15-24. More info here.
21. Creep LA -> JFI Productions' Creep LA has been a mainstay of local immersive horror shows since debuting in 2015, and this year's edition promises a more intimate experience. Starting Sep. 30, Creep takes over The Ghost Light venue inside the Three Clubs bar in Hollywood, only allowing six guests in per performance, according to Scare Zone. Shows runs during timed blocks on select dates from through Oct. 31. Tickets are $95 per performance, plus service fees. More info here.
22. Halloween Horror Nights -> Universal Studios Hollywood brings their annual terror attraction back starting on Sep 9. This year's edition includes the return of the "Terror Tram," featuring "The Ultimate Purge," along with a maze based on "Halloween 4: The Return of Michael Myers." GA tickets range between $69-$99, depending on the date of attendance. More info here.
23. Los Angeles Haunted Hayride -> After adapting to a drive-thru version last year, the Haunted Hayride is back in Griffith Park for 2021 with in-person activities based around a fictional town named Midnight Falls, circa 1985. In addition to the signature hayride, highlights for this year's event include a Trick or Treat Maze, the Midnight Mortuary Tour, and the Dead End Diner. Kicks off this Friday, Sep. 24 and runs on select nights through Oct. 31. General Admission tickets are $39.99 (access to all attractions) and if you want to do the hayride only it'll run you $29.99. Get more info here.
Friday
24. San Gabriel Dumpling & Beer Fest –> The 7th annual San Gabriel Dumpling & Beer Festival returns to the San Gabriel Missions Playhouse this Friday, Oct. 15. Expect dumpling food booths, food trucks, dessert booths, a craft beer garden, and plenty of live entertainment. Runs 6 to 10 p.m. Admission is free, with bites for purchase onsite. There are also unlimited beer sample wrist bands are on sale online for $35. More info here.
25. OC Japan Fair -> Head to the OC Fair and Event Center this Friday through Sunday for one of the largest Japanese cultural festivals in Southern California. OC Japan Fair offers three days (Oct. 15-17) of cultural activities and special programming, including a tuna cutting show (Saturday and Sunday), sake tasting, live musical and dance performances, candy sculpting, calligraphy, and more. General admission is $10.
26. Beware the Dark Realm -> Now in its fifth decade, The Silvey family's Beware The Dark Realm is one of the longest running mom and pop haunts in the county, offering what they describe as a "high intensity walk-through attraction filled with terrifying live monsters, amazing special effects, and incredible sets." Runs Oct. 15-16, 22-23, and 29-30. The event is free, but front-of-the-line tickets are available with a $10 donation to Family Promise of the Santa Clarita Valley. Get more info here.
27. Historic illipinos -> October is Filipino American History Month, and to celebrate HiFi Kitchen will host a 25-year anniversary screening of one of the most historic break dancing battles of the 90's, Radiotron's Renegades vs Style Elements. The screening will be followed by a panel featuring Wicket, Remind and more. Food, music, and cyphers will also be part of the night. The event takes place at Tropico De Nopal Gallery Art-Space. More info and tickets here.
28. Urban Death Tour of Terror -> Zombie Joe's Underground Theatre's annual tradition of Urban Death continues with a new series of terrifying vignettes, bookended by walks through a creepy maze. Runs every Friday and Saturday in October start on Oct. 1, and ends with special performances on Oct. 31 and Nov. 1. Tickets are $15 per person. More info here.
29. It's Alive! -> Starting Oct. 1, Mary Shelley fans can head to the Mountain View Mausoleum in Altadena for It's Alive! An Immersive Frankenstein Experience, produced by the Downtown Repertory Theater Company. The show transports guests into the mind of the Frankenstein author while offering audiences the chance to "meet the poets and radicals of Mary's inner circle" (Shelley famously palled around with Lord Byron and John William Polidori, who is credited with the first published work of modern vampire fiction). General admission tickets are $60, or $55 if you buy at the early bird rate. More info here.
Dining
30. Old Fashioned Week -> Elijah Craig's Old Fashioned Week returns for 10 days of Bourbon cocktails at a number of local bars and restaurants. Kicking off on Friday, Oct. 15, the public can order up Old Fashioned cocktails created just for the event. Proceeds of each classic bourbon cocktail sold will be donated to the Restaurant Workers' Community Foundation. Cocktails include a smoky small batched Elijah Craig Old Fashioned at Messhall Kitchen in Los Feliz. Participants this year span all over Los Angeles County including Birdie G's in Santa Monica, Spin Lounge in Whittier and The End in Torrance, see the full directory here. Old Fashioned Week wraps up on Oct. 24.
31. Breadblok -> Gluten-free bakery and cafe Breadblok recently rolled out a new fall and winter menu that includes handmade Buckwheat Pumpkin Bread, Maple and Vanilla Brioche Donuts as well as seasonal cozy eats like a Honey Baked Squash & Baby Carrots Salad to a Tortilla Española served with Breadblok's popular French baguette. Most baked goods can also be found at several farmers markets in the city.
32. Fundraiser for Hispanic Heritage Month -> Now through Friday, Oct. 15 Milagro Tequila celebrates Hispanic Heritage Month by partnering up with Los Angeles restaurants Thunderbird Bar, Pattern Bar, and Tacolicious for limited time drink and food combos to raise money for non-profit No Us Without You, an organization that provides food security for undocumented immigrants in the Los Angeles area. Specials include a Sweet Potato Puffy Taco and Milagro Margarita ($20) from Thunderbird; a taco of your choice and either a Paloma a la Lare or El Chamuco ($17) from Pattern Bar; and your choice of one taco and a Milagro Margartia ($20) at Tacolicious.
33. Salt & Straw -> On Oct. 15-17, Salt & Straw pints are buy three get one free. This includes classic flavors and their annual Ice SCREAM Halloween menu. Promotion does not apply for online orders and is only available at scoop shop locations.
---
Any notes or corrections? Want to suggest an event we should add to an upcoming list? Hit us up at [email protected].