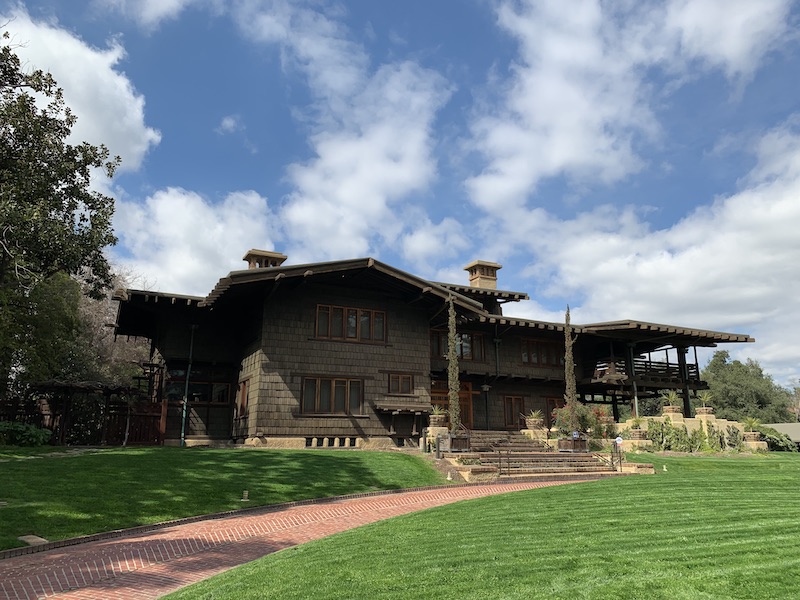 As Los Angeles finds its way out of the pandemic and restrictions gradually ease, we're continuing our bi-weekly round-ups of fun to-dos, mixing in the occasional online/virtual event with an ever-growing listen of in-person experiences and food ideas.
This weekend, from October 8-10, features Star Trek: Exploring New Worlds at The Skirball, ArtNight Pasadena, the Culver City Art Walk, CicLAiva: Heart of the City, the Grand Tortilla Tournament of Champions, the Family Style Food Festival, and more.
[Remember, if you want to stay connected with our weekly updates, be sure to sign up for the We Like L.A. Newsletter]
Friday / All Weekend
1. Star Trek at Skirball -> This Wednesday, Oct. 7, Star Trek: Exploring New Worlds opens at the Skirball Cultural Center. The exhibition highlights Star Trek's indelible imprint on modern culture and technology while giving fans a rare glimpse at over a hundred artifacts and props from the Star Trek films and television series, including tricorders, communicators, phasers, uniforms, space craft models, and even the command chair and the navigation console used in the original series. Tickets to Skirball start at $15 per adult. Get more info on the exhibition and planning your visit here.
2. ArtNight Pasadena -> The City of Pasadena's biannual celebration of art and culture takes place in a hybrid format this Friday, Oct. 8, with a collection of in-person and virtual experiences provided by institutions including the Armory for the Arts, USC Pacific Asia Museum, the Pasadena Museum of History, and the Gamble House. Note that shuttle service will not be provided this year. Free to attend. Proof of vaccination or negative Covid test required for entry to in-person events. More info here.
3. Endless Summer Spritz Bar -> Every Friday in October, Hotel June and Lo-Fi Aperitifs are hosting a poolside spritz bar with sets by DJ Lady Sinclair, plus shareable Baja bites for purchase. The series is complimentary (free admission) and open to the public. Runs 5 to 7 p.m. Get more info here.
4. Vegan Fashion Week -> Vegan Fashion Week, which promotes animal-free and sustainable fashion, is hosting a two-day event this Friday and Saturday at the South Park Center in DTLA. Attendees can purchase a $20 ticket that includes access to the pop-up market, LA Fashion Festival film screenings, networking hour, and complimentary soft drinks. See the full schedule for both days and get more info here.
5. Santa Monica Mystery Quest -> Downtown Santa Monica, Inc. in partnership with Santa Monica Mystery Quest have launched a free scavenger hunt series on the Third Street Promenade, taking place on the second Friday of each month from September through December. 2-4 players are recommended per squad. Get more info here.
6. Icons of Darkness -> Opening at Hollywood and Highland on Sep. 27, the new Icons of Darkness exhibit promises hundreds of rare props, costumes, effects and other film-used items, all pulled from privately-owned collections of authentic sci-fi, fantasy, and horror film memorabilia. Think T-Rex heads from Jurassic Park, original helmets from Star Wars, a screen-used Xenomorph creature costume from Aliens, or wands used in the Harry Potter series… you get the idea. Adult tickets are $30. Get more info here.
7. Creep LA -> JFI Productions' Creep LA has been a mainstay of local immersive horror shows since debuting in 2015, and this year's edition promises a more intimate experience. Starting Sep. 30, Creep takes over The Ghost Light venue inside the Three Clubs bar in Hollywood, only allowing six guests in per performance, according to Scare Zone. Shows runs during timed blocks on select dates from through Oct. 31. Tickets are $95 per performance, plus service fees. More info here.
8. It's Alive! -> Starting Oct. 1, Mary Shelley fans can head to the Mountain View Mausoleum in Altadena for It's Alive! An Immersive Frankenstein Experience, produced by the Downtown Repertory Theater Company. The show transports guests into the mind of the Frankenstein author while offering audiences the chance to "meet the poets and radicals of Mary's inner circle" (Shelley famously palled around with Lord Byron and John William Polidori, who is credited with the first published work of modern vampire fiction). General admission tickets are $60, or $55 if you buy at the early bird rate. More info here.
9. Urban Death Tour of Terror -> Zombie Joe's Underground Theatre's annual tradition of Urban Death continues with a new series of terrifying vignettes, bookended by walks through a creepy maze. Runs every Friday and Saturday in October start on Oct. 1, and ends with special performances on Oct. 31 and Nov. 1. Tickets are $15 per person. More info here.
10. Boo at the Zoo -> The Los Angeles Zoo goes wild this October with the return of Boo at the L.A. Zoo, featuring Halloween decor, a spooky stroll with photo ops, an extinct-animal graveyard, and other weird and wacky animal facts and educational opportunities. Weekends include special animal feedings, merry-not-scary entertainment, take-home crafts, and, during the last two weekends in October, trick-or-treat candy stations scattered throughout the Zoo grounds. Runs Oct. 1-31. All activities are included with Zoo admission, which is $22 for adults, and $17 for children 2-12. Tickets are More info here.
11. Haunt 'O Ween LA -> Building on last year's drive-through experience, this year's Haunt 'O' Ween LA at the Westfield Topanga expands into a spooky fun playground of family friendly in-person attractions, including a pumpkin patch, spooky graveyard, trick-or-treating area, food trucks, wine tasting, and more. Runs Oct. 1-31. Tickets are $30 per person on weekdays and $35 on weekends. More info here.
12. Los Angeles Haunted Hayride -> After adapting to a drive-thru version last year, the Haunted Hayride is back in Griffith Park for 2021 with in-person activities based around a fictional town named Midnight Falls, circa 1985. In addition to the signature hayride, highlights for this year's event include a Trick or Treat Maze, the Midnight Mortuary Tour, and the Dead End Diner. Kicks off this Friday, Sep. 24 and runs on select nights through Oct. 31. General Admission tickets are $39.99 (access to all attractions) and if you want to do the hayride only it'll run you $29.99. Get more info here.
13. Nights of the Jack -> Set at the King Gillette Ranch in Calabasas, Nights of the Jack creates an interactive walking trail more than a half mile in length, lined with thousands of hand-carved, illuminated pumpkins and pumpkin inspired installations. Runs daily from Oct. 1–31. Weekday general admission is $34.99 per person, and weekends run $39.99. More info here
14. Rocketman at Pershing Square -> Pershing Square's Friday film screening series continues on Oct. 1 with a showing of Black Panther. Entry is free, and the event is all-ages. Food will be available for purchase onsite. More info here.
15. Halloween Horror Nights at Universal -> Universal Studios Hollywood brings their annual terror attraction back starting on Sep 9. This year's attraction will include the return of the "Terror Tram," featuring "The Ultimate Purge," along with a maze based on "Halloween 4: The Return of Michael Myers." GA tickets range between $69-$99, depending on the date of attendance. More info here.
16. Mr. Bones Pumpkin Patch -> Culver City's favorite pumpkin village offers plenty of family fun, including photo ops in front of giant pumpkin installations, a straw maze, a super slide, giant rocking horses, and pumpkin decorating sessions. Dogs are even welcome too, on select days of the week. Runs Oct. 7-31. Tickets range from $5-20, depending on date of attendance. More info here.
17. Beverly Center Pumpkin Patch -> The Beverly Center's second annual family-friendly pumpkin patch kicks off on Oct. 1. Activities include pumpkin carving demonstrations, live music, photo ops, and of course pumpkins for sale. More info here.
Saturday
18. Hispanic Heritage Month Celebration at The Citadel -> Hulu celebrates Hispanic Heritage Month this weekend (Oct. 9-10) with a two-day cultural event hosted by Valentina (RuPaul's Drag Race) and Alexander Rodriguez (iHeartRadio). The all-day events will feature live performances by Mariachi Arcoiris De Los Angeles, Yamila Guerra and Yalil Guerra Orchestra, and Heart of Samba Entertainment. A selection of fan art curated by the Museum of Latin American Art will also be on display. Runs 11 a.m. to 9 p.m. both Saturday and Sunday. More info here.
19. Scare Down in Downtown Torrance -> This Saturday, a family friendly, Halloween-themed street fest takes over Downtown Torrance from 5 to 9 p.m. Costumed kids can trunk-or-treat for free goodies from car trunks decked out in holiday decor. Other activities include games, live music, DJ-spun tunes, "demon" skaters performing tricks, a car show, and tarot card readers. Free to attend. More info here.
20. Culver City Art Walk and Roll Festival -> The Culver City Art Walk returns this Saturday with two stages of live music, beer gardens, food trucks, local vendors, a kids zone with rides and games, gallery exhibits and pop-ups, and a ReCharge Mobility Showcase. The heart of the festival takes place along Washington Blvd, which will be closed between McManus and Caroline Ave. Runs from 11 a.m. to 6 p.m. More info here.
21. KENSHO RYOKAN -> This weekend (Oct 9-10) KENSHO RYOKAN will open its doors (prior to its official opening next year) to welcome DECO BOKO Market LA, a showcase of Japanese products, designs, goods, and the makers themselves. Open to the public (free admission with an rsvp) from noon to 5 p.m. market goers will also find various food offerings, drinks, bottles, and select goods from Kensho KONBINI for purchase. Saturday evening from 6 to 11 p.m. will include a 'NOMIKAI' Dinner Party" with complimentary Sapporo beer and food for purchase. Create Japan will pop-up on Sunday to lead several Bento Box workshops for $40 a person. More info here.
22. Hollywood Forever Cemetery Tour -> The Art Deco Society of Los Angeles is hosting their 38th Hollywood Forever Cemetery (Socially Distant) Walking Tour on Sunday. Tours run 2.5 to 3 hours, and run every 20 minutes from 9 a.m. to 11 a.m. General admission tickets for the tour are $20. More info here.
23. All Them Witches Opening Reception -> This Saturday, the Last Bookstore will host an opening reception for All Them Witches, a new exhibit on display upstairs on the mezzanine level. The exhibit features contributions from over two dozen artists and doll makers, and featured artists Ulla Anobile and Lori Herbst will both be in attendance at the reception on Saturday. Receptions runs from 1 to 6 p.m. More info here.
24. Latin Jazz and Music Festival -> Councilmember Gilbert Cedillo's 8th annual Latin Jazz and Music Festival takes plcae this Saturday and Sunday Free in-person event is at Sycamore Grove Park in Highland Park. The free show is headlined by Ozomatli and Little Willie G on Saturday, and La Sonora Dinamita with Vilma Diaz and Joe Bataan on Sunday. More info here.
25. National Pet Wellness Month x The Drive Up at Santa Monica Airport -> To celebrate National Pet Wellness Month, The Drive Up at Santa Monica Airport will host a dog friendly daytime screening of Monsters, Inc. Before the screening begins, guests are invited to browse items from local pet vendors, enter their pups into a photo contest, as well as participate in a number of "Tail-Wagging Activities" to win various prizes. Pupcorn and relief stations will be available on site, as well as some other doggo-friendly delights. $1 from every ticket sold will be donated to Much Love Animal Rescue.
Sunday
26. CicLAvia: Heart of L.A. -> CicLAvia brings its open streets programming to Downtown L.A. this Sunday starting at 9 a.m. MaCarthur Park, the Civic Center, Chinatown, and Mariachi Plaza (all adjacent to Metro stops) will serve as hubs for the event. Portions of W. 7th St., Broadway, Figueroa, W. 1st St., Central., and E. 4th St. will be closed off to vehicular traffic, as pedestrians, bikers and skaters will be able to explore the roadways unimpeded. More info here.
27. Great Tortilla Tournament of Champions -> L.A. Times columnist Gustavo Arellano has teamed up with KCRW to host the Great Tortilla Tournament of Champions, coming to Smorgasburg LA on Sunday, Oct. 10. The final four features a taste-off between Burritos La Palma (flour), Anchos Southwest Grill and Bar (flour), Taco María (corn), and Tallula's (corn). Smorg opens at 10 a.m., and round one of the tourney starts at noon. More info here.
28. Blocktoberfest -> Culver City's Maple Block Meat Co. will host a 6th annual Blocktoberfest this Sunday. The epic all-you-can-eat party includes a whole roasted hog, bbq sides, a Burgers by Standings pop-up, ax throwing, live music, and a VIP craft beer garden. Tickets cost $49 per person while VIP beer garden access plus AYCE food will cost $59 a person.
29. Americana in the Park -> Every Sunday from Sep. 19 to Oct. 10, the City of Santa Monica will team up with McCabe's Guitar Shop to present a special concert series at Gandara Park that explores the roots Americana music. This Sunday, the series concludes with kid folk band The Hollow Trees followed by multi-instrumentalist Joachim Cooder. Event goes from 3 to 6 p.m. Free and open to the public. More info here.
30. Family Style Food Festival -> This Sunday, a family-friendly food festival comes to Television City on Fairfax, featuring dozens of food and merch vendors, live music, and a special kid's area. Participating food vendors include Broad Street Oyster Co., Cofax, Earle's on Crenshaw, Howlin' Rays, Jon & Vinny's, Parks BBQ, Mister Softee, and Tacos 1986. Runs noon to 8 p.m. Tickets are $75 for adults, and children 12 and under are free. More info here.
Dining
31. Spooky Tea Service -> Lilly Rose, located inside The Wayfarer in Downtown Los Angeles, is offering a Spooky Tea service on Thursday through Sunday from 2 to 5 p.m. all through the month of October. For $60 a person you'll receive a full tea service with a Halloween twist that includes bites like pumpkin bread, a lobster roll on charcoal bread, fall colored Macarons and much more. Reservations must be made 24 hours in advance.
32. LOAM -> A new restaurant lands inside The Ace Hotel in Downtown Los Angeles this Friday. LOAM will launch with daytime coffee, a grab-and-go counter service and full service dinner in the evenings with breakfast, lunch and weekend brunch to debut later this month. The seasonal menu is crafted by Chef Joshua Guarneri and highlights local businesses like Weiser Family Farms, garden of, Clark Street Bread and Yokose Seafood. See the opening menu here.
---
Any notes or corrections? Want to suggest an event we should add to an upcoming list? Hit us up at [email protected].