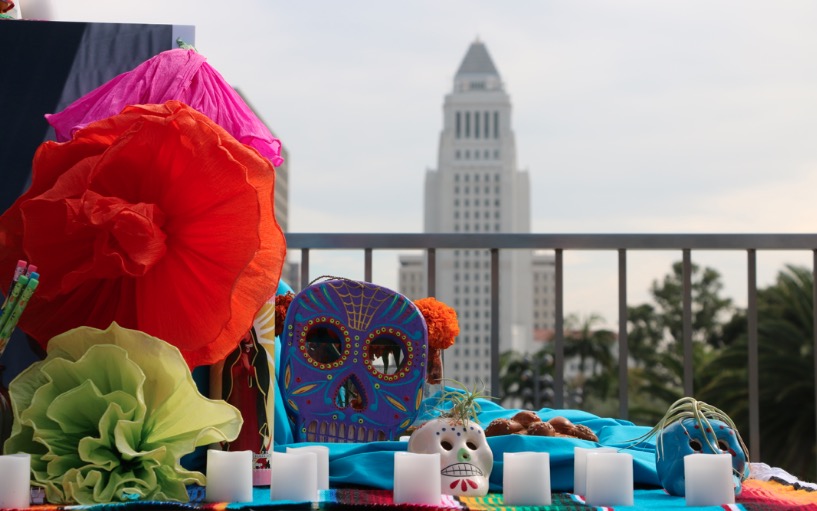 Did that rain this morning catch you by surprise? No worries, a bit of wet weather never slows down our list of fun to-dos for the days ahead in L.A.
This week, from Oct. 18-22, features more Oscar Frights! at The Academy Museum, free days at botanical gardens, a rooftop boxing class in Hollywood, Erykah Badu at The Bowl, Dia de los Muertos altars at Grand Park, the Fall Festival at the Original Farmers Market, a new show at The Groundlings Theatre, and more.
[Remember, if you want to stay connected with our weekly updates, be sure to sign up for the We Like L.A. Newsletter]
Monday / Throughout the Week
1. Oscar Frights! -> The brand new Academy Museum of Motion Pictures (opened Sep. 30) is packing its first full month of programing with series of 13 Oscar-nominated horror movies, showing on select nights at the state-of-the-art, 1000-seat David Geffen Theater. This week the series includes Poltergeist on Monday, The Fly on Saturday, and Bram Stoker's Dracula on Sunday. Adult tickets (for screenings only) are $10 a piece. More info here.
2. Cat Art Show 4: A New Beginning -> A new edition of the Cat Art Show is now on display at the second floor of the old Hop Louie restaurant space in Chinatown. The 10-day exhibition features artists from 16 counties who have produced over 80 cat-themed works, including sculpture, collage, painting, and illustration. Tickets for the opening night celebration are invite only, but free reservations are available to view the works on select dates from Oct. 15-24. More info here.
3. John Jennings at CAAM -> Author, graphic novelist, curator, and professor John Jennings will be holding a special talk on Monday at the California African American Museum to discuss his collaboration on a graphic essay and video that accompanies the Sanford Biggers: Codeswitch exhibition, on view at CAAM through Jan. 23, 2022. Event is free with RSVP. More info here.
4. Witchy Architecture Tours -> For the second year in a row, actress Amber Benson (Tara Maclay on Buffy the Vampire Slayer) is teaming up with with Friends of Residential Treasures: LA (FORT:LA) to create a tour guide showcasing five fairy tale-inspired residences around the Los Angeles area. FORT:LA will also offer Grimm's tales passages read by actors to accompany guests as they drive through the Witches Houses 2 Trail. You can download the tour map on FORT:LA's website for free starting on Oct. 13. Read about last year's tours here.
5. Carved at Descanso Gardens -> Carved is a family-friendly event with hundreds of carved pumpkins, a pumpkin house, hay maze and themed food and beverages that create a fun harvest festival atmosphere. Runs Oct. 11-31, with general admission tickets costing $32-35. More info here.
6. Bond in Motion -> The Petersen Automotive Museum's newest exhibit showcases the largest official James Bond vehicle collection in the United States, including the 2002 Ashton Martin V12 Vanquish (replete with machine guns and heat seeking missiles) and the 1977 Lotus Esprit S1 "Wet Nellie," which conveniently converts into a submarine (as seen in The Spy Who Loved Me). Exhibit access is included with general admission, which is $17 for adult, non-members.
7. Icons of Darkness -> Opening at Hollywood and Highland on Sep. 27, the new Icons of Darkness exhibit promises hundreds of rare props, costumes, effects and other film-used items, all pulled from privately-owned collections of authentic sci-fi, fantasy, and horror film memorabilia. Think T-Rex heads from Jurassic Park, original helmets from Star Wars, a screen-used Xenomorph creature costume from Aliens, or wands used in the Harry Potter series… you get the idea. Adult tickets are $30. Get more info here.
8. Mr. Bones Pumpkin Patch -> Culver City's favorite pumpkin village offers plenty of family fun, including photo ops in front of giant pumpkin installations, a straw maze, a super slide, giant rocking horses, and pumpkin decorating sessions. Dogs are even welcome too, on select days of the week. Runs Oct. 7-31. Tickets range from $5-20, depending on date of attendance. More info here.
9. House of Horrors: A Prime Video Pop Up Shop -> For Halloween 2021 Amazon Prime Video is stepping up their IRL game with a pop-up experience featuring show-inspired costume displays from multiple Amazon Originals, including The Voyeurs, Black As Night, Madres, and I Know What You Did Last Summer, which all will premiere on the streaming network in October. Visitors can shop select costumes, stop for photo ops with special displays, or swing by a candy kiosk. Free to attend. Runs Oct. 1-31 at Amazon Pop Up, 8551 Melrose Ave. Hours are 10 a.m. to 6 p.m. on Monday to Saturday, and 11 a.m. to 7 p.m. on Sundays.
10. Boo at the Zoo -> The Los Angeles Zoo goes wild this October with the return of Boo at the L.A. Zoo, featuring Halloween decor, a spooky stroll with photo ops, an extinct-animal graveyard, and other weird and wacky animal facts and educational opportunities. Weekends include special animal feedings, merry-not-scary entertainment, take-home crafts, and, during the last two weekends in October, trick-or-treat candy stations scattered throughout the Zoo grounds. Runs Oct. 1-31. All activities are included with Zoo admission, which is $22 for adults, and $17 for children 2-12. Tickets are More info here.
Tuesday
11. Star Trek at Skirball -> This Thursday, Oct. 7, Star Trek: Exploring New Worlds opens at the Skirball Cultural Center. The exhibition highlights Star Trek's indelible imprint on modern culture and technology while giving fans a rare glimpse at over a hundred artifacts and props from the Star Trek films and television series, including tricorders, communicators, phasers, uniforms, space craft models, and even the command chair and the navigation console used in the original series. Tickets to Skirball start at $15 per adult. Get more info on the exhibition and planning your visit here.
12. 'Auteur/Voyeur: Through The Rear Window' Series -> From Oct. 11 to Nov. 3, American Cinematheque is showcasing at series of films at the Los Feliz 3, thematically connected by the subject of voyeurism. Tickets are $13 per film. This week screenings include A Snake of June on Tuesday, Being John Malkovich and Under the Skin on Wednesday, and Lost Highway on Friday. Get more info and the full series schedule here.
13. Free Botanical Gardens -> Every third Tuesday of each month, Descano Gardens, the L.A. Arboretum, and South Coast Botanic Garden offer free admission days. Advanced reservations are required, and based on availability.
Wednesday
14. Rooftop Boxing Class -> Get a killer workout with a killer view this Wednesday at a Prevail Boxing class on the rooftop of the Hollywoood Roosevelt. Tickets are $25. Yoga mats, boxing gloves, towels and water are all provided. More info here.
15. Andy Warhol at The Luckman -> The Luckman Fine Arts Complex at Cal State LA is hosting a new exhibition of over 70 works by Andy Warhol, including 10 recently-acquired silk screens, plus a trove of polaroids from the artist's personal collection. Admission is free, but reservations (available Wednesdays through Sundays) are highly recommended. More info here.
16. Haunt 'O Ween LA -> Building on last year's drive-through experience, this year's Haunt 'O' Ween LA at the Westfield Topanga expands into a spooky fun playground of family friendly in-person attractions, including a pumpkin patch, spooky graveyard, trick-or-treating area, gfood trucks, wine tasting, and more. Runs Oct. 1-31. Tickets are $30 per person on weekdays and $35 on weekends. More info here.
17. Nights of the Jack -> Set at the King Gillette Ranch in Calabasas, Nights of the Jack creates an interactive walking trail more than a half mile in length, lined with thousands of hand-carved, illuminated pumpkins and pumpkin inspired installations. Runs daily from Oct. 1–31. Weekday general admission is $34.99 per person, and weekends run $39.99. More info here
Thursday
18. Erykah Badu at The Bowl –> The legendary neo-soul artist brings her vocal stylings to the Hollywood Bowl this Thursday evening with a special performance beginning at 7:30 p.m. Tickets still available as low a $39.50 (plus fees) as of initial publication of this post. More info here.
19. Inside A Typewriter -> Reggie Watts comes to the Dynasty Typewriter this Thursday for an improvised performance of beatboxing, music, and comedy. Show starts at 8:30 p.m. Tickets are $30. More info here.
20. Creep LA -> JFI Productions' Creep LA has been a mainstay of local immersive horror shows since debuting in 2015, and this year's edition promises a more intimate experience. Starting Sep. 30, Creep takes over The Ghost Light venue inside the Three Clubs bar in Hollywood, only allowing six guests in per performance, according to Scare Zone. Shows runs during timed blocks on select dates from through Oct. 31. Tickets are $95 per performance, plus service fees. More info here.
21. Halloween Horror Nights -> Universal Studios Hollywood brings their annual terror attraction back starting on Sep 9. This year's edition includes the return of the "Terror Tram," featuring "The Ultimate Purge," along with a maze based on "Halloween 4: The Return of Michael Myers." GA tickets range between $69-$99, depending on the date of attendance. More info here.
22. Los Angeles Haunted Hayride -> After adapting to a drive-thru version last year, the Haunted Hayride is back in Griffith Park for 2021 with in-person activities based around a fictional town named Midnight Falls, circa 1985. In addition to the signature hayride, highlights for this year's event include a Trick or Treat Maze, the Midnight Mortuary Tour, and the Dead End Diner. Kicks off this Friday, Sep. 24 and runs on select nights through Oct. 31. General Admission tickets are $39.99 (access to all attractions) and if you want to do the hayride only it'll run you $29.99. Get more info here.
Friday
23. Dia de los Muertos altars at Grand Park -> A large-scale altar and over a dozen art installations curated by Self Help Graphics will be on display throughout Grand Park starting this Friday, Oct. 22 in celebration of Dia de los Muertos. On Saturday the park will honor the new inslallations with a Noche De Ofrenda, an evening of reflection and remembrance featuring poetry, dance, and workshops. The altar and installations will be on view at the park through Nov. 2, and are free to view. More info here.
23. Halloween Family Night at The Aquarium of The Pacific -> The Aquarium will offer extended evening hours for this special family-friendly Halloween event. Kids can come in costume and explore animal exhibits, participate in a scavenger hunt, and get goodie bags. Tickets are $24.95. More info here.
24. A Groundling on Elm Street -> The newest sketch show at the Groundlings Theatre kicks off this Friday, Oct. 22, and features cast members from the Groundlings Main Company. Shows are set for Friday and Saturdays through Nov. 20. Tickets are $25. More info here.
25. Fall Festival at the Original Farmers Market -> This year's fall festival at the Original Farmers Market starts on Friday with an evening concert by American Mile Southern Rock, then continues on Saturday and Sunday with two full days of pumpkin patches, puppetry, crafting, and live performances. Free to attend. More info here.
26. Long Beach's inaugural Oktoberfest festival -> This Friday tips off two full weekends (Oct. 22-24 and Oct. 29-31) of Okbtoberfest action at Scottish Rite Event Center in Long Beach. Expect authentic German beer, food, dancing, and live entertainment. General admission tickets are $20 per person. Remember that beer, wine and food are all available for purchase, and not included with admission. More info here.
27. Beware the Dark Realm -> Now in its fifth decade, The Silvey family's Beware The Dark Realm is one of the longest running mom and pop haunts in the county, offering what they describe as a "high intensity walk-through attraction filled with terrifying live monsters, amazing special effects, and incredible sets." Runs Oct. 15-16, 22-23, and 29-30. The event is free, but front-of-the-line tickets are available with a $10 donation to Family Promise of the Santa Clarita Valley. Get more info here.
28. Urban Death Tour of Terror -> Zombie Joe's Underground Theatre's annual tradition of Urban Death continues with a new series of terrifying vignettes, bookended by walks through a creepy maze. Runs every Friday and Saturday in October start on Oct. 1, and ends with special performances on Oct. 31 and Nov. 1. Tickets are $15 per person. More info here.
29. It's Alive! -> Starting Oct. 1, Mary Shelley fans can head to the Mountain View Mausoleum in Altadena for It's Alive! An Immersive Frankenstein Experience, produced by the Downtown Repertory Theater Company. The show transports guests into the mind of the Frankenstein author while offering audiences the chance to "meet the poets and radicals of Mary's inner circle" (Shelley famously palled around with Lord Byron and John William Polidori, who is credited with the first published work of modern vampire fiction). General admission tickets are $60, or $55 if you buy at the early bird rate. More info here.
Dining
30. Panxa Cocina -> Chef Arthur Gonzalez's New Mexico influenced restaurant Panxa Cocina in Long Beach has a new fall menu featuring Duck Carnitas, Goat Cheese Stuffed Squash Blossom drizzled with poblano honey, Chili Dusted Niman Ranch Pork Chop, Anchiote Cornish Game Hen and a New Mexico roadside favorite, the Fry Bread Taco.
31. Superba Food + Bread in Hollywood -> Superba Food + Bread took over the The Cat & Fiddle space in Hollywood last year and this Friday they'll officially open their doors with an entirely new Superba culinary experience featuring a cocktail program, raw bar and an expanded menu with new items. The expansive restaurant is made up of 4,500 square feet of interior space housing a grand dining room, 14-seat bar, coffee counter, and oyster bar. An additional 2,000 square feet of outdoor dining in the courtyard is centered around a restored wishing well from the late 1920's. Superba Food + Bread will be open seven days a week, offering non-stop service with brunch, lunch and dinner. The walk-up Coffee Counter will include the full suite of Superba Bakehouse products including over 20 different pastries as well as lattes and other specialty drinks.
32. 20-Inch Pizza Slice at Mickey's -> Mickey's Deli in Hermosa Beach recently brought back their infamous XL Pizza Slice. For a limited time get your hands on a 20-inch slice made with Mickey's handmade pizza dough, topped with a house made tomato sauce and mozzarella for $15.99 with an additional $1.50 for every extra topping.
33. A Study of Fire at Terra -> Monthly guest chef pop-up dinner series "A Study of Fire," returns to Eataly's rooftop restaurant Terra on Oct. 20 with Argentinian Chef Norberto Piattoni. Tickets cost $90 per person and can be made on OpenTable under the "Experiences" tab. A portion of the proceeds of the exclusive one-night-only tasting will help raise money for Restaurants Care, an emergency assistance fund serving California restaurant workers year-round.
---
Any notes or corrections? Want to suggest an event we should add to an upcoming list? Hit us up at [email protected]