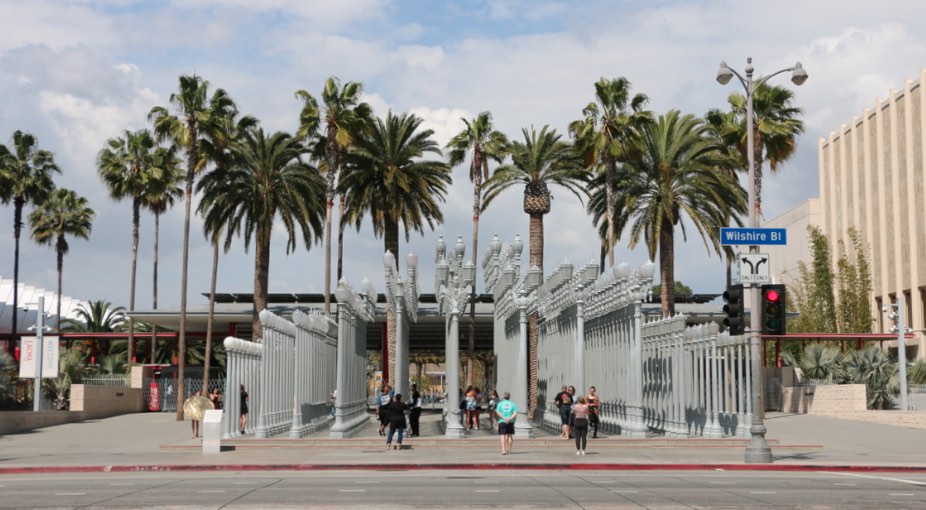 There's always lots to do in Los Angeles, and per usual we're here with a bi-weekly (Monday and Thursday) rundown of the best of what's happening in the city and county.
This week, from August 16 to 20, features free live comedy via Netflix, a Jane Fonda workout screening, Shakespeare in the Park, live jazz at LACMA, LA Mag's Whiskey Festival, and more.
[Remember, if you want to stay connected with our weekly updates, be sure to sign up for the We Like L.A. Newsletter]
Monday/ Throughout the Week
1. Outfest LA -> The 39th Annual Outfest LA film Festival will return for in-person screenings and events August 13-22, 2021. Nearly every film will also be available for streaming for those at-risk or who live outside of the region. Tickets for most in-person screenings are $16 for general admission. Complete film guide here.
2. Netflix Is A Joke Radio Presents: Are You Still Listening? -> A monthly, live Netflix stand-up comedy show at Dynasty Typewriter. This Monday's lineup features Dana Donnelly, Danny Jolles, Kiry Shabazz, Luke Mones, Audrey Stewart, and Wally Baram. Pre-show reception starts at 7:15 p.m., and tickets are free, but admittance is based on first-come, first-serve. More info and RSVP here.
3. Ultra -> The Torrance Art Museum has collaborated with over 20 artists to create a series of public art installations freely accessible in locations around the City of Torrance, now through Aug. 28. More info here.
4. Cardboard City -> Third Street Promenade is temporarily home to a 10,000 square foot pop-up art center featuring large-scale cardboard sculptures created by local artists and sponsoring architecture and design firms. Cardboard City is free to attend, open Thursday through Sunday from noon to 6 p.m. through Aug. 29. More info here.
5. Proof-of-Vax Bars -> The list of L.A.-area bars now requiring proof of vaccination for entry has no grown to 49 establishments, according to an ongoing list put together by L.A. Taco. If you're still looking to grab a drink, but would feel safer in a vaccine required environment, you could head out to one of these spots this week.
6. Sing for Hope Pianos -> As part of the Sing for Hope Pianos recurring public art project, 16 special artist-designed pianos will pop up around Beverly Hills from Aug 5. to Sep. 6, offering public guests the opportunity to play and enjoy for free. More info here.
Tuesday
7. Jane Fonda's Workout -> Cinelounge Outdoors is now hosting a special fitness class / screening of Jane Fonda's Workout on its big screen every Tuesday evening. Put your body to the test following Fonda's instruction in classic 80's style, then enjoy a juice bar, fruity popsicles, and other special surprises. Tickets are $15, and portion of the proceeds will be donated to Greenpeace. More info here.
8. DiscOasis -> Lights, disco, live performances, and food trucks, all presented in a lush, late-afternoon garden setting. That's the premise behind DiscoOasis, a new timed experience at the South Coast Botanic Garden that runs Tuesday through Sunday through Sep. 6. Tickets start at $39 per person. Get more info and buy tickets here.
Wednesday
9. Caravan Swim Club Supper Series -> Steve Livigni's Baja-inspired restaurant Caravan Swim Club at Hotel June will host a collaboration dinner with Nomadica wines this Wednesday with an outdoor sunset dinner featuring a four-course tasting menu with wine pairings. Tickets coast $100 a person and include an all-day pool pass.
10. Shakespeare in the Park -> The Independent Shakespeare Co. is bringing back free, live theater to Griffith Park starting Aug. 7 with performances of The Tempest. Shows will run Wednesdays to Sundays through Sep. 5. For health and safety reasons, online reservations are required to ensure capacity limits are held. This week's performances are stand-by only as of now, but tickets for futures shows are released 7 days in advance of each performance, so be sure to check the ISC's website if you want to reserve a slot for a future show. Get more info and make a reservation here.
11. Vegan Playground -> This weekly Arts District night market pops up at Boomtown Brewery every Wednesday and features 20+ rotating vegan vendors each week. Starts at 5 p.m. Admission is free. More info and RSVP here.
Thursday
12. Smell. Print. -> The A+D Architecture and Design Museum's new pop-up exhibition Smell. Print. offers guests the chance to going on a narrative journey that explores the link between the creation of memory and the power of scent. Tickets to the immersive show are free, but must be reserved in advance online. Runs Wednesday to Sunday through Aug. 21. More info here.
13. Room Service: The Drag Show -> Beverly Hills' premier drag revue Room Service is back and now held weekly at hotspot Riviera 31, located in the Sofitel Los Angeles. The show incorporates a variety of acts from drag queens, drag kings, trans performers, burlesque acts, boylesque acts, and everything in-between. Riviera 31 will be shaking and stirring up handcrafted cocktails for guests and offering bar bites on the menu too. This week the cast includes: Diana Dzhaketov, Rupaul's Drag Race's Mariah Paris Balenciaga, HBO Max's Legendary Winner Calypso Jete, Kornbread Jete, Laritza La Bouche, & Jo Lopez with Dj Baby Magick. Room Service is held every Thursday from 8 p.m. to 1 a.m. Free general admission and reserved seating cost $10, more ticket information here.
Friday
14. Jazz at LACMA Limited Edition -> Free, live jazz is back at the Los Angeles County Museum of Art on Fridays, but in a new small-capacity and ticketed format. This Friday, Aug. 20, guests will enjoy Phil Ranelin & Friends' "Forever Bird." Tickets are free, but must be booked in advance online beginning Tuesday, August 17, at 10 am. More info here.
15. Los Angeles Magazine Whiskey Festival -> This Friday, LA Mag's 6th annual Whiskey Festival will take place at The Bloc in DTLA starting at 7 p.m.. The two-hour experience offers guests a chance to meet-and-greet distillers, learn cocktail recipes, and sample new labels. Tickets are $75 plus fees. More info here.
16. Dance DTLA -> The Music Center's Dance DTLA is back starting on Aug 13, for five Friday night dance parties on its Jerry Moss Plaza. On-site dance instructors will guide guests on easy-to-learn steps while DJs spin the soundtrack. This Friday's theme is Disco, and the event is free and open to the public. More info here.
17. Levitt Pavilion Concerts -> This Friday, Levitt Pavilion's summer concert series continues with performances Raashan Ahmad and Mark de Clive-Lowe Free. Outdoors. All-ages. More info here.
18. Salute Your Shorts Film Festival -> This three-day film festival celebrates a curated collection of short films made by talented filmmakers, both local and international, all taking place at the Assitance League Theater in Hollywood. Friday features and opening night party, following by screenings Saturday and Sunday. Tickets are $60 for an all-session pass, or $15 for individual blocks of films. More info and tickets here.
19. Sing-Along Weekend at Electric Dusk -> Electric Dusk Drive-In has a trio of films. The lineup includes Pitch Perfect on Friday, La La Land on Saturday, and The Little Mermaid on Sunday. Tickets are are $15 per car and first person, and $8 for each passenger. More info here.
20. Grand Performances -> This Friday' edition of Grand Performances is headlined by Latinx synth-pop artist Katzù Oso, and also features a performance by Mexican signer-songwriter Irene Diaz. Starts at 7 p.m. Free. Outdoors. All-ages. More info here.
21. NHM Extended Hours -> Every Friday now through Aug. 6, Natural History Museum will offer extended Friday hours (from 5 to 8 p.m.) that feature a live DJ in the Nature Gardens along with do-it-yourself family activities and food for purchase from the NHM grill. Admission is $15 for adults and $7 for children. More details here.
Dining
22. Salt & Straws's Latest Flavors -> Salt & Straw's latest ice cream menu is camping themed. Now through September 23 grab a scoop or pint of fun combinations like Mushroom Muddy Buddies with actual candied shrooms, Maple & Bacon Streusel, Salted Hazelnut Praline S'mores, Cowboy Coffee Grinds & Bourbon and Bug Juice! a vegan sorbet made of hibiscus mango tea and a blend of cherry, lime, and grape juices.
23. Moderno Cocina finds a home -> Moderno Cocina is now popping up at two Las Perlas locations, West Hollywood and DTLA. Formerly known as La Huesuda Tacos, Moderno Cocina's co-owners Denice Mendez and Chef Pablo Vega's food is a mix of authentic Mexican cuisine with an L.A. twist. On the menu are braised pork rib costilla, taquitos de papa, T.J. style asada, Cochinita Pibil and more.
24. White Label Creamery -> Phong Ly Trinh of Pearl's Finest Teas has added a new ice cream shop right next door to his Fairfax Avenue business. On the menu is vegan ice cream, KAWS shaped waffles, and dairy soft serve. The sweets shop also features streetwear, shoes and art collectibles for sale. Starting August 19, White Label Creamery will host a Tokidoki collaboration of special sweets like a custom Donutella waffle with a variety of fillings, special soft serve and ice cream flavors and a Tokidoki themed out pop-up shop selling exclusive merchandise. The pop-up wraps up on August 29.
25. Herb & Seed -> Support a local business and get delicious, organic and macronutrient dense meals delivered straight to your door. Plant based meal service Herb & Seed carefully designs each dish with the purpose of providing key nutrients without sacrificing on flavor. The menu changes each week and services Los Angeles County and select parts of Ventura and Orange Country. Deliveries are made every Monday. Prices range from $11 to $15 and the portions are generous. There is a $54 minimum and a delivery charge of $10. Additionally, the Herb and Seed packaging is 100% sustainable and the kitchen operates on a zero-waste model. 
---
Any notes or corrections? Want to suggest an event we should add to an upcoming list? Hit us up at [email protected].